AFC North:

2012 AFC Leading Questions
July, 31, 2014
Jul 31
4:59
PM ET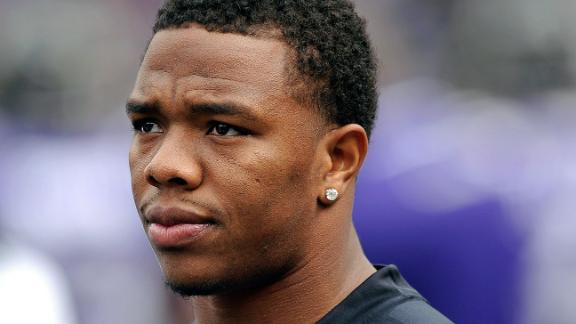 OWINGS MILLS, Md. -- In stark contrast to
Ray Rice
's awkward news conference in May, the
Baltimore Ravens
running back showed Thursday that he finally understood the weight of his actions from the alleged altercation with his then-fiancée in February.
He delivered the correct message, one the NFL failed to do last week with the two-game suspension, by not only apologizing to his wife, Janay Palmer, but also expressing a desire to become an advocate for domestic-violence causes.
Rice was compelling in his contrition, calling it the biggest mistake of his life. He stood in front of the microphone alone, without his wife standing by his side, and took full responsibility for the incident. Perhaps more importantly, Rice actually said the words "domestic violence," which weren't heard in his statement two months ago.
"My actions were inexcusable," Rice said. "That's something I have to live with the rest of my life."
Before anyone pats Rice on the back, this is what he should have said the first time when he broke his silence in May. Instead, Rice nervously fumbled through notes on his phone and apologized to team officials and his sponsors. That debacle of a news conference came across as damage control to his image.
His 17-minute news conference Thursday hit the right tones. He apologized to all women affected by domestic violence. He accepted the blame for losing the respect of fans. Rice came across as genuinely sorry.
"I let my wife down, I let my daughter down, I let my wife's parents down, I let the whole Baltimore community down," Rice said.
Rice's biggest misstep was not talking about what happened in the elevator. He was asked twice about it and declined to answer both times. His stance against domestic violence would have resonated stronger if he had explained his transgressions.
"I'll be honest: Like I said, I own my actions," Rice said. "I just don't want to keep reliving the incident. It doesn't bring any good to me. I'm just trying to move forward from it. I don't condone it. I take full responsibility for my actions. What happened that night is something that I'm going to pay for the rest of my life."
The only way Rice can move forward from this incident and show he's truly sincere is through his actions. It's not by his words. It's not by a hefty donation, which is merely a gesture. It's by proving this will remain a "one-time incident" and by supporting domestic-violence causes.
Thursday represented a small step forward for Rice. But it was an important one.
February, 14, 2012
2/14/12
12:00
PM ET
With the offseason in full swing, let's take a look at one major question facing each AFC North team as it begins preparations for the 2012 season:

CINCINNATI BENGALS
For the Bengals, this is not just a leading question but a yearly one:
Will Cincinnati spend money in free agency?
The Bengals have made several right moves to win back the city's football fans. They're coming off a successful draft and have two first-round picks this year. They didn't raise ticket prices and lowered several of them. Now, Cincinnati has to be aggressive in filling holes on last season's playoff team, which is the most convincing way to show everyone that the organization is committed to winning.
The incentive and opportunity are there for the Bengals to be proactive in free agency. Cincinnati carried more than $15 million of unused cap money from last year and has $60 million to spend. Only three teams (the
Jacksonville Jaguars
,
Kansas City Chiefs
and
Tampa Bay Buccaneers
) have more cap space. With 20 players headed to free agency, the Bengals can keep the ones they want and upgrade at running back, wide receiver and guard.
If the Bengals do decide to spend, they could come away with several notable free agents, such as Raiders running back
Michael Bush
(if he isn't given the franchise tag), Saints wide receiver
Robert Meachem
and Ravens guard
Ben Grubbs
. Cincinnati also has the cap room to re-sign kicker
Mike Nugent
(or put the tag on him), safety
Reggie Nelson
and defensive end
Frostee Rucker
. All signs point to the Bengals building on last season's surprising success.
CLEVELAND BROWNS

Who will be the starting quarterback in 2012?
This is a leading question that's been asked before nearly every season since the Browns returned to the NFL in 1999. This represents a big offseason for team president Mike Holmgren to back up his reputation for being an astute evaluator of quarterbacks. The names that would bring the most hope to the struggling franchise are first-round prospect Robert Griffin III and intriguing free agent
Matt Flynn
. It would be deflating if the Browns' top choice at quarterback ended up being
Colt McCoy
once again.
The Browns can get RG3 if they want him, but it likely will come at a hefty price. The only way to ensure getting the consensus No. 2 quarterback in the draft is trading up from No. 4 to the
St. Louis Rams
' spot at No. 2. RG3 is a tantalizing talent because he's smart, fast, strong-armed and highly competitive. Another option is signing Flynn in free agency, although there will be other teams interested in him (namely the
Miami Dolphins
). Flynn wouldn't have much transition with the Browns, who run a similar system as the Packers. The concern is whether Flynn is this year's version of
Kevin Kolb
or
Scott Mitchell
.
Cleveland could wait to address the quarterback position with its second first-round pick (22nd overall) or in the second round, where Texas A&M's Ryan Tannehill might be available. The fallback option is McCoy, who failed to win the starting job in his first full season as a starter. He will be given a chance to compete for the starting spot, but he seems pegged for the backup position. Until the Browns find a franchise quarterback, they will always be looking up at the Steelers and Ravens from the bottom of the division.

BALTIMORE RAVENS
What will the linebacker group look like next season?
Linebackers have long been the foundation of the Baltimore defense, from
Ray Lewis
to
Peter Boulware
to
Adalius Thomas
to
Bart Scott
to
Terrell Suggs
. Age and free agency will force some important decisions about the future of this group. Only Suggs is assured of being with the Ravens beyond the next couple years.
Two starters -- outside linebacker
Jarret Johnson
and inside linebacker
Jameel McClain
-- are unrestricted free agents. The Ravens had hoped
Sergio Kindle
, their top pick in the 2010 draft, would have been ready to take over Johnson's starting spot by now. But a fractured skull during his rookie season (he fell down two flights of stairs) has made him a nonfactor. Baltimore has to decide whether
Paul Kruger
can hold up against the run so the team doesn't have to re-sign Johnson, who turns 31 before the start of the season. McClain might be another Scott, a former undrafted rookie who establishes himself as a starter and goes on to land big money elsewhere. It could be a risk to replace McClain with
Dannell Ellerbe
, a career underachiever.
While Lewis plans on coming back for his 17th NFL season, the Ravens have to start thinking about the eventual replacement for the soon-to-be 37-year-old linebacker. Baltimore has been heavily linked in the first round to Arizona State's Vontaze Burfict, whose intensity reminds many of Lewis, but he comes with character issues. Finding the heir apparent to Lewis is key for what should be a new-look linebackers group.

PITTSBURGH STEELERS
How much of an impact will new offensive coordinator Todd Haley make?
The initial impact has been drama, and it goes beyond who actually hired Haley to replace Bruce Arians. Haley said the Steelers are going to start with "a clean slate," and quarterback
Ben Roethlisberger
expressed his concerns about starting over. This is before Haley and Roethlisberger even met. Ultimately, Haley will be judged in two areas: putting up points and protecting Roethlisberger.
The biggest criticism of Arians' offense was the lack of scoring. The Steelers' rankings in terms of points scored the past three seasons were 12th (2009), 12th (2010) and 21st (2011). Where Haley has to elevate the Steelers is inside the red zone. In his two seasons as the Cardinals' offensive coordinator, Arizona's red zone offense ranked third in 2007 and ninth in 2008. Too often, Arians forgot about running the ball and throwing to tight end
Heath Miller
when Pittsburgh got inside the 20-yard line.
The Steelers' ability to score points is reliant on the health of Roethlisberger. It was evident last season that Pittsburgh's offense was sluggish when injuries slowed down Roethlisberger. Haley won't fix the Steelers' offensive line in one season, but he can tweak the timing of the passing game. His offense in Arizona relied heavily on three-step drops and getting rid of the ball quickly. This will reduce the amount of hits on Roethlisberger, who showed he can work in a quick-hitting passing game when he played New England this past season. The Steelers can't make a Super Bowl run if Roethlisberger is limping again.