April, 25, 2011
4/25/11
12:00
PM ET
ESPN.com has completed its annual blogger mock draft, and the picks for the AFC North were made in part by our community.
We put
together a draft board
last week, and like a good general manager, I stayed true to our board with every pick. Here were the results for the AFC North:
Cincinnati Bengals (No. 4 overall)
Pick:
LSU CB
Patrick Peterson

Peterson
Analysis:
The Bengals can be unpredictable with personnel decisions, and I have my doubts they will follow our draft strategy. But "Bengaldom" agreed that Peterson is the safest pick and perhaps the best player in this draft, and Cincinnati cannot afford to take any huge risks at No. 4. Peterson was the highest-rated player on our board. Thanks to the early run on quarterbacks --
Cam Newton
went No. 1 to Carolina and
Blaine Gabbert
No. 3 to Buffalo -- Peterson was there for the taking. The Bengals should have a feel by now if No. 1 corner
Johnathan Joseph
can be re-signed in free agency. An educated guess is several teams will be ready to offer Joseph more money on the open market. So Peterson could step right in and make an immediate impact on defense and special teams.
Cleveland Browns (No. 6)
Pick:
Georgia WR
A.J. Green

Green
Analysis:
This was the pick that made me cringe. I think Green is a tremendous talent, but I'm against taking receivers in the top 10. Yet Browns scouts in our community voted Green as their top choice, moving the receiver to No. 2 overall on our draft board. Alabama defensive lineman
Marcell Dareus
went No. 2 to Denver. So I saw this coming as the draft was unfolding. I would have gone defense here, either with North Carolina defensive end
Robert Quinn
or Auburn defensive tackle
Nick Fairley
, but majority ruled. As GM, I have to answer to the media if this pick doesn't pan out. So Green better be a star in Cleveland, Browns scouts, or I'm handing out pink slips.
Baltimore Ravens (No. 26)
Pick:
Ohio State DE
Cameron Heyward

Heyward
Analysis:
Players were flying off the board for Baltimore more than any team in the division. Is this a preview of what's going to take place on Thursday? Out of our top-five choices, three were gone by the time the Ravens were up with the No. 26 pick. Heyward was our fourth choice, but it's still a solid selection. He adds youth to the defensive line and also has the ability to get to the quarterback. Florida center
Mike Pouncey
(No. 15 to Miami), Colorado corner
Jimmy Smith
(No. 23 Philadelphia) and Purdue defensive end
Ryan Kerrigan
(No. 16 to Jacksonville) were all taken several picks earlier.
Pittsburgh Steelers (No. 31)
Pick:
Texas CB
Aaron Williams

Williams
Analysis:
The Steelers were probably the most fortunate AFC North team in this blogger mock draft. Four of their top-five players were still available at No. 31, which was unexpected. That included their two cornerbacks in Williams and Miami's
Brandon Harris
. Both corners can help Pittsburgh immediately. But Williams' versatility and physicality gave him an edge. If this scenario played out later this week, Pittsburgh would be more than happy to have to choose between these two corners.
Do you agree or disagree with this year's blogger mock draft picks? Voice your opinion in the comment section below.
April, 15, 2011
4/15/11
1:30
PM ET
The AFC North blog continues its series this week on potential draft prospects for the division.
[+] Enlarge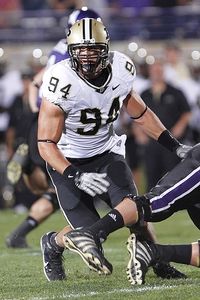 Chuck Rydlewski/Icon SMIPurdue's Ryan Kerrigan has the versatility to fit any scheme.
Friday we check back with
Big Ten blogger Adam Rittenberg
to get his perspective on Purdue defensive end
Ryan Kerrigan
, who is
getting a lot of interest
from the
Baltimore Ravens
.
Adam, Kerrigan is one of the hotter prospects during this pre-draft period. What does Kerrigan bring to the table?
Adam Rittenberg:
Everyone talks about his relentless motor, and for good reason. Kerrigan simply outworked opposing offensive linemen much of the time, breaking through double teams to make plays in the backfield. He might lack the ideal size or speed, but he brings it every time he's out there. Kerrigan also is excellent in the locker room, a likable, smart guy who won't cause any issues on the team. He likely needs to add weight for the NFL, and it's important that he doesn't lose speed in doing so. A potential concern is he didn't do much against Wisconsin tackle
Gabe Carimi
, the Big Ten's top offensive lineman. But there are few faults to find in Kerrigan's game.
Baltimore is interested in Kerrigan and runs a varying 3-4 and 4-3 defense. So what do you think of Kerrigan's ability to stand up and play outside linebacker if needed?
Rittenberg:
Kerrigan is undersized at around 260-263 pounds, so you'd think he can stand up as an outside linebacker if called upon. There are some questions about his speed, but he's not the type of guy you want to underestimate.
March, 31, 2011
3/31/11
7:00
AM ET
Here are the most interesting stories Thursday in the AFC North: Morning take: Offensive tackle is a solid area to address. But guard and cornerback are huge need areas, as well, and Pittsburgh should definitely consider those spots early in this year's draft.
Morning take: That's always a delicate balance for any team. The Browns have really glaring holes this year -- such as the defensive line -- and they have to hope the draft falls in their favor to provide the right mix of need and talent.
Morning take: Palmer is leaving a very nice home, but it also shows that he's serious about not returning to Cincinnati. The Bengals are seeking other options via the draft, which we will get to next (hint, hint).
Morning take: Of the list provided, I like Purdue's Ryan Kerrigan. He's relentless to the quarterback and his motor could be a good complement to Pro Bowl linebacker/defensive end Terrell Suggs.
March, 24, 2011
3/24/11
12:00
PM ET
»
NFC Draft Watch
:
East
|
West
|
North
|
South
»
AFC
:
East
|
West
|
North
|
South
Each Thursday leading up to the NFL draft (April 28-30), the ESPN.com NFL blog network will take a division-by-division look at key aspects of the draft. Today's topic: schemes and themes.

Baltimore Ravens
Two of Baltimore's needs involve players to fit a certain scheme. Defensively, the Ravens are searching for a versatile pass-rusher who can complement Pro Bowler
Terrell Suggs
and play in both 3-4 and 4-3 defenses. Baltimore is one of the few teams that play a varying scheme. Suggs is the prototype, because he can put his hand in the dirt as a defensive end as well as stand up and rush the passer or drop into coverage. The Ravens have
reportedly shown interest
in several pass-rushers, including Purdue's
Ryan Kerrigan
and Georgia's
Justin Houston
.
Offensively, the Ravens need a speedy deep threat at receiver to plug into offensive coordinator Cam Cameron's vertical passing game. Baltimore wants to run an attacking-style offense that puts more pressure on the defense. But the team struggled to stretch the field with mostly possession receivers last season. If the Ravens can find a burner who can make the same impact
Mike Wallace
did for the Pittsburgh Steelers two years ago, it could take Baltimore's offense to the next level. One option could be Maryland receiver
Torrey Smith
.

Cincinnati Bengals
The Bengals are one of two Ohio teams switching to a West Coast offense this season, and that will impact their draft strategy.
For starters, Cincinnati has to draft a quarterback to fit the system, which is based on timing and accuracy. Franchise quarterback
Carson Palmer
wants out
and threatened to retire
. In his mind, he's not coming back and the Bengals have to plan accordingly. Cincinnati
has been linked
to Auburn's
Cam Newton
the most. But don't rule out Missouri's
Blaine Gabbert
, Arkansas'
Ryan Mallett
or other top quarterback prospects.
Depending on the future of veteran
Chad Ochocinco
, Cincinnati may also be in the market for a receiver. All indications are that the Bengals want to go younger at the position, which would make Ochocinco, 33, trade bait this offseason. Georgia receiver
A.J. Green
could be a possibility for Cincinnati at No. 4 overall.

Cleveland Browns
The Browns are in a similar situation to Cincinnati. A new West Coast offense under rookie head coach Pat Shurmur will emphasize the passing game, and Cleveland has lots of questions at receiver.
It's hard to envision Cleveland throwing the ball at least 55 percent of the time to its current group of receivers.
Brian Robiskie
,
Mohamed Massaquoi
and
Chansi Stuckey
struggled to get open consistently and make plays last season for rookie quarterback
Colt McCoy
.
Green could be that impact receiver for the Browns. But they have bigger needs, such as defensive line. The Browns are also switching to a 4-3 defense and are short on
defensive ends and tackles
. Filling one of those positions would make the most sense with the No. 6 overall pick. Teams like the Steelers (Wallace,
Emmanuel Sanders
) have proved that quality receivers can be found after the first round.

Pittsburgh Steelers
Pittsburgh's biggest need is at cornerback. Defensive coordinator Dick LeBeau specializes in getting pressure from his front seven. So the players in the secondary need to be physical and sure tacklers. One possibility could be Texas cornerback
Aaron Williams
, who fits that description.
Also, the Steelers are always in the market for 3-4 defensive linemen and linebackers, even when it's not a huge need. So don't be surprised if Pittsburgh adds more players to its front seven to stockpile for a couple of years and learn the system.
Offensively, the Steelers need help at tackle and guard. Many in Steeler Nation would love to see Florida's
Mike Pouncey
join his twin brother, Maurkice. But that's probably not going to happen unless the Steelers move up from the No. 31 overall pick.
March, 16, 2011
3/16/11
4:30
PM ET
ESPN draft guru Todd McShay provided a special treat for NFL draftniks Wednesday. McShay projected a
two-round mock draft

for each team.
Here is how McShay views the AFC North:
Cincinnati Bengals
McShay's picks:
A.J. Green
, WR, Georgia (No. 4);
Stephen Paea
, DT, Oregon State (No. 35)
Analysis:
McShay remains consistent from his
previous mock draft
in picking Green for Cincinnati, but I don't agree with this selection. It's very risky drafting a receiver No. 4 overall when you have a variety of needs. This also is assuming quarterback
Carson Palmer
will return to throw to Green, which is
not a slam dunk
. The Bengals would be wise to get a pass-rushing defensive end in the first round and look for a quarterback in the second or third round as insurance. A combination of a receiver and defensive tackle doesn't help Cincinnati all that much.
Cleveland Browns
McShay's picks:
Da'Quan Bowers
, DE, Clemson (No. 6);
Jimmy Smith
, CB, Colorado (No. 37)
Analysis:
This would be a solid tandem to help Cleveland's new 4-3 defense under Dick Jauron. The Browns need defensive linemen, and Bowers could be plugged in right away as a starting defensive end. Bowers has top-five ability, but recent knee surgery may allow Cleveland to get him at No. 6. With cornerback
Sheldon Brown
slowing down, Smith's youth and athleticism would make him a good pupil. Smith is talented but comes with character concerns, which is why he may be available in the second round.
Baltimore Ravens
McShay's picks:
Cameron Heyward
, DE, Ohio State (No. 26);
Torrey Smith
, WR, Maryland (No. 58)
Analysis:
I like McShay's train of thought for Baltimore. I believe Purdue's
Ryan Kerrigan
would be a
more versatile fit
for the Ravens, but Heyward also is talented. The Ravens need help getting to the quarterback and taking pressure off their secondary. Baltimore has expressed a lot of interest in Smith and likely would be pleased if he's still available at the bottom of the second round. Smith has good speed and could complement Baltimore's possession receivers
Anquan Boldin
and
Derrick Mason
.
Pittsburgh Steelers
McShay's picks:
Orlando Franklin
, G, Miami (No. 31);
Ras-I Dowling
, CB, Virginia (No. 63)
Analysis:
This combination would fill Pittsburgh's two biggest needs, which are offensive line and cornerback. But in McShay's mock draft Texas corner
Aaron Williams
and Smith are both on the board at No. 31. If that's the case, I think Pittsburgh takes a cornerback in the first round. The Steelers are very thin at the position, and it's unknown if pending free agent
Ike Taylor
will return. This draft is stocked with offensive and defensive linemen, and Pittsburgh could probably find good prospects in the second round and beyond.
March, 14, 2011
3/14/11
11:00
AM ET

As the
Baltimore Ravens
look to improve their pass rush this offseason, a potential target may have emerged with the No. 26 overall pick.
A source tells the AFC North blog the Ravens will hold a private workout and meeting with Purdue defensive end/linebacker prospect
Ryan Kerrigan
on March 22-23 in West Lafayette, Indiana. Kerrigan had 33 career sacks at Purdue, which included 13 sacks in 2010.
Outside of
Terrell Suggs
(11 sacks), the Ravens struggled getting to the quarterback last season. Baltimore was ranked No. 27 in the NFL in with just 27 sacks total.
Kerrigan could be that pass-rushing threat opposite Suggs that Baltimore is looking for. Kerrigan has caught the eye of NFL scouts with his relentless motor and versatility to play in a 4-3 and 3-4 defense, which fits perfectly with Baltimore's scheme.
The NFL draft will be held April 28-30 in New York City.