December, 28, 2014
Dec 28
6:15
PM ET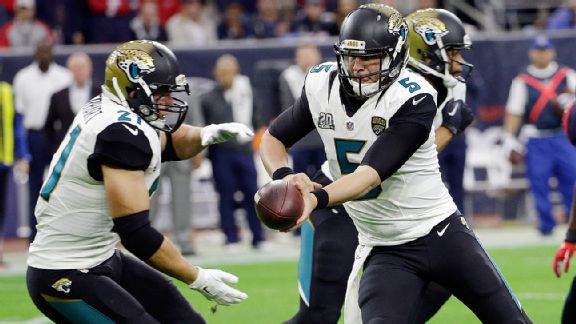 AP Photo/David J. PhillipBlake Bortles will need to make big strides in the offseason if the Jacksonville Jaguars are going to improve on offense in 2015.
It's clear that the
Jacksonville Jaguars
have a lot of work to do if the offense is going to consistently move the ball and score points in 2015.
Fixing the offensive line is a priority as well as finding a No. 1 running back and a pass-catching tight end who can work the middle of the field.
However, it begins with the continued development of quarterback
Blake Bortles
. The rookie from Central Florida threw for 2,908 yards and 11 touchdowns with 17 interceptions in 14 games (13 starts). That's the most passing yardage and third-most touchdown passes by a rookie quarterback in team history, but Bortles clearly has two main areas he must improve: decision-making and footwork.
If he doesn't make advances in those areas, then any other upgrades the Jaguars make to an offense that finished last in the NFL in scoring (and 30th in passing and total offense) will be meaningless.
"I think the understanding [is where] Bortles has to make his biggest improvement," coach Gus Bradley said recently. "Speeding up the decision-making. I would say that's probably the biggest thing, to know where he wants to go with it and then make the decision and do it quickly. If he can get to that point, I think that would be a very good step in the right direction.
"You see it at times. He'll go back and fire it and he knows right where he's going, but I think sometimes that [making slower decisions] happens when you're trying to own the offense."
Bradley is saying that Bortles needs to be more decisive in his reads and then quickly get rid of the ball. He needs to trust his pre-snap reads, the blocking adjustments, and the route adjustments. He must have a fuller understanding of the offense to do all that, offensive coordinator Jedd Fisch said.
That's why he and quarterbacks coach Frank Scelfo will help Bortles map out a schedule until the offseason program begins. Coaches and players cannot have much contact with each other at that time of the year, per NFL rules, so that will put much of the responsibility on Bortles.
"I think speeding up the decision-making will come from knowledge. This offseason has to be a constant quest for knowledge," Fisch said recently. "When we are not together for those X amount of months that we're not allowed to see one another, he has to make sure that he is studying, studying, studying, studying our offense so that when we come back together and we can meet, we can then start talking about defenses.
"If we have to start over and just talk about our offense for those next three months, then the decision-making process won't get sped up because we'll then go back to not being able to focus in on all of the little tips and reminders that defenses can give us, so that [the offense] is where his focus is going to be. I think if he does that and owns it, now we can do a great job of giving him indicators to really help him play fast."
The footwork issue is a matter of drilling over and over to imprint the proper fundamentals into Bortles' muscle memory. He got little instruction in that area in high school and college, so he's behind a bit and it's not going to be easy, but it's simply a matter of committing enough time to make it second nature.
When Bortles uses the proper footwork -- when his feet are in the correct position, he's balanced, and the drop-backs are consistent -- he's a more accurate thrower. There are times when, because of an effective pass-rush, Bortles won't be able to remain fundamentally sound, but he must be sound when he's in the pocket.
That's something that the Jaguars had planned to fix in 2014 while he was riding the bench, but Bradley and Fisch had no choice but to put him on the field because the offense was nonfunctional under
Chad Henne
.
"It's hard to work on during the season," Bortles said. "There's not a whole lot of time for fundamentals to be worked on, but it's the thing that you say, 'Let's make sure that it doesn't get any worse, and in the offseason we can try and fix as much as possible.'"
The offense's success in 2015 depends on it.