AFC South:

Kansas City Chiefs
September, 5, 2014
9/05/14
12:00
PM ET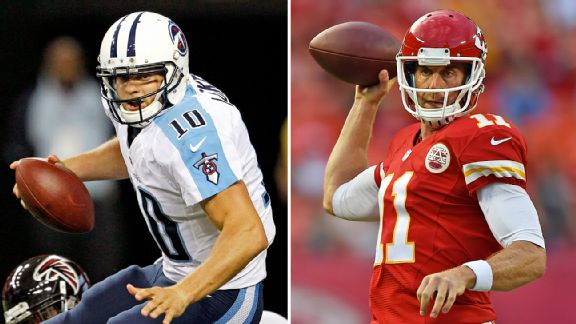 Icon SMI, Getty ImagesJake Locker and Alex Smith hope to get their respective teams off on the right track.
The
Kansas City Chiefs
and
Tennessee Titans
open the regular season on Sunday at Arrowhead Stadium. The Chiefs are coming off an 11-5 season and a 45-44 loss to the
Indianapolis Colts
in the wild-card round of the playoffs. The Titans finished last season at 7-9.
Here, ESPN NFL Nation Chiefs reporter Adam Teicher and Titans reporter Paul Kuharsky discuss Sunday's game.
Teicher:
The Chiefs had a ragged preseason. They have a few unresolved issues and don't look appear ready for the regular season. How about the Titans? Do they look like a team ready to start well in the regular season?
Kuharsky:
I think the Titans' offense is ready. QB
Jake Locker
has taken to Ken Whisenhunt's new system and looks good in it. The Titans have invested a lot in a line that still needs to jell but should be much better and should rank as one of the league's best. Their running back by committee should be better than
Chris Johnson
was as the bell cow. And the pass-game weapons -- receivers
Kendall Wright
,
Nate Washington
and
Justin Hunter
; running backs
Bishop Sankey
and
Dexter McCluster
; and tight ends
Delanie Walker
and
Taylor Thompson
-- should be quite good. Defense is another story. The defense that started gave up a long touchdown drive to open each of the four preseason games. There was little edge pass rush and bad coverage, plus too many penalties, third-down gaffes and missed tackles.
What are the biggest lingering issues for the Chiefs?
Teicher:
Their offensive line is probably the biggest issue.
Eric Fisher
, the first pick in the draft last year, is now playing left tackle but didn't have a good preseason. Their left guard,
Mike McGlynn
, was signed only last week after being released by Washington. Their right guard,
Zach Fulton
, is a rookie sixth-round draft pick. Their right tackle,
Jeff Allen
, has been their left guard but had to switch positions two weeks ago to cover for the suspension of the normal starter. The result has been some ugly play. Quarterback
Alex Smith
took a pounding in the last two games in which he played, and it's reasonable to think he won't last the season if it continues. The starting offense didn't score a touchdown in 16 preseason possessions. Smith threw two red zone interceptions two weeks ago against the
Minnesota Vikings
. RB
Jamaal Charles
didn't play except for the preseason opener, so things could get better with him in the lineup. On defense, the Chiefs still allow a lot of big pass plays. They gave up two of more than 30 yards each on one drive in the last game the starters played. That was a problem for the Chiefs last year.
How is McCluster being utilized? Do you see him being more effective for the Titans offensively than he was for the Chiefs?
Kuharsky:
The Titans envision him as Whisenhunt's new
Danny Woodhead
. As the Chargers' coordinator last year, Whisenhunt did well utilizing Woodhead. Now McCluster is part of a three-man backfield committee that will replace Johnson.
Shonn Greene
is the lead guy for now, and a power back at his best in short yardage. Bishop Sankey is a well-rounded rookie. McCluster will be used mostly as a pass-catcher out of the backfield and is also the punt returner. We'll see if they are able to do more with him.
How much will the Chiefs miss
Dwayne Bowe
in this game?
Teicher:
He's their best receiver, so they will miss him. The Chiefs' offense works a lot better when he's in the lineup and playing well. But they should be able to survive for one game without him.
Frankie Hammond
Jr., will take Bowe's place. Hammond, 24, is faster and has more big-play ability than Bowe. Kansas City also bases its passing game more around the running back, Charles, and tight ends
Anthony Fasano
,
Travis Kelce
and
Demetrius Harris
, than most other teams. Chiefs tight ends caught 53 passes last year. The Chiefs would like to see that number double.
What about Locker? How committed is Whisenhunt to him? He wasn't drafted by Whisenhunt.
Kuharsky:
Locker has responded to all they've asked of him and Whisenhunt has grown to like him. The coach certainly isn't committed to Locker the way a coach would be if he encouraged a team to draft a QB, but I don't think Whisenhunt will be quick to cut to cord.
Zach Mettenberger
looks like a great get in the sixth round and could be a long-range answer. But his route into the lineup this year would be via another Locker injury or a terrible level of personal and team performance that the Titans can't envision at this stage.
You've said the Chiefs don't really look ready. It seems that Year 2 of Andy Reid probably won't match up to the magical first season. You agree? How have things moved in the wrong direction?
Teicher:
Given their ragged play in the preseason and a much more difficult schedule, it's tough to picture the Chiefs being a strong contender for a playoff spot. I wouldn't say the Chiefs are necessarily taking a step backward. It's more that they're being confronted this year by a different reality. Last season's schedule over the first nine games was laughably easy. They played against an incredible run of subpar NFL quarterbacks. Remember, counting the playoff game, the Chiefs lost six of their last eight games last season. This year's team will fit somewhere into the wide margin between last year's 9-0 start and 2-6 finish.
January, 4, 2014
1/04/14
11:13
PM ET
By
ESPN.com Staff
| ESPN.com
January, 4, 2014
1/04/14
8:01
PM ET
INDIANAPOLIS -- A few thoughts on the
Kansas City Chiefs
' 45-44
loss
to the
Indianapolis Colts
:
What it means:
The 2013 Chiefs are among history's most infamous playoff teams. The Chiefs led 38-10 early in Saturday's third quarter before an epic collapse. The blown lead of 28 points is the second-biggest in NFL playoff history, behind the 32-point margin coughed up by the Houston Oilers against the
Buffalo Bills
in 1993. The Chiefs lost their eighth consecutive playoff game in a streak dating back 20 years.

Stock watch:
Quarterback
Alex Smith
set a franchise record for touchdown passes with four. The touchdowns went to four different receivers.
Joe Montana
held the old record of three, in Kansas City's most recent playoff victory, in January 1994 against the Oilers. But Smith lost a fumble in the third quarter with the Chiefs ahead 38-17, and it led to an Indianapolis touchdown. Wide receiver
Donnie Avery
left the game late in the first half with a concussion and caught only one pass, a 79-yard touchdown in the second quarter that gave the Chiefs a 17-7 lead, their first double-digit advantage of the game. They never led by fewer than 10 points until the fourth quarter. Outside linebacker
Justin Houston
had a sack and a fumble recovery in his first game since suffering a dislocated elbow Nov. 24 against San Diego. Nickel safety
Husain Abdullah
had two interceptions. After missing the potential game-winning field goal attempt in the final seconds of Sunday's game in San Diego,
Ryan Succop
made all three of his tries.
Concussion for Charles:
The Chiefs lost running back
Jamaal Charles
on their first possession with a concussion; they still scored a franchise record for points in a playoff game without him. His backup, rookie
Knile Davis
, scored on a 4-yard run in the second quarter and a 10-yard catch in the third quarter. Davis left the game with a knee injury in the fourth quarter, leaving
Cyrus Gray
and
Dexter McCluster
to finish the game at running back. The Chiefs also lost starting cornerback
Brandon Flowers
to a concussion. Houston injured his leg late in the game and did not return.
What's next:
The Chiefs lost five of their final seven regular-season games before collapsing against the Colts.
January, 4, 2014
1/04/14
2:35
PM ET
By
ESPN.com staff
| ESPN.com
Join our ESPN.com NFL experts for playoff football as the Kansas City Chiefs take on the Indianapolis Colts on wild-card weekend.
Contribute your thoughts and questions beginning at 4:30 p.m. ET. See you there.
January, 3, 2014
1/03/14
10:00
AM ET
Something will have to give when the
Indianapolis Colts
and the
Kansas City Chiefs
meet in an AFC wild-card playoff game at Lucas Oil Stadium on Saturday.
The Chiefs have lost seven straight playoff games, tying them for the longest playoff losing streak in NFL history. The Colts have lost three straight wild-card playoff games.
This is the second time the teams will meet in a three-game period. The Colts, who are on a three-game winning streak, beat the Chiefs 23-7 at Arrowhead Stadium on Dec. 22.
ESPN.com Colts reporter Mike Wells and Chiefs reporter Adam Teicher break down the matchup.
Teicher
: The Colts were wobbling coming into Kansas City a couple of weeks ago but seem to have righted themselves that day. What can you point to as the reasons?
Wells
: Most fans would say it's because of quarterback
Andrew Luck
. Don't get me wrong, Luck has been as good as expected, but the change has been led by the defense. The Colts have 12 sacks and have forced eight turnovers, including four against the Chiefs in Week 16, during their three-game winning streak. That's where Luck and the offense come in. You give Luck a short field to work with, and the odds are pretty good that he'll lead the Colts to a score. They scored a quick 17 points in the first quarter against Jacksonville last week.
Chiefs coach Andy Reid decided to rest most of his starters against San Diego in the finale. Do you think that was the right thing to do?
Teicher
: Undoubtedly. The Chiefs didn't get a bye in the playoffs, but Reid created one for eight defensive and seven offensive starters who didn't play against the Chargers. I would expect that to be reflected in how those guys play against the Colts. Momentum going into the playoffs is overrated. The NFL is such a week-to-week deal that it's almost impossible for a team to carry anything over from one game to the next, and even at that, the starters were able to get in some practice time last week. Not that this is a huge thing with the playoffs beginning, but the Chiefs got a good look at some of their backups under game conditions against an opponent that needed to win. In several cases, they liked what they saw.
Donald Brown
was the Colts' playmaker against the Chiefs a couple of weeks ago. He obviously is fast and has more power than you would think by looking at him. Why don't the Colts use him more as their featured back and why did they trade for
Trent Richardson
?
Wells
: Brown took over the starting spot from Richardson against Tennessee on Dec. 1 because Richardson was having a difficult time finding a rhythm. I still think the Colts made the right move in trading for Richardson, because Brown has been inconsistent for most of his five seasons with the Colts up until now. Richardson is still the future for the Colts; they have no intention of parting ways with him after the season. They still envision him and Luck having a great future together. And Brown said it best earlier this week, "There are only a handful of teams that only use one running back. We're going to need two, three running backs to get through the playoffs."
Speaking of running backs, it looked like
Jamaal Charles
was going to have a huge game against the Colts (not that 106 yards is a bad game) after the first series. He ended up with only 13 carries. How come the team's best player didn't have more carries or more catches, for that matter?
Teicher
: Reid messed up that one and he beat himself up for it afterward. You can count on that not happening again this time around. Charles was given the ball 18 times (13 carries, five receptions) against the Colts two weeks ago. That actually wasn't a season low for him. He had 16 touches (and a monster game) the week before in Oakland and 18 touches in two other games (both Chiefs losses). Another thing to remember is the Chiefs had only 53 offensive plays against the Colts, their second-lowest total of the season. They didn't have the normal amount of opportunities to get him the ball. But whether or not the Chiefs have a limited amount of snaps on Saturday, they will get him the ball more often. He's their best offensive player, so they're making a huge mistake if they don't.
Linebacker
Jerrell Freeman
is another player who had a big game for the Colts when they played against the Chiefs. Has he had other games like that this season? Give us a little scouting report on his strengths and weaknesses.
Wells
: You have to credit Colts general manager Ryan Grigson for finding Freeman. Grigson is known for finding players in different parts of the world. He'd probably go to Antarctica to scout if there were a football team there. Freeman is a former Canadian Football League player. He led the Colts in tackles as a rookie and would be the team's defensive MVP if not for a player named
Robert Mathis
. Freeman reached double figures in tackles in 12 of the 16 games this season. He has no problem being matched up against a running back out of the backfield, a tight end or even a wide receiver if he has to, because he's athletic enough to defend them. An argument could be made that Freeman deserved a Pro Bowl nod.
This is not a knock against Charles, but how come the Chiefs had a running back lead them in receiving this season? I would have said
Dwayne Bowe
led them in receiving if you asked me to take a guess on their leading receiver this season.
Teicher
: It's a number of factors. The Chiefs wanted to use Charles more in the open field and get him in favorable one-on-one matchups, and it's easier to do that by throwing him the ball. Ideally, the Chiefs would go down the field to their wide receivers more often, but Bowe,
Donnie Avery
and
Dexter McCluster
haven't been able to get open consistently and have delivered few plays. Quarterback
Alex Smith
has tended to do the safe thing and opt for the checkdown to Charles rather than take a chance down the field. It's something the Chiefs will need to correct next season. They'll find another receiver or two in the draft or through free agency.
December, 22, 2013
12/22/13
10:00
AM ET
By
ESPN.com staff
| ESPN.com
Join our ESPN.com NFL experts as they break down the Indianapolis Colts' visit to the Kansas City Chiefs. Contribute your thoughts and questions beginning at 1 p.m. ET. And, be sure to visit our
NFL Nation Blitz page
for commentary from every game, as well as fan photos and the latest buzz from Twitter. See you there.
December, 19, 2013
12/19/13
10:00
AM ET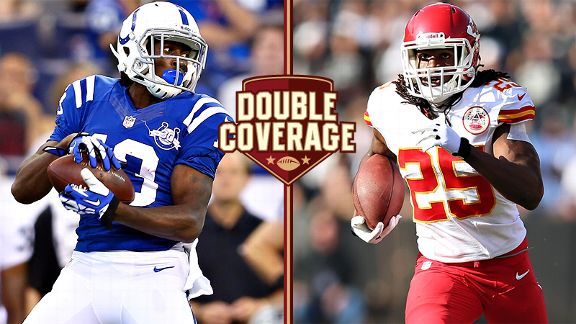 Getty ImagesT.Y. Hilton, left, and Jamaal Charles will be called on to provide offensive punch on Sunday.
Two playoff-bound teams meet at Arrowhead Stadium on Sunday when the
Kansas City Chiefs
host the
Indianapolis Colts
.
The 9-5 Colts have clinched the AFC South but are eyeing improved playoff seeding. The 11-3 Chiefs are tied for first place in the AFC West with the
Denver Broncos
but have secured at least a wild-card playoff berth. If the season ended today, the Chiefs and Colts would meet in a first-round playoff game in Indianapolis.
ESPN.com Chiefs reporter Adam Teicher and Colts reporter Mike Wells discuss the game:
Teicher
: Colts QB
Andrew Luck
appears to be having a better season than last year. How has he progressed? In what specific ways is he a better player than he was as a rookie?
Wells
: The biggest difference with Luck this year is that he has improved his accuracy. That may be hard to believe since the Colts have been without future Hall of Fame receiver
Reggie Wayne
for the past seven games. Luck's completion percentage has suffered some since Wayne went down on Oct. 20 because you never know which receiver is going to step up on a game-to-game basis. But ask anybody in the organization and they'll gladly take Luck's 58.7 percent completion percentage over the 54.1 percent he completed as a rookie. He's also making smarter decisions with the ball. He's more willing to take a sack rather than force a throw downfield. That's why he's thrown only nine interceptions compared to 18 as a rookie.
Chiefs RB
Jamaal Charles
had a game for the ages Sunday with five touchdowns. Everybody is talking about Broncos QB
Peyton Manning
as the front-runner for MVP, but do you think Charles deserves serious consideration?
Teicher
: I do, but I think I'm in the minority. Unlike Manning, Charles has very little offensive help. Quarterback
Alex Smith
is having a nice season, but otherwise a huge share of Kansas City's production is coming from Charles. He leads the league in touchdowns and is the one offensive player who has produced on any kind of consistent basis for an 11-3 team. I can't imagine where the Chiefs would be without him, but I'm certain they wouldn't be headed for the postseason. If Charles doesn't win the MVP award, it won't diminish his accomplishments, at least not in my mind.
The Chiefs allow a lot of big pass plays. With Wayne out, who are the big-play receivers -- or do the Colts have one besides
T.Y. Hilton
?
Wells
: Take a quarter out of your pocket and toss it in the air. That's the point it's reached when talking about the Colts' receivers. It looked like Hilton was going to be Luck's big-play receiver when he had games of 121 and 130 yards immediately after Wayne went down. But then teams found a way to neutralize his speed by providing help over top. The Colts are doing things by committee at receiver these days. I expect offensive coordinator Pep Hamilton to repeat what he did in the first half against Houston on Sunday. The Colts will probably put Luck in the shotgun with some empty-backfield sets and let him spread the ball around to his receivers and tight ends. You may even see running back
Trent Richardson
line up on the outside some. It's a whatever-it-takes approach in Indianapolis these days.
The Chiefs are averaging 44 points a game in their last four games. Is it because they actually have a good offense or is it because of the teams they've played?
Teicher
: It's probably some of both. The Chiefs have three touchdowns on defense/special teams over the last two weeks, and against the Raiders a flood of turnovers repeatedly gave the Chiefs favorable field position for some short scoring drives. But it's also wrong to deny the progress they've made offensively. It starts with the line, which has improved tremendously since early in the season. Smith is playing much better, as well. He's completing a higher percentage of his passes and is doing a better job getting the ball downfield. The Chiefs weren't scoring like this earlier in the season against some horrible defensive teams. They scored 17 points on offense in an October win over Oakland and 49 on offense against the Raiders last week.
The Colts have clinched the AFC South but can still improve their playoff seeding. Will they go all-out to win this game, or might they back off a little and rest some key players?
Wells
: The Colts aren't a good enough team to be able to take things lightly and then all of a sudden flip a switch once the playoffs start. They've got too many issues that need to get fixed before the playoffs. They're still trying to establish a consistent running game and produce steady play at receiver, as I alluded to earlier, and the defense has a tendency to give up big plays, as does Kansas City's defense. The Colts' goal is to have some momentum heading into the playoffs. Besides, they've also got their sights on trying to move up from the No. 4 seed. They need to win their final two games against the Chiefs and Jacksonville, and get some help from Baltimore in its last two games against New England and Cincinnati.
There's a chance the Colts and Chiefs could meet in the first weekend of the playoffs in Indianapolis. Do you think Chiefs coach Andy Reid will hold back some things because of that?
Teicher
: The Chiefs will be all-in this week and they should be. They're tied with the Broncos for first place in their division, and while Denver has the tiebreaker, the Chiefs have too much to gain by winning the division to back off now. If the Chiefs win both of their remaining games and Denver loses one of its two, the Chiefs would be the top seed in the AFC playoffs, get a first-round bye, and then play any of their playoff games at Arrowhead. Their fate if they are a wild card is no first-round bye and the playoffs on the road. The choice seems simple to me.
October, 20, 2013
10/20/13
7:24
PM ET
KANSAS CITY -- A few thoughts on the
Kansas City Chiefs
' 17-16
win
over the
Houston Texans
.
What it means:
The 7-0 Chiefs remain unbeaten for at least one more week. They would be the NFL's last undefeated team and take sole possession of first place in the AFC West if the
Denver Broncos
lose Sunday night at the
Indianapolis Colts
.

Stock Watch:
Outside linebackers
Justin Houston
and
Tamba Hali
both failed to get a sack until one of the game's biggest plays. They combined on a sack and strip midway through the fourth quarter to kill a Houston drive. Hali later had two more sacks, including a sack and strip with less than two minutes left that ended the Texans' last drive. They entered the game as two of the top pass-rushers in the league with 16 sacks between them. The Chiefs received meaningful contributions from
Dwayne Bowe
and
Dexter McCluster
, each with four receptions.
Alex Smith
threw an interception in the fourth quarter with the Chiefs approaching field-goal position.
Jamaal Charles
scored a touchdown for the seventh straight game but also lost a fumble that led to a Houston field goal.
Late pass rush:
Houston largely eliminated Kansas City's pass rush until the fourth quarter. The Chiefs managed four sacks of Houston quarterback
Case Keenum
in the fourth quarter. But on too many occasions they allowed Keenum plenty of time to get the ball to an open receiver down field. They never forced Keenum, playing in his first NFL regular-season game, to commit a turnover or otherwise make a mistake. The Chiefs entered the game with a league-leading 30 sacks. They dragged down Oakland quarterback
Terrelle Pryor
nine times in last week's game.
What's next:
The Chiefs finish off a three-game homestand with a game against the
Cleveland Browns
. After that, the Chiefs won't be home until a Nov. 24 game against the
San Diego Chargers
. In between, the Chiefs have a game at the
Buffalo Bills
, an off week and then a meeting with the Broncos in Denver.
October, 20, 2013
10/20/13
2:30
PM ET
By
ESPN.com staff
| ESPN.com
Join our ESPN.com NFL experts as they break down the Houston Texans' visit to the Kansas City Chiefs. Contribute your thoughts and questions beginning at 4:15 p.m. ET. And, be sure to visit our
NFL Nation Blitz page
for commentary from every game, as well as fan photos and the latest buzz from Twitter. See you there.
October, 17, 2013
10/17/13
12:00
PM ET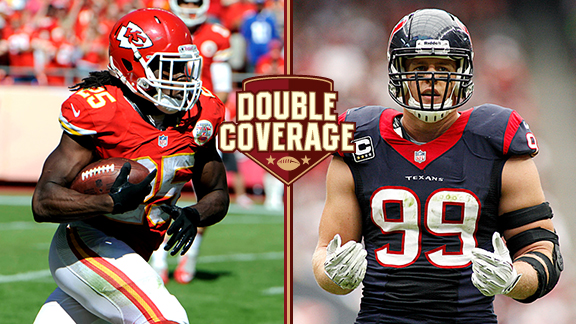 USA TODAY Sports, Icon SMIContaining Jamaal Charles will be key for J.J. Watt and the Houston defense.
Some role reversal will be in play Sunday when the
Kansas City Chiefs
and
Houston Texans
meet at Arrowhead Stadium. The Chiefs were 2-14 last season but now are 6-0 and one of the NFL's two remaining unbeaten teams. The Texans were 5-0 last season and on their way to an 11-1 start but are 2-4 after losing their last four games.
ESPN Chiefs reporter Adam Teicher and Texans reporter Tania Ganguli discuss Sunday's game.
Teicher:
After the collapse against Seattle, blowouts the past two weeks, explain Gary Kubiak's thinking in starting
Case Keenum
over
T.J. Yates
, give a little description of his strengths and weaknesses and how ready to do you think he is to play against one of the NFL's better defensive teams in a difficult stadium for visiting teams?
Ganguli:
He wants a spark. It's as simple as that.
Coming out of Kevin Sumlin's offense at the University of Houston, Case Keenum had a lot to learn on the NFL level. He didn't do too much talking in his college offense and had fewer responsibilities in running the plays. He also had to transition to playing under center like so many shotgun spread quarterbacks do. Yates beat out Keenum for the backup job at the beginning of the season, but they were close. Keenum has a very nice deep ball, which isn't something we've seen out of the Texans very much this year. You ask a great question about his readiness to face Kansas City's defense on the road. That's not easy for veterans to face. And it won't be an easy beginning for Keenum.
What do you think have been the most important factors in the Chiefs' fast start this season?
Teicher:
If their success can be boiled down to one factor, it's field position. The Chiefs have started 17 possessions on their opponent's end of the field while the opponents have started three possessions on Kansas City's side of the field. The best starting field position for the opponent this season has been the Chiefs' 42. So the Chiefs aren't just consistently winning the turnover battle -- at plus-12, they're best in the league -- they're using it to their benefit. They haven't put their defense in a bad position all season. Their offense doesn't generate many big plays, so favorable starting field position is a necessity. The Chiefs have also scored a touchdown on an interception three times. They are consistently getting pressure on the quarterback even when they don't get the sack. They're putting teams in a lot of third-and-long situations and getting off the field.
Turnovers aside, why aren't the Texans scoring more points? With
Arian Foster
and
Ben Tate
running the ball and
Andre Johnson
and
DeAndre Hopkins
catching it, shouldn't they be producing more on offense?
Ganguli:
Turnovers have been a huge factor in why the Texans aren't scoring, probably the biggest. But we can talk only so much about it. The Texans' red zone efficiency has been a problem. On Sunday against the Rams, for example, Houston scored once on six trips to the red zone. Its goal-to-go efficiency was only 33 percent. Those kind of numbers hurt. It's a departure from earlier this season when the Texans' red zone offense was fantastic. Against the
San Diego Chargers
in Week 1 and the
Tennessee Titans
in Week 2, Houston entered the red zone seven times and scored a touchdown every time. Some consider the Texans' red zone play calling to be conservative. I had ESPN Stats & Information look into it, and the Texans have run 53 red zone plays -- 28 passes and 25 runs. Of those, 10 have been passes into the end zone. That ranks in the lower half of the league as a percentage of total plays and pass plays.
Speaking of numbers, the Chiefs have put up some incredible pass-rushing numbers and have more than twice as many sacks as the Texans have. Are they as good as their numbers indicate? How can an opponent neutralize the pass rush?
Teicher:
They've been pretty good with the pass rush. Consistent. They're disrupting the quarterback even when they don't bring him down. And they can come at him from many places and angles. That's maybe the most impressive thing about it. Seven players had at least a half-sack Sunday against the Raiders.
Justin Houston
(9.5 sacks) and
Tamba Hali
(7.5) are their top pass-rushers, but even taking those guys out of the picture, the Chiefs have 14 sacks from eight players. Nose tackle
Dontari Poe
has been the key, providing a strong, consistent inside pass rush. Inside linebacker
Derrick Johnson
and strong safety
Eric Berry
are two of the other players to watch when the Chiefs send more than four to the quarterback. The best way to neutralize their rush is to have an effective running game. Runs by mobile quarterbacks have hurt the Chiefs this season, but otherwise only one running back, Philadelphia's
LeSean McCoy
, has had a big game against the Chiefs.
When the Texans are on defense, there might be a lot of favorable matchups for them. Other than the obvious ones like
J.J. Watt
and
Brian Cushing
, who are some of Houston's defenders who are playing well?
Ganguli:
Outside linebacker
Whitney Mercilus
has played well with an expanded role this season. He was one of the most productive rookies in the league last year on a per-snap basis and leads the team with 4.5 sacks this season. Nose tackle
Earl Mitchell
has been solid but isn't on the field much. Safety
Danieal Manning
had been playing well and was about to become a bigger part of the Texans' return game. But Manning suffered a knee injury Sunday that will land him on injured reserve. As a whole, the Texans' defense has played well, but it could help the Texans more if it created more turnovers and committed fewer penalties.
The Chiefs' offense has done enough given how strong the defense has played. Is that going to bite them?
Teicher:
Eventually it will, perhaps as soon as Sunday. The passing game has been particularly unproductive.
Alex Smith
is completing just 56.5 percent of his passes, an alarmingly low number in Andy Reid's version of the West Coast offense that features a large number of high-percentage passes. Some of that is his fault, but protection has been leaky and Smith has been forced to run for his life on too many plays. Right tackle
Eric Fisher
, the first overall pick in this year's draft, has been lousy. Most everything the Chiefs get offensively comes from
Jamaal Charles
. He leads the team by a sizable margin in rushing, receptions, receiving yardage and touchdowns. I'd be surprised if he can keep this up over 16 games and maybe more, so the Chiefs need to develop other threats.
October, 10, 2010
10/10/10
11:12
AM ET
By
ESPN.com staff
| ESPN.com
Join our ESPN.com NFL experts as they break down the Kansas City Chiefs trip to face the Indianapolis Colts.

Contribute your thoughts and questions starting at 1 p.m. ET. See you there.