AFC South:

NFL Draft 2014
May, 17, 2014
5/17/14
6:00
PM ET
JACKSONVILLE, Fla. -- There was a lot of scrambling on the Jacksonville Jaguars' practice fields on Saturday afternoon – most of it by team officials to accommodate one of the biggest crowds in team history.
A steady flow of fans packed the practice field for the second day of the Jaguars' rookie minicamp. They showed up about an hour before the 1 p.m. workout started, lining up into the parking lot in front of EverBank Field.
And they kept coming and coming and coming …
The final count: 6,214 fans, the most to ever watch a Jaguars rookie minicamp and nearly 2,000 more to attend a training camp session.
[+] Enlarge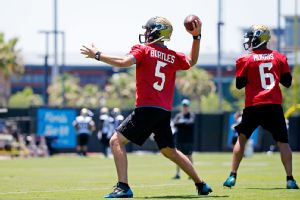 Rob Foldy/Getty ImagesBlake Bortles is part of a Jaguars rookie class that has captured the intrigue of the team's fanbase.
"This feels like it felt like it did in 1996 because of the enthusiasm that something better is on the way," said Brian Sexton, the team's play-by-play radio announcer for the franchise's first 19 seasons.
There's certainly reason for the optimism. The Jaguars' draft class has been lauded by draft analysts and experts across the country as one of the best in the league. General manager David Caldwell took former Central Florida quarterback
Blake Bortles
with the No. 3 overall pick and followed that with a pair of receivers in the second round: USC's
Marqise Lee
, whom many regarded as a first-round talent, and Penn State's
Allen Robinson
.
Bortles looked a little better on Saturday than he did on Friday. He completed 12 of 18 passes and was the victim of two drops. Robinson stood out by digging out a low throw and making a diving catch on a deep ball thrown by undrafted free-agent quarterback
Stephen Morris
.
For fans starved for offense – the Jaguars averaged a league-low 15.4 points per game and scored a league-low 23 touchdowns in 2013 – the first three picks were answered prayers. That's a big reason why 2,054 attended Friday's practice and more than three times that many were out there on a sunny, breezy afternoon.
Both sets of 500-seat bleachers were packed by the time the team finished stretching. The overflow section behind the first practice field filled up pretty quickly after that. So many kept arriving that team officials had to shut the gates and only allowed fans to enter when some left. Some fans even watched the practice through the bottom of the fence surrounding the fields.
Jaguars officials quickly cleared additional space behind north end zones of the second and third practice fields and re-opened the gates. When the Jaguars worked exclusively on the first practice field for the final few periods, security allowed fans on the middle practice field so they could get a closer look.
"How about the fans?" Jaguars coach Gus Bradley said. "I look and they're all lined up underneath [the tarps on the fences]. I don't know how many people were there, but what a credit to [owner] Shad [Khan], what a vision. When I go around and talk to people, they feel so confident in his vision. I think it's a credit to him and the organization and it feels good, I do know that.
"And our fans, we talk about 'connect with the following' and try to help them go along this journey with us. We get excited, they get excited. When we have tough times, they have tough times. We are going to do this thing together and to be able to come out and see a group of people that are that passionate for good football and to watch passionate players is something."
Tight end
Reggie Jordan
, one of 27 rookies that were given a tryout, said he has played in front of smaller crowds at Missouri Western State in St. Joseph, Missouri.
"Some days you'll have, like, 4,000 or 5,000," Jordan said. "Some days you'll have, like, 10-12 [thousand]. It was pretty small.
"It just depends on who we played. We knew that when we had a lesser opponent it wasn't going to be very good."
There hasn't been this many fans watching a rookie minicamp practice since 2,378 attended a session in 2003, which was quarterback Byron Leftwich's rookie season. According to the Jaguars, the largest crowd to ever watch a training camp practice was 4,500, which happened several times.
Former Jaguars offensive tackle Tony Boselli, the team's first inductee into its ring of honor (Pride of the Jaguars), said the atmosphere was similar to the franchise's early years, especially for the team's first training camp in Jacksonville in 1996. The Jaguars had camped in Stevens Point, Wisconsin, in their inaugural season.
"It's always hard to compare because we didn't have open practices this time of year. Everything was closed," Boselli said. "But it reminds you a little bit of that '96 training camp with all the buzz. … I think people are really hopeful that this thing is on the right track.
"I think it's infectious and I think people are pleased so far with what they've seen, what Dave's been able to do, so I think there's a lot of hope right now. And you draft a quarterback first; everyone gets excited about a quarterback."
May, 9, 2014
5/09/14
11:23
PM ET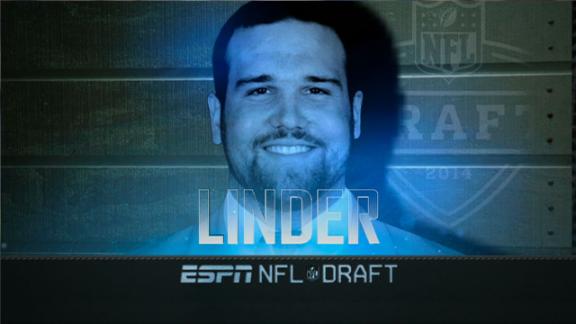 JACKSONVILLE, Fla. --
The pick:
Brandon Linder
, G, Miami
My take:
The Jaguars traded their fourth-round pick (105th overall) and a sixth-round pick (179th overall) to the
New England Patriots
to move back into the third round to select Linder with the 93rd overall selection. The 6-foot-6, 311-pound Linder played under Jaguars offensive coordinator Jedd Fisch, so he's familiar with Fisch's offense and the zone-blocking scheme the Jaguars use. Though he played both right guard and right tackle at Miami -- sometimes in the same game -- he will compete for the starting spot at right guard. Linder is durable, having started 49 games, including 37 in a row, in his career at Miami. He should solidify the right guard spot that last season was manned by
Will Rackley
, who battled knee issues and struggled.
OL is OK:
Offensive line apparently wasn't the high priority many outside the organization thought it was. GM David Caldwell said the team is happy with Mike Brewster at center and is content with the depth, especially after the addition of left guard
Zane Beadles
in free agency. "We aren't too overly concerned about it," Caldwell said. "You guys may think we're crazy, but we have guys that we feel like can step in and be competitive."
What's next:
The Jaguars have five picks remaining: one in the fourth (114th overall), two in the fifth (144th and 159th overall), one in the sixth (205th overall) and one in the seventh (222nd overall).
May, 8, 2014
5/08/14
11:00
PM ET
JACKSONVILLE, Fla. -- The
Jacksonville Jaguars
' new quarterback probably isn't going to see the field in 2014.
That's the plan, anyway, and he's fine with it.
Bortles
That's the reason to like, and dislike, the Jaguars' selection of
Blake Bortles
with the third overall pick on Thursday night.
General manager David Caldwell and coach Gus Bradley have been adamant that
Chad Henne
will be the team's starter this season and that a rookie was going to
spend the year developing on the bench

. They're not backing off from that approach. Bortles is going to start, and likely finish, the season on the bench.
"It's such an important position in this league and you want to do it right," Caldwell said. "That's what we're about. … We have to make it work. We can't just throw him out there. We've seen what happens when that happens."
Caldwell was speaking in general, but he just jettisoned an example of what happens when a QB is rushed on the field when he traded
Blaine Gabbert
to San Francisco for a sixth-round pick. Gabbert was thrust into the starting role as a rookie in 2011 after the team cut
David Garrard
days before the season began and backup
Luke McCown
struggled. Gabbert went 5-22 as a starter and was bothered by a string of injuries.
So the Jaguars don't want to rush Bortles on the field and he supports the decision.
"I would have no problem with it, but I would go into practice every day and prepare every day like I'm a starter," Bortles said. "I think that's the kind of mindset you've got to have when you're in that position. But I would have no problem doing that and taking a full year to learn and soak up as much information as I can."
Bortles played in a spread offense at Central Florida and he has experience under center. But he's going to have to adjust to a pro-style offense. He's got to improve his footwork, his feel in the pocket, and adjust to the speed of the game. He's perhaps the most physically gifted quarterback in the draft, standing 6-foot-5 and weighing 232 pounds. He's got a big arm, extends plays with his mobility, and is strong enough to bounce off contact, too.
Caldwell said the coaching and scouting staffs were unanimous in support of Bortles being the Jaguars' pick. The Jaguars were so enamored with him that Bradley said the team would have taken him even if
Jadeveon Clowney
was still on the board.
Bortles may turn out to be a very good quarterback -- possibly even elite -- but it won't happen until at least 2015. And if that happens, it will be a home run pick, the kind that turns a franchise around. But there's a negative to the choice: the Jaguars need immediate impact players, especially on offense.
The Jaguars scored just 15.4 points per game last season and ranked 31st in total offense, 31st in rush offense, and 22nd in pass offense. Bortles won't make a dent in those numbers in 2014. That job falls again to Henne, who has never thrown for more touchdown passes than interceptions in his six seasons in the NFL.
"This is not a quick journey, a race to the end," Caldwell said. "It's a marathon. Well, hopefully not a marathon. We want to build for the long term."
May, 8, 2014
5/08/14
8:49
PM ET
JACKSONVILLE, Fla. --
The pick:
The Jaguars addressed perhaps their biggest need by selecting Central Florida quarterback
Blake Bortles
.
My take:
It's a bit of a surprise pick because general manager David Caldwell has already named
Chad Henne
the starter in 2014 and they weren't expecting a rookie quarterback to play right away. That means they're not counting on getting anything from the third overall pick in the draft this season and possibly even into next season. The Jaguars have holes all over the roster and could have gotten immediate impact players by taking linebacker
Khalil Mack
, who went fifth to Oakland, or wide receiver
Sammy Watkins
, who went fourth to Buffalo. There's no question the 6-foot-5, 232-pound Bortles is the most physically impressive quarterback in the draft. He has a big arm and moves well outside the pocket. However, he played in a spread offense that stressed shorter and more horizontal throws in college and will have to learn to play in the pocket.
Fixing flaws:
Say this for Bortles: He's conscious of what he needs to do to improve. Analysts highlighted some poor mechanics and fundamentals on 2013 tape, specifically his lower body and footwork. Bortles obviously worked on that pretty hard in the first few months of 2014, because he was much cleaner in his mechanics at his pro day. His balance was better, the ball came out of his hand cleaner, his throwing motion was more economical and, as a result, he threw the ball harder and more accurately.
What's next:
The Jaguars don't pick again until 39th overall (seventh pick in the second round) and still have pressing needs to address at pass-rusher and receiver. This is a deep draft at receiver, so the Jaguars could put off taking a receiver until the third round. Names to watch include Vanderbilt's
Jordan Matthews
and Alabama's
Kevin Norwood
, both of whom were on the South roster the Jaguars coached at the Senior Bowl.
March, 6, 2014
3/06/14
2:00
PM ET
The Jaguars need a quarterback and they end up with the best one in the draft in Todd McShay's latest mock draft, which was released Thursday morning.
The ESPN and Scouts Inc. analyst predicts the Jaguars will take Louisville's Teddy Bridgewater with the No. 3 pick, a scenario that most Jaguars fans have been hoping for since the 2013 college football season began. McShay writes that Bridgewater is the "most NFL-ready and naturally accurate quarterback" in the draft.
McShay has the Jaguars taking Bridgewater because he believes Houston will take
Blake Bortles
with the top pick and St. Louis will take
Jadeveon Clowney
with the second pick. Clowney is the player I believe the Jaguars are hoping to take with their pick.
Here is what McShay writes in breaking down the Jaguars' selection of Bridgewater:
I think that if Clowney drops to this spot, he could be Jacksonville's choice as a guy who could come in and be a difference-maker for that defense, playing something of a hybrid role. But unless Clowney is available, I think the Jaguars will take the best QB available at No. 3. I feel as though Bortles and Bridgewater are the two likeliest options, and with Bortles off the board in this scenario, that means Bridgewater. He is the most NFL-ready and naturally accurate quarterback in this class, and he remains the top QB in our rankings.
March, 6, 2014
3/06/14
11:00
AM ET
Todd McShay's third NFL mock draft for 2014 is out on ESPN Insider today.
The whole key here for the Texans is just not missing. This organization can rebound quickly if they land the right player with the first overall pick, whether that is
Jadeveon Clowney
or their choice of the top three quarterbacks.
If it is Clowney, he needs to be a dominant player, which of course is very possible, and team with
J.J. Watt
, the league's best defensive player, to form a simply nasty defensive front. If it is one of the quarterbacks, that player doesn't necessarily need to develop into a future Hall of Famer, but he does at least need to be a franchise quarterback on the
Joe Flacco
/
Tony Romo
tier of NFL signal callers. Also, do not forget that after round one, the Texans own the subsequent selection … and there are going to be plenty of great prospects to consider in just a loaded draft class.
That 33rd overall pick could be a great bargaining chip.
Whom does McShay have the Texans drafting at No. 3?
Let's take a look

: