AFC South:

Seattle Seahawks
January, 18, 2015
Jan 18
11:20
PM ET
The law of averages took over for the NFL's championship weekend, ensuring that the NFC and AFC titles were determined by the performance of players and coaches rather than officials.
Unlike the
previous
two weeks,
no game-changing calls impacted the
Seattle Seahawks
'
28-22 victory
over the
Green Bay Packers
or the
New England Patriots
'
45-7 win
against the
Indianapolis Colts
.
There is one initial tidbit to consider in advance of a Seahawks-Patriots Super Bowl, which will be refereed by Bill Vinovich. (That's according to multiple reports, including one from ESPN rules analyst Jim Daopoulos.) Since Vinovich returned to the referee role in 2012 after recovering from heart problems, he has been assigned five Seahawks games. Seattle is 5-0 in those games, including three victories by at least 20 points.
For the penultimate time in the 2014 season, let's run through a handful of calls that expose and explore the gray area in NFL officiating.
[+] Enlarge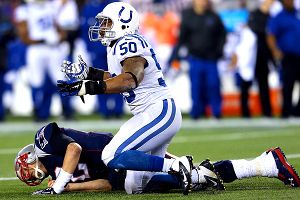 Jim Rogash/Getty ImagesColts linebacker Jerrell Freeman was called for roughing the passer on this hit on Patriots quarterback Tom Brady in the second quarter.
Play:
Colts linebacker
Jerrell Freeman
called for roughing the passer
Referee:
Walt Anderson
Analysis:
With 1 minute, 34 seconds remaining in the first half, Freeman rushed as a free blitzer and knocked down Patriots quarterback
Tom Brady
just after he released the ball. The pass was incomplete, but Anderson penalized Freeman for roughing the passer.
On replay, you see Freeman make contact with his helmet on Brady's chest near his right shoulder. No helmet-to-helmet contact occurred and there didn't appear to be contact with the neck, either.
So what did Anderson see? It's possible he assumed helmet-to-helmet contact because Brady's head snapped back on impact. It's also not out of the question that he believed Freeman's facemask slid up Brady's chest to the neck area, which would have violated Rule 12, Section 2, Article 7(b-1) prohibiting contact between a defender's helmet with the head or neck area of a defenseless player "even if the initial contact is lower than the player's neck."
Most likely, however, Anderson would cite Rule 12, Section 2, Article 7(b-2), which prohibits defenders from "making forcible contact with the top/crown of the forehead/'hairline' parts of the helmet against any part of the defenseless player's body." Such contact wasn't conclusive in the replay, but it's the closet thing we can get to explaining this penalty. I certainly would have supported a no-call in this instance.
Play:
Seahawks offensive lineman J.R. Sweezy penalized for unnecessary roughness in live action
Referee:
Tony Corrente
Analysis:
With 8:02 remaining in the third quarter, Packers linebacker
Clay Matthews
sacked Seahawks quarterback
Russell Wilson
for a 15-yard loss. Matthews landed on top of Wilson during the play, at which point Sweezy dove into Matthews' back to peel him off the pile.
Corrente's crew correctly penalized Sweezy, but the Packers declined to enforce. Why? Because Corrente did not rule it a "dead ball foul," which would have tacked the 15-yard penalty on top of the 15-yard sack and led to a second-and-45 situation. Instead, he apparently believed Sweezy hit Matthews before Wilson was down.
Viewed on replay, it's clear Wilson's knee had touched the ground before Sweezy hit Matthews. Rule 7, Section 2, Article 1 directs officials to call the ball dead and the down complete "when a runner is contacted by an opponent and touches the ground with any body part other than his hands or feet. The ball is dead the instant the runner touches the ground."
The Packers should not have been in position to choose between declining the penalty or giving the Seahawks another first-and-15. It's fair to note, of course, that the Packers could have made the call moot had they stopped the Seahawks on an ensuing third-and-19 two plays later.
Play:
Seahawks defensive end
Cliff Avril
penalized for illegal use of hands
Referee:
Corrente
Analysis:
Avril had already been called once for illegal use of hands when this play took place with 11:58 remaining in the second quarter. Quarterback
Aaron Rodgers
' pass had fallen incomplete on third down, but the penalty on Avril gave them an automatic first down.
Illegal use of hands was a point of emphasis in 2014 and was called 242 times during the regular season. Rule 12, Section 1, Article 7 penalizes a defensive player who "thrusts his hands forward above the frame of an opponent to contact him on the neck, face or head."
When you watch the replay, you see Avril actually turn his left arm parallel to the ground and push it toward the neck of Packers right tackle
Bryan Bulaga
. Avril was livid with the call, but if Corrente didn't tag him for illegal use of hands, he could have used Rule 12, Section 2, Article 12. That rule prohibits a player from "Striking, swinging at, or clubbing the neck, head or face of an opponent wit the wrist(s), arm(s), elbow(s) or hand(s)."
October, 13, 2013
10/13/13
2:00
PM ET
By
ESPN.com staff
| ESPN.com
Join our ESPN.com NFL experts as they break down the Tennessee Titans' visit to the Seattle Seahawks. Contribute your thoughts and questions beginning at 4 p.m. ET. And, be sure to visit our
NFL Nation Blitz page
for commentary from every game, as well as fan photos and the latest buzz from Twitter. See you there.
October, 11, 2013
10/11/13
12:00
PM ET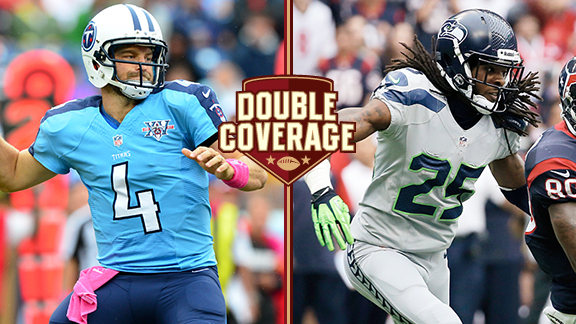 USA TODAY Sports, Getty ImagesBackup quarterback Ryan Fitzpatrick will have to face a stifling Seattle secondary and the league's best corner in Richard Sherman.
Sunday's game between the
Tennessee Titans
and
Seattle Seahawks
is a matchup between two winning teams coming off losses, and both are missing key players on offense.
Quarterback
Jake Locker
is out for the Titans. Both starting tackles --
Russell Okung
and
Breno Giacomini
-- are out for Seattle. Tight end
Zach Miller
could also sit.
The Seahawks have a 10-game home winning streak on the line, hoping to rebound after their first defeat of the season, 34-28 to the
Indianapolis Colts
.
The Titans hope to get a stagnant running game going and find some consistency with backup quarterback
Ryan Fitzpatrick
.
Paul, it looked like Fitzpatrick had a rough first outing for the Titans subbing for an injured Locker. Do you think Fitzpatrick will improve, and how difficult will it be for Tennessee to have success on offense while Locker is out?
Kuharsky:
Fitzpatrick is certainly capable of playing better than he did in the loss to Kansas City, when he had three very bad quarters and one good one. I'm not sure what the Titans can do to help him if they are unable to run the ball. If they can bring some balance with
Chris Johnson
(and maybe
Shonn Greene
, who's still trying to get back after knee surgery), it could be a lot less difficult. Fitzpatrick hardly has Locker's excellent speed, but he scrambled around pretty well against the Chiefs. With Locker in the first four games, the Titans didn't turn the ball over and overcame their deficiencies running the ball. Without him, they need Fitzpatrick to imitate the mistake-free youngster. But Fitzpatrick is more of a gunslinger than Locker and is streakier, and that's probably too much to ask.
Terry, the Titans pledged to be a great running team. It hasn't really panned out that way. Last time Johnson was in Seattle, he had a 2,000-yard season. What's the run defense going to be like?
Blount:
It's been all but impossible to run up the middle on the Seahawks. Defensive tackle
Brandon Mebane
is as strong a run stopper as there is the NFL, and it takes two blockers to handle 325-pound
Red Bryant
. If that fails, it's tough to get past middle linebacker
Bobby Wagner
. But Wagner probably won't play Sunday because of a high ankle sprain. Nevertheless, it's difficult to establish a running game on the Seahawks. Seattle is an aggressive outside pass-rushing team, so occasionally a back can get yardage outside, but not often.
Paul, Locker told us on the conference call Wednesday what a disappointment it is that he won't get to play this weekend in front of family, friends and University of Washington alumni who love him for all he did to help turn around the Huskies football program. He is a beloved guy here and a huge hero in this community. How is he viewed in Nashville?
Kuharsky:
Nothing close to that yet. People who have given him a chance know he's an eminently likable guy, a hard worker and a well-respected leader, but plenty of fans called talk radio over the offseason talking about why Fitzpatrick would be a better choice or how it should at least be a camp competition. Even after Week 2's overtime loss in Houston, when he overthrew a wide-open
Kenny Britt
on a crucial third-and-1 late in the game, there were calls for change. (It's a throw he's got to make.) The game-winning drive against San Diego showed people what he can do. Locker also had a fantastic two-plus quarters against the Jets, which seems to have done a lot to win more people over. In playing style and development arc, I think he is a lot like
Steve McNair
so far. If that holds true, impatient fans will wind up happy.
Terry, home field is viewed as such a giant advantage for the Seahawks. Can you give us a tangible feel for just how loud and crazy the atmosphere is there?
Blount:
In the San Francisco game, where the outdoor stadium decibel record was set at 131.9, it was so loud that it was difficult at times to even hear people talk in the enclosed press box. I know every team believes its stadium is one of the loudest, and I've been to most of them, but trust me, there is nothing like CenturyLink Field. It's deafening.
Paul, cornerback
Alterraun Verner
is off to an outstanding start this season with four interceptions and 11 passes defensed. Seattle cornerback
Richard Sherman
is viewed by some as the best corner in the NFL, but is Verner the most underrated?
Kuharsky:
He could have had another two picks last week on balls he didn't manage to haul in. Verner has been really good. The team wasn't sure what it had in him. The Titans knew they got a good football player out of UCLA three years ago. But as they revamped this offseason, with Gregg Williams joining the coaching staff and the Titans determined to get more aggressive, they figured a big increase in press-man coverage would move them away from Verner's strengths. They wanted
Tommie Campbell
, a faster and bigger guy to win the job. (Some wrote about how Campbell has some of what makes Sherman so good.) But Campbell didn't catch on and bombed in training camp, and Verner proved to be better. If
Coty Sensabaugh
hasn't recovered from his concussion for Sunday, Verner will start in base and move into the slot in nickel, with Campbell replacing him outside.
The Titans rush pretty well, and Verner is getting his hands on balls all over the field. Who has had the best success slowing
Russell Wilson
and how?
Blount:
Even though Seattle came back and won the game, the Texans had the most success because of their talented defensive front and all-everything defensive lineman
J.J. Watt
. Both Houston and Indianapolis took advantage of Seattle missing starters on the offensive line and teed off on Wilson on third down. Nevertheless, Wilson is the best I've ever seen making the most of a bad situation and finding the opening the defense gives him. Anticipating when Wilson will roll out and cutting off his running lanes is the key, but it is far easier said than done.
October, 4, 2013
10/04/13
12:01
PM ET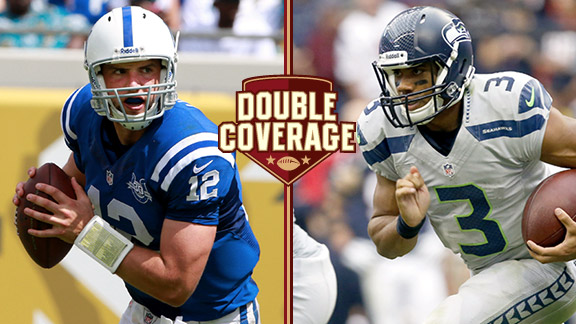 Getty ImagesAndrew Luck and Russell Wilson, two of the best young quarterbacks in the NFL, face off in Week 5.
Two of the NFL's best young quarterbacks --
Andrew Luck
and
Russell Wilson
-- will be center stage when the
Indianapolis Colts
(3-1) take on the
Seattle Seahawks
(4-0) in the most anticipated game of the weekend. The résumé for both players already includes the ability to pull off fourth-quarter comebacks.
But this game will likely come down to which defense can continue its strong play. The Seahawks are holding opponents to fewer than 12 points and have seven interceptions. The Colts aren't too far off. Their defensive unit is giving up fewer than 13 points a game, including a combined 10 points in the past two games.
Colts reporter Mike Wells and Seahawks reporter Terry Blount take a look at the Week 5 matchup.
Blount:
Mike, I doubt anyone has to tell Luck how good Seahawks cornerback
Richard Sherman
is since they were teammates at Stanford. Whenever anyone has challenged Sherman, he's made them pay, like the pick-six that tied the game last week in the fourth quarter against Houston. Can Luck get the best of him or will he try to stay away from Sherman most of the game?
Wells:
Luck will go at Sherman, especially if he's matched up against
Reggie Wayne
. Wayne, a future Hall of Famer, enjoys going up against the top cornerbacks in the league. You can expect offensive coordinator Pep Hamilton to move Wayne around the field. He'll line up out wide and in the slot, making sure Sherman has to work to try to slow him down. Wilson is averaging nearly 20 yards fewer a game through the air this season. Not that it's a bad thing because the Seahawks are 4-0 and
second in this week's Power Rankings
, but is there a reason behind the drop in yards?
Blount:
Mike, the biggest reason is an offensive line that has played poorly in all four games, even when all the starters were healthy. It's truly amazing Wilson has found a way to get the job done and lead the team on crucial scoring drives when he's under constant pressure. His elusiveness in the pocket and ability to extend plays, then make a key throw on the run, or keep it for big yards, is remarkable. Mike, Luck and Wilson are obviously two of the best young quarterbacks in the NFL, but each is different physically, and different in how they play the position. In your opinion, what does Luck do better than Wilson?
Wells:
Luck doesn't have any flaws. You want him to tuck the ball and run? He'll take off like he's a running back. You want him to throw an out pattern or a bomb downfield? He's proven he can do that, too. And he's already shown he knows how to win when he led the Colts to an 11-5 record and the playoffs last season. The biggest difference between Luck and Wilson is their size, and that Luck isn't a read-option quarterback. Terry, What is it about Pete Carroll that makes him a good coach? His transition from the college game to the NFL has gone pretty smoothly.
Blount:
Mike, it's his positive reinforcement that resonates with his players. Carroll is not an old-school guy who yells at his players. That's not how he operates. He corrects players, but never publicly humiliates them in front of others. And he doesn't scream at them when they make a mistake. He makes it a teaching moment, as do all his assistants. Carroll is consistently upbeat, regardless of the situation. Consequently, these players would run through a brick wall for him. Speaking of running,
Trent Richardson
now has a couple of games under his belt in a Colts uniform. How much do you see him contributing and can he make a difference for Indianapolis?
Wells:
Richardson and Luck are the future of the Colts. It's not often that a team gets two of the top three picks from the same draft. But Richardson's transition from Cleveland has gotten off to a slow start. He had 20 carries against Jacksonville last week, but he only managed to rush for 60 yards. Everybody's waiting for Richardson to have that long run where he bulldozes over a couple of defenders and then uses his speed to outrun everybody else. He'll continue to get better as the season progresses. Speaking of running backs, the Colts talk about Wilson being deadly with his feet, but shouldn't they be more worried about running back
Marshawn Lynch
?
Blount:
That's sort of the point that makes it all work. As soon as Wilson has the defense keying on Lynch, he will bootleg off a fake handoff to Lynch and get free for a 20-yard gain on a scramble, or complete a 30-yard pass downfield to an open receiver. But you're right, everything the Seahawks do on offense revolves around getting Lynch going in the power running game. Mike, the issue for the Seahawks is their patchwork offensive line. Down three starters last weekend, it was a hot mess against the Texans' defense, allowing five sacks and never giving Wilson a chance to catch his breath. Seattle may get center
Max Unger
back Sunday, but still will start backups in both tackle spots. Do you see the Colts taking advantage of the situation?
Wells:
Expect the Colts to be in attack mode with linebacker
Robert Mathis
leading the way. Mathis, who has 7.5 sacks this season, is one sack away from getting the 100th of his career. The Colts have 13 sacks as a team. They're prepared to face a quarterback such as Wilson after already going against Oakland's
Terrelle Pryor
and San Francisco's
Colin Kaepernick
this season. The Seahawks are obviously undefeated on the road this year, but they struggled away from home last season. Why are they a completely different team away from home?
Blount:
I think that's starting to become a bit of a misnomer.
The Seahawks now have won five of their past six roads games, dating back to the end of last season and the playoffs. The only one they lost came on a field goal at the end of the Atlanta playoff game. Historically, they have struggled in games that start at 10 a.m. PT, but they are 2-0 in those games this year and have a chance to go 3-0 on Sunday. However, it's true that CenturyLink is a huge home-field advantage, so playing well enough on the road to earn home field in the playoffs is important to the players. I'm sure the Colts have a similar goal, Mike. I know it was emotional for the Colts last December when coach Chuck Pagano returned. How much has it meant this season to have him back healthy again and running the show there?
Wells:
The Colts played last season for Pagano. Now he's leading the way for them. Pagano is a very upbeat coach. We're talking about a person who purchased mousetraps and had them placed in the players' lockers as a reminder for them to avoid falling into the trap against the Jaguars. There aren't many NFL coaches who would do that. Sounds like that's something Carroll would do, too. It appears to be to a two-team race in the NFC between the Seahawks and New Orleans. Who do you give the edge to in the conference?
Blount:
What a difference it is for the Saints to have Sean Payton back as head coach. And Rob Ryan really has helped the defense. But I have to go with Seattle over New Orleans because the Seahawks' defense is miles ahead of the Saints'. It's an interesting matchup because Wilson idolizes
Drew Brees
and they've become friends. And the Saints play at Seattle in a Monday night game on Dec. 2.
.
September, 22, 2013
9/22/13
2:30
PM ET
By
ESPN.com staff
| ESPN.com
Join our ESPN.com NFL experts as they break down the Jacksonville Jaguars' visit to the Seattle Seahawks. Contribute your thoughts and questions beginning at 4 p.m. ET. And, be sure to visit our
NFL Nation Blitz page
for commentary from every game, as well as fan photos and the latest buzz from Twitter. See you there.
September, 20, 2013
9/20/13
12:00
PM ET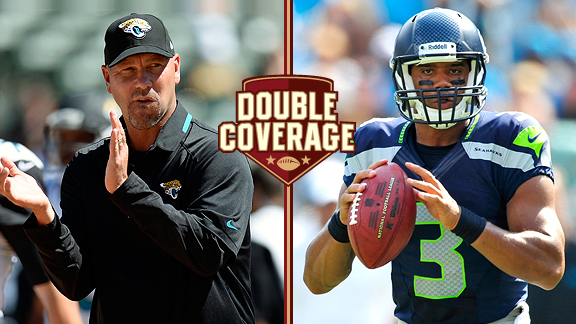 Getty ImagesWill Jaguars coach Gus Bradley, the ex-Seattle defensive coordinator, find a way to stop Seahawks QB Russell Wilson?
This is as close to a David versus Goliath matchup as you can get in the NFL, but it will take more than a slingshot for the
Jacksonville Jaguars
to knock over the
Seattle Seahawks
Sunday at CenturyLink Field. However, it marks the return to Seattle for Jaguars coach Gus Bradley, the former defensive coordinator for the Seahawks who left at the end of last season to take the Jacksonville job.
Terry Blount
: Michael, no one knows the ins and outs of the Seattle defense better than Gus Bradley. He's the man who built a defense that many people consider the best in the league. Do you think his knowledge of the Seahawks' schemes and players will help the Jaguars this week?
Michael DiRocco:
Bradley's knowledge of the personnel and their strengths and weaknesses will certainly help, especially when it comes to the secondary. He also knows the best way to attack the defense and should be able to school offensive coordinator Jedd Fisch on tendencies. With that being said, Seahawks coach Pete Carroll and defensive coordinator Dan Quinn are aware of that and will make some changes this week to counter. The bottom line is this: It doesn't matter if the Jaguars know exactly what's coming if they don't have the personnel to stop it or fail to execute properly. Right now the team just doesn't have a lot of talent, and the talent the Jaguars do have on offense is either banged up (
Maurice Jones-Drew
,
Marcedes Lewis
) or suspended (
Justin Blackmon
). Plus, the offensive line has struggled, giving up 11 sacks in two games. Jacksonville has scored just one touchdown in two weeks because of those issues and poor execution. I've always thought knowing what's coming on any given play is overrated, anyway. Everybody knew Nebraska was going to run the option but they couldn't stop it. Sometimes defenses played it perfectly and still got gashed for big yards. Why? The Huskers had better personnel.
Terry,
Russell Wilson
has had slow starts the first two weeks of the season. Is there a reason for that, and what can he or offensive coordinator Darrell Bevell do to fix it?
Blount:
I think they will fix it, Michael. The main thing that has slowed Wilson down has been a slew of penalties -- false start, illegal formations, illegal procedure and holding. There have been several times in the first two games where Wilson was driving the team down the field, only to have the progress halted by penalties that backed the team up. They won't eliminate all the holding calls, of course, but I expect to see a lot less of the careless penalties this weekend. Pete Carroll is fed up with it and made it a point of emphasis this week. But Wilson also has missed throws earlier in games that he usually makes, something I doubt will continue.
Michael, statistically speaking, this is a huge mismatch with the worst offense (Jacksonville) going against the best defense (Seattle). What could make this a close game?
DiRocco:
The biggest factor will be turnovers. The Jaguars would have to get at least three, and most of them would need to be in Seahawks' territory. This offense isn't going to be able to put together 70- or 80-yard drives against that defense, especially if Jones-Drew is limited because of his ankle injury. The Jaguars will need some short fields with which to work. And they need to capitalize on those turnovers with touchdowns. Field goals won't get it done. If the Jaguars can get 14 or more points off turnovers, they'll have a chance. That's not going to be easy, though. The Seahawks have forced 25 turnovers at home since the start of the 2012 season and their plus-18 turnover margin in that span leads the NFL. That means they've turned it over only seven times in nine home games.
Terry, the 12th man set a world record against San Francisco the other night. Is their effect on opposing teams overrated?
Blount:
I used to think it was a bit overblown, but I don't now. There's absolutely no question that crowd was a factor in Seattle's victory Sunday night against San Francisco. It's just electric in the stadium. The noise level drives the opposing offense crazy and clearly limits its effectiveness. When the Seahawks weren't very good, the crowd probably wasn't as big a deal, but this city has gone Seahawks crazy and the team feeds off it.
Michael, Bradley inherited a difficult situation in Jacksonville. How do you think he's handling things so far and what's the general feeling about him there?
DiRocco:
Bradley has been consistent in terms of staying upbeat and positive, and that's just the way he has to handle things in 2013. This is not a very talented team. It's not going to win many games. Bradley knows that. The GM knows that. The smart fans know that, too. He's concentrating on laying the foundation for what everyone hopes will only be a three-year rebuilding project. His biggest task this season will be making sure he doesn't lose the team as the losses pile up, and keeps the players focused on improving. So far, so good.
Terry, do you think it's possible the Seahawks could get caught looking ahead to the Texans game next week in Houston?
Blount:
Pete Carroll talked about this Monday, saying the Seahawks look at each game as a championship opportunity. Everyone says that, of course, but I think it works for this team. They realize they are in position to possibly win a championship this season, but one careless slip-up could cost them home-field advantage in the playoffs. And in this case, I think the coaches will emphasize how familiar Bradley is with the way the Seahawks do things, so they don't get caught off guard.
January, 31, 2012
1/31/12
6:20
PM ET
INDIANAPOLIS --
Peyton Manning
's interview with ESPN's Trey Wingo swerved into NFC West territory about five minutes into the clip below.
The
San Francisco 49ers
and their fans will appreciate what Manning said when Wingo asked how tough it is for Manning to watch the Super Bowl come to his town.
"I've always said it's probably harder for the playoff teams not to be here," Manning said. "When you get really close, like San Francisco, like Baltimore. We've known we weren't coming to the Super Bowl for quite some time."
Since November, actually.
A quick look at the five most painful NFC West playoff exits, pre-Super Bowl, since divisional realignment in 2002:
2011 49ers: Their 20-17 defeat to the Giants was crushing for the way it happened, with a turnover during a punt return in overtime -- and at home, which always hurts more. Missed opportunities abounded.
2003 Rams: Losing in the second overtime is worse than losing in the first one. Jake Delhomme's 69-yard touchdown pass to Steve Smith in St. Louis stunned the 12-4 Rams in the divisional round. This one would have ranked first if a Super Bowl trip had been on the line.
2003 Seahawks: Seattle was looking for its first playoff victory since the 1980s. Shaun Alexander's fourth-quarter scoring run had forced overtime at Lambeau Field. Microphones memorably picked up quarterback Matt Hasselbeck saying the Seahawks would take the ball -- and score -- after winning the overtime coin toss. Al Harris' interception return for a touchdown spoiled those plans.
2006 Seahawks: A 27-24 overtime defeat at Chicago in the divisional round brought a sudden end to the Seahawks' NFC title defense. Alexander rushed for 108 yards and two touchdowns, but it wasn't enough.
2004 Seahawks: First-round defeats in back-to-back seasons extended the Seahawks' drought without a playoff victory. The Seahawks lost this one at home, 27-20, after the Rams scored the final 10 points.
Arizona's defeat at New Orleans following the 2009 season just missed the cut. The game lacked the drama generally required to inflict deep emotional wounds. It was significant, however, because
Kurt Warner
suffered a concussion and opted for retirement.