AFC South:

St. Louis Rams
November, 7, 2013
11/07/13
10:00
AM ET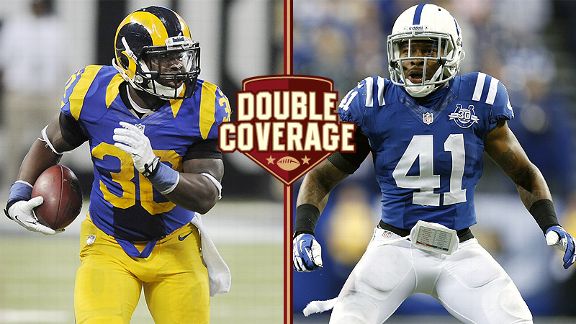 AP Photo/L.G. PattersonZac Stacy and the Rams have run well of late. That will be vital against Antoine Bethea and the Colts.
.
Indianapolis Colts
quarterback
Andrew Luck
and
St. Louis Rams
quarterback
Sam Bradford
were supposed to be the key players when their teams meet at Lucas Oil Stadium on Sunday afternoon. Luck will be on the field taking snaps, but Bradford is stuck being a spectator after tearing his ACL earlier this season.
The Rams have been hit hard by the loss of Bradford: They have lost three in a row and don't appear close to turning things around. Meanwhile, Luck is an MVP candidate despite not putting up off-the-charts statistics. He's simply overcome the loss of five key offensive players to lead the Colts to first place in the AFC South.
ESPN.com Colts reporter Mike Wells and Rams reporter Nick Wagoner break down the matchup.
Wells:
Nick, I'm sure most fans thought St. Louis would make progress off its seven wins last season. That doesn't look like it's going to happen. How much has Bradford's season-ending injury affected the Rams? Or do you think they were going to struggle even with him leading the way?
Wagoner:
It's been a strange season in which it's really hard to predict what you're going to get from the Rams from week to week. There's no question the team was better with Bradford at quarterback. If he'd been healthy the last two weeks (and making the big assumption that everything else stayed the same), the Rams likely would be sitting at 5-4 right now. The Rams already had a really small margin for error, and it got even smaller when Bradford went down. They have had way too many self-inflicted mistakes to overcome, and they have a knack for not being able to get out of their own way.
We can talk about Luck in a minute, but I wanted to get to a big-picture Colts issue first. The Rams and Colts both began 2012 in something of a rebuilding mode. The Colts were able to do it really quickly, whereas the Rams are still sifting through the process. Aside from Luck, what do you think has been the biggest key to the Colts' turnaround?
Wells:
The defense. It took the unit a season to get used to the 3-4 scheme employed by coach Chuck Pagano and defensive coordinator Greg Manusky. They also acquired players comfortable in the system. Linebacker
Robert Mathis
is a legitimate Defensive Player of the Year candidate with 11.5 sacks. The unit itself isn't highly ranked – 22nd overall – but it seems to find a way to make plays at the right time. It deserves just as much credit as Luck for the victory over Denver on Oct. 20. The defense must continue to make plays to help out the offense, which is without receiver
Reggie Wayne
for the rest of the season.
I have to say, Nick, there are not a lot of recognizable names on the Rams' roster. Is there any reason to believe they can go into Lucas Oil Stadium and upset the Colts?
Wagoner:
Honestly, I don't see how the Rams can win this one. Credit to the Rams, they've really shown some fight the past two weeks without Bradford. But they were unable to pull off a couple of winnable games because they keep making mistakes they can't surmount. The Rams' best hope in this one is to continue to run the ball well -- which, considering the Colts have the 27th-ranked rush defense, seems possible -- and to get some turnovers on defense.
One area that continues to plague the Rams is defending the run. Tennessee's woeful rushing attack got healthy on the Rams last week. I wonder if the Colts and
Trent Richardson
can do the same. It seems the return on investment hasn't been there for Indy on the Richardson deal. What's been the struggle, and do you think the Colts can get him and their running game going?
Wells:
It seems that every week the talk is about Richardson getting closer to having a big game. But everybody is still waiting. First it was a matter of Richardson getting comfortable with the system the first few weeks after he was acquired from Cleveland. Then offensive coordinator Pep Hamilton came out last week and said he has to do a better job of finding ways to get Richardson out in space. The Colts' running game was put into some perspective when they ran the ball only four times in the second half last weekend against Houston -- and three of those runs came on their final offensive series when they were killing some clock. Titans running back
Chris Johnson
had his best game of the season – 150 yards – against the Rams last week. Maybe Richardson will do the same. Finally.
The Colts are pretty familiar with Jeff Fisher from his days with their AFC South rival Titans. Is there any danger of the Rams' coach losing his job at the end of the season?
Wagoner:
Short of some wild scandal breaking out, I'd say the chances of that happening are pretty much zero. He's in only his second season, and the Rams knew they had a long road to climb to get back to being a contender. They exceeded expectations in his first season, and that may have sped up the way people view the rebuilding project. But the Rams have always viewed 2014 as the year they hoped to really take a major step forward. This season will likely go down as a disappointment, but if Bradford returns healthy and the Rams have a good offseason, they'll believe they can be back in the mix. The biggest disappointment this season has been the lack of progress by many of the team's young players. That's not to say nobody has made that move; it's just not as many as the Rams would have liked, at least not yet. That said, I do think it's possible Fisher could take a look at some of the guys on his staff. He's a loyal guy and many of his assistants have been with him for a while, but that doesn't mean everyone is exempt.
I do want to ask about Luck, but I wanted to take a different approach than the old "Why is Andrew Luck so awesome?" question you probably get every week. Each of these teams has a No. 1 overall pick at quarterback, but they have very different salaries. How much of a difference has it made for the Colts that they not only got a franchise-changing quarterback but one they don't have to pay like an NFL megastar for a while?
Wells:
I'm going to take it beyond the fact that the Colts don't have to pay Luck megastar money for a while. The Colts will likely have their choice of free agents to choose from because many will want to play with Luck. As one player recently told me, "You want a chance to win a couple of rings? Come to Indianapolis because 12 is going to be here for a long time and he's going to win this organization some Super Bowls." The best part from an organizational standpoint is that Luck is in just his second season and his desire to win and get better on a daily basis is something a lot of players in this league wish they had.
.
November, 3, 2013
11/03/13
11:00
AM ET
By
ESPN.com staff
| ESPN.com
Join our ESPN.com NFL experts as they break down the Tennessee Titans' visit to the St. Louis Rams. Contribute your thoughts and questions beginning at 1 p.m. ET. And, be sure to visit our
NFL Nation Blitz page
for commentary from every game, as well as fan photos and the latest buzz from Twitter. See you there.
October, 31, 2013
10/31/13
12:00
PM ET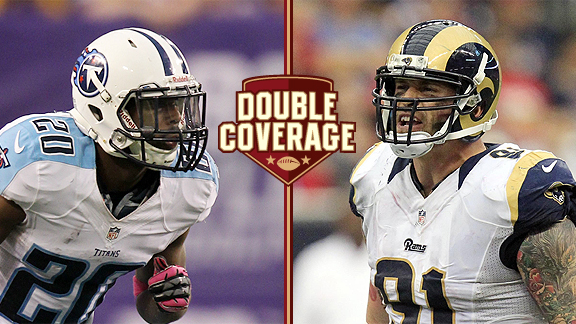 USA TODAY SportsTitans CB Alterraun Verner and Rams DE Chris Long are two of the league's best at their positions.
.
Any time the
St. Louis Rams
and
Tennessee Titans
meet, memories of Super Bowl XXXIV are sure to come to the fore. In one of the greatest Super Bowl finishes of all time, the Rams emerged with their lone championship during their time in St. Louis.
A lot has changed since, but neither team has managed to get back to the promised land and it seems like a long shot either will this season. This week, the Rams and Titans renew acquaintances at the Edward Jones Dome in St. Louis. ESPN.com Rams reporter Nick Wagoner and Titans reporter Paul Kuharsky discuss some things worth watching, including an interesting role reversal for one of the key figures in that Super Bowl.
Wagoner:
Well, it's pretty obvious what the big story is going to be this week. Jeff Fisher is facing his former team for the first time since taking over as the coach in St. Louis. As is to be expected, Fisher is downplaying that whole angle, but you were around him a lot in his years in Nashville. Do you expect Fisher to have a little something extra for his old team this week?
Kuharsky:
It would be so much better if it were in Nashville. Then we'd have the crowd reaction as a part of it, too. Still, it's intriguing. He will definitely have something (or some things) drawn up that he feels will uniquely exploit the schemes and styles of his former underlings Mike Munchak, Jerry Gray and Gregg Williams. If those things work, I'd expect Fisher will then talk about how one of his assistants who was once in Tennessee -- Chuck Cecil, Dave McGinnis or even Ray Sherman -- was instrumental in the design. Fisher didn't leave with hard feelings, and I believe he wishes the organization well. Still, any proud former employee in this sort of circumstance wants to outperform the former employer. He's talked about it meaning more for the guys on the roster who were once Titans.
Jared Cook
had a monster opening day but has been quiet since.
Cortland Finnegan
missed some time hurt. What's the status of those guys?
Wagoner:
Cook has really struggled dealing with teams giving him more attention and, more specifically, being physical with him at the line of scrimmage and downfield. He stopped on a route last week against Seattle, and it resulted in an interception. The Rams have gone back to more of a power running scheme that has also limited his snaps because he doesn't bring much to the table as a blocker. Finnegan won't say it, but I believe he was banged up at the beginning of the season; his first four games were downright brutal. He returned last week against Seattle, and for now he's working exclusively in the nickel as the team's third corner rather than just bumping inside in those situations. Given that he's only a little more than a year into a monster contract, it's hard to categorize him as anything but a disappointment for the price.
A lot will be made of the Fisher-Tennessee connection, but I'm more intrigued by the Gregg Williams situation. The way things went down with him and the Rams, and between Williams' son Blake and the Rams, had to have created some tension on all sides. What has Williams' impact been down there in Tennessee, and what exactly is his role?
Kuharsky:
By title, he's senior assistant/defense. In practice, he's not-quite defensive coordinator. Gray is still calling the plays, but Williams' influence is undeniable. This defense had no personality or attitude last season. Now it's the backbone of the team. It mixes it up and disguises its looks up front, it blitzes more often and it plays far more man-to-man.
Bernard Pollard
has been a great fit who has talked with swagger and backed it up. Some guys most people have never heard of -- defensive end
Ropati Pitoitua
and middle linebacker
Moise Fokou
-- have been very good additions. Williams certainly had a say in bringing those guys in. He has stayed in the background and seems comfortable there. I would imagine he and Gray are excited to put together a plan to make
Kellen Clemens
uncomfortable.
How do you think Clemens will respond in his second start since
Sam Bradford
went down?
Wagoner:
To paraphrase one of the great philosophers of our time, Mr. Dennis Green, Clemens proved last week against Seattle that he is what we thought he was. He's a tough, gritty, consummate professional who can occasionally extend plays with his legs and make something happen. He's also consistently inaccurate, a bit indecisive and has a knack for costly turnovers (though his two interceptions Monday night weren't completely his fault). Another week to work with the starters should help, but he was a bit sore after Monday night's game against Seattle. The Rams don't need him to throw for 300 yards and five touchdowns, but they do need him to convert in the red zone and not turn the ball over.
There are something like 16 players from the Fisher era remaining in Tennessee, one of whom is running back
Chris Johnson
. The Rams have been better defending the run the past two weeks, but they need to prove they can keep doing it. It appears Johnson has struggled after the team made efforts to help him in the offseason. What's going on with Johnson, and is he (and the Titans' offensive line) capable of taking advantage of the Rams' run defense?
Kuharsky:
The Titans are built on a philosophy of throwing it when they want to, not when they have to. That's a mistake because the revamped line and Johnson are not equipped to run it they way they think they can. Jets fans get a kick out of this, but to a large degree the Titans' hope things will get better comes from
Shonn Greene
. The bigger back was brought in as a compliment to CJ, but he got hurt in the opener and made it back only the week before the bye; he has hardly played. They need him to emerge and contribute. Based on current numbers, the Rams are the third-softest run defense the Titans will have seen this season. If they can't run Sunday, it will really speak to their issues.
Chris Long
and
Robert Quinn
looked really good against Seattle. Have they been giving everyone problems like that?
Wagoner:
Quinn certainly has. Through the first half of the season, he's really starting to realize his immense potential. I believe he's the Rams' best player right now, and have felt that way since the beginning of the season. He's an athletic freak who gives slower tackles problems. He feasts on inferior players, but he can get it done against good tackles as well. Long was banged up earlier in the season but has battled through it and is starting to find his stride. Given the situation on offense right now, the Rams need this duo to take over games on a regular basis and set the tone for a defense that, before last week, had largely disappointed this season.
.
October, 10, 2013
10/10/13
12:00
PM ET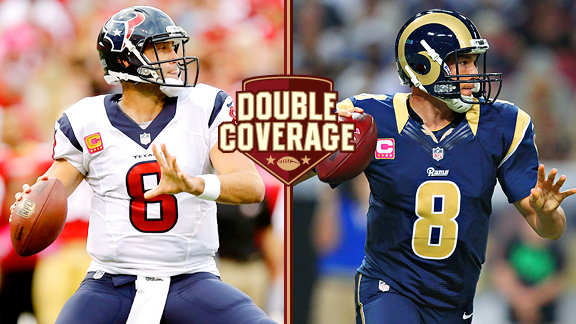 Getty ImagesMatt Schaub and Sam Bradford have combined to throw a pick-six in every week this season.
.
While neither the
St. Louis Rams
nor the
Houston Texans
have had especially inspiring seasons, for Houston, the start has seemed more dramatic given preseason Super Bowl expectations.
There have been no concessions in Houston, though. The Texans still believe they can do it, and they believe quarterback
Matt Schaub
can recover from his slump.
ESPN.com Rams team reporter Nick Wagoner and Texans reporter Tania Ganguli discuss the Texans' matchup against St. Louis this weekend.
Is the Rams' defense a good one for Schaub to recover against? Or will it pose more of a challenge than its statistical rankings suggest?
Wagoner:
If you'd asked me before the season, I would have said it certainly wouldn't be the right week for Schaub to get back on track. As we sit here today, it's hard not to think the opposite. For all the Rams' struggles this season, I believe the defensive performance is the greatest disappointment. It was a group that had aspirations of being among the top 10 but has been far from that. The run defense has been gouged lately (save last week against Jacksonville), and it seems the secondary is good to give up a handful of big plays in the air each week. The front four's pass rush is still pretty good, but there are a lot of questions in the secondary right now.
Speaking of defense, obviously the Texans are playing really well right now. Do you see any obvious weaknesses the Rams might be able to attack?
Ganguli:
A lot of people point to their red zone statistics and points allowed, which are among the worst in the NFL. But those are misleading numbers that have more to do with the Texans' offense sticking the defense in difficult positions. Three of San Francisco's touchdowns resulted from interceptions thrown by Schaub. A fourth came after a 65-yard drive following a Texans missed field goal. If an opponent can get into a rhythm on a drive against the Texans, it often finds success. Houston has given up drives of 99 and 98 yards in its first five games.
The Texans' defense did give up 177 rushing yards last weekend, 81 of which were to 49ers running back
Frank Gore
. How has the Rams' running game changed with the departure of
Steven Jackson
. Do you see someone emerging as the starter?
Wagoner:
To be blunt, the Rams' running game was nothing short of awful before last week against Jacksonville. As has been the case elsewhere, playing the Jaguars served as a tonic for that, and the Rams ran for 143 yards. They switched to rookie
Zac Stacy
for that game, and he showed the ability to hit the hole and get some yards after contact. His performance was better than any of the other backs through the first five weeks. He's a little banged up and missed the end of the Jacksonville game because of it, but the Rams expect him to be ready to go this week. Stacy, with
Daryl Richardson
as a change of pace, is probably the team's best option right now, but Richardson has been banged up, too, and because of it has not been as effective as he was last season.
Obviously, the hot topic down there right now is Schaub. Not to ask you to play Dr. Melfi, but where is his confidence right now, and what do you think is at the root of the problem?
Ganguli:
Against the
Seattle Seahawks
he threw a pick-six that tied the game. That was his third in three consecutive games, and it was a costly one. I believe he got past it during a week of practice and regained his confidence, but the pick-six he threw on his first pass against the
San Francisco 49ers
sent him back down the rabbit hole. I can't answer whether or not his confidence is back, but he'll start again against the Rams and his play will make it clear. The situation in which he finds himself is most certainly mental, though. He's shown the ability to be much more productive in the past.
Schaub has had some success this season throwing to his new toy, rookie receiver
DeAndre Hopkins
, who, having been drafted 27th overall, is looking like a steal. Hopkins actually thought the Rams were going to pick him, given their pre-draft interest. Of course, the Rams instead took receiver
Tavon Austin
with the eighth pick. What is your assessment of him so far?
Wagoner:
Austin's impact has been limited for multiple reasons, some of which are out of his control. First, he's been victimized by an astounding number of special-teams penalties that have wiped out some impressive punt returns. He had 81 return yards wiped out last week alone, and the Rams' 17 special-teams penalties have cost them 306 yards in field position. Second, the Rams have not found creative ways to get Austin open in space as a receiver and let him do what he does. He catches short passes and gets swallowed up. Third, he's had some issues with drops. He had two more last week to bring his total for the season to six. He seems to be pressing a little bit. The talent is there, and I think it will surface at some point, but there's a lot that needs to happen before we see it.
Unfortunately, we may not get the opportunity to see a
Cortland Finnegan
-
Andre Johnson
rematch this week because Finnegan has been dealing with a thigh injury. Still, Johnson looks like he's playing at a high level. The Rams have struggled to defend the pass, particularly against elite receivers. Is Johnson still in that category, and what have you seen from him this season?
Ganguli:
He's definitely still in that category when he's fully healthy, but he wasn't last weekend. Johnson suffered a shin injury in the second quarter against Baltimore in Week 3 and since then has been managing it.
Overall, the Texans have had to throw the ball a lot more than they'd like to because they've been behind so much. It's affected their play-action passing game, which used to be one of the best in the league.
.
October, 6, 2013
10/06/13
10:00
AM ET
By
ESPN.com staff
| ESPN.com
Join our ESPN.com NFL experts as they break down the Jacksonville Jaguars' visit to the St. Louis Rams. Contribute your thoughts and questions beginning at 1 p.m. ET. And, be sure to visit our
NFL Nation Blitz page
for commentary from every game, as well as fan photos and the latest buzz from Twitter. See you there.
October, 3, 2013
10/03/13
12:00
PM ET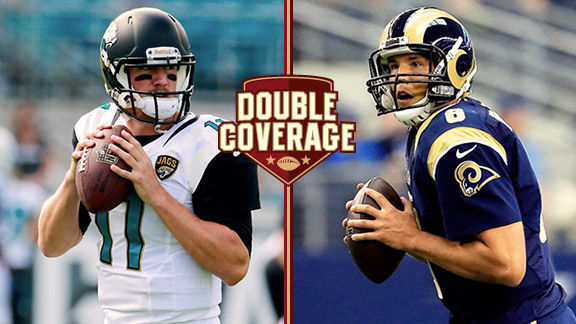 Getty ImagesBlaine Gabbert, left, and Sam Bradford both look to get their teams on the winning track on Sunday.
The
St. Louis Rams
and
Jacksonville Jaguars
have a lot in common. Unfortunately, most of their commonalities aren't things their fans can appreciate. Both teams are struggling mightily heading into this game at Edward Jones Dome.
There are, however, plenty of interesting storylines in this one. Jacksonville owner Shahid Khan was once the front-runner to be the Rams' majority owner before Stan Kroenke exercised an option to purchase the team.
Jacksonville quarterback
Blaine Gabbert
is a St. Louis native and returning for his first game in his hometown as the much maligned starter.
Those are just a couple of the topics to watch heading into this week. ESPN.com Rams reporter Nick Wagoner and Jaguars reporter Michael DiRocco break down the matchup.
Wagoner:
Well, Mike, it looks like there may not be two teams struggling more right now than the Rams and Jaguars. Jacksonville is losing by an average of 24.5 points a game and the Rams have lost their past two by an average of 24. It's a bit of a broad question because everything seems to go hand-in-hand in this league, but what would you say is the main thing causing the Jags to struggle so much through the first quarter of the season?
DiRocco:
Like you said, it's hard to list just one reason, but if I had to pick one, it would be that some of the veteran offensive players the team had counted on haven't performed. The defense has issues but it's serviceable. The interior of the offensive line --
Brad Meester
,
Uche Nwaneri
and
Will Rackley
-- has not played well, and that has pretty much doomed the running game. Left tackle Eugene Monroe wasn't playing that well, either, but he is one of the better young tackles in the league and his departure via trade to Baltimore will affect the stability of a line that already has given up 18 sacks.
Maurice Jones-Drew
doesn't look the same, but he has had very little room to maneuver. With
Justin Blackmon
suspended for the first four games, third-year receiver
Cecil Shorts
wasn't able to be the playmaker the offense needs and has compiled most of his catches in the second half when the games have been out of reach. Plus, tight end
Marcedes Lewis
has played just two snaps this year because of a calf injury.
Speaking of not performing, what is the Rams' stance on
Sam Bradford
? Is he in their long-term plans or are they getting ready to move in a different direction since he hasn't developed the way they expected?
Wagoner:
The Rams insist Bradford is their guy. As recently as last week, there were reports that they'd sign him to an extension were he willing to do it now. That was before last week's game against San Francisco but that one game surely didn't change their mind. Bradford had some good moments in the first two games but has struggled the past two weeks, but it's not all on him. The offensive line has been battered, the Rams have no run game to speak of and there aren't many receivers making plays after the catch.
While we're on the subject of quarterbacks, Blaine Gabbert is coming home to St. Louis this week and it looks like the Jaguars are sticking with him. What has held him back from developing and how much longer do you expect Jacksonville to keep him as starter?
DiRocco:
Several things. He's had three head coaches, three offensive coordinators and three offensive systems to learn in his three seasons. That would be tough for anyone to handle, but consider that Gabbert was only 20 years old when he entered the league. Plus, he's had some injuries (toe, shoulder, forearm, ankle, thumb, hand) that have cost him eight games. He hasn't exactly had an all-star lineup of receivers at his disposal, either. All that being said, Gabbert still has some of the same issues he had as a rookie: He's hesitant to take shots down the field, he makes questionable decisions with the ball and he rarely steps up into the pocket to avoid pressure and make throws. The 2013 season will be his chance to prove to new coach Gus Bradley and new GM Dave Caldwell that he can be a franchise quarterback. If he struggles again, the Jaguars will almost certainly go quarterback with their first-round pick in the 2014 draft, which is looking more and more like the No. 1 overall selection.
Jeff Fisher's
Tennessee Titans
teams were tough teams that popped you in the mouth again and again, even on offense. Has he gotten the Rams to that point yet?
Wagoner:
I thought that he had; last year's team was as tough and feisty as any in the league. Save for one or two games, they battled tooth and nail to the very end. So far this year, there has been a clear regression in all areas, including that toughness. They brought linebacker
Jo-Lonn Dunbar
back this week and he should at least give them a boost in that regard. There are a lot of tough players in that locker room, but for whatever reason, it's not coming through on Sundays. You mention the idea of popping a team in the mouth on offense. Most of that is predicated on the run game. The Rams have none to speak of right now; certainly no
Steven Jackson
or
Eddie George
or any other backs that have had success under Fisher.
Of course, it seems if the Rams were going to ever get a running game going, this would be the week for it. It looks like teams have been able to run all over the Jaguars this year. How much of an issue is that in terms of opening up everything else and allowing offenses to do pretty much whatever they want?
DiRocco:
The biggest problem with the Jaguars' run defense is it has given up too many big runs. The Jaguars gave up seven runs of 20 or more yards against Oakland, one against Seattle and one against Indianapolis. It's mainly due to blown assignments. For example, defensive end
Jason Babin
got caught inside on
Terrelle Pryor
's long run off a read-option play. Those big plays are one of the reasons the Jaguars have given up the most yards rushing in the NFL (657, 164.3 per game), but it's also partly due to the fact teams have been up big on the Jaguars and are trying to run clock. Opponents are able to take advantage of play-action and make plays over the top, which is compounded by the fact that the Jaguars are starting a pair of rookie safeties.
The Rams are obviously in a division that includes two powerhouse teams in Seattle and San Francisco. We know the Jaguars are not even close to being able to contend for a playoff spot, but how far away are the Rams?
Wagoner:
Further away than most everybody thought entering the season, at least in their current form. The Rams raised hopes around here last year, going 7-8-1 and posting a 4-1-1 record in the NFC West. They then went out and had an offseason that drew critical acclaim for their moves in free agency and the draft. Right now, none of the things that needed to come together to push the Seahawks or Niners have come to fruition and one could argue that Arizona is at least even with the Rams in its rebuild. This is again the youngest team in the league and it should be better in November than it is right now, but the youth is no excuse for the backward steps we've seen to this point.
.
August, 20, 2012
8/20/12
8:36
PM ET
With the Rams bowing out of an opportunity to play multiple games in London, it's no surprise the Jaguars are stepping in.

The team will announce tomorrow its intention to try to become London's home team by playing one home game there
in four consecutive seasons
starting in 2013.
Growing the fan base of the league's least popular team seems a smart idea, and I hardly think it means the Jaguars would be destined to land completely and permanently in London.
After all, there are a few requirements for that sort of move. League owners have to be willing to endure what an overseas team would mean to the league's operational logistics. And London has to show it would respond favorably to a full slate of American football games.
I don't think either is a guarantee.
In the meantime, I don't think owner Shad Khan will have such a hard time selling his team's American fan base on this idea.
I'd start by telling fans this: A season ticket package is expensive. It just got smaller and less expensive for the next four seasons. Instead of a 10-game slate, you get nine. (Sorry we can't fix the preseason rip-off part, that predated our ownership.) Nine is cheaper than 10. You can live without one. And that one is going to help us in the revenue department in a way that should make us a more stable franchise, assuring you at least nine.
January, 31, 2012
1/31/12
6:21
PM ET
INDIANAPOLIS -- Retired
St. Louis Rams
great Marshall Faulk played with
Peyton Manning
and for
Indianapolis Colts
owner Jim Irsay.

Faulk, speaking at Super Bowl media day, said he thought the back-and-forth between Manning and Irsay stemmed from the owner's unwillingness to expose the quarterback to a debilitating injury.
"It's not financial with Jim," Faulk said. "No, he has not told me this, these are not his words, but I am listening to his message. That is my job, listen to what is being said, not what is not being said, and he keeps harping on Peyton's health. That means Peyton's quality of life beyond football, being able to be the father and the husband that he can be by being healthy."
Manning's contract calls for him to receive a $28 million bonus March 8. The scheduled payment has accelerated discussions about Manning's future. As for the money itself?
"I don't think it's financial," Faulk said. "I mean, it made sense last year to not give him that kind of money. I mean, let's be honest. I love Peyton, but that's a lot of money to not play -- even if you knew he wasn't going to play half the season. That is what they were talking about: By Week 8, he'll be back. If that is the case, then I can give you eight games, too."
Faulk suggested delaying the $28 million payment could buy time if Manning decided he wanted to remain with the Colts. But he reiterated his contention that Irsay is most concerned about Manning's health, adding that the ability to draft Stanford's
Andrew Luck
first overall was also a secondary issue.
"I believe this would be the case if they were drafting 31st," Faulk said. "It just so happens they have an opportunity to do what the 49ers did when Joe Montana left, which was to put Steve Young in there. It's a great situation to be in. At the same time, it's an awful situation to be in."
January, 31, 2012
1/31/12
6:20
PM ET
INDIANAPOLIS --
Peyton Manning
's interview with ESPN's Trey Wingo swerved into NFC West territory about five minutes into the clip below.
The
San Francisco 49ers
and their fans will appreciate what Manning said when Wingo asked how tough it is for Manning to watch the Super Bowl come to his town.
"I've always said it's probably harder for the playoff teams not to be here," Manning said. "When you get really close, like San Francisco, like Baltimore. We've known we weren't coming to the Super Bowl for quite some time."
Since November, actually.
A quick look at the five most painful NFC West playoff exits, pre-Super Bowl, since divisional realignment in 2002:
2011 49ers: Their 20-17 defeat to the Giants was crushing for the way it happened, with a turnover during a punt return in overtime -- and at home, which always hurts more. Missed opportunities abounded.
2003 Rams: Losing in the second overtime is worse than losing in the first one. Jake Delhomme's 69-yard touchdown pass to Steve Smith in St. Louis stunned the 12-4 Rams in the divisional round. This one would have ranked first if a Super Bowl trip had been on the line.
2003 Seahawks: Seattle was looking for its first playoff victory since the 1980s. Shaun Alexander's fourth-quarter scoring run had forced overtime at Lambeau Field. Microphones memorably picked up quarterback Matt Hasselbeck saying the Seahawks would take the ball -- and score -- after winning the overtime coin toss. Al Harris' interception return for a touchdown spoiled those plans.
2006 Seahawks: A 27-24 overtime defeat at Chicago in the divisional round brought a sudden end to the Seahawks' NFC title defense. Alexander rushed for 108 yards and two touchdowns, but it wasn't enough.
2004 Seahawks: First-round defeats in back-to-back seasons extended the Seahawks' drought without a playoff victory. The Seahawks lost this one at home, 27-20, after the Rams scored the final 10 points.
Arizona's defeat at New Orleans following the 2009 season just missed the cut. The game lacked the drama generally required to inflict deep emotional wounds. It was significant, however, because
Kurt Warner
suffered a concussion and opted for retirement.
August, 13, 2011
8/13/11
1:16
PM ET
Three things to look for in tonight's preseason opener for the Colts against the Rams in St. Louis, where kickoff is set for 8 p.m. ET.


The quarterbacks
will have a big opportunity starting tonight to vie for the great job of working as
Peyton Manning
's backup. Manning has not yet returned from May neck surgery.
Curtis Painter
has gotten strong reviews for his progress, and the team likes
Dan Orlovsky
. Can they run an efficient offense and string together any drives after failing to do much in the scrimmage last week?
Local undrafted running backs
Chad Spann
and
Darren Evans
are roster long shots. But they will likely get plenty of action against the Rams and those carries will give the team a chance to evaluate them and see if they should be in the running for a fourth slot behind
Joseph Addai
,
Donald Brown
and
Delone Carter
.
Pat McAfee
has said he expects to put roughly 80 percent of his kickoffs deep enough that they won't be returned. Playing inside the Edward Jones Dome, does the Colts' kickoff coverage unit get any work? Or do we see the beginning of an era where not being good at it won't matter nearly as much?
August, 6, 2011
8/06/11
11:38
PM ET
By
ESPN.com staff
| ESPN.com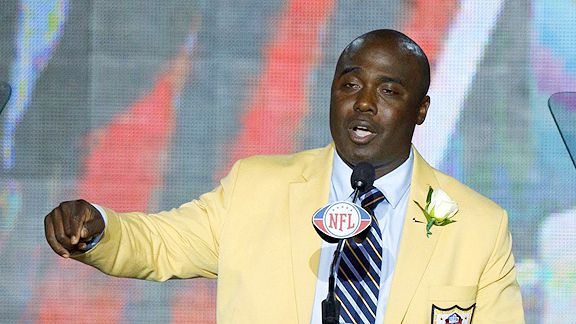 Rick Osentoski/US Presswire"This is football heaven," said first-ballot Hall of Fame inductee Marshall Faulk.
Hall of Fame enshrinement speech of Marshall Faulk, star running back for the Indianapolis Colts and St. Louis Rams from 1994-2005:
Boy, this is pretty special. This is big. This right here, these guys, class act. And I'm glad to be a part of it. I want to thank God, and I want to thank God because this is football heaven. When you retire, you may get a chance to go to football heaven, and this is football heaven. Guess what, these guys are on top, because you know what's up above, you know.
Rocky, I want to thank you for your kind introduction. That was some great work. Thank you, too, for being in my corner, Rocky. Thank you for always being honest with me. You've always supported me, recognized when I was right. That part was easy, Rock. It's when I was wrong you would let me know. But you would also explain why, key element there.
You were there to speak with me, with and without judgment. Didn't matter what it was. You've always known me to be the guy that I am. You knew me. There is not another person that I would rather have on this stage with me right now than you. You represented me. You mentored me, but most importantly, thank you for your unwavering friendship that you gave to me.
I also want to acknowledge Rosemary and Joseph Arceneaux Sr., your mom and dad. I know that they are proud of this accomplishment, and they are sitting in the front row seat watching this, Rock. Rock, man, thank you for everything that you contribute to my life. Thank you for being there. Rocky, thank you.
Good evening, ladies and gentlemen. I stand before you a very humble and grateful guy. Before I go any further, I want you to know that I am a football fan just like all of you. I have always, always been a fan and had abiding passion and love and respect for this game of football.
Even when I was a kid selling popcorn in the Superdome because I couldn't afford the ticket to watch the New Orleans Saints. People had bags over their heads then. I wanted to see football. I idolized this game so much. I idolized the professional football player. I actually felt that one day that life could be mine. When that opportunity did come I took it, and literally ran with it.
Now to be standing before you going into the Hall of Fame with this class of athletes, it is a fulfillment of a life's dream. To play this game of football is all I wanted to do. But there wasn't a person that I mimic my game after. There were many guys that I wanted to be like. They didn't compel me to be the best running back that I could be, nor did I push myself to be the best running back that I could be.
Rather, I drove myself to be the best football player that I could be, and that has always been my goal to be the very best football player that I can be.
I pushed myself more than perhaps anyone thought I could because that was the standard that I set for myself. That was my commitment to the game, to myself because I hold such deep respect for this game. In all humility, I could never give it less not than my very best at all times; and because of this, perhaps somewhere down the line, another athlete will be standing here because of how I played the game motivated them to be their very best. So tonight, I dedicate this moment and express my gratitude to those who have inspired me, guided me, and cared for me as I worked diligently to be the very best that I could be.
See, this story is deep. I'm from the Ninth Ward. That is the Desire Projects in New Orleans, Louisiana. Many don't make it out of there. And even though there were drugs and violence, I never wanted to take drugs or die young.
Instead, I channeled every ounce of energy that I had into sports. I played baseball, basketball, football, I ran track. Before whatever reason at George Washington Carver Senior High, I thought basketball was going to be my way out, and ultimately my destiny.
But in making that decision, it didn't stop me. I continued to compete in all sports. Then one day a very special man to me, my high school coach, Wayne Reese, he's here tonight. Where you at, Coach Reese? I know your family's here. You brought a lot of people up from New Orleans. He pulled me aside and asked me a question, a simple question. He asked me, how many 5'9" shooting guards do you see playing in the NBA? You see, I felt like I was a scorer.
Coach Reese had seen me compete in every sport and was aware of my work ethic. Coach was trying to explain to me how other sports would help me, but football could take me places.
Coach, I want to tell you, you taught me responsibility. You taught me that everything in life costs something. It simply depends on what I was willing to spend on it coach, thank you for helping me choose a university. You explained to me the importance of choosing a school that was going to challenge me academically as well as assist and molding me into the best football player that I could be.
You helped me understand how focusing on what was important, it was necessary. It was not necessary the size of the institution, but the quality of men in the program.
People often ask me, why did I choose San Diego State? I tell them San Diego State chose me. The wide receiver coach for the San Diego State Aztecs, now coach for the New Orleans Saints, Curtis Johnson, a New Orleans native. He was in town on a recruiting trip at our game recruiting another player. He saw my tape, took that tape back to Coach Luginbill and Coach Luginbill said, "We need to have this kid."
While going through the recruiting process, they were the first school to offer me an opportunity to play running back. I had been a high school All-American defensive back and just a running back who had not received a lot of attention because I played too many positions on offense.
Coach Luginbill, thank you for giving me the opportunity to develop and hone my skills while playing football at SDSU.
C.J., Curtis Johnson, we call him C.J., thank you for taking the time to watch my tape. Thank you for taking the time to hand that tape to coach. Without those efforts, all of this may not be possible. I may not be standing here before you if I had to go play defensive back somewhere because that was someone else's decision. My decision was to play running back.
Thank you to San Diego State and all my teammates. There's a lot of them out here today.
There is a special thanks that goes out to the guy who hosted me on my recruiting trip to San Diego State, Robert Griffith. Griff, you picked me up from campus and introduced me not just to your friends, but to your family. That was big. From the first time I visited San Diego State, I felt that your teammates were guys just like me who love the game of football and they were down to earth.
To my three roommates, Darnay Scott, Ray Peterson, DeAndre Maxwell, much love goes out to you guys for being the best roommate a little hot head star could ever have. You guys kept me in check. You were there for me. You made sure I stayed humble, and you kept me right.
To the red and black, Aztec Nation. It's plain and simple, Aztec for life. You know.
After leaving San Diego State when I finished my collegiate career, I was drafted by the Colts. I have to give sincere thanks to the guy who drafted Richard Dent. Bill Tobin is the guy who drafted me. Bill, I know you're still here. Thank you. And to Jim Irsay, and the Irsay family. When you take a kid that's 21 and you draft him second overall, we know you're taking a gamble. Thank you for taking that gamble on me. I hope it paid off.
I spent five years with the Colts. The fans there, they were wonderful. The city was a terrific place to start my career. But coming from sunny San Diego to Indianapolis, I had a lot to learn. Those snow days that I thought snow days meant stay home from practice, you guys know when you get that call and you think snow means stay home because you've never been in snow. That's what it was like for me.
You welcomed me. You accepted me. You supported me on and off the field. My teammates and I we enjoyed playing in Indianapolis. Win or lose, you guys were there. I enjoyed Indianapolis because it laid the ground work for the player that I was going to evolve into.
But if there was one person when I was in Indianapolis that I had to say was responsible for the player that I am today, it's Gene Huey. Gene, I know you're here. It's amazing how much your earlier years you can dislike a coach and then learn to love him. Gene, you held me accountable. You introduced me to the film room. You taught me how to break down not just my opponents, but myself. You taught me how to be a professional on and off the field.
Gene, man to man, I thank you for challenging me to be a better man. I'd like to thank my Indianapolis Colts teammates that I played with. I enjoyed you. I learned a lot from you. Sorry if I rubbed you the wrong way.
I have to give a big thanks to Roosevelt Potts. The guy was the starting running back before I got there. Rushed for 1,000 yards. Potts, thanks for sacrificing your body while providing protection for me.
Played with another great guy there, Peyton Manning. I only had the opportunity to play one year with Peyton, but he taught me a lot. It was a sight to watch the maturation process from week 1 to week 16. The leadership, dedication, and the attention to detail that he demonstrated as a rookie first overall pick. Buddy, I'm honored to say that I have played with one of the game's greatest.
Unfortunately, sometimes you move on, and my time was up in Indianapolis after five years. At the end of my time there, it was kind of unclear where I was going to go. But the St. Louis Rams, they had an idea. They acquired me in a trade, and with that trade brought forth the birth of the greatest show on turf.
Ram fans, I considered you guys what Nelly's called his crew the Saint Lunatics, because you were there for us. It was so much fun to play with a group of men who didn't care who won the most accolades. All they wanted to do was win. We were the definition of a team.
To every player that put on a Ram's uniform from '99 to 2005, thank you. Every guy that blocked for me, Big O, Adam Timmerman, touchdown Tommy Nutten, because every time you scored, Tommy was there to help you up. Robert Holdcumbe, James Hodgens, the strongest man I know, Ernie Conwell. Bloody Knuckles himself, Roland Williams. To you guys, because you really don't get noticed for the work that you do. Thank you for all your blood, sweat and tears. It was a pleasure to my skill guys where individual accomplishments meant nothing.
Isaac Bruce, what a pleasure to watch you play. Torry Holt, what a professional. Ricky Proehl, I have to say this: In 1998, Ricky Proehl led the Rams in receptions and touchdowns. In the '99 pro season, Ricky Proehl caught one touchdown, and the whole year you didn't hear about that touchdown, because that touchdown was in an NFC Championship game. Never wavered, never complained, never said anything.
My Aztec little homey, Az Zahir Hakim. It was a pleasure watching you grow up. There was another guy that was a part of the greatest show that you don't hear about. He wore No. 82. Guy to make mention, Tony Horne, because he filled in when somebody went down. He returned kicks for us, and you want to talk about setting a tempo as a kick returner? Normally you set the tempo when you kick off. Tony Horne set the tempo running the ball and taking guys out.
Thank you for your trust and being selfless. No one was above that team. No one. I believe that our greatest strength was that we believed in the team more than our individual accomplishments.
I would give anything right now to be in the huddle one minute, 80 yards down by six with the greatest show on turf. Because that's when we were at our best with our backs against the wall.
Kurt, I didn't leave you out. I didn't.Thank you for being our leader, Kurt. Man, you constantly stood in the pocket, taking every hit to make that offense successful.
Kurt, I look forward to the day that I am sitting here witnessing you and other of my ram teammates at this podium enjoying this experience.
Mike Martz, what a pleasure. Your creative mind and appreciation for doing things that people said can't be done on a football field are what made you unique. People always questioned your love for throwing the football, and your running back. I asked why?
See, before Aaron Rodgers threw the ball 50 times in the Super Bowl against the Steelers defense and his counterpart Ben Roethlisberger threw it 48, and we watched Peyton Manning running play action without a running game, we had Mike Martz, the Mad Scientist is what they called him because it didn't make sense to them. Mike, I love it that you brought out the best in me. I also appreciated that when I had my own ideas, and I had a lot of them, I had a lot of them you took them into consideration. Sometimes you even changed them if you saw fit to help the offense. Your attention to detail and preparation was the best that I have ever seen.
Mike, I truly loved you as a coach, but I more so love you now as a friend. Thank you for all you did for me he and that team.
It's not often you get coached by a guy that you idolized, but Wilbert Montgomery meant so much to me. It was such a pleasure to have him critiquing me it was like we saw the game of football through the same set of eyes, unbelievable.
When I would leave the football field, Wilbert would tell me exactly what I saw, and I felt like I had pretty darn good vision. For him to see it from the sideline made him special. Wilbert, thank you for taking care of me. Thank you for teaching me how to elevate my game beyond where you saw and where I saw I could go. I appreciate everything you did for me, Bert, I love you.
Every great team has a great owner. Georgia Frontiere, she was the best. I have to say to Georgia, thank you for showing us the good life. You treated us like rock stars, but frankly you treated us like we were your stars just shining bright. Ones that you were proud of. It was a pleasure to win a championship for you. Winning that championship for Georgia Frontiere, I got the same feeling that I get when I make my parents proud. That's how I felt when we won that championship in 2000.
John Shaw, Jay Zygmont, Clark Army, that was the front office. Thank you for taking a chance on me. You didn't know what you were getting when I left Indianapolis. You knew I was desperate to win, that was enough. The three of you together made that team special.
Dick Vermeil, I know you're here. Coach, this is going to sound strange because everyone knows you cry a lot. But in doing that, you were our rock. You were the pillar of strength for that team. You were a kind and gentle man, but you challenged me. You challenged me to be a better leader. Your insight on how to make people around me better was the most instinctive and intuitive advice that I received throughout my whole career.
You tried to make people around you better, and that's what I did. Once I learned how to do it and that it meant me doing more stuff than just carrying the football and gaining yards, I became a much better teammate. Thank you for that.
Stan Kroenke, if you've ever been around Stan, you know that his presence and his intelligence is impeccable, and I believe that that is important to the St. Louis Rams and with Stan and his people now in charge, can't wait for the day that we see the Rams back in the promised land.
We talk about promised land, and I believe getting an opportunity to play a professional sport at a high level is a promised land. I wouldn't be here if it was not for my family, especially Cecile Faulk, my mother. Achieving the success that I achieved would have been impossible without having strong family support.
Mom, thank you not only for your love, but your tough love. And you know what I mean by your tough love, mom.
The way you raised us, mom, it wasn't necessarily fair, but you were teaching us that in life sometimes things just are not fair. Thanks for teaching us the skills to take care of ourselves. Every person in my family knows how to cook, knows how to clean, knows how to wash clothes because of you. That's hard work.
Mom, it was also your commitment to get up every day to work two or three jobs, to ensure that we had, and, mom, thank you, because we had.
Cecile Faulk, I know I have your blood, your skin, even your good looks, but the one thing that I'm most proud of is acquiring your work ethic. Thank you for making me the man that I am today.
It was fun growing up in the Faulk household. I was the youngest of six, five older brothers. Kinzie, Ebenezer, Raymond, Rene, Joe, I learned so much from my brothers' experiences. Although they were good athletes, they didn't have athletic careers. They were only dreams to them. They weren't afforded the opportunity to live those dreams. Instead they helped to support, protect, and provide for our family. I learned what and what not to do from the things that they did.
Like we say in New Orleans, bro', you taught me so many life lessons. You guys have always been there for me, contributed greatly to the man that I am today. I thank you.
My whole career in the NFL you hear about my mom. Well, she didn't have me by herself. I rarely mention my late father Roosevelt Marshall who I loved dearly. He was so instrumental in my growth. As a kid, I spent summers working with my father delivery groceries to restaurants and clearing the bar that he partly owned. I watched how hard he worked each and every day from paycheck to paycheck, trying to get ahead in life. But his fun loving demeanor was never affected when he did not by the struggles of trying to get ahead. Working those two jobs made me strive for more out of life, and like my father, to remain unaffected by the circumstances around me.
Lindsay Faulk, thank you for being a great mother and for all the support that you've given me throughout my career. Your ability to deal with my complex demeanor and my crazy life is unparalleled. Thank you for all the times that you nursed me back to health of my many knee surgeries. Thank you for cooking for me. Thank you for waking me up when it was time to take pain medications. Thank you for loving me so hard. I wish that I could love as hard as you do.
I call my kids the Little Faulkers. So to the Little Faulkers, first I want to apologize for missing important activities in your life while chasing my dream of being a professional football player. It didn't always allow me to be there. I can honestly say I was not the best father I probably could have been. I missed many things that were important to you, like school activities, many sporting events, things so simple like just seeing you grow up on a daily basis.
But I want you to understand that those sacrifices I had to make in order to be a successful football player, even though I wasn't physically there every moment, nevertheless, I was always there in heart and spirit.
Just keep in mind that everything that I have done has been an attempt to leave a legacy for you. If you take anything away from this weekend, I would like it to be what you have noticed about the rest of the men on this stage doing what it took to fulfill a calling in life. Chase your dreams. Believe in yourselves. Stand by every decision you make. I am so very proud to be your father. I hope you're proud to call me dad.
I ask you to do one thing. I ask you to be the best that you can be and to live up to no one else's expectations but your own. I love you and I will always be there for you.
To my second family now, the NFL Network. Man, what a great job. What a great job. I have to say thank you to Eric Weinberger, Steve Bornstein for the opportunity to share my insight and knowledge of the game that I love.
I also have to give a very, very big thanks to all the behind the scenes people that make us look good each and every day. My game day morning crew. Warren Sapp, Rick Eisen, Steve Mariucci, Michael Irvin, thank you, guys, man. You guys have made the transition from on the field to behind the desk so much fun. I love working with each and every one of you.
To all my friends that are here. I have so many that are here. To the ones that are watching at home, I want to say thank you for your love, your support, your concern, thank you, thank you, thank you.
In closing I told you I was going to be long I told these guys I was going to be long. It's tough going from the projects to the penthouse.
Just a couple of lessons that I learned throughout my journey. They may apply to you, they may not. My first piece of advice to live life, don't let life live you. Next, my father told me this, if you ever traveled on a road with no speed bumps, you're headed for a dead end. But life's a challenge.
I'm always told how blessed I am to be talented enough to have played football. I say we're all blessed. God blessed everyone on this earth, but what we do with it is the blessing. It's in our hands to put that blessing in motion and living true to life as it is to me. God gave me talent. Football gave me an opportunity. I made the commitment. Thank you all.