February, 24, 2015
Feb 24
7:12
PM ET
NASHVILLE, Tenn. -- Time and time again, under a mostly invisible owner, Don MacLachlan was the guy facing fire from
Tennessee Titans
fans for anything and everything that went wrong -- whether it was his issue or not.
As recently as Sunday, the Titans executive vice president of administration and facilities had a former player in his face belittling him for issues the alumni have with the team. That's largely a problem or perceived problem created by coach Ken Whisenhunt, but MacLachlan was on the front line at a local radio station event.
He took what was dished out while staying calm and reasoned.
For a franchise that has become moribund in many ways, he brought constant energy and enthusiasm.
[+] Enlarge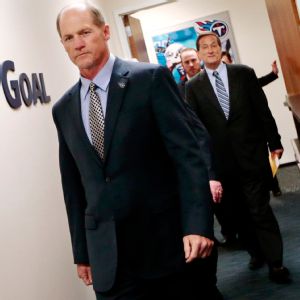 AP Photo/Mark HumphreyTitans executive vice president Don MacLachlan, right, walks with Ken Whisenhunt to Whisehunt's introductory news conference.
But the Titans announced Tuesday
that he had resigned
.
If McLachlan did resign, I suspect it was only because he was going to be fired. That the Titans had immediate word of some of the replacement plans indicate that this was in the works for at least a while.
So in exchange for being an administrative face of the franchise while the head of the team's ownership group, the inexperienced and perhaps overmatched Tommy Smith, got to stay way in the background, MacLachlan got shoved out.
Both Smith and MacLachlan offered the standard press release line offering thanks.
I'm not impartial. I've known MacLachlan since 1996 and was a fan of the way he carried himself and the constant spark he brought. I like him professionally and personally.
The team's bad year certainly extended beyond its 2-14 record. Following pledges from Smith that game-day operations would be enhanced, there was at least one game where there was a major backup at the gate that delayed fans from getting into LP Field. There were steady complaints about the new concessionaire, Aramark.
Maybe both sides ultimately needed a change.
But the move begs for Smith to step out from behind the guy who did most of his public PR and to explain what's happened and the plan going forward.
"While we are sad to see Don go, we know there also is a great deal of work ahead of us to improve our organization, Smith said in a statement. "Over the last year, one of my primary objectives was to monitor how things have been operating within the team. This offseason, we have decided to make changes in a number of areas from both a personnel standpoint and a structural standpoint. As of today, we have hired or promoted some of these people already; and for some other positions, we are in the interview process. This is not an easy process, but these changes will reflect a shift in our approach and hopefully will result in making our fans proud."
What's the shift in approach? Could he be more vague?
MacLachlan's departure came with an announcement of one in-house promotion and one outside hire with previous ties to the organization. Senior director of ticketing Marty Collins and director of ticket operations Tim Zenner were recently fired, the team confirmed.
Stuart Spears, who has been with the organization for a total of 28 years and has served most recently as vice president of business operations and sales, will become the team's chief revenue officer. I know Whisenhunt quickly became very fond of Spears.
Spears is a hard-working guy who's popular in the building and might be fantastic in his new role. But as Smith looks for a shift in approach, he's promoting someone who's been part of the franchise's approach
since 1987
.
Bob Flynn, who has most recently served as senior director of corporate partnerships for the NHL's
Nashville Predators
, will become the Titans' head of facilities and game day operations. Flynn previously was an Arena Football League general manager, including for four years with the Nashville Kats. The Kats were controlled by the Titans while Flynn was employed.
More news of new people and new roles is surely to come.