December, 21, 2014
Dec 21
8:45
PM ET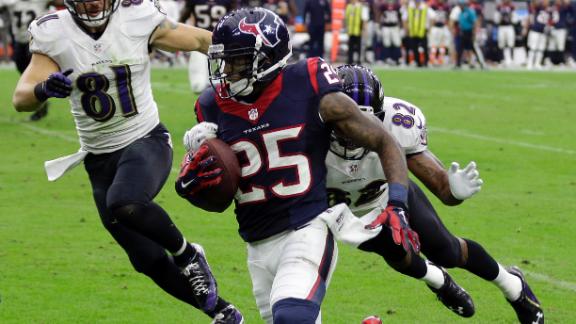 HOUSTON -- When the
Houston Texans
' defense took the field on Sunday against the
Baltimore Ravens
it carried the weight of a franchise's playoff hopes with it.
Here was a Texans team on its fourth quarterback of the season, one that only won two games last season, starting a quarterback who was on another team's practice squad just seven days ago.
The Texans needed something special from their defense and every defensive player knew it. To answer the call, for the second week in a row, they played a spectacularly complete game in a
25-13 win
against what's normally a very competent offense.
"We knew we had to play big today," safety
Kendrick Lewis
said. "We knew we had to step up and help our quarterback out. He just got in here this week and we wanted to help him out as much as possible."
Now, even with all the bad luck that's descended upon them, the Texans (8-7) are still in playoff contention.
"I think if you'd told people all week that we were going to sign a guy on Monday and he was going to come in and we were going to win the football game on Sunday, technically a fourth-string quarterback, and everyone kind of thinking the other team was going to win ... it's pretty special," J.J. Watt said. "I think it's a testament to our team. It's a testament to the coaching staff, to the guys we have. It was fun. Days like today are just, they're a blast."
Case Keenum
was in a tree when he heard there might be a chance he'd return to the Texans.
He'd hoped a few weeks ago, when the Texans lost
Ryan Mallett
to a torn pectoral muscle, that he'd get a chance then. It didn't happen, though, so he vanquished that thought. He was in a tree when the hope returned, wielding a bow and arrow about 30 miles outside St. Louis, hunting some white-tailed deer.
"My wife was texting me actually during the Texans game that Ryan [Fitzpatrick] had gotten hurt and that Tom [Savage] was in there and [punter] Shane [Lechler] was warming up," Keenum said. "I got a call from my agent and my heart kind of jumped a little bit."
He came in and successfully ran an offense wisely designed to play to his strengths and minimize his weaknesses. His throws came quickly out of the shotgun formation. His protection was sound. There were five direct snaps to running back
Arian Foster
. Once, Keenum lofted an ill-fated pass that a Ravens' safety caught as if it was a punt, but that turnover wasn't especially costly.
Keenum completed 20 of 42 passes for 185 yards, one interception and no touchdowns with a passer rating of 50.2. It was all the Texans needed from him on this day -- the Texans' defense made sure of that.
As smart as their offensive plan was, their defensive plan was nothing short of brilliant.
"Coming into the game, I didn't think our pressure was going to work like it did today," Lewis said. "Our front seven was unbelievable. We were able to get three interceptions. [Flacco] was lobbing it up and we were taking it down. Jack [
Kareem Jackson
] caught two. A.J. [Bouye] caught one. I dropped one. Everything was working."
It was one part stopping the run, the Texans held Baltimore to a season-low 33 yards rushing, and two parts terrorizing Ravens quarterback
Joe Flacco
, who came into the game with a total QBR lower than only
Aaron Rodgers
,
Peyton Manning
,
Tom Brady
and
Tony Romo
.
"We had a lot of pressure on him," linebacker
Brooks Reed
said. "J.J. coming off the edge. We disguised well, dropped more than probably what he thought. Rushed more than he thought. There were a lot of quarterback hits in this game."
There were 10 quarterback hits, to be precise, four by Watt, two by
Jared Crick
and two more each by linebackers
Brian Cushing
and
Akeem Dent
. According to ESPN Stats and Info, Flacco attempted 16 passes when under duress Sunday, his most such attempts since Week 6 of the 2009 season. It paid off -- Flacco completed only four of those passes.
His feet started dancing, his throws started sailing and the Texans could see him unraveling.
"It was incredible," safety D.J. Swearinger said of the defensive game plan. "We had a certain blitz that they couldn't stop and I thought it was crazy how they couldn't stop it."
That took a toll on the Ravens. They would shake their heads and slump their shoulders, giving visual confirmation to the Texans defense that they'd done their job.
"Defense is playing lights out," nose tackle
Ryan Pickett
said. "That's the way we've been building up to play all year, and now we are putting it together."
The crescendo is coming at an important time for the Texans.
AFC SOUTH SCOREBOARD
Thursday, 12/18
Sunday, 12/21