Santi symbolic of Colts' themes
November, 22, 2009
11/22/09
7:26
PM ET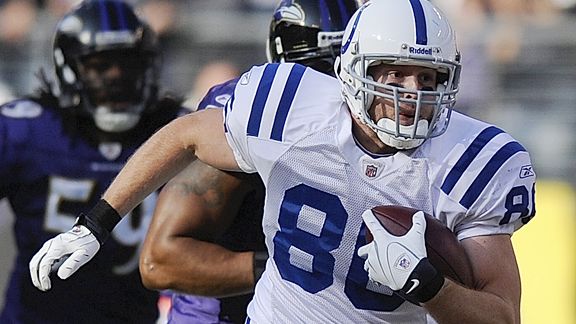 AP Photo/Nick WassWhile he admits he made some mistakes, Colts tight end Tom Santi made the most of his time on the field in Sunday's win over the Ravens.
BALTIMORE -- The Colts pride themselves on plugging people into holes with no drop-off. They expect that when mistakes are made, they will find a way to overcome them.
Sunday at M&T Bank Stadium, as they improved to 10-0 with a
17-15 win
over the Ravens, second-year tight end
Tom Santi
came to symbolize both themes.
The Colts were without
Gijon Robinson
, a starter who does a lot of blocking in the shadow of
Dallas Clark
, helping keep
Peyton Manning
clean and create room for
Joseph Addai
and
Donald Brown
. While he was in Indianapolis recovering from a concussion, Santi got the call.
Santi proved himself a capable blocker and a largely reliable target for Manning, chipping in with six catches for 80 yards.
He also had three costly plays -- a lost fumble near the goal line, an apparent alligator-arms moment in another scoring chance and a false start penalty.
"Everybody makes mistakes. You've got to watch, how do they handle it afterwards?" Addai said. "He was able to handle it afterwards. He hasn't been playing a lot. This game he did a lot of good things. Yeah, he fumbled. But you've got to kind of let that go. I know he'll learn from it, but move on. He did a great job for us today and I know he'll improve from there."
"That doesn't surprise me,"
Reggie Wayne
said of the positive contribution. "He does it every day in practice. So now he just turned it over to the game. I think he did a pretty good job, minus the fumble. But that happens. I'm just glad it didn't cost us."
The Colts don't so much plan to feature a guy as they allow Manning to take what's available.
Robinson isn't generally a large piece of the passing offense. Santi had a sense in the middle of the week that he'd be in line for a good share of the work that usually goes to Robinson.
Clark made a spectacular one-handed catch in the back of the end zone for a 3-yard touchdown to cap the game's opening drive. Other than that, Baltimore did things defensively that prompted Manning to look elsewhere, and he turned to Santi for four of his 12 first-half completions.
"We saw some things, and obviously the quarterback is pretty good back there and he does a great job putting us in great position," Santi said.
Down 9-7 in the second quarter, Manning placed a pass to Santi over the middle and in the middle of a crowd for a 22-yard gain. Santi got nailed, suffering a neck injury that briefly forced him from the game. It was a key play on a touchdown drive that put Indianapolis ahead 14-9.
On a day when he made his first catch of the season, he might have also scored his first touchdown of the year.

Instead, he ended the Colts' first possession after the half when he was clobbered at the 1-yard line, hit low by Ed Reed and then high by Ray Lewis, who jarred the ball free for Dwan Edwards to recover.

Just about anyone might have coughed it up when scrunched by two eventual Hall of Famers.

Santi didn't know who the defenders were.

"That's a bad play on my part," he said. "I definitely left points out there. As far as I am concerned, that's unacceptable."

The Colts' defense didn't allow it to translate into points. While Baltimore moved 84 yards on the ensuing possession, Billy Cundiff missed a 30-yard field goal wide right.

Later, with Dawan Landry closing fast, Santi seemed tentative on a ball he could have pursued more aggressively on a second-and-goal from the 7. Just before the 2-minute warning, he was whistled for a false start.

He said both errors were a matter of lost focus. On the pass, he needs to come out of the break faster and be ready for it quicker.

"I definitely left some plays out there," he said. "As you can see we've got a good team with a lot of great veteran leadership and that's what we've talked about the whole year. Play the next play, next man up and when it's your time, go out there and perform."

He will enjoy the win, review the film, then shred it, mentally, as he knows his coaches will.

Then, if still needed, he will plug back in to the next-man-up, play-the-next-play philosophies that are a big part of why the Colts are the AFC's lone undefeated club.

He'll simply look to be the kind of player Wayne says all of the Colts are supposed to be.

"We're like machines," Wayne said. "They program us to keep pushing, don't fall. Keep chugging away, chugging away. There is no time to point fingers or put your head down. Just keep going, keep going and find a way to get it done."