Award season is almost upon us.
I thought I'd give you a run through of where I believe AFC South candidates should fit in the voting. Please note I don't have a ballot, and could be missing good candidates here from outside the division. I'm also two games early.
As always, I invite a conversation in the comments.
MVP: Peyton Manning should win it and I believe he will. I'm not big on the "without-him" criteria, where you say how bad the Colts would be without him. I'm not big on the "so dependent" criteria, where you say the team's run game is poor and they are so dependent on Manning it increases his value.
Here's what I am big on: I believe he's the best football player in the league right now. Seven fourth-quarter comebacks, a 14-0 record and early clinching of the big trifecta -- the division, a bye and homefield advantage. What else could you ask him to lead his team to?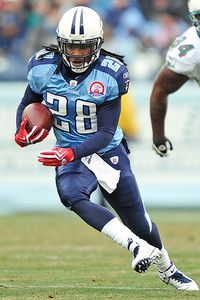 Don McPeak-US PRESSWIRE
Tennessee running back Chris Johnson's stats are worthy of heavy consideration for offensive POY.Offensive Player of the Year: Chris Johnson should win it. I understand that some voters will feel compelled to put Drew Brees here if they go with Peyton Manning for MVP or vice versa, but that would be a mistake and here is why:
Johnson is miles ahead of the next most-productive running back, while Manning and Andre Johnson, the NFL's leading receiver in yardage, have no such distance between them and their competitors.
Chris Johnson has run for 1,730 yards. Steven Jackson is second with 1,353. That 377 yard difference amounts to 22 percent more for CJ. Johnson is 17 percent ahead of Ray Rice on scrimmage yards.
Manning is one of six quarterbacks with a passer rating over 100. He leads a group of eight signal-callers who've already eclipsed 4,000 yards or are all but certain to.
Andre Johnson has 1,433 receiving yards. How many guys are within 22 percent of that total? Six.
Are running backs down? Sure. Is it more and more a passing league? Absolutely. Are people still handing the ball off? Yup.
Chris Johnson's rushing performance this season is the single best offensive performance of the season. He should win this award by as large a voting margin as any postseason award is won.
Defensive Player of the Year: A case can be made for Dwight Freeney, who's got 11.5 sacks in a very consistent rushing season. But the Colts defense has been good at all three levels and his push doesn't stand out. Charles Woodson and Darrelle Revis are the buzz guys now and I think Woodson is a worthy winner. I'd lean to Darren Sharper.
Offensive Rookie of the Year: Percy Harvin looks to be in line to win it, and he's been an explosive addition to the Vikings. But just be sure you're not putting him here as a receiver alone, because it's his additional work as a kickoff return man (his 28.3-yard average is third in the NFL) that puts him over the top. Austin Collie's receiving numbers (53 catches for 567 yards and seven touchdowns) aren't too far off Harvin's (49, 691, six).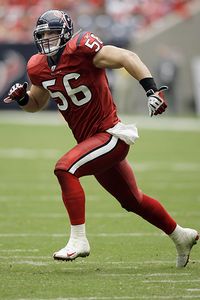 Brett Davis/US Presswire
Texans rookie linebacker Brian Cushing has received praise from coaches around the league.Defensive Rookie of the Year: Brian Cushing's been a huge addition to the Texans and I've listened to opposing coaches, on and off the record, rave about him all season. He's played like a veteran despite missing camp with a knee injury and sitting out a lot of practices during the season with a foot injury. He should win this because of how much impact he's had for the Houston defense. I've been asked about Jerraud Powers, who's been quite good for what the Colts ask of a corner, but he's not on par with Cushing. Buffalo's Jairus Byrd will get votes for an excellent season with an NFL-high nine interceptions and Brian Orakpo is a strong candidate.
Coach of the Year: Jim Caldwell deserves serious consideration. Broad national thinking is he inherited a great situation and didn't screw it up. But he made two significant staff changes. The defense, under coordinator Larry Coyer, has been excellent, and the special teams' coverage, under Ray Rychleski has been better. The Colts didn't plan on life without Bob Sanders or Anthony Gonzalez, yet they've not missed a beat with those guys missing.
But voters traditionally lean heavily on turnarounds or surprises. I figure that means Sean Payton and maybe Marvin Lewis get the most attention here. If the Jaguars find a way into the playoffs, so should Jack Del Rio.
Comeback Player of the Year: I've heard some Vince Young talk. I think this requires coming back from more than a self-inflicted benching, and more than a 10-game season. I don't think he's in the same class here as Cedric Benson, who had been dismissed as a bust. And I know a lot of folks will look to Tom Brady.