A week from Saturday, the Colts will host the Ravens, Jets or Bengals in an AFC divisional round playoff game. (They get the lowest remaining seed, so the Patriots are not a possibility.)
Indy will be a heavy favorite in any of those three games.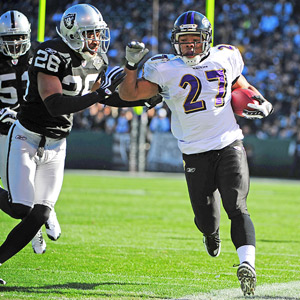 Kyle Terada-US PRESSWIRE
Baltimore Ravens running back Ray Rice could give the Colts trouble.
But this week while we await the wild-card games, I thought we'd look at how those three matchups look.
You can vote on who you think the best matchup is in a poll we will track, here.
I spoke with an AFC personnel man, who shared his thoughts in exchange for going nameless, and e-mailed with Matt Williamson of Scouts Inc.
We looked at the Bengals and the Jets earlier this week.
Now onto the Ravens.
Indy won at Baltimore 17-15 on Nov. 22.
Williamson rates the Ravens as the most desirable opponent for the Colts; the personnel man rates Baltimore as the least desirable opponent.
"I think Indy crushes the Ravens," Williamson said. "Really for one reason -- Baltimore's secondary would be completely overmatched against Peyton Manning and his weapons. It will be in a dome and Indy might not even try to run the ball in that matchup. Come out in 11 personnel (1 RB/1 TE-who is Clark, which is just like a WR) and make Baltimore go deep into their secondary depth while pulling quality front seven players off the field. I would pick that game to be a blowout."
The personnel man thinks the Colts could have a hard time against the Ravens' run game.
"The Ravens run the ball well, they've got two real good backs with Ray Rice and Willis McGahee," he said. "The Ravens played a really tight ball game against the Colts in Baltimore earlier this season. The Ravens had a chance to win the ball game if Joe Flacco didn't throw that pick down in the red zone.
"It would be a tight, physical ball game. I hate the term finesse, but Indy is a very speed/timing/athletic team. When those teams match up against physically bigger teams, that can give them problems. They can out-speed them and out-time them and be clicking on all cylinders and it will be hard for anybody to beat the Colts. But the Ravens run, they're smashmouth and they are physical on both side of the ball."
Here are the key numbers for the Ravens this season in the categories we watch weekly for the AFC South:
Total offense -- 13th
Rushing offense -- fifth
Passing offense -- 18th
Third down offense -- 11th (tied)
Points per game -- ninth
Total defense -- third
Rush defense -- fifth
Pass defense -- eighth (tied)
Third down -- 11th
Points per game -- third