Tuesday, December 1, 2009
Further review: Completion to Collie

---
By Paul Kuharsky
ESPN.com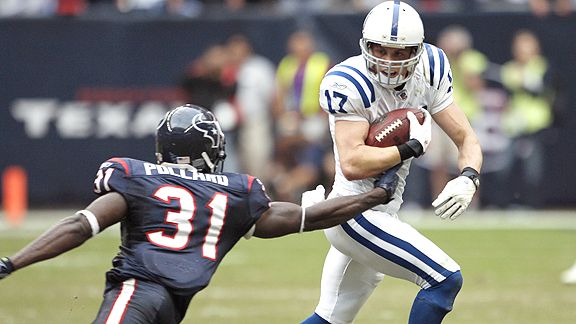 AP Photo/David J. PhillipColts receiver Austin Collie's 31-yard reception in the fourth quarter Sunday against the Texans set up the game-winning touchdown.

The suggestion, from Matt Wagner via Facebook and Brian Hood of Indianapolis via mailbag: The sequence that had the Texans defense celebrating a big hit, then suffering the consequences as Peyton Manning got the next snap off quickly and threw for a big gain. We seek to expand on what Lance Zierlein addressed this in this blog entry.

The situation: Second-and-six from the Indianapolis 15-yard line with 10:56 left in the fourth quarter and the Texans leading 20-14.

The Texans just stopped Joseph Addai for a four-yard gain on a short pass over the middle, as Dunta Robinson buried the running back just as he secured the ball after a bobble. So exciting was Robinson's hit that the Texans were compelled to celebrate. When they did, Manning got the Colts offense at the line and ready and took full advantage.

Manning is in shotgun, with Addai to his right, Dallas Clark on the line beside left tackle Charlie Johnson, Reggie Wayne wide left, Austin Collie in the slot to the right and Pierre Garcon wide right.

The Texans have their nickel personnel on the field, which means two linebackers -- DeMeco Ryans and Brian Cushing -- along with a fifth defensive back, Jacques Reeves.

What I saw unfold after the snap: The Texans were late to get in position because of the celebration from the previous play, which featured Robinson, Ryans and Amobi Okoye most prominently.

But even players who weren't overexcited were outsmarted by the quick snap.

When Jeff Saturday sent the shotgun snap to Manning, I count nine of the Texans 11 defenders unprepared:


Safeties Jon Busing and Bernard Pollard (with a hand in the air, apparently requesting information), cornerback Glover Quin and Cushing (with both hands on his helmet) are all facing the sideline.
Ryans is not square to the line of scrimmage, his body sideways but his head turned to face Manning.
Robinson is completely out of position, still on the inside edge of the numbers which Wayne is halfway between them and the sideline. Robinson is lucky he doesn't trip himself up as he crosses his feet as he panics to try to get back in place to cover Wayne.
Mario Williams is still walking to his spot at left end.
Right tackle Okoye is crouching but doesn't have a hand on the ground.
Right end Tim Jamison is still a step off the line of scrimmage.

Left tackle Shaun Cody is in position. Left corner Reeves may be a bit confused but is spaced out in a spot where he can play Garcon effectively. (Cue the applause.)

Collie runs down the hash marks, gets behind Ryans, who's left to spin awkwardly and collects the Manning's pass between four defenders: Busing is still beyond him deep, Ryans is trying to recover from inside, Pollard is closing from Collie's left and Cushing is chasing from behind.

Collie makes a lateral move to his left, brushing past Pollard's arm, watching Robinson flail and miss and going down only when Busing arrives.

Result: A 31-yard gain that sets the Colts up with first-and-10 at their own 46-yard line.

Ultimate outcome: Six plays later, the Colts are in the end zone, and take a 21-20 lead they won't relinquish.

Bonus commentary from Gary Kubiak: "I told them that it was an example of their team and our team at that point. We make a big play. We have a big hit and we should be excited. Everybody should be excited. That's a great play, but you have to refocus. That's your job, to make those plays. So you've got to go back and come make it again. Then you're looking at a team, an 11-0 football team, one of their players gets the heck knocked out of them and nobody lost focus. They went right to the line of scrimmage and made a 30-something yard play that got their team going. That's what this game is about -- staying focused regardless of the high or low or what happened. Keep playing the game. We not only lost our focus for that next play, it happened for a couple plays that drive. We had a couple of issues in that drive."


---