AFC South:

2010 Camp Confidential AFC
August, 22, 2010
8/22/10
10:13
AM ET
ESPN.com NFL Power Ranking
(pre-camp): 18
NASHVILLE, Tenn. -- Since 2002, Jeff Fisher's
Tennessee Titans
have had a losing record in the first month five times. Last season, it wasn't just a bad start, it was a miserable 0-6.
Fisher and his staff have often been masterful at guiding a team's climb out of a hole, but starting off on more level ground is a necessity if the young 2010 Titans are to re-emerge as a playoff team.
"Camp's different than it was last year, we have four preseason games rather than five, we had injuries to deal with," Fisher said. "We're going to work on a couple opponents [earlier], prepare for them a little differently.
"We need to get off to a good start this year."
A lot of recognizable names are gone, and that's fine if a youth movement is as stocked as they believe it is. But it's the sort of roster that could need time to settle in, which could mean early struggles again.
THREE HOT ISSUES
Will there be sufficient leadership?
[+] Enlarge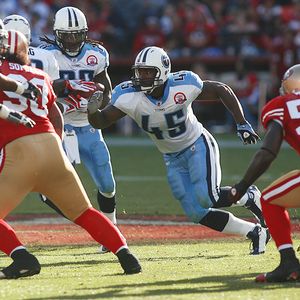 Tom Hauck/Getty ImagesAhmard Hall is a likely candidate to help fill the leadership void in Nashville.
Even if
Kyle Vanden Bosch
,
Keith Bulluck
,
Alge Crumpler
and
Kevin Mawae
were all starting to tail off and even if the Titans feel they have an upgrade over each, that is still as big a loss of collective leadership in one offseason as I can recall. The people in place to lead now -- guys like safety
Chris Hope
and fullback
Ahmard Hall
-- have to maintain, or increase, their level of production to attain and maintain the credibility that batch had.
Linebacker
Will Witherspoon
was the biggest veteran addition, and he looks to be a top candidate to take on a leadership mantle. But as a newcomer he's got to figure out how to fit himself smoothly into the mix.
"With me it's more about deciphering how to approach individuals," Witherspoon said. "…Those are the kind of things you have to figure out. You look at the stages of leadership and different types of leadership. I'm not the guy who's a loudmouth, getting down a guy's throat.
"But I will, if I feel like I need to, take a guy aside and say look, 'Here's what I see, here's what going on and here's how people feel about it. Here's what I can tell you is going to change it or you're just going to end up with a real problem.'"
Vince Young needs to play a solid 16 games.
He's got the league's most explosive back behind him, an excellent offensive line protecting him and the franchise's best crop of wide receivers in some time. Things are set up for Young to succeed as the team's starting quarterback.
The Titans need to know they can count on him to bounce back from play-to-play, series-to-series, day-to-day and week-to-week. They need improved accountability, accuracy and consistency. They need for him not to provide reasons for fans to debate whether
Rusty Smith
is actually the team's quarterback of the future.
There are more questions on defense, and the Titans need to do some scoring to allow for the sort of mistakes some of the young defenders are bound to make, especially early on.
Can the pass rush and secondary improve?
[+] Enlarge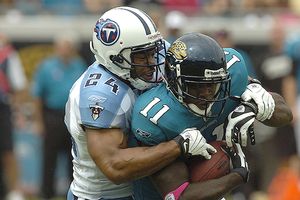 AP Photo/Stephen MortonChris Hope and the Titans' secondary will have to defend better against the play-action pass.
The pass rush was insufficient and the secondary failed to hold up when it needed to last. Fisher said the back end needs to be better on play-action but that the regular rush against drop back passes should be improved with a deep crop of defensive linemen.
"If we can get back to where we were with the guys rushing up front in the rotation, they'll be fine," Fisher said. "The play-action pass, that's got to get done by the secondary. You don't get as quick pressure on the quarterback in the play-action pass. We gave up too many plays in the play-action passing game last year. That's going to require better play from the linebackers and the secondary.
"On drop backs we should really be able to do some more things."
They don't have clear-cut guys as the primary rushers or for the No. 2 corner spot. But they have the next best thing in what appear to be a deep pool of young options.
BIGGEST SURPRISE
Harris and Stevens:
Offensive lineman
Leroy Harris
and tight end
Craig Stevens
might prove more effective than Mawae and Crumpler, the two guys they are replacing. Harris is actually at left guard, with
Eugene Amano
sliding inside to center. Stevens doesn't have Crumpler's girth but can fend off a would-be tackler and/or slip out into a route so long as concussion issues don't surface again.
BIGGEST DISAPPOINTMENT
Morgan out:
First-round pick
Derrick Morgan
has been sidelined for camp with a calf injury. The defensive end has missed so much installation and work it will be tough for him to contribute. The Titans have to hope some combination of
William Hayes
(once he's healthy),
Jacob Ford
,
Jason Babin
,
Dave Ball
and
Raheem Brock
can effectively rush off the edge from the start.
OBSERVATION DECK
[+] Enlarge

Don McPeak/US PresswireLavelle Hawkins has been impressive during the preseason, but can the fourth-year receiver rise on the team's depth chart?

Offensive line coach Mike Munchak consistently develops talent, but the Titans have virtually no experience behind their starting offensive line. Mike Otto could be sufficient as the backup swing tackle, but they could look for a veteran interior swing guy after cuts.
Lavelle Hawkins has gotten great reviews and is more of a traditional slot receiver than Justin Gage. It'll be great for the team if Hawkins provides an option inside, but I'll wait until he's deployed in a meaningful game before buying the hype.
Babin is a new reclamation project for defensive line coach Jim Washburn. He's suited for the team's go-get-the-quarterback mentality and in practice, and in the first preseason game, appeared to be getting off the ball with excellent speed.
Jared Cook is only now starting to flash and create the buzz he generated at this time a year ago. The second-year tight end is a physical specimen and an attractive target, but word is he's not as reliable as he should be. One thing that can hurt his cause: Stevens, while nowhere near Cook as an explosive threat, has been catching the ball well.
Dowell Loggains was promoted to quarterbacks coach when Fisher shuffled his staff a bit with the late departure of running back coach Kennedy Pola. Loggains has used some creative new methods to keep things fresh for his guys. It seems small but can make a big difference.
Ryan Mouton is not on par with the more consistent Jason McCourty or the more instinctive rookie Alterraun Verner among the cornerbacks vying for the No. 2 spot. I expect McCourty to start opposite Cortland Finnegan with Verner backing up the effective, but oft-injured, Vincent Fuller at nickelback. Verner's ability to find a pick almost every day is one of the big stories of camp.
Sen'Derrick Marks is significantly stronger than he was as a rookie and could be an influential player for a defensive line that's expected to be much more productive.
The Titans saw young defensive coordinators Gregg Williams and Jim Schwartz reach new comfort levels in their second seasons. Chuck Cecil expects to follow a similar course. Cecil knows that if he doesn't, he'll face another season of uncomfortable questions.
August, 21, 2010
8/21/10
10:00
AM ET
ESPN.com NFL Power Ranking
(pre-camp): 14
For three years, they've been picked as a breakout team. In those three years, the
Houston Texans
went 25-23 with zero playoff appearances.
So why are the 2010 Texans going to be different? Why do they deserve that sort of faith yet again? What's changed when the personnel alterations have been pretty minor?
"What's different? Experience, togetherness,"
Amobi Okoye
said. "I feel like by the time we will kick off, we will have the full definition of team. If there was a meter of T-E-A-M, we are right at the halfway of M… By the time the season starts, we're going to completely spell TEAM."
Said
Bernard Pollard
, the feisty safety who didn't arrive until a few games into last season: "We have so much more team chemistry. We know and understand what we are good at. We know and understand that we can't step out of the box and have to play our game. We're turning that corner."
To finally get to the postseason, the Texans have to play more complete games. They have to play better in the red zone. Perhaps above all else, they have to play better in the AFC South, where they were just 1-5 last season.
Catching the Colts is a tall task. The Texans aspire to do it, but they also know there is a route to the playoffs without a division crown. They just have to drive it more smoothly.
THREE HOT ISSUES
Can the pass rush pick it up?
[+] Enlarge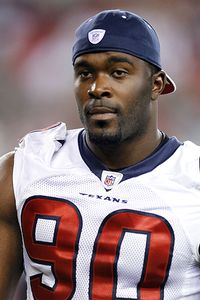 AP Photo/Rick ScuteriThe Texans need some pass-rushing help for star end Mario Williams.
Mario Williams
had nine sacks to go with a bum shoulder he's still reluctant to talk about. He needs more support in chasing the quarterback, and the Texans need to hurry and hit quarterbacks more often to help those three young cornerbacks --
Kareem Jackson
,
Glover Quin
and
Brice McCain
-- cover.
Connor Barwin
should be opposite Williams on clear rush downs, and he might be the most improved player on defense. Inside, there are now alternatives to Okoye, who might just not be a good pass pressure guy. Rookie
Earl Mitchell
could wind up part of the nickel package along with
Antonio Smith
, who will shift inside to make room for Barwin.
Will the run game do its part?
Everyone is encouraged about the run game, but what's changed? Second-round pick
Ben Tate
is lost with an injury. Guard
Wade Smith
was the only significant addition to the line, where interior issues were a big part of the problems. Offensive coordinator Rick Dennison is from the same school as predecessor Kyle Shanahan, and line coach John Benton learned under the departed Alex Gibbs.
"We have to get better running the football,"
Andre Johnson
said. "That helps win games, especially in the fourth quarter when you're up and you want to kill the time, you have to go on those four-minute drives where you have to get those big fourth downs. We have to get better in that part of our offense."
They are largely counting on young guys getting better, which begs the question: What if they don't?
Are the supplementary pieces good enough?
[+] Enlarge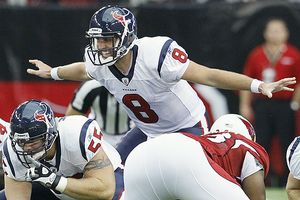 AP Photo/Rick ScuteriHouston's stars, including Matt Schaub, match up with the best players on any NFL roster.
The Texans' stars match up with virtually anyone's. But beyond Johnson, Williams,
Brian Cushing
,
DeMeco Ryans
,
Matt Schaub
and
Owen Daniels
, have head coach Gary Kubiak and general manager Rick Smith done enough to unearth the right sort of players on the next tier?
Pollard and
Eric Winston
certainly fit the bill. Antonio Smith,
Kevin Walter
and
Zac Diles
might. That next level of player might be where this team is a little short, and it's those kinds of guys who might well be the key to transforming a good team into a very good team.
And so we're watching the likes of Quin, Barwin,
Joel Dreessen
,
James Casey
,
Jacoby Jones
and the offensive line beyond Winston, because they might wind up telling the story.
BIGGEST SURPRISE
Linebacker Darryl Sharpton:
The Texans figured one of three veteran linebackers would be in the lineup during Cushing's four-game suspension. But a combination of injuries and ineffectiveness has put
Xavier Adibi
,
Danny Clark
and
Kevin Bentley
on the backburner because rookie
Darryl Sharpton
's been such a consistent playmaker. He might be short, but he packs a good punch.
BIGGEST DISAPPOINTMENT
Injury to Ben Tate:
As the Texans search for the right combination of running backs to help balance their offense, second-round pick Tate figured to be a key piece. But he was lost for the season with a serious ankle/leg injury in the preseason opener. That puts the load on
Arian Foster
,
Steve Slaton
and either
Jeremiah Johnson
,
Chris Henry
or a back not yet on the team.
OBSERVATION DECK
The Texans are regarded by some as a finesse team, but the defense is emphasizing physicality. Cushing, Pollard, Smith, Jackson, Quin and Mitchell have all joined the team in the past two years and are physical players.
Expect Foster to get first crack at the carries closest to the goal line as the Texans really concentrate on running better at close range. Johnson definitely could be heard from in the running game, too -- he might be the best fit for the one-cut and go zone scheme Houston uses.

[+] Enlarge

AP Photo/Rick ScuteriKicker Neil Rackers has a chance to beat out incumbent Kris Brown.

If Kris Brown and Neil Rackers continue to be virtually even in the kicker competition, it makes sense for the team to go with Rackers. Sometimes guys just need a change of scenery. If Brown stays and fails on a crucial long field goal on opening day against the Colts, the thinking will be, "Why didn't they make a change?" If Rackers does the same thing, I'll think, "At least they tried someone different."
Houston's defensive tackles are quick, up-the-field types. But they'd sure love if their one big space-eater, Frank Okam, forced his way into action.
The Texans want to get the ball in the hands of Jones since he averaged 16.2 yards a catch on his 27 receptions. But I am not so sure that means he's going to nudge ahead of Walter for the No. 2 receiver job. Walter is smart and super reliable, and reliability is awfully important. Jones might displace Walter or get a share of snaps in two-wide formations, but look for Jones most in a heavy dose of three-wide formations.
Troy Nolan might be a credible alternative to Eugene Wilson at free safety if Wilson gets hurt again. I've been critical of the team for not adding to the spot, but Nolan missed his rookie season with an injury and appears to be a high-caliber special-teamer.
Daniels' speed is a big part of what helped set him apart. When he returns soon from another ACL reconstruction, will he still have it in the same way? That's the big question with him.
The offensive line is set with Duane Brown at left tackle, Chris Myers at center and Winston at right tackle. Guard jobs remain up for grabs. It seems to me that Wade Smith, a free-agent acquisition tailored to the system, and Antoine Caldwell, a third-rounder from 2009, would make the most sense.
It sounds less likely that Trindon Holliday has to be a serviceable receiver to make the team than it did during OTAs. If he convinces the team he can be a consistently special return guy, he'll stick. He looked good to me when the Texans worked with the Saints.