AFC South:

2010 Midseason Report AFC South
November, 10, 2010
11/10/10
2:00
PM ET
Power Rankings:
Preseason: No. 14.
This week: No. 13
.
2010 schedule/results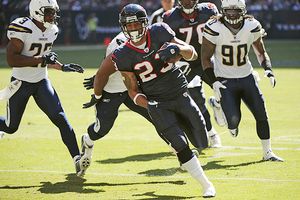 AP Photo/Dave EinselArian Foster is not just the Texans' midseason MVP, he could be the league MVP.
Where they stand:
At 4-4 the Texans are not where they expected to be after an opening day win over Indianapolis and a 3-1 start. They've got the league's worst defense and worst passing defense, and their route to winning has been to outscore people. It's a course they've struggled to follow in back-to-back losses to the Colts and Chargers. Halfway through the season, the Texans are not living up to internal or external expectations. Still, they are 1-1 in the division with a pair of games still to come against the Jaguars and Titans.
Falling:
While there have been calls in Houston for rookie cornerback
Kareem Jackson
to be pulled, at least temporarily, from the starting lineup, the Texans are sticking with him. I can appreciate the loyalty, but there is also the fact that they have no real viable alternative to give him a recovery break. And Jackson is hardly the only problem for a defense giving up a whopping 399.5 yards a game. The pass coverage isn't getting it done, but the pass rush isn't regularly putting pressure on opposing quarterbacks, either.
Rising:
Arian Foster
is fresh off an AFC South High Energy Player of the Week award. The running back has broken the 100-yard mark in five games. His 864 yards make him the NFL's leading rusher. His nine rushing touchdowns are the most in the league, and his 10 total touchdowns make him the NFL's highest-scoring non-kicker. He's been almost too good to be true. And a team that relied on its precise passing game last season when it really struggled to run has not always done a good job of feeding him the ball the way a back of his caliber needs to be.
Midseason MVP:
Foster has been a revelation and looks like the clear-cut team MVP to me. He can make a case for midseason league MVP and midseason offensive player of the year.
Outlook:
The .500 record at the halfway point is disappointing, and the Texans can second-guess their approach in the rematch with the Colts and their play in home losses to Dallas and San Diego. The defense can't play any worse, and if the Kiddie Corps in the secondary starts to show the growth the front office and coaches expected when they chose this route, things could improve. It's hard to picture it being better enough to weather tough matchups against the Jets, Eagles, Titans (twice) and Ravens still to come. I don't see a playoff berth for this team.
November, 10, 2010
11/10/10
2:00
PM ET
Power Rankings:
Preseason: No. 25.
This week: No. 20
.
2010 schedule/results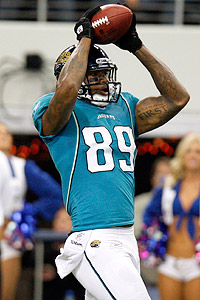 AP Photo/Mike FuentesMarcedes Lewis is second in the league in touchdown catches for tight ends with seven.
Where they stand:
At 4-4 the Jaguars have the same record as the Texans but one fewer conference win. Jacksonville has been the division's most erratic team, with a minus-61 point differential. At their worst, they've had fans calling for coach Jack Del Rio and quarterback
David Garrard
to be replaced. At their best, they've taken down Indianapolis and buried Dallas. Pass defense has been a big issue, and they've now got kids
Courtney Greene
and
Don Carey
manning the safety slots and learning as they go. The pass rush is better but the protection's still an issue. The offensive line's not been as good as hoped, and the Jaguars have absorbed 18 sacks.
Falling:
Derrick Harvey
, defensive end. The Jaguars spent far too much to go up and get him in the 2008 draft. Last year they tried to sell that although Harvey wasn't the pass-rusher the team had hoped for, he was developing into a rugged left end who could defend the run and demand some attention. Recently the team has conceded, however, that he's regressed and he lost his starting job.
Rising:
Terrance Knighton
and
Tyson Alualu
, defensive tackles. The interior duo looks to be ahead of the
Eugene Monroe
-
Eben Britton
offensive tackle duo in terms of becoming cornerstones. (Britton's on injured reserve with a shoulder injury.) Knighton is more than a handful and Alualu has great quickness. They've been aided by Cullen and
Aaron Kampman
, a quality veteran defensive end who signed as a big-ticket free agent. The Knighton-Alualu up arrow extends beyond this season.
Midseason MVP:
Marcedes Lewis
, tight end. He's been their biggest threat on offense, with a 13-yard per-catch average that's less than 2 yards off the pace of the teams' speed receiver (
Tiquan Underwood
). Lewis has scored seven of the Jaguars' 18 touchdowns.
Maurice Jones-Drew
has scored just three and Del Rio has talked of how some scoring chances have simply shifted from MJD to Lewis. Offensive coordinator Dirk Koetter deserves credit for getting Lewis, who's been better known for his blocking to this point in his career, involved. And Lewis is likely to reap serious financial benefits as he's in the final year of his deal.
Outlook:
Some of those games down the home stretch that looked like the Jaguars would be clear favorites in don't stack up that way now. Outside the division, Jacksonville hosts Cleveland, Oakland and Washington. The Jags still have four division games, too: two against Houston, at Indianapolis and at Tennessee. Looks like tough sledding for a team that's been far too hot and cold.
November, 10, 2010
11/10/10
2:00
PM ET
Power Rankings:
Preseason: No. 16.
This week: No. 11
.
2010 schedule/results
[+] Enlarge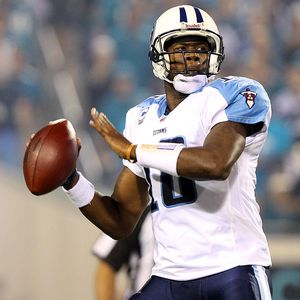 Kim Klement/US PresswireTennessee's Vince Young has shown improvement in recent weeks and now has Randy Moss to throw to.
Where they stand:
At 5-3, the Titans are even with Indianapolis atop the AFC South. It's odd to be applying division record as a tiebreaker with a team that has played one division game, but the Titans are 1-0 and the Colts are 1-2, so the edge is Tennessee's right now. While the Titans have been inconsistent, they've had a good pass rush and strong red zone defense, and halfway through the season they are No. 1 in the NFL with an average of 28 points a game. And now they've added
Randy Moss
to the arsenal.
Falling:
Third down defense. The Titans were holding opponents to a third down conversion rate of just under 30 percent through six games and it was a defensive hallmark. But in a win over Philadelphia and a loss at San Diego they gave third-down conversions at a rate double that. It was a point of emphasis during their bye and the Titans expect the return of defensive tackle
Tony Brown
from a chronic knee issue will help the cause. Miami will be a good challenge in this department, as the Dolphins offense ranks fourth in the league on third down.
Rising:
Vince Young
. He has been showing improvement since the poor showing against Pittsburgh, in which he was pulled. Since then, he has missed a game and segments of two others because of knee and ankle injuries. But he has seven touchdowns and no picks in that span. Enter Moss. If there is a perception among some nationally that Young doesn't throw well deep, it's mistaken. He's better rated throwing long than he is throwing short. Still, connecting with an all-time great who is used to
Tom Brady
is another new, big challenge.
Midseason MVP:
We could go several different directions here with Young and the resurgent
Michael Griffin
each having a solid case. If we weren't measuring
Chris Johnson
against last year, we might jump at the NFL's third-leading rusher, who is second in rushing touchdowns with eight. But after much deliberation, the call is defensive end
Jason Babin
, who has a career-high seven sacks already and has provided relentless pressure.
Outlook:
The Titans control their own fate because they're tied for the lead and are 1-0 in division play. But they don't have anything that looks close to a walkover left. Jacksonville at home will likely prove a tough division contest after a blowout in the first matchup. There are two against Houston and two against the Colts along with a home matchup against Washington and trips to Miami and Kansas City. Every one of those teams is .500 or better. A playoff berth is possible, but will be difficult to grab.
November, 10, 2010
11/10/10
2:00
PM ET
Power Rankings:
Preseason: No. 1.
This week: No. 10
.
[+] Enlarge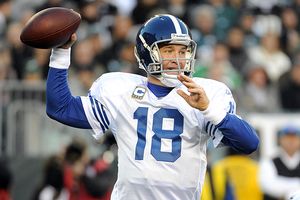 Barbara Johnston/US PresswirePeyton Manning has thrown 16 touchdown passes and just four interceptions this season.
2010 schedule/results
Where they stand:
At 5-3, they are even with the Titans atop the AFC South, though they trail in division record, where they are just 1-2. Considering the injuries the Colts have endured, it's impressive they're on pace for 10-6, but 10-6 doesn't meet their typical standards.
Dallas Clark
,
Anthony Gonzalez
and
Melvin Bullitt
are gone for the year and there is no guarantee that
Bob Sanders
will be able to return. They don't expect giant run production, but it's come short of expectations and
Joseph Addai
is hurt.
Falling:
The Colts' air of invincibility.
Peyton Manning
is to be feared, but Jacksonville and Houston have showed how Indianapolis can be susceptible to division foes, and Philadelphia stood toe-to-toe with the Colts and fared better just about everywhere it counted. Their ho-hum willingness to simply look to the next man up when injuries arrive is admirable, but they are getting stretched thin. If people like Addai and cornerback
Jerraud Powers
can't soon return and be back for the long haul, it's likely to cost them more as replacements who aren't as good wear down.
Rising:
Tight end
Jacob Tamme
. In two games replacing Clark since the Pro Bowler went on injured reserve, Tamme has a couple plays he'd definitely like back. But 17 catches for 172 yards and two touchdowns is certainly a level of production the Colts have to be thrilled about. Once practice confidence from Manning translated to game action, Tamme became a reliable piece and the quarterback won't think twice about looking the direction of a backup who's shown good speed, quality hands and a pretty good feel for things.
Midseason MVP:
Unquestionably Manning. Despite all the injuries, he is still operating at an exceptionally high level with 2,478 passing yards, a 4:1 touchdown to interception ratio, a 65 percent completion rate and a 96.1 passer rating.
Outlook:
Jeff Fisher says the Colts remain the team to beat and I agree. While some players aren't coming back from injuries, they have a chance to be at their healthiest for the real meat of the schedule. But they will face stiff challenges at New England, against San Diego, at Oakland and with a home-and-home with Tennessee still ahead. The wild-card competition in the AFC can be crazy, and the Colts know winning the division is the only sure thing for a postseason invitation.