AFC South:

2010 Season Wrap AFC South
January, 5, 2011
1/05/11
1:05
PM ET
»
NFC Wrap-ups
:
East
|
West
|
North
|
South
»
AFC
:
East
|
West
|
North
|
South
Arrow indicates direction team is trending.

Final Power Ranking:
16
Preseason Power Ranking:
25
[+] Enlarge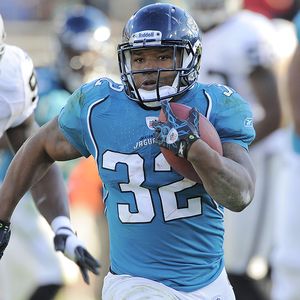 Scott A. Miller/US PresswireMaurice Jones-Drew had more than 1,300 rushing yards for the second season in a row.
Biggest surprise:
Speedy growth by the kids.
Terrance Knighton
and
Tyson Alualu
are not yet approaching the standard the team set for imposing defensive tackles back when
John Henderson
and
Marcus Stroud
were at their peak. But their development this season ranks as the Jaguars' best story and they may be able to give the team that identity again in time.
Eugene Monroe
and
Eben Britton
, before he was hurt, were better in their second years as the starting offensive tackles as well.
Mike Thomas
is a reliable play-maker and once
Derek Cox
got out of the doghouse, he was a good cornerback on a team with safety issues.
Biggest disappointment:
The offense gave the ball away too often (21 interceptions, 12 fumbles) and the defense didn't take it away enough (13 interceptions, five fumbles). The Jaguars simply weren't high-powered enough to be able to overcome a minus-15 take-away, give-away ratio -- 43 turnovers off the standard set by New England at the top of the lead. The offense needs to protect the ball better, but the lack of plays by the defense may have been even more disappointing. To be effective in the team's chosen style -- a run-first offense and physical defense -- turnovers need to be more in balance.
Biggest need:
Safety times two.
Courtney Greene
was a pretty sure tackler after he took over at strong safety, but the team's lack of defensive playmaking traces back to both safety spots first. Converted corner
Don Carey
was too inconsistent and
Sean Considine
is too slow -- and even the better in-the-box guy has to be able to run well in today's league. They traded
Reggie Nelson
early, cut
Gerald Alexander
twice and traded
Anthony Smith
. The team's miss with the Nelson pick in the 2007 first round really hurt the Jaguars. Now they will have to do more work in the draft and free agency to make up for it.
Team MVP:
Maurice Jones-Drew
. Despite a knee issue from the summer, he worked his tail off and keyed the stretch where the team re-established its identity as a running force and got into contention for the division crown.
Lame ducks:
Jack Del Rio is signed through 2012, but Wayne Weaver made it clear there will be a house-cleaning if the Jaguars are not in the 2011 playoff field. The assistant coaches have only a year remaining and will operate as lame ducks. I'd hope it would motivate some guys as opposed to causing problems for them. If they do good work, they'll get a new deal if things go well on a broader scale. At least they'll be marketable if things don't. Players will know, too. If they like the guy who runs their room, they need to produce for themselves and for him.
January, 5, 2011
1/05/11
1:02
PM ET
»
NFC Wrap-ups
:
East
|
West
|
North
|
South
»
AFC
:
East
|
West
|
North
|
South
Arrow indicates direction team is trending.

Final Power Ranking:
10
Preseason Power Ranking:
1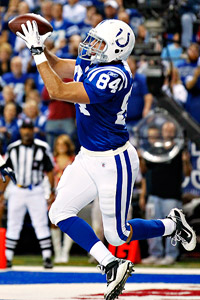 AP Photo/AJ MastJacob Tamme stepped in for an injured Dallas Clark and caught 67 passes in 10 games.
Biggest surprise:
Substitutes called into action because of injuries played very well.
Jacob Tamme
is not the player
Dallas Clark
is. But once Clark was done with a wrist injury, Tamme was a consistently productive piece of the offense. He was better than plenty of No. 1 tight ends in the league in terms of his work as a receiver.
Justin Tryon
was a find, rookie linebackers
Pat Angerer
and
Kavell Conner
are good players,
Aaron Francisco
was better than serviceable,
Blair White
was a contributor, and
Dominic Rhodes
was a smart late add. When all those guys and a lot more who were slated to be spot starters are in the mix, you're not supposed to win your division.
Biggest disappointment:
The injuries. The Colts finished the season with 17 players on injured reserve. They started 14 different players on offense and 19 on defense. By my count, 14 key players missed at least two games. The guys on that list --
Gary Brackett
,
Melvin Bullitt
, Clark,
Austin Collie
,
Brody Eldridge
,
Pierre Garcon
,
Anthony Gonzalez
,
Kelvin Hayden
,
Antonio Johnson
,
Jacob Lacey
,
Daniel Muir
,
Jerraud Powers
,
Bob Sanders
and
Clint Session
-- sat out 44.2 percent of games they could have played. Sure, every team deals with issues, but these were extreme and few teams could have survived them and made the playoffs.
Biggest need:
The offensive line. Team president Bill Polian admitted he underestimated
Rodger Saffold
in the draft and the
St. Louis Rams
left tackle could have been a nice piece for Indianapolis. The Colts made do, again, and the group they've gone with in recent weeks has shown marked improvement and has been getting very nice push in the run game. Still,
Peyton Manning
needs more time and a more reliable run game from Day 1. The Colts must invest in upgrading the offensive line through the draft, free agency or both.
Team MVP:
Manning. He had a poor stretch during a losing streak. But the Colts needed him to throw, and he set a new league record for pass completions with 450 while helping turn some less-than-ideal targets into viable options.
Decisions loom:
The Colts generally hang on to their people, but as they evaluate the injury issue and try to move forward, it may be time to conclude they can't depend on guys such as Sanders and Gonzalez. You can't blame a player for getting hurt and you can't forecast bad luck. But you can get a sense of who may be more likely to get hurt than the average guy. How do you plan when you have little reasonable expectation of getting a long-term contribution from a player? They spent a third-round pick on USC corner
Kevin Thomas
, who had an injury history. He immediately got hurt and was not available at all his rookie year.
January, 5, 2011
1/05/11
1:01
PM ET
»
NFC Wrap-ups
:
East
|
West
|
North
|
South
»
AFC
:
East
|
West
|
North
|
South
Arrow indicates direction team is trending.

Final Power Ranking:
20
Preseason Power Ranking:
16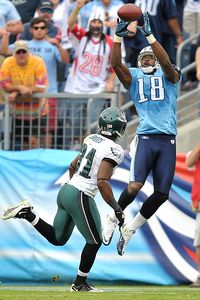 Drew Hallowell/Getty ImagesTennessee really missed Kenny Britt when he was out of the lineup from Weeks 10-13.
Biggest surprise:
A rift between coach Jeff Fisher and
Vince Young
wasn't impossible to forecast, but the size of the rift was. Fisher and his staff became completely disillusioned when Young's work ethic and commitment didn't appear to them to meet their standards in his fifth year. Thought the quarterback showed improvement, he caused distractions by missing meetings, not showing great toughness and ultimately swearing out Fisher in front of the entire team. Fisher's struggles, meanwhile, extended beyond his quarterback and he's currently in limbo as owner Bud Adams decides if it's time for a change. He should be measured beyond the head-to-head battle with Young, and those measurements are not good.
Biggest disappointment:
The Titans completely overrated their roster coming into the season. They failed to see that their smallish defensive line would wear down. They thought moving
Eugene Amano
to center and installing
Leroy Harris
at left guard would strengthen an offensive line that was excellent in 2009. The line's performance declined in 2010. They believed strong safety
Chris Hope
had more left than he did. They thought a revamped group of linebackers would be playmakers, and it did little. Most significantly, with four successful, aging veterans gone as free agents, the Titans presumed sufficient leadership would emerge. It did not.
Biggest need:
Quarterback. I'm not sold on Young as a 16-games-a-year, lead-the-team NFL quarterback. Until the Titans have one, the position tops the list for a team with plenty of other needs.
Kerry Collins
or
Rusty Smith
is not the answer. Tennessee needs some size at defensive tackle, some playmakers at linebacker and an upgrade at safety. The Titans need to sort out their interior offensive line. And a changeup running back to help make things less difficult for
Chris Johnson
could help as well. For all their affection for
Javon Ringer
, letting
LeGarrette Blount
go may prove to be a monster mistake.
Team MVP:
Kenny Britt
. The wide receiver missed four games in the third quarter of the season and the Titans lost all four. He was dynamic and difficult to cover with an 18.6 yard average per catch and eight touchdowns.
Under-adjusting:
There were rumblings in the locker room about the Titans' inability to adjust in-game, particularly regarding defensive coordinator Chuck Cecil. From my vantage point, Fisher and his staff crafted game plans on Tuesdays that they fully expected to work. But when games dictated that they steer away from that plan, they too often stubbornly stuck with what was installed. Players were looking for Plan B and alterations they didn't get often enough. If Fisher's back, I think this is something he's got to admit on some level and do better to address.
January, 5, 2011
1/05/11
1:00
PM ET
»
NFC Wrap-ups
:
East
|
West
|
North
|
South
»
AFC
:
East
|
West
|
North
|
South
Arrow indicates direction team is trending.

Final Power Ranking:
21
Preseason Power Ranking:
14
[+] Enlarge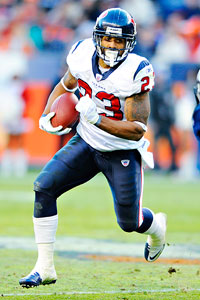 Ron Chenoy/US PresswireArian Foster rushed for 1,616 yards and 16 TDs this season.
Biggest surprise:
Houston liked what it saw from
Arian Foster
late in 2009. The team believed he would feed off the motivation and opportunity it offered him in the offseason. But even plugging him into the Texans' best-case scenario, it would have been hard to envision Foster earning the NFL's rushing title as a part of a pass-centric offense backed by a shaky defense. He burst onto the scene with 231 rushing yards against the Colts, and it stood up as the biggest rush game of the season. He carried 327 times for 1,616 yards (a 4.9-yard average) with 16 touchdowns. He was also the team's second leading receiver with 66 catches for 604 yards and two more scores. It was an incredible season.
Biggest disappointment:
The defense was not going to be the strength of the team, but it would have been hard to envision just how poorly this group was going to do. The front didn't hurry quarterbacks enough, and they posted a collective 100.5 passer rating against the Texans. In their last 10 games, they beat only Titans rookie
Rusty Smith
and Jacksonville backup
Trent Edwards
. The veteran safeties,
Eugene Wilson
and
Bernard Pollard
, were ineffective against the pass and did little to offset the inexperience of the Kiddie Corps Corners --
Kareem Jackson
,
Glover Quin
and the eventually benched
Brice McCain
.
Jason Allen
was an improvement when he came in, but not by a ton. Houston gave up 33 passing touchdowns, a number bigger than its sack total (30).
Biggest need:
Defense. It starts with a replacement for defensive coordinator Frank Bush and several other new defensive assistants as the Texans are sticking with head coach Gary Kubiak. From there, whether they stick with a 4-3 or unwisely move to a 3-4 which would hurt
Mario Williams
, they have desperate needs. At least one penetrating defensive tackle, safeties who are comfortable in coverage and fast, and a veteran corner who could lead a young group would be big additions.
Team MVP:
Foster. It's hard to look another direction considering
Andre Johnson
dealt with an ankle injury all season and missed three games. Foster was steady and could have produced even more but for some questionable play-calling, particularly in the loss at Indianapolis.
Work as a unit:
Fullback
Vonta Leach
earned a Pro Bowl spot for his work leading Foster, but none of the offensive linemen was even named an alternate to the all-star game. The group and tight ends, led by
Joel Dreessen
, did fine work making things happen for Foster in their first season without the offensive line coach who set up their scheme, Alex Gibbs. The pass blocking was not as good as
Matt Schaub
was taken down 32 times, even if a share of those were on him. If the Texans can improve there, this batch of relative unknowns could really have an impact in 2011.