AFC South:

2011 Camp Confidential
August, 16, 2011
8/16/11
10:56
AM ET
HOUSTON -- Yes, they brought in a top-flight defensive coordinator, drafted well and signed some good-looking free agents.
Still, the Texans have been the breakout pick so often in recent years and have come up short that it's completely fair to ask, even with those changes: Why should people believe? Why should they buy this team?

"I couldn't sell it to anybody," said
Chris Myers
, the team's underrated center. "We're doing what we do here in camp. If you're a Texans fan, you're a Texans fan. Our offense is the same offense that we've had and we're going to try to make it better. Our defense has brought in who we think can change it, take it in the right direction and make us that complete team.
"That's the pitch. If you're going to buy it, you're going to buy it. If not, we're still rolling."
To find their way to the playoffs for the first time since the franchise began play in 2002, the Texans need to find the consistency they've lacked on many levels -- start to finish in a game, week to week over the course of the season.
That new defensive coordinator, Wade Phillips, has a great record of turning defenses around. Gary Kubiak carries questions as a head coach, but not as an offensive mind.
It's a now or never deal for Kubiak, and he's got a lot of talent on his roster that knows it.
Receiver
Andre Johnson
, one of the league's top players, says the team's spent the past few preseasons talking about breaking through. This time he wants less talk and more action.
THREE HOT ISSUES
1) How quickly can Phillips shape the defense?
He's coming off a poor term as head coach in Dallas, but his track record as a coordinator is excellent.
[+] Enlarge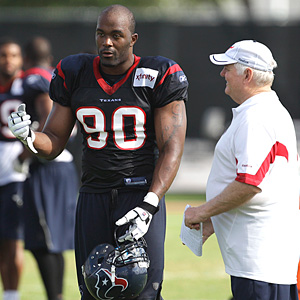 AP Photo/David J. PhillipMario Williams is adjusting to life as a stand-up linebacker in Wade Phillips' scheme.
Players on the Texans' defense say he's funny, yet pointed. He's already infused the group with confidence, and he quickly identified things that amounted to easy fixes.
Mario Williams
' false step should disappear, for example, and
Kareem Jackson
is unlikely to be seen in press coverages.
"Wade Phillips and [linebackers coach Reggie Herring] have brought a credibility and a confidence to the system that they run," said end-turned-outside-linebacker
Connor Barwin
. "I feel like it carries over to us. You know if you do what you're coached up to do that it's going to work."
The change from a 4-3 to a 3-4 isn't as extreme as some imagine, because Phillips' 3-4 doesn't demand a gigantic space-eating nose tackle, and it doesn't ask linemen to be responsible for two gaps. The linemen are really playing roles akin to what they did in the previous system, with Williams now standing up as an on-the-line 'backer on the weak side.
Creating that matchup as often as possible is key, and Williams should be the centerpiece of the retooling.
Though Williams didn't look comfortable in the preseason opener, end
Antonio Smith
thinks offenses will really struggle with Williams and his bull rush.
"It has not been stopped in camp yet," Smith said. "Since he decided to do it, I ain't seem him lose. You know what you need to do to beat a person. I think that throughout this camp, he's figuring out how to use that. He's added it into his bag of tricks and he's going to figure out how to use it along with his other moves."
Matt Schaub
and Johnson have both talked about how many more balls are contested and broken up in a typical practice. That difference suggests the new philosophy's growing on a unit that's needed not just players like
Johnathan Joseph
and
Danieal Manning
but also the sort of direction Phillips is providing.
2) Will Arian Foster be able to have another big season on the ground?
It wasn't long ago that
Steve Slaton
ran for 1,282 yards. He's disappeared since the 2008 season, however.
Foster said that what he did over 16 games last season proved him capable and that the notion of a fluke is ridiculous. But for the Texans' offense to get better, he'll have to follow up his 1,616-yard season and rushing title with another big showing.
"When you come out and have a season like that, then everybody wants to see what you're going to do the next season," Johnson said. "I think that is important for him, to come out and show people that he is the guy that he was last year.
"I think he'll do it, there is no doubt in my mind. Because he works hard and he plays with a chip on his shoulder."
Houston's play-action can be spectacular with Foster running as he did in 2010. His style is perfectly suited for the team's blocking scheme, which encourages him to cut once and take all he can get.
Another big year will go a long way toward setting the Texans' course.
3) Do enough guys have killer instinct?
The Texans' slow starts and inability to finish were major issues last season. Better personnel and coaching will need to be accompanied by a killer instinct this franchise has too frequently lacked.
[+] Enlarge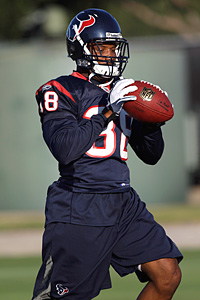 AP Photo/David J. PhillipThe Texans are counting on Danieal Manning to bring some veteran leadership to the defense.
"You could put it that way," tight end
Owen Daniels
said. "There's definitely never been a lack of effort. I think it's been missed opportunities at finishing games. ... We need to find something different this year in order to close out those games."
A guy like Johnson, soft-spoken but intense, certainly has a personality you can win with. But are the Texans, in total, too low-key? I think it's a fair question.
"You've got to have that [killer instinct]," said Manning, one of the key newcomers. "... If you believe, all this other stuff is going to come into play: working together, supporting your man, pushing him, making him work hard, holding him accountable. All that stuff goes hand in hand. I've never seen a championship team that didn't believe, that didn't finish."
BIGGEST SURPRISE
When they grabbed him during the 2010 season, I don't think the Texans expected much from veteran cornerback
Jason Allen
. But the secondary was better with him than it was without him. Now, with a fresh start, he's mounting a serious challenge to Jackson, the 2010 first-round draft pick. The team would be well served to go with Allen if things come out roughly even. Jackson's seasoning would be better for now as a role player.
BIGGEST DISAPPOINTMENT
Antwaun Molden
looks the part as a 6-foot-1, 200-pound corner. But the team has finally stopped talking up the fourth-year man from Eastern Kentucky. He's not sturdy enough and doesn't show enough gumption to be a factor in a group where he's had a chance to add some depth. He had an interception in the preseason opener, but only after he committed a penalty that washed it away.
OBSERVATION DECK
Joel Dreessen is consistently underrated. Dreessen can block and, while not as dynamic as Daniels, has a knack for finding open spaces and presenting himself to Schaub. The Texans have a lot of quality tight ends. Look for the team to put three tight ends on the field at times, when they can operate as a heavy package or shift Daniels, Dreessen, James Casey or Garrett Graham into space, depending on the defensive personnel. Anthony Hill is the blocker of the bunch.

After facing questions about durability, Schaub's played two full seasons. Now the questions are about play in the clutch. He needs to eliminate moments like the one when he threw an overtime pick-six against Baltimore last season.

I expect the Texans to look closely at receivers when the league cuts down rosters. Dorin Dickerson currently looks to be fourth in line, but I saw him fighting some passes in practices and he's still relatively new to the position. Jeff Maehl heads the undrafted group but didn't look great, either. Receiver depth is an issue.

Inside linebacker Darryl Sharpton could be the best non-starter on the roster come opening day. He's in a tough spot behind DeMeco Ryans and Brian Cushing, though injuries are often in play with Cushing.

Myers is a key cog in making the Texans' offensive line work, and he could be taking his place right alongside Jeff Saturday as an indispensable center in the division.

The team could be an injury away from trouble at end and safety.

Trindon Holliday's speed is not enough for him to overcome his size as even a situational receiver. Plus, he seems easily hurt. The return jobs are open if the team wants to avoid using Jacoby Jones as the punt returner and Manning as the kick returner.

Undrafted rookie Brett Hartmann beating out veteran punter Brad Maynard is a definite possibility.

Count me among those not convinced that Matt Leinart can't play. If this team needs a few spots starts, I bet he can do OK. One of the NFL's quarterback-needy teams was foolish not to add Leinart to the mix. He's better than a lot of guys with a chance to start some games this season.

Lawrence Vickers is better equipped to work as the fullback than Casey, and he should get far more frequent opportunities to lead the way for Foster.
August, 12, 2011
8/12/11
11:03
AM ET
ANDERSON, Ind. -- It's trendy to call the Colts aging and to view the Texans and even the Jaguars as up-and-comers in the AFC South.
But if Indianapolis is healthy, it's awfully risky to be ahead of the curve regarding its demise.
This is a team that lost a ton of talent to injury last season and still won the division at 10-6. It's added some nice pieces on defense through bargain-basement free-agency. It drafted two offensive tackles who should be pillars, and also selected a short-yardage back.
There are plenty of reasons to be optimistic about a big rebound year, and most teams aren't even talking rebound when it comes to following a division title.
"I think it's really the same team," middle linebacker
Gary Brackett
said.
The same team is a major threat to win the division and compete for home-field advantage in the playoffs. Should it break through for the third Super Bowl appearance of the
Peyton Manning
era, a huge prize awaits: The game will be played at Lucas Oil Stadium.
THREE HOT ISSUES
1. Manning's health.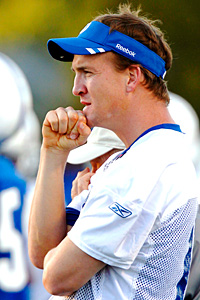 Photo/Michael ConroyIt's unclear how soon Peyton Manning will return from offseason neck surgery.
He spoke after signing his contract and has been seen around the team a couple of times during training camp at Anderson University. But like in 2008 following offseason knee surgeries, he's not practicing.
This time it's a result of neck surgery in May. It's the second year in a row Manning had a neck procedure after the season. But he and the team have expressed confidence that all he needs is time and rehabilitation. It's unlikely that a five-year, $90 million contract would have gotten done if the medical staff and management had any doubts.
While the Colts move forward without Manning, his absence also puts them in limbo. No matter how strongly they spin Curtis Painter's performance, the defense isn't being pushed in practice the way it would be if Manning was running the other side.
And no matter how precise the routes, how good the blocking or how well-timed the play, the offense will still need to sync it all up with the star quarterback once he returns.
That knee in 2008 limited him early, when the team struggled out of the gate. Coming back from a neck injury, Manning is less likely to have any sort of mechanical issues or physical limitations that affect his passing. That's one case for expecting a better start after so much missed time.
The timetable for his return is unknown. You know the drill: They say he's progressing well, that they are optimistic, etc., and no one outside a very tight circle has any real idea when he will re-emerge. He was spotted once throwing with what a witness called "decent velocity." Hey, encouraging news is encouraging news.
2. Is the secondary deep enough?
Last season, the Colts were stretched virtually everywhere.
Aaron Francisco
wasn't on the team for opening day, ranking as the fourth or fifth option at strong safety, and he played a good share of the season as the starter.
Behind free safety
Antoine Bethea
and re-signed and healthy strong safety
Melvin Bullitt
, there are unproven options including
Al Afalava
,
Joe Lefeged
,
Mike Newton
,
David Caldwell
and
Chip Vaughn
.
And after the top three corners --
Jerraud Powers
,
Justin Tryon
and
Jacob Lacey
-- there also isn't proven depth.
"At the safety position, I'm confident that we're going to get two guys that will emerge there," Colts vice chairman Bill Polian said. "We see enough signs to know that there is quality in that group.
"I also think there is some quality in the backup corners.
Kevin Thomas
is one of them. There are some interesting guys, and they'll play themselves on or off the roster based on the preseason. But based on what I've seen thus far, I'd say we've got a good group and one or two guys will emerge."
They will all benefit, of course, from a better pass rush. And if
Dwight Freeney
and
Robert Mathis
are better supplemented by
Jerry Hughes
and
Jamaal Anderson
on the edges and
Tommie Harris
provides a solid nickel push in the middle, they could have one.
3. Will the passing game have enough consistent weapons?
The ability of the 2010 Colts to get production from the likes of tight end
Jacob Tamme
and receiver
Blair White
was remarkable.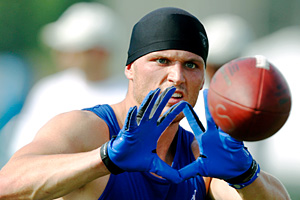 AP Photo/Michael ConroyThe Colts hope Austin Collie's concussion issues are in the past and that he'll be on the field for the entire season.
But if they can't count on often-injured receiver
Anthony Gonzalez
or
Austin Collie
, who was shut down last season after concussion issues, it will be harder to make things go again.
Reggie Wayne
is in fantastic shape and working hard, and will be a key target for Manning as always.
Dallas Clark
is back from a wrist injury. If the Colts are calling plays for those two and
Pierre Garcon
, Collie and Gonzalez, they can be potent. If the group shrinks, the effort is more exhausting.
Manning averaged 6.92 yards per attempt in 2010. That's the lowest mark in his career outside of his rookie season (6.5). The Colts need to find more big plays and move the ball with a little less effort to be the kind of team they want to be.
BIGGEST SURPRISE
If the Colts get a significant contribution out of Anderson, Harris or linebacker
Ernie Sims
, it'll be a win. All three signed cost-effective one-year deals that amount to low-risk, high-reward scenarios. Polian said in a normal year, the market wouldn't have given the team an opportunity to sign players like these, veterans who are all ideally suited for Indy's defense. If they get something from two of them, it will make for a home run. Three-for-three amounts to a grand slam. Harris looks very good so far, while Sims is recovering from an appendectomy.
BIGGEST DISAPPOINTMENT
Polian was singing Philip Wheeler's praises and saying that while the team loves starting strongside linebacker
Pat Angerer
, it loves Wheeler too. But he failed to hold the job last season and should be able to win and hold a starting job by now.
Brody Eldridge
gets a mention, too. He had knee surgery after last season, and a setback means he hasn't seen the practice field yet. They need him to be part of the run game.
OBSERVATION DECK
Delone Carter is coming into a perfect situation as a rookie. He's unlike any of the Colts' other running backs and should get chances in short yardage and goal-line situations. If Javarris James ran for six touchdowns last season, Carter could run for 12 this fall. The Colts can continue to praise Donald Brown, but with Joseph Addai back and Carter in the fold, when does Brown get on the field?

It was a surprise to find Lacey as the No. 2 cornerback at the start of camp. He was better as a rookie than in his second season. And he can be an effective piece of the secondary. But I'd bet on Tryon passing him before opening day.

After one long and hot afternoon practice session, two players stuck around to catch machine-thrown balls: Wayne and Bethea. Those are some solid veterans and the kind of guys any team would like to have leading the way.

Manning didn't react well to TV crews that saw a recent throwing and running session. My understanding is that the Earth is still spinning, however. I understand being private, but everything and everyone cannot always be controlled. Did I miss the catastrophic outcome?

The buzz is good on Hughes, and with him and Anderson in the mix, the Colts may pace Freeney and Mathis better. That could make for fresher stars in December and January.

They won't talk until after the season, but as of now I'd expect the Colts to try to keep both Wayne and Mathis with new contracts.

Jacques McClendon or Joe Reitz could be an upgrade over Kyle DeVan at left guard. The big question on the line to me -- presuming Anthony Castonzo takes over left tackle reasonably quickly -- is right guard. Mike Pollak has had sufficient opportunity, and the team can aspire to be better there. Couldn't they be better with Ben Ijalana there until he's ready to displace Ryan Diem at right tackle?

'Tis the season for Garcon to prove he's a consistently reliable threat. He had too many drops and too many lapses last season. He needs to be more than fast. He spent more time with Manning this offseason, before the neck surgery, than he did last offseason.
August, 9, 2011
8/09/11
11:45
AM ET
NASHVILLE, Tenn. -- The Titans severed ties with their coach and quarterback and set about for a fresh start.

They'll suffer from time lost with the lockout, but in Mike Munchak, a largely new staff and a new combo of quarterbacks in
Matt Hasselbeck
and
Jake Locker
, the franchise hasn't just turned a page.
It's opened a new book.
The early chapters could well be choppy and rough.
Defensive coordinator Jerry Gray is looking for a bigger defense that will stop the run first, and offensive coordinator Chris Palmer is bringing a scholarly approach to a group used to being screamed at. The Titans have new signal-callers on offense and defense (middle linebacker
Barrett Ruud
was signed as a free agent from Tampa Bay), so there is a lot of new stuff to cover.
But external expectations are low. If the Titans can get their best player,
Chris Johnson
, on the field and make strides on defense, it's not impossible to improve on last season's disastrous 6-10 record.
Munchak preaches the virtues of being a true professional -- know what to do and do it. The question is, does he have enough talented guys who can win football games following that mantra?
THREE HOT ISSUES
1. Will Johnson be around?
It's hard to imagine his sitting out the season. The flamboyant running back loves the NFL stage and is one of the league's most dynamic players. He's certainly scheduled to be underpaid at $1.065 million, though. The Titans won't negotiate if he's not at camp, but he won't come to camp without a new deal. There are no signs of any real movement.
Johnson is not fired up about a compromise that would have him join the team but not practice until a deal is reached. Someone will bend. But in the meantime, we're likely to see a much less threatening offense.
"It's tough to tell how long it takes to become an issue," left tackle
Michael Roos
said. "Once he's here he's here, and we start working with him. We'll be a different team without him. He's definitely one of the top two if not the best running back in the league. A special player, very dynamic. It makes for a different kind of offense when he's not in there.
"The plays wouldn't change. Just without having his speed in there, people would play us differently. I wouldn't say it would necessarily be a worse offense. It would just be someone else running it,
Javon Ringer
or the rookie (
Jamie Harper
). It wouldn't have CJ's dynamic and people having to worry about his speed."
[+] Enlarge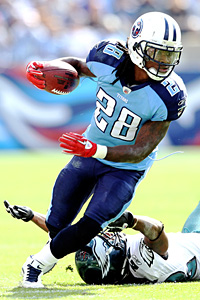 Andy Lyons/Getty ImagesThe Titans will be a different team if they are without Chris Johnson, who rushed for 1,364 yards and 11 touchdowns last season.
If defenses aren't worrying about that speed, things will be far more difficult for Hasselbeck and the team's other best weapons, receiver
Kenny Britt
and tight end
Jared Cook
.
2. How will Munchak's style translate?
He's a Hall of Fame player, and he's been a top position coach for years. Odds are Munchak can coach a football team.
"He's his own man," linebacker
Gerald McRath
said. "Everybody is going to have to sit back and watch, but it's definitely going to be different. He has that personality. He wants to establish something that's his, something that he's worked hard for. I feel like it's a great opportunity. It's a privilege just to be involved in that, to be able to put into some of that."
The question really is about his CEO role. How does he deal with the late-night calls about DUIs or the overeating defensive lineman? How does he react to the city calling for the starting quarterback's head or the player enduring stuff at home that's hurting his play?
Munchak has talked about accountability and discipline and consequences, things that all had slipped at the end for Jeff Fisher. Can he enforce all that effectively?
One other thing: Fisher was great with rules and clock management. In Munchak's first turn in the primary headset, it will be interesting to see how he fares in those departments.
3. Can the Titans stay healthy up front?
Part of the Titans' push to be bigger up front on defense is about being better against the run. Part of it is about being more rugged deep into the season. Some of Tennessee's speed rushers in recent years wore down late, and the Titans suffered for it.
Tracy Rocker has big shoes to fill as defensive line coach, where Jim Washburn had a great run of success. Can Gray and Rocker show the discipline to pace the linemen the way they are talking about doing now?
"I think we have to be real smart this year because our [defensive linemen], for some reason, get hurt quite a bit," Munchak said. "We have to limit their plays not only in games but in practice so you don't lose guys. ... We have to find a way to keep them healthy. You can't control all that, but we have to be smart."
BIGGEST SURPRISE
It's early, of course. But the team is talking up Cook again, and this time, he seems prepared to live up to it. The tight end is running plenty of routes that take him deeper than most tight ends, and the quarterbacks are thrilled to have such a big target stretching the field. He seems to be responding better to Palmer's mellow approach than he did to Mike Heimerdinger's high intensity.
BIGGEST DISAPPOINTMENT
Britt's offseason was filled with off-the-field issues. The Titans gave him a clean slate coming in, but hamstring problems have kept him out of camp so far. He said that he thought yoga was going to help him solve such problems but that
his instructor apparently took the money and ran with it
. The Titans are already without their most dynamic player in Johnson. With Britt sidelined, they are also missing No. 2.
OBSERVATION DECK
McRath is probably the odd man out in the linebacker shuffle unless he makes a charge to overtake Will Witherspoon on the weak side. McRath knows he didn't make enough plays last year, but he's saying the right things and carrying himself the right way. Maybe he'll be a special-teams stud if he isn't playing defense.

[+] Enlarge

Don McPeak/US PRESSWIRENew coach Mike Munchak, a Hall of Fame offensive lineman, will have high expectations for his interior line.

The pressure is on the Titans' interior offensive line. Munchak and O-line coach Bruce Matthews, both Hall of Fame linemen, expect Leroy Harris, Eugene Amano and Jake Scott to play better in their second season all together. If they don't, we'll call it part missed assessment and part blown confidence. Keeping Hasselbeck upright and healthy is a huge deal.

I'm not sure how the Titans will distribute their tight ends without tipping their intentions. Cook is the receiver and Craig Stevens is the blocker. Veteran addition Daniel Graham can do both but is more of a blocker.

Jordan Babineaux was lured to the Titans from Seattle largely because of his relationship with Gray when both were with the Seahawks. They shouldn't do anything that entails Michael Griffin playing anything but center field. And Babineaux is more a free than a strong safety, but the Titans will blur the distinction. Can he challenge for Chris Hope's job? If he does, will Hope take a pay cut to stay?

The Titans actually have reasonable depth at cornerback. Cortland Finnegan needs to produce big in a contract year, and Alterraun Verner and Jason McCourty are up-and-comers. Ryan Mouton was lost for the year with an Achilles injury, but veteran addition Frank Walker made a nice early impression.

This team always has an undrafted receiver who creates buzz early. This time it looks to be Michael Preston out of Heidelberg. He has nice size and athleticism.

There's not enough evidence to know whether seventh-round CB Tommie Campbell can play yet. But he certainly had physical attributes that make receivers take notice. Receiver Yamon Figurs recently went against him and came away muttering that Campbell was the biggest corner he's seen. Figurs said Campbell, who is 6-foot-3, was "like a giraffe."

Jake Locker has shown steady improvement and has been far better early on that I expected he would be.

If the Titans are going to be a lot better on defense, second-year end Derrick Morgan and second-round pick Akeem Ayers, a strongside linebacker, will have a lot to do with it. Morgan is a very good player, and Ayers brings the Titans size they've not had at linebacker since the franchise relocated.

Leadership was a giant issue last season. There was hardly any when things got tough. The Titans' additions could solve that. Hasselbeck, Graham, Ruud and Ayers are going to be big in that department.

Even if Justin Gage has a huge preseason, the Titans should consider moving on if everyone else is healthy. He's simply not been a steady enough playmaker, and if his presence is going to keep the team from exploring the upside of someone like Damian Williams, it's not the right move.

Where does recently added, versatile veteran offensive lineman Pat McQuistan fit in? The Titans have a lot of young linemen they like, but his case for edging somebody out will include his experience at every position but center. That could increase their flexibility on the bench.
August, 3, 2011
8/03/11
1:02
PM ET
JACKSONVILLE, Fla. -- The Jaguars aren't looking for parades or pinwheels as congratulations. But in the two years since Gene Smith took over as general manager, they've basically gutted the roster. And while setting about a major rebuilding project, they remained competitive with a 7-9 season and an 8-8 campaign.

After another draft and an active free-agency period, they now feel the rebuild is complete.
"There is an expectation level in this league to win, and I think having some horses makes us all smile in this building," Jaguars coach Jack Del Rio said. "I think we went out and acquired some guys for the second and third level of our defense where we talked about needing some help. ... It's going to help us be a whole lot better.
"The pressure, the demands, that's part of what we do, and I love that part of it. It becomes a little more enjoyable when you know you're getting closer to being on equal footing."
Del Rio's not buying that the Colts are slipping, and he's not waiting for them to. The in-house expectation is that this team is capable of competing for the AFC South crown no matter what any other team in the division has going for it.
Bolstered by four upgrades among the top 12 players on defense, Jacksonville is a team that should be much improved. The Jaguars won't be a popular pick, but they could be a surprise, emergent team.
THREE HOT ISSUES
[+] Enlarge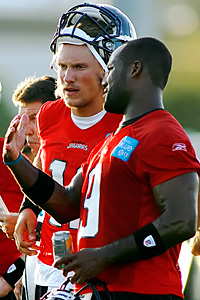 Phil Sears/US PresswireThe Jaguars say they will develop Blaine Gabbert (left) slowly and have David Garrard take the snaps as the team's starter.
1. Will there be a quarterback controversy?
The team stands firmly with
David Garrard
and intends to bring first-round pick
Blaine Gabbert
along slowly. But Gabbert has looked great early, while Garrard tends to be inconsistent. There are bound to be times during the season when there is some pressure to make a change from inside team headquarters, not just from media and fans.
"If we ever get to the point where we think Blaine is better than Dave, that's good for the Jaguars," offensive coordinator Dirk Koetter said. "Because I think Dave is good enough to win with; I think we can win our division with Dave Garrard at quarterback. If Blaine is better than Dave, shoot, that's good for us."
Del Rio and Koetter could have a complicated job managing how and when to play Gabbert if they feel he's forcing his way into the lineup.
"I've got a healthy appreciation for the desire out there to make it a story," Del Rio said. "For us, we're about maximizing our opportunities as a football team, playing the guys who give us the best chance to win games and working on the preparation. ...
"Through the course of competition and exposure and based on health, those factors kind of take care of themselves. I don't think we have to get ahead of the story. I think we can just let it play out, and at least we are doing so from a position of strength. There is no reason to make it dysfunctional, make it unhealthy. What purpose does that serve? It's not going to help us win more games."
It sounds good, but it can get complicated. Garrard's the guy right now, and the team and the quarterback need to do a better job of making sure he gets hit far less so he can make consistently good decisions with the ball.
Factor tight ends
Marcedes Lewis
and
Zach Miller
and running backs
Maurice Jones-Drew
and
Rashad Jennings
into the mix with the receivers, and the Jaguars have sufficient weapons to complement a run-based offense.
Mike Thomas
,
Jason Hill
and
Cecil Shorts
could be a better three-pack of receivers than many people think.
2. How much better can the revamped defense be?
If this defense doesn't improve from 32nd against the pass, 28th overall and 27th in points allowed, Del Rio will lose his job.
The team shelled out $37 million guaranteed to three prime free agents: linebackers
Paul Posluszny
and
Clint Session
and safety
Dawan Landry
. The Jags also added nickelback
Drew Coleman
.
That group, plus rookie defensive backs
Chris Prosinski
and
Rod Issac
, should vastly improve the defensive production and depth.
Smith wanted to build foundations early and spent his first two drafts working on the lines. Defensive tackles
Tyson Alualu
and
Terrance Knighton
should take up all kinds of blockers and create space for the two new linebackers and the underrated
Daryl Smith
to make a lot of impact plays.
"Jacksonville's interior D-line really stood out," Posluszny said about his research as a free agent. "They've got two studs in the middle that are very active, get to the ball a lot and certainly are going to take up a lot of blockers."
Safety play last season was horrific, and Landry will be a significant upgrade even though he didn't bring
Ed Reed
with him from Baltimore.
"I'm not looking for any grace period to assemble this defense," Del Rio said. "Guys we're assembling and counting on for the most part are veterans. ... We're going to expect to play coming out of the gate as a winning football team, and defensively we've got a lot of work to do."
3. Can they play well late in the season?
December is a debacle for this team.
In the past three seasons in games played in December and beyond, the Jaguars are 4-11. They need to learn to finish games and seasons better. What can change it?
"I think in Week 13 or something, we had a better record than the Packers did last year," Daryl Smith said. "They got hot, and who would have thought they would go on to win? That could be us. Why not? We have to try to stay off of that roller coaster, try to be consistent, just get better each week. Steady, steady, steady, then come late November or December, get hot."
"I've been in the playoffs twice since I've been here and that's been the formula. … We can't feel like we arrived when we have a good game or played well and won a couple games."
Del Rio says that with a more talented roster, he has to guide it to better work in the last quarter of the season.
BIGGEST SURPRISE
[+] Enlarge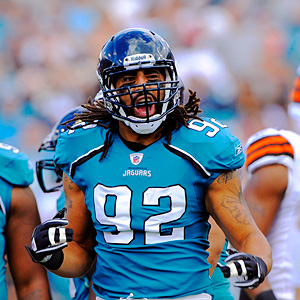 Scott A. Miller/US PresswireJacksonville could look to Austen Lane to help solidify their defensive line.
Beat writers and fans call
Austen Lane
"The Bringer of Pain." It's funny. But he looks like a guy who will make it hard for the team to look anywhere else for its second starting defensive end. He can be a ball of fury, and that will fit right in with the tone and tempo of the rest of the defensive front.
BIGGEST DISAPPOINTMENT
Right tackle
Eben Britton
came in with a reputation as a nasty player, and the team missed him last season when he was lost with a shoulder injury. I've picked him as a breakout-caliber guy this season. But word is he has not been great so far. Perhaps he's still being cautious and easing his way back, but he needs to take things up a big notch soon.
OBSERVATION DECK
Two years ago, people were writing off center Brad Meester. But defenses were taking advantage of weak guard play to get to him. He rebounded well last season and is a guy whom coaches love as a reliable offensive line leader.

Knighton's weight always will be an issue. The defensive tackle is a great player and superlikable guy. The team cannot hold his fork for him. The more he can control it, the more impact and money he will make.

Prosinski could well be in the opening day lineup as the free safety. He worked with the first team early in camp and might be up to a pairing with Landry in the middle of the secondary. Rashean Mathis and Derek Cox need to play better at corner, but the Jaguars will improve from the safety upgrades and from the presence of veteran nickelback Drew Coleman.

Looking for an underdog to root for? How about undrafted free agent Marc Schiechl? He set a Football Championship Subdivision record for sacks at the Colorado School of Mines.

Scotty McGee isn't working with defensive backs regularly anymore. Can he stick as strictly a punt-return specialist? He caught 185 punts on one day of camp. And the team should move away from using Thomas in the role, although McGee is hardly the only alternative.

I like Miller, and the team raves about his potential. But he's been inconsistent early in camp with too many drops. He's got great hands, so it seems to be a focus issue.

Larry Hart may be in the doghouse for coming back from the lockout overweight. At defensive end, he currently ranks behind Aaron Kampman, Lane, Jeremy Mincey and Aaron Morgan.

Fourth-round receiver Cecil Shorts was great in camp early, and I bet the undrafted crop of wideouts has at least one NFL-caliber guy. Keep your eyes on Armon Binns, Jamar Newsome and Dontrelle Inman.

Third-year receiver Jarett Dillard is running well after a couple of injuries cost him the bulk of his first two seasons.

Watch how much better punter Matt Turk gets now that he will be a beneficiary of the Jaguars' topflight cover guys, Montell Owens and Kassim Osgood.

The Jaguars may be content to use Jones-Drew, coming off a knee operation, very minimally in camp and preseason games.

Veteran Jason Spitz has not been on the field yet, but I think the team would like for third-round pick Will Rackley to win the open left guard spot.