March, 13, 2011
3/13/11
6:11
PM ET
[+] Enlarge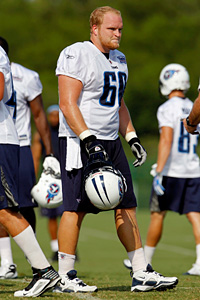 AP Photo/Mark HumphreyTennessee Titans center Kevin Matthews will have to avoid any talk about the NFL labor impasse with his dad and coach Bruce.
"How was work today, son?"
"Well dad, though you are a Hall of Famer in my field, I've been told I can't talk to you about it. How was work for you?"
"Well, son, though I am your direct supervisor, I've been told I can't talk to you about things at the office."
"How's your bracket looking?"
Coaches are caught in the middle of the NFLPA's decertification and the NFL's subsequent lockout. They are not to have contact with their players.
In the case of Titans offensive line coach Bruce Matthews and his son, Kevin, a Titans offensive lineman, it creates the potential for some awkward dinners.
A Titans executive says indications are that the league understands the two can't avoid contact, but that they are expected to steer clear of discussing the labor impasse or team-related matters.
That's a reasonable take by the league, but governing what a father and son can discuss in their private time is tricky business.
That said, Bruce -- hired by Mike Munchak for his first full position coach job -- and Kevin -- who made the Titans' roster late-last season off the practice squad -- are low-key guys who will know they fall under an unusual brand of scrutiny here.
Any extra attention that could come their way as a result of that would make them exceedingly uncomfortable, so they're likely to do all they can to avoid bringing any such spotlight on themselves.
They aren't sharing a place, so that helps. Even so, during visits and time together for the foreseeable future, they'll tip-toe around more than each other's dirty laundry.
March, 12, 2011
3/12/11
3:35
PM ET
If you'd like to see the letter teams sent to players outlining what a lockout means to them,
head here
.
The NFLPA's web site is now NFLLockout.com. That page shares what the league sent the players leadership in advance of the lockout.
March, 3, 2011
3/03/11
12:39
PM ET
Jeff Saturday
is the most powerful current AFC South link to the NFLPA. He's one of 11 players or former players on the union's executive committee.
With the CBA about to expire, I thought we'd look at the team representatives from around the division. These are guys beyond Saturday that you may spot walking in and out of meetings or hear from -- even if the union decertifies -- as the player try to articulate their positions.
Houston
Rep:
DeMeco Ryans
; co-alternates:
Eric Winston
,
Matt Schaub
Ryans is recovering from a torn Achilles. He's highly respected in his locker room and looks to be a great communicator. Winston's been outspoken and smart on labor issues recently (I hope to hit on that more later) and having the starting quarterback in the mix is not insignificant.
Indianapolis
Rep:
Gary Brackett
; co-alternates:
Deshea Townsend
,
Anthony Gonzalez
Brackett too is a great communicator. A rare long-term Colts linebacker, he's a crucial piece of the team. Townsend's not under contract going forward, but that doesn't eliminate him as a factor. Gonzalez is a smart guy coming off a couple injury-plagued seasons.
Jacksonville
Rep:
Rashean Mathis
; co-alternates:
Jordan Black
,
Aaron Kampman
Heading into his ninth year, Mathis remains a key player for the Jaguars and a respected voice in the locker room. Kampman's a year more experienced and has worked in two small markets -- Green Bay and Jacksonville. Black's still listed on the union website, but was recently cut and should be being replaced.
Tennessee
Rep:
Jake Scott
; co-alternates:
Jason Babin
,
Ahmard Hall
From a team with two Hall of Fame linemen on the coaching staff, it's fitting that the union leader comes from the offensive line group. (Over at the NFC West HQ, Mike Sando points out that 12 of 32 reps are offensive linemen.) Scott has been with the Colts and Titans, so he's got a more varied perspective than any other rep in the division. Babin and Hall are both heading towards free agency.