AFC South:

2011 Season Wrap AFC
January, 4, 2012
1/04/12
1:03
PM ET
»
NFC Wrap-ups
:
East
|
West
|
North
|
South
»
AFC
:
East
|
West
|
North
|
South
Arrow indicates direction team is trending.

Final Power Ranking:
27
Preseason Power Ranking:
19
[+] Enlarge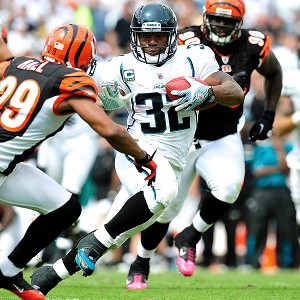 Grant Halverson/Getty ImagesMaurice Jones-Drew led the league in rushing yards despite playing with the NFL's worst passing offense.
Biggest surprise:
The Jaguars added six new veterans to their lineup of top-12 defensive players and once the group jelled it played very productively. Jacksonville finished sixth in overall defense, making giant strides from 2010 and maintaining the gain even as it lost a load of quality contributors to injury. Defensive coordinator Mel Tucker, who finished the season as interim coach after Jack Del Rio was fired, did good work in his first season as the defense's playcaller. Middle linebacker
Paul Posluszny
was the sort of centerpiece tackling machine the team envisioned when signing him away from Buffalo as a free agent.
Biggest disappointment:
The Jaguars didn't intend for rookie QB
Blaine Gabbert
to start 14 games before they felt he was ready to take over. But by cutting
David Garrard
(who later wound up having back surgery) just a week before the season started and bailing quickly on veteran
Luke McCown
, they went against their own plan and paid a huge price for it. Jacksonville's pass offense was worse than anyone could have anticipated, averaging just 136.2 yards per game. The NFL's best passing offense in New Orleans averaged 334.2. Gabbert may not have been much better operating behind better protection and with more dangerous weapons at receiver, but it sure would have been good for him to have had a chance to find out. Tight end
Marcedes Lewis
killed the team with his disappearing act after he got his payday.
Biggest need:
While the defense will need a pass-rushing end and at least one cornerback, the attention has to be focused on the offense.
Mike Thomas
was the team's No. 1 receiver in 2011 but slumped badly after he got a contract extension and was not equipped to work as the primary guy. He should be the third option in 2012, working primarily out of the slot. The Jaguars need big, fast and physical receivers who can threaten downfield and go get the ball for Gabbert or whoever winds up playing quarterback.
Team MVP:
Unquestionably, running back
Maurice Jones-Drew
. He's just the fifth back since the NFL-AFL merger in 1970 to lead the league in rushing on a team with the NFL's worst passing offense. That means with no threat to keep defenses honest, he ran consistently against stacked boxes and still produced in a giant way. There are always worries about wear and tear on him, yet he finished very strongly with no sign of tapering off. The Jaguars need to get other guys who are good with the ball in their hands so they can rely on him less, extend his window, and increase the chance he's on a winning team.
Still searching for pressure:
How long have the Jaguars needed a consistent pass-rush threat off the edge? It seems they are always looking.
Jeremy Mincey
is a great, high-energy player, but he'd benefit greatly from having a player opposing offenses have to game plan around. Yes, the franchise missed badly when it traded up to No. 8 for
Derrick Harvey
in the 2008 draft and counted on its second pick the same year,
Quentin Groves
, to help rush too. They are mistakes they still haven't made up for. Knee injuries and rehabilitation have meant
Aaron Kampman
has played in only 11 games in two seasons and will be hard to bank on.
January, 4, 2012
1/04/12
1:00
PM ET
»
NFC Wrap-ups
:
East
|
West
|
North
|
South
»
AFC
:
East
|
West
|
North
|
South
Arrow indicates direction team is trending.

Final Power Ranking
: 12
Preseason Power Ranking
: 23
[+] Enlarge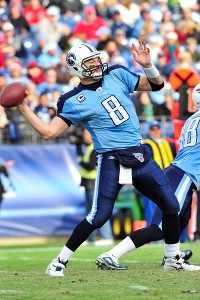 Don McPeak/US PresswireThe Titans became a passing team this season behind the solid play of veteran quarterback Matt Hasselbeck.
Biggest surprise:
The 9-7 record. The team was expected to suffer from the lockout and resulting lack of offseason work, but it came together and outperformed expectations given a new coach, new staff and new quarterbacks.
Matt Hasselbeck
had the best passing season in franchise history by anyone not named
Warren Moon
despite losing WR
Kenny Britt
early to a torn-up knee and not getting consistent production from running back
Chris Johnson
. Coach Mike Munchak set a tone and showed himself to be a straight-forward, well-measured coach who won the respect of his players. With a big contribution from their rookie class, the Titans started off well under a new regime.
Biggest disappointment:
Johnson secured a big new contract after he billed himself as a playmaker, not just a running back. But he and the run game were so ineffective that the Titans became a passing team even with Britt on IR. Over half of Johnson's yards came in four wins over bad teams. And although the team consistently defended him, it was completely fair to question his effort. He often went down too easily, he didn't make a guy miss when he wound up one-on-one and he didn't work hard enough at his responsibilities without the ball in his hands. The team is hopeful it can get him back on track with an offseason in which he's expected to be in Nashville far more often.
Biggest need:
Defensive pieces. Rookie middle linebacker
Colin McCarthy
, who was not part of the plan at the start of the season, was probably the best defensive player on the team at season's end. That indicts a lot of other guys. The Titans have to rush the passer better to be more consistent on defense and they need more than
Derrick Morgan
,
Jason Jones
(who should go back to tackle),
Dave Ball
and
William Hayes
. Three safeties are heading toward free agency, so the Titans have a lot to sort through there, too.
Team MVP:
Hasselbeck is the easiest choice. He played better than many of us expected and brought just the sort of leadership the Titans needed. But I'll go with receiver
Nate Washington
, who became the No. 1 receiver with Britt's injury and delivered a 1,000-yard season even with a bad ankle for the last part of the season. Washington thrived with the new coaching and new quarterbacks. His maturation serves as a symbol of what the Titans need from a lot of other guys at a lot of other spots.
Sorting out the secondary:
Safeties
Michael Griffin
,
Chris Hope
and
Jordan Babineaux
and cornerback
Cortland Finnegan
all have expiring contracts. Finnegan probably draws an offer in free agency beyond what the Titans would give him. The team cannot make a long-term commitment with big money to the inconsistent Griffin. Hope is likely done. Babineaux played well and would be nice to retain. That's a lot to decide on just in the secondary, but I'd expect a big infusion of new guys to work with young corners
Jason McCourty
and
Alterraun Verner
.
January, 4, 2012
1/04/12
1:00
PM ET
»
NFC Wrap-ups
:
East
|
West
|
North
|
South
»
AFC
:
East
|
West
|
North
|
South
Arrow indicates direction team is trending.

Final Power Ranking:
10
Preseason Power Ranking:
11
[+] Enlarge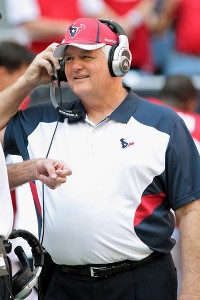 Troy Taormina/US PresswireIn one season Wade Phillips turned one of the NFL's worst defenses into the league's second best unit.
Biggest surprise:
An impressive degree of resolve. Along the way to the AFC South title and the franchise's first playoff berth, the Texans lost outside linebacker
Mario Williams
and quarterbacks
Matt Schaub
and
Matt Leinart
. They were without receiver
Andre Johnson
for a good stretch of the season because of two separate hamstring injuries. They suffered a bunch of other injuries that tested their depth. And they answered resoundingly. Take away a team's best player on both sides of the ball -- Williams and Johnson wear those crowns -- and anyone is going to struggle. But the Texans forged on and played well enough to secure the No. 3 seed in the AFC playoff field. I questioned the team's mental makeup heading into the season, but the staff and roster turned a major corner in erasing such concerns.
Biggest disappointment:
The Colts were terrible, the Jaguars were way down and the Titans ultimately didn't threaten for the division crown. The best teams in the AFC are hardly dominant. They all have holes. Had the Texans not lost Schaub to a foot fracture in Week 10 at Tampa Bay, it's fair to think they could have made a bid for one of the top-two seeds. With a bye and home field deeper into the playoffs, they may well have entered the postseason as a favorite to advance to the Super Bowl. It's disappointing that in a year when things lined up for them, they've lost so much that they'd have to be somewhat of a Cinderella to make a big run deep.
Biggest need:
There is nothing giant looming. Williams is not under contract for 2012, so he'll be an issue. Do they need to sign him long term? Or have they shown they can thrive on defense without him? A franchise tag is prohibitive as it would cost more than $16 million. The next great receiver for the system who will complement and, perhaps eventually replace, Johnson would be nice. But personnel-wise this team will have great flexibility in the draft, enjoying the luxury of taking the best players it sees, rather than being driven by a weak position group or two.
Team MVP:
We can make a strong case for cornerback
Johnathan Joseph
, inside linebacker
Brian Cushing
or outside linebacker
Connor Barwin
. With such a wealth of candidates, we'll cop out and shift to the guy who schemes for them, defensive coordinator Wade Phillips. In the span of one season, the Texans went from being one of the league's very worst defenses to being one of the very best. Guys have a swagger that comes from Phillips' confidence that he will accentuate strengths and mask weaknesses and that he can find the weak spot in an offense to attack. The pass rush has constantly harassed quarterbacks and the secondary contests a large percentage of passes.
New security:
Gary Kubiak stayed the course and stuck with the things he believed would work in time. It all may have taken longer than he'd hoped, and his team certainly enjoyed some good fortune in the Colts' fall and the availability of Phillips. But the head coach who came into the season with the very real possibility of being fired if he didn't take his team to the postseason has delivered. He and his staff have earned new deals that ensure they'll be overseeing an excellent core going forward.
January, 4, 2012
1/04/12
1:00
PM ET
»
NFC Wrap-ups
:
East
|
West
|
North
|
South
»
AFC
:
East
|
West
|
North
|
South
Arrow indicates direction team is trending.

Final Power Ranking:
32
Preseason Power Ranking:
9
[+] Enlarge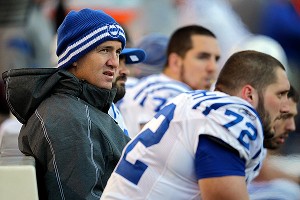 Rob Carr/Getty ImagesWithout Peyton Manning the Colts went from playoff contender to the worst team in the NFL.
Biggest surprise:
Even without rehabilitating
Peyton Manning
(neck), few figured the the Colts could go 0-13 and wind up 2-14 with the No. 1 overall pick in the draft. We can't say how much better these Colts could have been with their four-time NFL MVP in the huddle, but he clearly masked a lot more issues than many knew. The offense tried to be more run-based but didn't make it work well enough. Typically allergic to fullbacks, they used three different ones but ran worse with a fullback on the field than without one. The secondary was poorly constructed and couldn't endure injuries and it became clear how bad a fit Jim Caldwell's hand-picked coordinator, Larry Coyer, had become for the Cover 2 scheme the Colts like to run.
Biggest disappointment:
Quarterback play was awful.
Kerry Collins
,
Curtis Painter
and
Dan Orlovsky
were terrible as the alternatives to Manning at quarterback. They combined to average 6.04 yards per attempt with 14 touchdowns and 14 interceptions, while absorbing 35 sacks. A lot of the good numbers were compiled late in blowouts. The Colts' 26.9 combined QBR was better than only the Jaguars and Rams. The team tied an NFL record by going eight full games without ever holding a lead.
Biggest need:
The Colts need help at all sorts of positions, starting in the secondary. Before team vice chairman Bill Polian was dismissed he was saying the team needed an infusion of youth that could contribute to converting third downs on offense and stopping them on defense. But until a new general manager is in place and we know the coaching staff and scheme, we won't know which veterans they should aim to keep and which ones they should let go. So new leadership at the management level is the top need following the dismissal of Polian and GM Chris Polian. From there, a verdict on Manning's health and future and a decision on whether to keep the No. 1 pick and what to do with it will hang over the franchise.
Team MVP:
Pat Angerer
slid to middle linebacker from the strong side after
Gary Brackett
suffered a season-ending shoulder injury in the season opener in Houston. Angerer proved to be a tackling machine who consistently shed blockers and covered ground despite the fact that the defensive line in front of him and the secondary behind him often didn't play reliably enough. He made a team-high 148 tackles. Brackett now appears dispensable.
System status:
For the Polian-Manning era the Colts built a Manning-centric, fast-moving, no-huddle offense that caught defenses in bad personnel groups and regularly scored in the final two minutes of the first half of the game. It was paired with a bend-don't-break Cover 2 defense that aimed to limit big plays and produce situations that allowed a duo of premier pass-rushers to tee off on quarterbacks who had to drop back. With regime change coming, will system change come too? The odds seem low that Bill Polian's successor will put a similar premium on smaller, speedier defenders.