AFC South:

2012 Camp Confidential
August, 16, 2012
8/16/12
12:30
PM ET
HOUSTON -- For a long time, the Texans were a popular pick to break through.
Coming off the season in which they finally did, they rank as the favorite to repeat as AFC South champs.

But the tone in Houston hasn't changed a bit. Steady coach Gary Kubiak has talked about starting from zero again, and although salary-cap issues and free agency dented them a bit, this confident team knows it needs to show some grit to build off last year's experience.
"The window is open," said quarterback
Matt Schaub
, who missed the team's final six games and the playoffs after suffering a serious foot injury. "We have the talent, we have the people, we've got to go out and do it. It's the next link in the chain. ...
"We've got the right mindset to keep everyone focused. If we see someone not focusing on the next job, we make sure he gets it right."
Camp carried a confident vibe, and the team was fortunate to dodge long-term issues when receiver
Andre Johnson
(groin) and defensive end
J.J. Watt
(elbow) suffered injuries.
There's been some Super Bowl-or-bust talk, and this season will present the Texans with a chance to measure themselves against the teams they could see in the AFC playoff bracket: New England, Baltimore and Denver.
If the right side of the offensive line were not being replaced and if Schaub were a bit more of a sure thing, they'd be a popular pick to represent the AFC in New Orleans.
Even with those issues, it doesn't take much imagination to see them there.
THREE HOT ISSUES
The offensive line:
The zone-blocking scheme is really what the whole franchise is built on, and last year's offensive line was among the league's very best, producing the NFL's No. 2-rated rush offense.
Right tackle
Eric Winston
was let go to save some serious salary-cap money, and right guard
Mike Brisiel
left for Oakland when the Raiders offered an above-market deal. The favorites to replace them,
Antoine Caldwell
and
Rashad Butler
, have significant time in the system, and everyone seems to think it can be a seamless transition.
Rookie
Brandon Brooks
, a third-round pick, brings uncommon size and could challenge Caldwell.
Derek Newton
, a seventh-rounder from a year ago, is on Butler's heels. They won't both win, but one could.
The Texans did allow 33 sacks, ranking 20th in the NFL in sacks per pass play. There is room for improvement in that area no matter who's playing.
The receivers:
Johnson dealt with separate injuries to each hamstring last season, then needed offseason knee surgery, then lost camp time to a groin strain. If he's on the field, the team has enough at receiver to supplement him. If he's not, then it's a question.
[+] Enlarge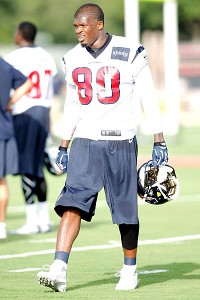 Brett Davis/US PRESSWIREThe Texans need Andre Johnson on the field for the rest of their receiving corps to be effective.
Kevin Walter
is a fine No. 2 if Johnson is on the other side of the field, which allows Walter to run precise, shorter routes and throw quality blocks. If Johnson's out, Walter isn't as dynamic, and the three youngsters vying for the third spot become more important.
Keshawn Martin
has had the best camp to this point, but
DeVier Posey
and
Lestar Jean
are in the mix.
Johnson missed nine games in 2011. The Texans couldn't really rely on
Jacoby Jones
week-to-week (and released him in the offseason). With tight end
Owen Daniels
and running back
Arian Foster
playing big pass-catching roles, the team still did fine.
Coverage:
Johnathan Joseph
is an excellent corner who will be asked to track the top wideouts on the other teams. The list likely will include
Demaryius Thomas
,
Kenny Britt
,
Greg Jennings
or
Jordy Nelson
,
Anquan Boldin
or
Torrey Smith
,
Brandon Marshall
,
Calvin Johnson
,
Wes Welker
,
Reggie Wayne
and
Percy Harvin
.
The combination of the Texans' quality pass rush, Joseph's good work and some help may often get the job done.
But on the other side,
Kareem Jackson
has been more comfortable in zone coverage than man, and had a security blanket platoon system in place with
Jason Allen
. Allen is now in Cincinnati, and early indications suggested the new veteran,
Alan Ball
, won't be as much of a help.
There is good depth in the secondary.
Brice McCain
is a solid nickel and
Brandon Harris
is an improving backup for him.
Troy Nolan
is a capable third safety after
Glover Quin
and
Danieal Manning
.
REASON FOR OPTIMISM
This team has firepower and star power, which make it tough for plan for, tough to stop and difficult to move against.
Johnson and Foster rank in the top three in the NFL at their positions, and Daniels remains a very effective weapon. The defense is loaded with stars who've produced:
Brian Cushing
,
Connor Barwin
, Joseph,
Brooks Reed
and Watt. The third outside linebacker,
Whitney Mercilus
, is a first-round pick.
There isn't a bad egg or an out-of-control ego on the list.
REASON FOR PESSIMISM
Outside of the division, the Texans' road games are at Denver, at the Jets, at Chicago, at Detroit, at New England. I don't think the Jets will rate as one of the league's best teams, but those other four may well be in the top 10.
I don't think expectations will be a problem, but a year ago they played 13 of 16 games at noon CT and just once outside of Sunday. This time they've got four night games and a Thanksgiving Day game, and four of those five are away from home. That's a different deal that could prove a test.
[+] Enlarge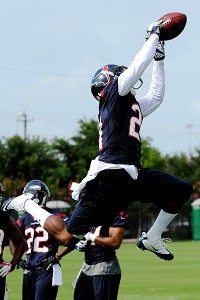 AP Photo/Pat SullivanJohnathan Joseph is getting more comfortable with the Texans.
OBSERVATION DECK
Joseph is far more outspoken on the field than he was last year. It's a testament to his comfort level and confidence. That people on both sides of the ball listen shows how respected he is.

Defenses and nickelbacks won't be able to come into a game against the Texans anticipating one particular receiver in the slot. Different plays, different motions and different matchups will mean Walter, Johnson and Martin all get looks there.

Something will really have to go wrong for Justin Forsett not to be the third running back behind Foster and Ben Tate. He's really shifty and could easily be part of a committee elsewhere. In a red zone period I watched him catch a short pass in the flat, slam on the brakes and allow Reed to fly past, then accelerate to the end zone.

Brooks, a rookie guard, impressed me. He can really hold his ground, and although speed gave him problems a few times, he's mature beyond his years. I think he's got a real shot at nudging Caldwell out of the right guard spot.

I'd like to see the Texans throw to James Casey more. He's not really a fullback, although he is capable of doing what they ask and need. He's got great hands and can make more plays that he gets called for him.

It's hard to envision Trindon Holliday holding up based on his history and size. If he can, and he can master ball security, he'll be a nice weapon as a returner. If being able to contribute as a receiver in a pinch is a requirement of the job, I can't see it. Defensive backs will relish a chance to muscle a 5-foot-5 player at the line, rendering his speed largely irrelevant on any route that involves timing -- and don't they all?

Houston gets enough out of the Shaun Cody and Earl Mitchell defensive tackle combination. But it still seems like one of maybe only two spots in the base defense where the Texans could actually benefit from an upgrade.

There are not a lot of depth questions on this roster, which saw the value of quality depth last season, over and over. Inside linebacker is an issue with Darryl Sharpton (hip) out. Cushing is close to indispensable. Left tackle Duane Brown is a guy the team might struggle without. But the Texans have won minus Schaub and without Johnson and can win without Foster. The defensive line wouldn't be the same minus Watt (out for the preseason with an elbow injury) or Antonio Smith. That said, what would the reaction have been last year at this time if we hypothesized Mario Williams would miss all but five games?

Jean dropped too many passes during the three-and-a-half days I watched practices. That made me think he might do more to remind people of Jacoby Jones than the help them forget him.

Rookie kicker Randy Bullock has plenty of leg. Considering they picked him in the fifth round, he'd have to fall flat on his face the rest of the way for the team to choose Shayne Graham over him, right?
August, 14, 2012
8/14/12
12:15
PM ET
NASHVILLE, Tenn. -- Like everyone in the NFL, the 2011 Titans were hurried together.
Unlike most other teams, they were hurried together by a new coaching staff.

Mike Munchak's coordinators -- Jerry Gray on defense and Chris Palmer on offense-- had to show patience and restraint. They brought exciting new ideas to Nashville, but they weren't able to implement much of them in the wake of the lockout. The personnel could only be revamped so much, but more importantly they didn't have much time.
No offseason, no organized team activities and no minicamps meant sticking mostly to basics.
Now, they say, after a full offseason together, they'll show us far more.
Whether
Matt Hasselbeck
or
Jake Locker
is at quarterback, we'll see Palmer implement run-and-shoot concepts while using two tight ends or a fullback. He'll look to regularly threaten teams deep with what can be a great compliment of pass-catchers:
Kenny Britt
(presuming he's healthy and available),
Nate Washington
, rookie
Kendall Wright
,
Damian Williams
,
Chris Johnson
,
Jared Cook
and
Taylor Thompson
.
If the evolution into more of a passing offense pans out, Johnson should get more space when he takes a handoff, and that should help him rebound from a disappointing 2011 season. He's looked better after participating fully in the Titans' offseason activities for the first time.
Defensively, Gray is looking to allow some players to excel in narrow roles in specific situations.
Akeem Ayers
, for example, should get to show off his rush skills by lining up as an end in a special rush package. Ideally, free safety
Michael Griffin
will play more in center field, where he's best.
Do Palmer and Gray have enough people to do what they want? And does what they want to do work? Progress seemed steady in the first couple weeks of camp, but there are still questions to answer.
THREE HOT ISSUES
The quarterback battle:
It hasn't drawn the spotlight one might have expected, because
it's friendly
and doesn't pit good versus evil on any level.
The Titans drafted Locker eighth overall in 2010 to be their starter -- for a long time, they hope. It's not a matter of if he gets into the lineup, but when. If he can take advantage of game situations to show improved accuracy and make plays from the pocket as well as on the move, Locker certainly has a chance to displace Hasselbeck now. He was better by at least a bit in the preseason opener and will start the second game Friday night at Tampa Bay.
But the team feels it's going to compete for a playoff spot now, and the younger, less experienced quarterback comes with a learning curve. If coaches feel Hasselbeck has a mastery of the offense and is playing effectively, it might be difficult to make the switch heading into an opening month that looks very challenging.
[+] Enlarge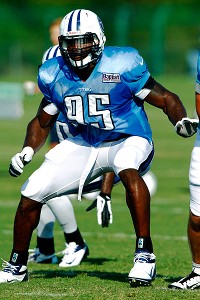 AP Photo/Wade PayneLinebacker Kamerion Wimbley looks to be an asset on the field and in the locker room.
The pass rush:
Everything the Titans' defense wants to do can blossom out of a more productive pass rush. Gray came to the team determined to beef up the D and get back to run-stopping basics. The Titans certainly want to maintain that theme, but they need a better pass rush to go with it.
They hired Keith Millard to coach not a position but a skill: rushing the passer. I like the concept, but Millard was in Tampa last year and they were a bad pass-rush team. It also has to make you wonder a bit about the pass-rush education defensive linemen were getting from position coach Tracy Rocker.
Kamerion Wimbley
looks like a potential difference-maker, but the other projected/expected starter at end,
Derrick Morgan
, is hardly locked in as a threat yet. He's been working behind 2011 practice-squader
Pannel Egboh
recently.
The interior includes very intriguing rush guys in
Karl Klug
and rookie
Mike Martin
, and has some depth. Ayers is slated to scoot up and work as an end in some nickel situations, perhaps shifting Morgan inside. However, what hear about Ayers' versatility and what I see from him don't match up yet.
Britt:
A suspension under the personal-conduct policy is looming for Britt after a DUI arrest at a military base. He has not shown he's learned from mistakes and turned into a better decision-maker. And he's still on the physically-unable-to-perform list, recovering from a torn anterior cruciate ligament suffered early last season and subsequent cleanup procedures. When healthy and available, Britt is an absolutely tantalizing receiver who can make everyone else's matchups more advantageous.
His recent rehab work makes him look close to ready. His recent meeting with the commissioner makes us expect an announcement soon about some time on the shelf. Once that's over, he has to settle down and show up every week while not giving the team cause for concern when he's away from the facility.
REASON FOR OPTIMISM
One big reason the Titans didn't think cornerback
Cortland Finnegan
was worth the money he got as a free agent from St. Louis is that his brand of professionalism didn't match up with the team's. Finnegan was beyond feisty at times, and a surly mood and an ego that prompted him to leave the team for a day during camp in 2011 in a contract dispute weren't things the Titans could overlook.
Know what to do and do it. That's Munchak's basic requirement of his players. In guard
Steve Hutchinson
and Wimbley, the Titans added two more standard-bearers of a message other players should continue to respect and respond to.
REASON FOR PESSIMISM
Estimating who will be good and who won't in advance of a season is fraught with peril, but it's hard not to do. Look at the Titans' first four games and it's hard not to foresee trouble. The Patriots visit on opening day; any game against Bill Belichick and
Tom Brady
is a major challenge. Then a trip to San Diego, where the Titans have long struggled. Detroit brings burgeoning quarterback
Matthew Stafford
to Tennessee before the Titans travel to Houston to face the division favorite.
With their current questions, it's hard to envision the Titans ripping off a good start against that early schedule. But the league's unpredictability is its best feature, so the quality of that four-pack is not written in permanent marker.
OBSERVATION DECK
The Titans have invested a lot of time and energy into Rusty Smith, and I don't doubt they like their third quarterback. It'll be hard to justify a roster spot for him, though. Third quarterbacks are a luxury, and both Locker and Hasselbeck should be on the team in 2013.

Johnson seemed to be back to form in practices, but it's hard to gauge running backs in practices. He was awful in limited action in the preseason opener at Seattle, failing to press the hole and appearing completely disinterested in the passing game, where he had two drops. That was enough to officially put him back in the "major concern" department for me.

Dave Ball contemplated retirement after dealing with another concussion last year. He had another early in camp and is likely fading on the depth chart while missing time. Egboh should be the third end, and guys like rookie Scott Solomon and veterans Leger Douzable and Keyunta Dawson give the Titans some alternatives.

[+] Enlarge

Jim Brown/US PresswireRookie Mike Martin helps with pass rushing depth -- and could yet displace veteran Shaun Smith.

Beau Brinkley is in line to be the long-snapper. The rookie right end out of Missouri takes over for veteran Ken Amato, who was not re-signed after filling the role since 2003. So far, so good for Brinkley, who's been invisible through camp and a preseason game, which is what you want from a guy in that role.

Martin, a third-round pick from Michigan, has gotten some work with the first team and figures to be another piece in a talented group of interior linemen. Though he gives up nearly 20 pounds to Shaun Smith, he could help knock the veteran off the roster. Smith has worked hard at becoming more of a penetrator and turned quiet rather than being the boisterous guy of last season, but his changes may have come too late. The Titans brought him in last year as they tried to get bigger, but had to know he was a space-eater who wasn't programmed to get into the backfield the way they want tackles to.

If Britt is healthy and somehow avoids suspension for his off-field transgressions, he certainly should be an opening-day starter. But if Britt isn't available, I won't be surprised if Williams is ahead of first-round pick Wright against the Patriots on Sept. 9 at LP Field. Williams has become increasingly assertive and knows what to do, while Wright could need some time to bring an expanded repertoire onto the field.

Cook is the more explosive receiver, so he gets talked about. But the Titans' other top tight end, Craig Stevens, is underrated. He's a good blocker who may not have receiver speed, but can get open and make some catches when called on.

Weakside linebacker Will Witherspoon is a quality veteran guy in the locker room. But he comes and goes as a playmaker. Second-round pick Zach Brown brings tremendous speed. I don't think he'll dislodge Witherspoon from the job at the start. He may earn a role in covering tight ends like Rob Gronkowski, Antonio Gates, Brandon Pettigrew and Owen Daniels -- players the Titans will be game-planning against in their first month. Tennessee has had some major issues recently covering top tight ends.

The Titans have a find in cornerback Jason McCourty, who is going to be good as their lead guy and will help reshape the tone of the defensive backs meeting room. I actually feel better about him and Alterraun Verner as the team's starting cornerbacks than I do about Griffin and Jordan Babineaux as the safeties. My suspicion is that good offenses are going to find plays down the middle of the field.
August, 9, 2012
8/09/12
11:01
AM ET
ANDERSON, Ind. -- What's next?
As the
Indianapolis Colts
begin a new era, the centerpiece of change is
Andrew Luck
.
The impressive rookie quarterback has been sitting in meetings, running through every piece of the offense. Coaches are always looking for acknowledgement that a player gets it before moving forward. Coaches often circle back and go over something again and again and again, but Luck has helped them pick up the pace.

"Everything we've given him to this point he's been able to handle," coach Chuck Pagano said. "He's one of those guys that's probably got a photographic memory or something like that. Because he just gets it. It's not like you've got to come back and repeat something and give it again and give it again.
"The coaches will sit there and they'll be installing the offense and they'll be like, 'Are you with me, do you understand it?' And he's like 'Yeah, yeah, next thing up, next thing up.' As a coach you're always looking for affirmation: 'Do you understand? Do you get it?' He's, 'Yeah I've got it, what's next? Yeah, I've got it, what's next?'"
What's next in bigger terms is a preseason debut Sunday against the
St. Louis Rams
at Lucas Oil Stadium, the continuation of training camp and the buildup to the Sept. 9 opener at Chicago.
As rebuilding teams around the league wonder if they've got the right quarterback, the Colts can skip right past that fundamental question.
Luck's exceptional maturity extends to the practice field as well.
"The day I got him a couple times (with interceptions) at practice, he came up to me and [
Antoine Bethea
] and said, 'If I'm tipping off anything presnap or y'all get any read off me during the course of a play, please let me know,'" said the Colts' top cornerback,
Jerraud Powers
. "'And just let me know if there is any way I can help y'all.'
"That right there, for a guy to be so young and able to realize that, it shows you what type of guy he's going to be."
Such interplay was completely natural for Luck.
"It's been nice to talk to Antoine and Jerraud, maybe once a week, once every two weeks," Luck said. "Any help I can get as a rookie that doesn't know the ropes, I'll try to take it."
That timetable for learning the ropes is going to be the most interesting thing about the 2013 Colts.
THREE HOT ISSUES
[+] Enlarge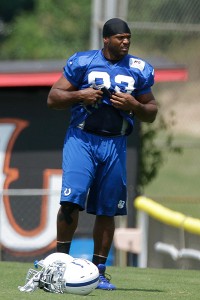 AP Photo/Michael ConroyLongtime defensive lineman Dwight Freeney will be adjusting to a new position in Chuck Pagano's 3-4 scheme.
1. How will Dwight Freeney and Robert Mathis fare as outside linebackers?
The transition is bigger for Mathis than Freeney. Per Mathis, he will be in the role
Jarret Johnson
played in the Ravens defense (now filled by
Paul Kruger
), while Freeney will be in the
Terrell Suggs
role. (
Courtney Upshaw
's there now, while Suggs is out after shredding an Achilles.)
That means far more of an adjustment for Mathis, who will regularly be dropping into coverage as the strongside linebacker, while Freeney will be moving forward from the rush linebacker spot. They are great, veteran football players, and a smart defensive coach like Pagano would not put them into roles that take away their strengths.
But it will take a lot of repetition for them to break old habits and operate in different ways and hop around. Both are excited about being less predictable and expect big production as a result of the element of surprise. The energetic Mathis seems invigorated by the change as he talks enthusiastically about an "exotic" defense after playing in what could fairly be called a bland Tampa-2 scheme in recent years.
2. Can they run?
Whether they try a bell-cow approach or a committee, it's hard to envision
Donald Brown
,
Mewelde Moore
,
Vick Ballard
and/or
Delone Carter
providing the level of run-game output that Pagano and his staff keep emphasizing.
Also, will a patchwork offensive line with at least three new starters be able to make room for those backs? The Colts gained size with the addition of center
Samson Satele
, right guard
Mike McGlynn
and right tackle
Winston Justice
. But simply being bigger doesn't complete the change to playing bigger. This is a team that has long had a smaller, more mobile, more finesse line and offensive mentality.
It's yet another transition to be monitored, and one that was hard to read in the early days of camp.
3. Where is the depth?
With massive roster turnover, the Colts could only do so much replenishing with one draft class and minimal money to spend in free agency. They didn't get much done in terms of big-time additions at cornerback or on the offensive line.
Even if they manage to be alright at those spots in the starting lineup, the depth is very poor. When they suffer injuries and guys miss games, will they have quality backups?
Maybe they will on the defensive line. Maybe there are young options at receiver or running back. Otherwise, they'll be facing some big problems. Good health would be a big help, but you can never count on that.
Sixty percent of the Colts' 90-man roster right now is new to Indianapolis. That can be a great thing when you're talking about Luck,
Coby Fleener
,
Dwayne Allen
,
T.Y. Hilton
,
LaVon Brazill
and
Cory Redding
, but it's not great when you're talking about backups.
REASON FOR OPTIMISM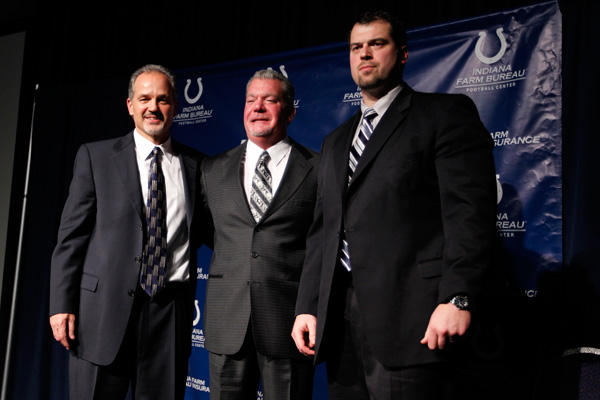 AP Photo/Michael ConroyThere's nowhere to go but up for the Colts' new regime: Chuck Pagano (left), Jim Irsay (center) and Ryan Grigson (right).
There is nowhere to go but up. Last year was a complete cave-in, and after a 2-14 year with
Peyton Manning
sidelined by a neck injury, owner Jim Irsay decided it was time for a restart. He booted the powerful head of the organization, Bill Polian, and ultimately changed coaches, too.
Enter general manager Ryan Grigson and Pagano. Manning was let go, and Luck arrived via the No. 1 overall draft pick.
It's a fresh start in virtually every respect, and the team is swallowing a huge chunk of dead money this year. While no one wants to concede anything, the franchise more or less is playing with house money this year. Things will be better than last year, and as long as the Colts show growth, improvement and direction, it's 2013 that will be big. That's when they'll have money to spend on free agents and a second draft class with which to further restock.
REASON FOR PESSIMISM
Change can be slow. The expectations are high for Luck, but it's a big transition, and beyond
Reggie Wayne
, we aren't sure about his weapons. We have no real idea about how several groups will produce, especially the corners, offensive line and running backs.
While Houston has shown a transition to a 3-4 can be successful quickly, it's far more common for a team to take time to adjust. The Colts don't have nearly as many pieces who are natural fits for the scheme as the Texans did. Pagano wants a defense that looks like Baltimore's, but it will take time to reshape things to fit that model.
OBSERVATION DECK
Beyond Powers, we can't be certain the guys who will play corner on opening day are on this roster yet. Maybe it's Justin King and Cassius Vaughn, but the Colts will certainly be looking at other options who become free agents. Powers and others in the group have rallied around each other, which is what you want. You also want the group to turn over if it needs upgrading.

It's hard to tell much at all about the running game at this point. But Pagano is determined for the Colts to run effectively, to ease pressure on Luck and the defense and establish a physical tone. Brown's been touted as an every-down back, but it may be more encouragement/hype at this point. He'd like that role but will take whatever he's given.

Antonio "Mookie" Johnson is the lead guy at nose tackle, with Brandon McKinney behind him. Johnson's up 10 pounds to 330, but the Colts aren't looking for a mere space-eater. Like the Texans last year in their first incarnation of the 3-4, Indianapolis can be fine without a dominant tackle. And when they go to nickel, they'll basically look like a 4-3 again, with Freeney and Mathis creeping up to the line, sandwiching Redding, who is likely to kick inside, and perhaps tackle Drake Nevis.

I jokingly proposed a pool to the Colts' beat writers with the money to be collected by the guy who prompted anyone within the organization to say anything remotely negative about Luck. They said it would have to exclude Luck himself. That's great. When you're the linchpin of an organization and everyone is going to constantly rave about you, even if it's deserved, you do yourself a great service by being consistently self-critical.

Austin Collie is starting off as the No. 2 receiver in a base offense that now features two tight ends. But he will move around, spending time outside and in the slot when the Colts put an extra wideout on the field.

One spot that probably hasn't gotten enough attention as a depth concern is quarterback. The Colts saw how much a bad backup plan can hurt last year, with Curtis Painter and Dan Orlovsky trying to fill Manning's shoes. Now, Drew Stanton is the guy behind Luck, and he wasn't very good in the camp practices I watched. Will they look to upgrade as third quarterbacks around the league come free? Or will they feel like camp work for Stanton gives him an experience advantage?

I'm not sure how much the tension Polian cast over the organization reached players, but there is certainly a looser atmosphere around the team. When players' families sat on a hillside during a recent practice, one regular observer pointed out how they never would have been allowed there under the previous regime. Minor difference? Maybe, but I think a team with a broader circle of trust and more emphasis on family -- a Pagano and Grigson theme -- can be a healthier environment.

Watch Brazill as a punt coverage gunner. He's had a lot of hands-on work with new special teams coordinator Marwan Maalouf.

Allen looked excellent in early camp. He will move all over the place as part of Bruce Arians' two-tight end scheme and, like Fleener, can be an impact guy early.
August, 5, 2012
8/05/12
10:11
AM ET
JACKSONVILLE, Fla. -- If you care to think the Jaguars are a mess and going to be in the running for the No. 1 pick in the 2013 draft, they're fine with that.

As they worked through the early days of Mike Mularkey's first training camp, they repeated the new coach's mantras (like, "we just want to get a little bit better every day"), fell in line with his policies (like potential $10,000 fines for answering media inquiries about injuries) and gave team-first answers to questions about the absence of their two biggest names --
Maurice Jones-Drew
(holding out for a new contract) and
Justin Blackmon
(unable to strike a rookie deal).
Sure, they don't have much choice but to buy in, but there is an undertone that suggests they have a secret to spring on the league in a couple of weeks.
Every team at this stage of camp thinks it can be good. In Jacksonville, a significant improvement from 5-11 is certainly possible, no matter what the popular storylines are. Honest.
Theirs is a defense loaded with quality, front-line talent. Beyond middle linebacker
Paul Posluszny
, most of it remains largely unknown. But if you don't know linebacker
Daryl Smith
or cornerback
Derek Cox
or defensive tackle
Terrance Knighton
, that's not the Jaguars' concern.
"If anyone feels we are not in a proper place or we have problems, that's OK," Posluszny said. "We feel like inside these walls we're doing everything that we can to be a very successful team.
"Mularkey's done a great job for us. He's a former player who's been through it. To me, that all means a ton, because he knows exactly what we are going through and what it takes to be successful."
While the offense is being revamped, and Mularkey and his assistants are trying to reformat quarterback
Blaine Gabbert
after a horrific rookie season, the defensive system and bulk of the staff have been in place for a while now.
Gabbert has nice moments, but his overall inconsistency at practice halts any proclamations that he made a significant offseason jump.
No matter how much players and coaches talk about his gains in leadership, no matter how much faith the organization has in him, no matter how patient they are, it comes down to making throws under pressure.
The early snapshot says the defense can be really good, but that a limited offense could be the obstacle to the surprise the Jaguars would so like to produce. There is a lot of time to work on what's been installed, to find what works and to run it better than it's been run so far.
THREE HOT ISSUES
[+] Enlarge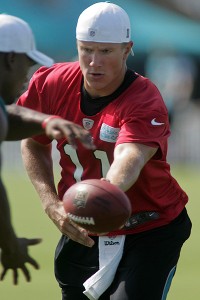 Phil Sears/US PresswireBlaine Gabbert finished his first season with 12 TD passes, 11 interceptions and a 50.8 completion percentage.
1. Is Gabbert good enough?
He folded under pressure too often last season, but the rush wasn't all he was facing. The team drafted him 10th overall intending for him to sit and learn for a season, but that plan didn't pan out and Gabbert was hurried into the starting role for 14 games during which he had poor pass protection and very limited receivers.
There were big distractions off the field, too: Jack Del Rio got fired and the team was sold.
Mularkey was hired in large part because he's developed quarterbacks, and he, coordinator Bob Bratkowski and quarterbacks coach Greg Olson have to get steadier play from Gabbert and get his arrow pointing up. His good moments look very nice, but there are still too many bad ones that leave you shaking your head. A kneel-down would seem less disheartening in many of those instances.
It's a slow process, installing a new offense and rebuilding a quarterback's confidence. Exactly how slow is the question we need answered.
Mentions of mechanical or technical adjustments by his coaches have been well-received, and he acts on them quickly. That's great, but when the rush turns live and the pocket starts collapsing, will he have open people he can stand in and find? We simply can't know yet.
2. The missing pieces.
Jones-Drew is demanding a new contract. The Jaguars have said they won't give him one with two years left on the old one. Boom -- a stalemate. I can't see the team altering its stance unless he holds out into the season and it struggles horribly without him. He's got an ego that will make it hard for him to return without any contract alteration, so this could drag on.
Blackmon is a rangy target who can go get the ball, and missing early camp is helping no one. He got a DUI after being drafted fifth overall, and the team wants insurance against any further troubles. Blackmon's unwilling to give the Jaguars what they are looking for, though.
So we're seeing second-year man
Cecil Shorts
work in the Z spot where Blackmon will eventually be, with veteran addition
Laurent Robinson
at the X.
Rashad Jennings
is the lead back without Jones-Drew in camp, and is a bigger guy who also ranks as a power runner. I liked what I saw and heard from him.
3. Will there be enough of a pass rush?
The Jaguars had 31 sacks last season, and to reach their potential on defense they need more in 2012. More consistent pressure and more sacks will come with improved coordination from the defensive linemen.
Their line coach, Joe Cullen, said they just missed on a bunch of chances last season, and another season together and the work they are doing now will result in better communication. The Jags face
Tom Brady
,
Aaron Rodgers
,
Matthew Stafford
,
Jay Cutler
and
Andy Dalton
in addition to two games against
Matt Schaub
and two against hotshot rookie
Andrew Luck
this season, and they won't win many of those without consistent pressure.
The relentless
Jeremy Mincey
promises the production will increase.
Andre Branch
was drafted in the second round to help, and looks like a quality player. Depth off the edge remains a concern.
Austen Lane
suffered yet another injury while I watched practices, during which
John Chick
walked the width of a practice field dragging heavy weight as he rehabilitated his knee.
REASON FOR OPTIMISM
[+] Enlarge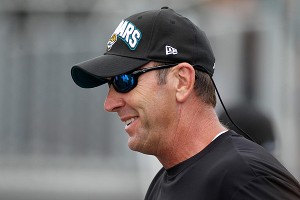 AP Photo/John RaouxNew head coach Mike Mularkey and his staff have made a positive impression on the players.
Mularkey and his staff. There is planning and logic to everything going on here, and the new staff has genuine concern for players on and off the field. Players are being told what the plan is and the right way to execute it. They felt that was lacking with the previous regime, and welcome it.
Position coaches like Olson, receivers coach Jerry Sullivan and one of the key holdovers, linebackers coach Mark Duffner, are true teachers, and they have guys under them who want to learn. That leadership and teaching faltered in many areas at the end of Del Rio's tenure. It's present in full force now. If guys follow and doing so produces results, it'll snowball.
REASON FOR PESSIMISM
A lot more is in place for Gabbert, and everyone has a stake in his performance: the GM who traded up to draft him needs him to succeed; the new coach who was hired to polish him needs him to succeed; the high-priced free-agent receiver and first-round draft pick receiver need him to succeed; the talented defense needs him to succeed.
Gabbert's saying the right things and working hard, and you can see improvement on some drop backs. But there are still enough dud plays sprinkled into practices to make you wonder if he can succeed. The team wants him to avoid turning the ball over -- staying away from the worst-case scenarios -- and it's a smart goal, but will it make Gabbert too cautious?
Can you ask him to be careful and function as a game-manager type when the best attribute he has is a big arm that can get the ball into tight windows? It might turn out to be complicated.
Also, there is not great roster depth. I have particular concerns about the offensive line, defensive end and safety if someone goes down.
OBSERVATION DECK
The team appears to be high on undrafted rookie linebacker Julian Stanford out of Wagner. With Clint Session's future in doubt because of post-concussion issues, Russell Allen is likely to start opposite Daryl Smith outside. Stanford could make the team as a special-teamer who can provide depth. Brandon Marshall, a fifth-round pick, also has what looks to be an NFL-ready linebacker frame.

Mike Thomas needs Blackmon signed, in camp and taking the bulk of the snaps at one of the two outside receiver spots. I'm convinced that to get his head right, Thomas needs to be given the slot role and allowed to focus on it exclusively. His snaps were cut down during my visit, with Shorts working at the front of the line in Blackmon's Z spot. The slot is what Thomas is best suited for, and his performance has slipped when he's been expected to do more. He had a lot of drops early in camp, and Mularkey agrees with the potential for less to be more with Thomas.

Josh Scobee has the leg to get a lot of touchbacks and Bryan Anger has the leg to force a lot of fair catches. The Jaguars obviously still have to work on covering kicks and punts, but how often will they actually be covering kicks and punts? If the offense can produce some first downs, we should see more scoring, and more scoring will mean more kickoffs from Scobee and less work for Anger.

The depth at tight end is interesting after No. 1 Marcedes Lewis. Colin Cloherty got a lot of work as the No. 2 early on, and Zach Miller is another move guy who's very intriguing, though Miller is rarely healthy. Zach Potter is giant, but hasn't earned a lot of time, and undrafted rookie Matt Veldman is also extra large.

Posluszny is the centerpiece of this defense. He covers a ton of ground and makes big hits. He's a model for doing things the right way, which is a major point of emphasis for Mularkey and his staff. Posluszny was a solid signing last season, and continues to deliver just what the team hoped for. That helps offset the fact Session, who also came to Jacksonville for a big contract in 2011, might not be on the field any time soon, or ever again.

The cornerbacks look good. Cox is really solid, and Aaron Ross and Rashean Mathis will be effective as the Nos. 2 and 3. The depth grew with last season's injury onslaught, and William Middleton and Kevin Rutland can play, too.

Branch, the rookie pass-rusher, came into the league facing questions from many teams about his ability to stand up against the run. The Jaguars have no such concern at this point. He's got to be an effective part of a four-man group at end with Mincey, Lane and Chick. Branch certainly looks the part, but so did former Jaguars bust Derrick Harvey, so we can't put much on the early eyeball test.

Along with Stanford, running back Jalen Parmele caught my eye. He's spent time with Miami and Baltimore.