AFC South:

2012 Week 14 Patriots Texans
December, 11, 2012
12/11/12
2:27
AM ET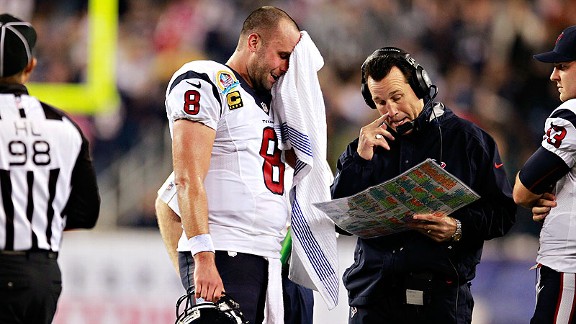 AP Photo/Steven SenneGary Kubiak and Matt Schaub couldn't solve the New England defense while the game was close.
FOXBOROUGH, Mass. -- Their critics punched holes in 11-1, citing a soft schedule, trouble against top quarterbacks and a quarterback of their own who still has not really been in high-stakes games.
The amplitude of all of that will skyrocket now, after the
Houston Texas
turned in an unqualified
42-14
dud at Gillette Stadium against the
New England Patriots
. It was so bad the Texans basically waved a white flag early in the fourth quarter, huddling on offense rather than hustling to maximize their time, and running the ball on four consecutive plays.
The Texans still have a one-game lead on the Patriots in the AFC standings, and bigger edges on the other division leaders, Denver and Baltimore, whom they've beaten.
This clunker hardly undoes a great season that has three games, plus playoffs, remaining. But it does tell us three things about the near future for the Texans:
They don't have sole control over the division anymore. Win next week and they own the AFC South. But the Colts can now say they control their own fate, too. If Indianapolis wins its final three, including two against the Texans, they'll wrest the division crown away

The Texans really need home-field advantage if they are going to get to the Super Bowl. Sure, anything can happen. But a return trip here would make for a very difficult path to New Orleans.

The Texans' two losses have come against Aaron Rodgers and Tom Brady. They gave up a lot to Peyton Manning in a victory, too. This team's odds of beating two Hall of Fame quarterbacks in the playoffs, even if both games are at Reliant Stadium, are low. The Texans would benefit greatly from an upset dished out by someone else in the wild-card round or by New England and Denver playing each other in a divisional-round game.
A sober locker room was filled with guys who weren't going to say their season has fallen apart.
But several veterans said this was akin to a school field trip.
"I think they showed us what it takes to be a champion," inside linebacker
Bradie James
said.
Defensive lineman
Antonio Smith
agreed.
"I sensed it from the coin toss. It was business, straight up, to them," he said.
"You can see just how serious they were. They've been here before. I'm a movie buff, you know. It reminded me of that movie, 'Troy,' when Achilles told Hector, 'Now you know what you're dealing with.' That's what it was like. No love. 'We're coming in here to show y'all who the big dogs are.'"
Earlier in the week, the Texans got letterman jackets, and they wore them to town in a harmless show of unity. Early Tuesday morning, hometown reporters in the press box jokingly debated who could write that New England took the Texans to school. I'd imagine some of the Patriots were making the same crack in private. For those seeking fresher material there was this: The team's equipment men struggled to get some stuff back to their truck because the cart they drove down a stadium tunnel had a flat tire.
The Texans pointed to early mistakes as a key to their downfall, though I'm not sure there was a formula for them to win against this team in this setting on this night.
They had the Patriots stopped on their first third down, and a needless defensive holding penalty against
Brandon Harris
on
Wes Welker
kept a drive alive.
[+] Enlarge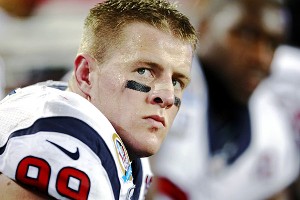 AP Photo/Steven SenneJ.J. Watt wore a grim look during the third quarter, but said hopeful things about the Texans' prospects.
They had them stopped again on a third-and-10 early in the second quarter, and safety
Danieal Manning
was called for pass interference on Welker as he impeded his path, bumping him without looking back.
New England took advantage of both mistakes and moved right along to touchdowns.
After the first one, the Texans were in great position to respond. They moved 59 yards to the Patriots' 21-yard line. But safety
Devin McCourty
broke beautifully on
Matt Schaub
's second-down pass for
Kevin Walter
in the middle of the end zone and took it away.
Houston didn't put points on the board until 6 minutes, 12 seconds remained in the third quarter, and the Patriots already had 28 and complete control.
Down four touchdowns at the start of the fourth quarter, coach Gary Kubiak surrendered. His offense didn't hurry, huddling at its regular pace. Schaub handed the ball off to third-string running back
Ben Tate
until it was time to punt.
Players stopped short of calling it a white flag, but receiver
Andre Johnson
and left tackle
Duane Brown
didn't love it. They shouldn't have. It sends a team a bad message to give up at that point. At least go down slinging it.
"I have no control over that," Johnson said.
"I just line up and do my job," Brown said.
Schaub pointed to the short week ahead and a crucial game against Indianapolis as a reason for letting up.
Brady, like Rodgers in a win and Manning in a loss before him, was the third MVP quarterback to shred the Texans this season. He hit 21 of 35 passes for 296 yards, four touchdowns and a 125.4 passer rating before stepping aside for
Ryan Mallett
.
"Obviously, I didn't do enough game-plan-wise against the guy," defensive coordinator Wade Phillips said. "It doesn't feel like you have more wins than New England right now."
The Patriots did well to keep the best players wearing the visitors' uniforms in check. Johnson caught eight passes, but for only 11.9 yards a clip.
Arian Foster
managed only 85 total yards.
J.J. Watt
had four tackles and three quarterback hits but no sacks and no passes batted down.
His biggest play didn't even benefit his team. Early in the fourth quarter, he tracked down
Danny Woodhead
and punched the ball loose after a 16-yard catch. But the ball shot forward into the end zone, where
Brandon Lloyd
corralled it for his second touchdown.
Watt looked furious as he made his way briskly to the bus, but he still managed to hit a hopeful chord.
"We still have everything we want in front of us," he said.
December, 10, 2012
12/10/12
11:38
PM ET
FOXBOROUGH, Mass. -- Thoughts on the
Houston Texans
' 42-14
loss
to the
New England Patriots
at Gillette Stadium:


What it means:
The Texans suffered their second loss of the season and now stand at 11-2. While they still control both the AFC South and home-field advantage in the AFC, they've also created a scenario where the Colts also have control over the outcome of the division. The Texans and Colts play each other twice in the next three weeks. If the Colts win their final three games, they, not the Texans, will win the AFC South.
What I didn't like:
It's a long list. With a chance to tie the game at 7-7,
Matt Schaub
threw a pick to
Devin McCourty
in the end zone early in the first quarter. The Texans allowed
Tom Brady
to drive the Patriots and throw touchdown passes on New England's first three possessions and never did anything from there to make it feel like they could come back. The offensive line allowed a bunch of hits on Schaub. The defensive line didn't do enough to disrupt Brady. The Texans forced two fumbles near their goal line but watched the Patriots recover both, one in the end zone. They didn't show any mental toughness and didn't look to have a plan to keep up. At all.
Coverage issues:
His hamstring and/or groin may still be a factor, but cornerback
Johnathan Joseph
again didn't play like a top defensive back. He was hardly alone.
Glover Quin
bit on a fake and allowed a 37-yard touchdown catch by
Brandon Lloyd
behind him. Young corner
Brandon Harris
got worked by Donte Stallworth on a 63-yard touchdown where he should have at least been able to tackle him after the catch. The front didn't rush well enough to help the secondary survive against Brady.
What I want to know:
What message does Gary Kubiak send his team by giving up in the fourth quarter? The Texans were huddling on offense and running it a bunch at that stage, acknowledging they couldn't mount any sort of surprise rally. Why not take a knee?
MVP talk:
I thought
J.J. Watt
would have a big chance to make an impression on award voters with a big game, enhancing his candidacy for NFL Defensive Player of the Year and even making a bid for MVP. He made some plays, including forcing a fumble, but didn't play to his usual standards. It was Brady who did the most to bolster an MVP bid.
What's next:
The Texans host the Colts in a giant AFC South game. If they win, they'll be division champs. If Indianapolis wins, the Colts will remain alive for the division crown.

AFC SOUTH SCOREBOARD
Friday, 8/22
Saturday, 8/23