AFC South:

2012 Week 5 coverage
October, 8, 2012
10/08/12
11:45
PM ET
EAST RUTHERFORD, N.J. -- Thoughts on the
Houston Texans
'
23-17 win
over the
New York Jets
at MetLife Stadium Monday night.


What it means:
The Texans withstood a tough challenge on the road, lost star linebacker
Brian Cushing
to a knee injury, and held on for a win to improve to 5-0, remaining the AFC's only unbeaten team.
What hurt:
Joe McKnight
's 100-yard third-quarter kickoff return could have been a killer. It cut the score down to 20-14 and made it feel like the momentum has swung. But the Texans recovered an ensuing onside kick and kicked a field goal that got them back up 23-14. While the Jets hung around and kept making it feel like they'd move to a big score, the Texans kept doing enough to prevent it from happening. They converted a couple fourth downs, but then punted after three more plays each time.
Big plays:
J.J. Watt
killed one Jets rally with a sack, and the Jets' last real threatening possession ended with big back-to-back defensive plays -- a sack by cornerback
Brice McCain
and a pick of a tipped ball by cornerback
Kareem Jackson
, his second interception in as many weeks.
Big game:
The Jets don't defend the run well and the Texans made sure that stayed the case.
Arian Foster
carried the ball 27 times for 156 yards and a touchdown. He had 100 yards at the half. For the third game in his career, Foster got to triple digits in just 30 minutes. He also became the third-fastest running back in NFL history to get to 5,000 career yards from scrimmage -- trailing only
Edgerrin James
and
Eric Dickerson
.
Beneficiaries:
The clumsy Jets had troubles with personnel and substitutions on offense, burning a couple second-half timeouts and racing to get the ball snapped in time. The Texans didn't have such issues, but they also weren't without a bunch of key people because of injuries. When they got a break, like cornerback
Antonio Cromartie
breaking open deep as a wide receiver,
Mark Sanchez
underthrew him.
What's next:
The Texans host The
Green Bay Packers
on "Sunday Night Football" at Reliant Stadium in another chance to show off to a national television audience.
October, 7, 2012
10/07/12
8:40
PM ET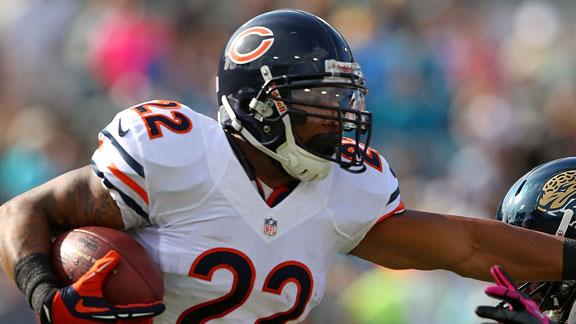 Thoughts on the Jaguars'
41-3 loss
to Chicago at EverBank Field:


What it means:
The Jaguars actually looked good for a half as they were part of a defensive, 3-3 struggle. It didn't take long after that, however, for the opportunistic Bears to bury the Jaguars and make them look ever bit a 1-4 team with talent that simply doesn't match up to quality teams around the league.
What went wrong:
With the Bears up 5-3,
Blaine Gabbert
threw a terrible pass that never had a chance to get to
Justin Blackmon
.
Charles Tillman
easily picked it and took it back for a 36-yard touchdown broke the game open and the Jaguars never recovered while Chicago poured it on. Gabbert threw a ball that was tipped and returned by linebacker
Lance Briggs
for another 36-yard score and lost a fumble. The second-year quarterback wound up with a 37.7 passer rating. The defense allowed the Bears to convert 61 percent on third and fourth downs.
No enough time for enough chances:
It doesn't matter how good
Maurice Jones-Drew
is if you're only going to be able to get him 12 touches in the run game on a Sunday afternoon. He carried a dozen times for 56 yards. The Bears average a full three yards more per carry than the Jaguars did and Chicago held the ball for 36 minutes.
Have to have more early:
The Jaguars didn't score in the first quarter and have have a grand total of six first-quarter points though five games this year. That's a terrible mark for a team that needs to play from ahead to have a chance to utilize its best player in the best fashion.
One good thing:
Receiver
Cecil Shorts
made the most athletic, playmaker-like catch by the Jaguars I can remember in some time by Jacksonville, a great one-handed stretch and fall.
What's next:
The Jaguars have arrived at their week off. I don't know what drastic changes are available to them, but it's sure hard to sell patience and staying the course considering where that's gotten them.
October, 7, 2012
10/07/12
7:44
PM ET
Thoughts on the Titans'
30-7 loss
to the
Minnesota Vikings
at Mall of America Field:
What it means:
The 1-4 Titans are a mess, and they were inferior in every way against a team they should be on pace with as they rebuild. They couldn't move the ball against the Vikings and they couldn't stop the Vikings from moving the ball, and the result of this blowout was never in doubt.


What's hard to fathom:
The Titans have now given up 34, 38, 41, 38 and 30 points in their games this season. Nothing they've done on defense has stopped the bleeding and the return of middle linebacker
Colin McCarthy
from a high ankle sprain had no bearing.
Bad hit:
Safety
Michael Griffin
was penalized for a helmet-to-helmet hit of defenseless receiver
Michael Jenkins
at the end of the second quarter. Defensive coordinator Jerry Gray called for more toughness and ownership of the middle of the field last week, and suggested players shouldn't operate in fear of fines. But this was a foolish play by Griffin, who was in position to easily aim lower and make a big hit minus the penalty or the fine that is sure to follow.
A sampling of the badness:
Matt Hasselbeck
's first-down scramble was challenged in the first quarter and re-spotted for a fourth down that prompted the Titans to punt. Hasselbeck absolutely telegraphed a second-quarter interception to
Antoine Winfield
. Defensive end
Jared Allen
was inexplicably unblocked on one of the Vikings' sacks. Cornerback
Alterraun Verner
was a beat late to
Percy Harvin
on a wide receiver screen and saw it go for a significant gain. McCarthy failed to bring down tight end
Rhett Ellison
, slipping off the rookie to allow a big play.
Another awful injury:
The Titans saw return man
Marc Mariani
suffer a grotesque leg injury in the preseason. They saw another one Sunday, as running back
Javon Ringer
was bent awkwardly on a tackle and carted off with a left leg injury.
One good thing:
Rookie receiver
Kendall Wright
didn't stretch the field at all, but he was far more sure than a week ago, when he had several drops, as he caught a game-high nine passes, though he took them only 66 yards.
What's next:
The Titans have a quick turnaround with the Steelers coming to Nashville on Thursday night.
October, 7, 2012
10/07/12
4:56
PM ET
Thoughts on the
Indianapolis Colts
' inspirational
30-27 win
over the
Green Bay Packers
at Lucas Oil Stadium:


What it meant:
The Colts improbably found a way to honor coach Chuck Pagano, who's in the hospital fighting leukemia. This was their first game without him, and they played very well to beat a better team and match last season's win total at 2-2. I don't know how they'll present Pagano with the game ball, but it'll be in his hospital room in short order. Anyone who's not a Packers fan would have a hard time not feeling good about that. When
Andrew Luck
ran in a draw for a touchdown, he ran to the "ChuckStrong" banner along the wall behind the end zone and banged on the orange ribbon as a salute.
Robert Mathis
held up a white board for fans late in the game with "ChuckStrong" written on it.
What I liked:
The Colts fought back from a 21-3 deficit with a tremendous rally. The defense poured it on with five second-half sacks of
Aaron Rodgers
. The coverage, down a couple of key cornerbacks, did respectable work.
Reggie Wayne
was incredibly productive with 13 catches for 212 yards and the winning touchdown. The passing game was successful in part because of solid protection that arrived in spurts and a solid day from running back
Donald Brown
. The running back started inside and bounced outside with success often enough to run for 84 yards on 17 carries and added a two-point conversion on the final score with 35 seconds left (complete with a Discount Double-Check celebration).
Mason Crosby
's 51-yard field goal attempt with eight seconds left missed by plenty.
Daring:
Coming out of the two-minute warning, Luck converted a key third-and-12. With linebacker
Clay Matthews
in his face, Luck connected with Wayne. A bit later, Luck set up the winning touchdown with a straight-ahead scramble and head-first dive for the first-down marker that was gigantically clutch. Wayne made a fantastic turn and reach for the game-winning 4-yard touchdown catch, but wound up limping off at the end.
What I didn't like:
The slow start left the Colts down 21-3 with an awful lot to overcome. I expect a self-deprecating postgame line from interim coach Bruce Arians about throwing a challenge flag on a play that was ruled a Green Bay touchdown, a play that was not challengeable. The red flag produced an unsportsmanlike conduct penalty.
Injury of concern:
Mathis twisted his left knee in a sack of Rodgers, had it braced and attempted to return to action. But he couldn't go, and now, with the Colts finally getting
Dwight Freeney
back, Mathis' availability could be in question.
What's next:
The Colts travel to MetLife Stadium for a game against the
New York Jets
, who will be coming off a short week. The Colts can watch the Jets against the
Houston Texans
on "Monday Night Football."