AFC South:

2012 Week 5 Wrap-ups
December, 19, 2013
Dec 19
10:00
AM ET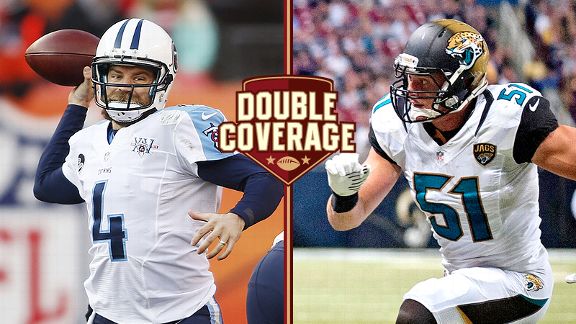 USA Today SportsPaul Posluszny and the Jags are aiming for a season sweep of Ryan Fitzpatrick and Tennessee.
JACKSONVILLE, Fla. -- Maybe
Delanie Walker
shouldn't feel so bad now.
The Titans tight end said he was embarrassed after the Jaguars won 29-27 in Nashville on Nov. 10 to pick up their first victory. Since then, the Jaguars are 3-2 with victories over Houston (twice) and Cleveland. The Titans are 1-4 with a victory over Oakland.
There seems to be much more stability in Jacksonville, too, because of the uncertain status surrounding Tennessee coach Mike Munchak.
Jaguars reporter Michael DiRocco and Titans reporter Paul Kuharsky break down Sunday's matchup at EverBank Field.
DiRocco
: Some Titans players were pretty vocal about being embarrassed due to becoming the first team to lose to the Jaguars. Is that something that still stings, and how have they rebounded from that loss?
Kuharsky
: It definitely left a mark. They are only 1-4 since then. It kind of set a bar for how bad they can be and re-established their propensity to lose to teams that are really struggling. The Jaguars are on an upswing since that game, and the Titans are on a downward spiral. If Tennessee losses to the Jaguars again, the Titans will be in line to finish in third place in an awful division, which is well short of their goals and expectations. The Titans are a better team than they were last year. But losing closer isn't a really big difference in the really big picture.
Let's turn that around. How has life changed for the Jaguars since that Nov. 10 breakthrough?
DiRocco
: I could go into a lot of stats that show how much better the Jaguars are playing, but that's not what's really important. The past six games have been more about the validation of the process, establishing the foundation of the franchise's rebuild, and confidence in the new regime. Coach Gus Bradley never wavered from the plan that he and general manager David Caldwell established. His message stayed the same throughout the eight-game losing streak to start the season: trust in the process, work hard, and focus on improving and not victories, and the victories will eventually come. Because that has happened, the players appear to have completely bought into what Bradley and Caldwell want to do, and there's a confidence in the locker room that the franchise is headed in the right direction.
We talked about
Jake Locker
the last time these teams met, but that was before he suffered a season-ending injury to his foot. How does that change the Titans' outlook on him and are they in the market for a quarterback in the offseason, too?
Kuharsky
: Locker is certain to be on the 2014 Titans. His fourth year isn't that costly and it's guaranteed. But they can't execute a spring option for his fifth year that would line him up for over $13 million. A lot of his fate depends on whether Munchak is back as the head coach. It's possible they go forward with Locker,
Ryan Fitzpatrick
and just-signed
Tyler Wilson
as their quarterbacks. It's also possible they'd draft a new guy, and depending on how high of a pick he could land in competition to start. I think it's less likely they chase a free agent like
Jay Cutler
if he comes free, but they have to assess all the possibilities. How can they completely commit to Locker based on his injury history?
One side effect of the Jaguars' surge is they aren't going to be in position to draft the first quarterback taken. What's your sense of what Bradley and Caldwell want in a quarterback and do you expect one to arrive in the first round?
DiRocco
: Offensive coordinator Jedd Fisch said something interesting last week. He said he wants his QB to scramble around, take off running to get yards and take some chances throwing the football. To me, that sounds like a pretty accurate description of Johnny Manziel. I'm not sure how that reconciles with the ideas of his bosses. Bradley comes from Seattle, which has the mobile
Russell Wilson
. Caldwell comes from Atlanta, which has the considerably less mobile
Matt Ryan
. My sense is that Bradley and Caldwell probably lean more toward the Wilson end of the spectrum. People think that eliminates Teddy Bridgewater, but that's not the case. He's not a runner but he can run if needed. If he's around, I'd expect them to take him. If not, then I would still expect them to go quarterback. It's their most glaring need.
You mentioned Munchak's job status. What's your take on whether he will be back next season -- and should he be?
Kuharsky
: He's shepherded improvement, but his team lacks an ability to finish. He's 0-4 in the worst division in football, 1-9 in the past two years. His teams have lost to the previously winless Jags in 2013 and the previously winless Colts in 2011. He's 4-18 against teams with winning records when the Titans played them and 2-19 against teams that finished the season with a winning record. To me, three years is a sufficient sample size to know what you've got and those numbers are the most telling thing on his resume. Keep him and they deal with all the limitations connected to a lame duck coach. I don't know what Tommy Smith, the head of the new ownership, will do. But the fan base overwhelmingly wants change, if that's worth anything. People still pay for tickets because they've got investments in personal seat licenses they do not want to throw away. But a lot of people are staying home on Sundays now.
Cecil Shorts
is done and
Maurice Jones-Drew
is uncertain. How can the Jaguars threaten on offense without their two best weapons?
DiRocco
: They were able to put up 20 points and post their second-highest yardage total of the season, including a season-high 159 rushing, in last Sunday's loss to Buffalo. Running back
Jordan Todman
stepped up big time and ran for 109 yards (Jones-Drew cracked 100 only once in the first 13 games) and tight end
Marcedes Lewis
was more involved in the passing game than in previous weeks (four catches for 54 yards and a touchdown). But I'm not sure that is sustainable. Teams will certainly concentrate on stopping Lewis and make quarterback
Chad Henne
move the ball with three receivers who have a combined 75 career catches. Todman doesn't scare anyone, either. The Jaguars will have to be creative on offense (they've run gadget plays the past three weeks) and capitalize on every opportunity they get.
October, 7, 2012
10/07/12
8:40
PM ET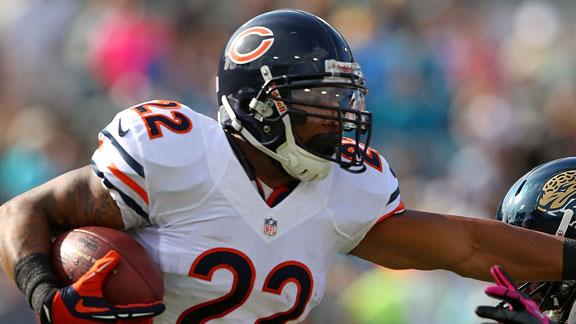 Thoughts on the Jaguars'
41-3 loss
to Chicago at EverBank Field:


What it means:
The Jaguars actually looked good for a half as they were part of a defensive, 3-3 struggle. It didn't take long after that, however, for the opportunistic Bears to bury the Jaguars and make them look ever bit a 1-4 team with talent that simply doesn't match up to quality teams around the league.
What went wrong:
With the Bears up 5-3,
Blaine Gabbert
threw a terrible pass that never had a chance to get to
Justin Blackmon
.
Charles Tillman
easily picked it and took it back for a 36-yard touchdown broke the game open and the Jaguars never recovered while Chicago poured it on. Gabbert threw a ball that was tipped and returned by linebacker
Lance Briggs
for another 36-yard score and lost a fumble. The second-year quarterback wound up with a 37.7 passer rating. The defense allowed the Bears to convert 61 percent on third and fourth downs.
No enough time for enough chances:
It doesn't matter how good
Maurice Jones-Drew
is if you're only going to be able to get him 12 touches in the run game on a Sunday afternoon. He carried a dozen times for 56 yards. The Bears average a full three yards more per carry than the Jaguars did and Chicago held the ball for 36 minutes.
Have to have more early:
The Jaguars didn't score in the first quarter and have have a grand total of six first-quarter points though five games this year. That's a terrible mark for a team that needs to play from ahead to have a chance to utilize its best player in the best fashion.
One good thing:
Receiver
Cecil Shorts
made the most athletic, playmaker-like catch by the Jaguars I can remember in some time by Jacksonville, a great one-handed stretch and fall.
What's next:
The Jaguars have arrived at their week off. I don't know what drastic changes are available to them, but it's sure hard to sell patience and staying the course considering where that's gotten them.
October, 7, 2012
10/07/12
7:44
PM ET
Thoughts on the Titans'
30-7 loss
to the
Minnesota Vikings
at Mall of America Field:
What it means:
The 1-4 Titans are a mess, and they were inferior in every way against a team they should be on pace with as they rebuild. They couldn't move the ball against the Vikings and they couldn't stop the Vikings from moving the ball, and the result of this blowout was never in doubt.


What's hard to fathom:
The Titans have now given up 34, 38, 41, 38 and 30 points in their games this season. Nothing they've done on defense has stopped the bleeding and the return of middle linebacker
Colin McCarthy
from a high ankle sprain had no bearing.
Bad hit:
Safety
Michael Griffin
was penalized for a helmet-to-helmet hit of defenseless receiver
Michael Jenkins
at the end of the second quarter. Defensive coordinator Jerry Gray called for more toughness and ownership of the middle of the field last week, and suggested players shouldn't operate in fear of fines. But this was a foolish play by Griffin, who was in position to easily aim lower and make a big hit minus the penalty or the fine that is sure to follow.
A sampling of the badness:
Matt Hasselbeck
's first-down scramble was challenged in the first quarter and re-spotted for a fourth down that prompted the Titans to punt. Hasselbeck absolutely telegraphed a second-quarter interception to
Antoine Winfield
. Defensive end
Jared Allen
was inexplicably unblocked on one of the Vikings' sacks. Cornerback
Alterraun Verner
was a beat late to
Percy Harvin
on a wide receiver screen and saw it go for a significant gain. McCarthy failed to bring down tight end
Rhett Ellison
, slipping off the rookie to allow a big play.
Another awful injury:
The Titans saw return man
Marc Mariani
suffer a grotesque leg injury in the preseason. They saw another one Sunday, as running back
Javon Ringer
was bent awkwardly on a tackle and carted off with a left leg injury.
One good thing:
Rookie receiver
Kendall Wright
didn't stretch the field at all, but he was far more sure than a week ago, when he had several drops, as he caught a game-high nine passes, though he took them only 66 yards.
What's next:
The Titans have a quick turnaround with the Steelers coming to Nashville on Thursday night.
October, 7, 2012
10/07/12
4:56
PM ET
Thoughts on the
Indianapolis Colts
' inspirational
30-27 win
over the
Green Bay Packers
at Lucas Oil Stadium:


What it meant:
The Colts improbably found a way to honor coach Chuck Pagano, who's in the hospital fighting leukemia. This was their first game without him, and they played very well to beat a better team and match last season's win total at 2-2. I don't know how they'll present Pagano with the game ball, but it'll be in his hospital room in short order. Anyone who's not a Packers fan would have a hard time not feeling good about that. When
Andrew Luck
ran in a draw for a touchdown, he ran to the "ChuckStrong" banner along the wall behind the end zone and banged on the orange ribbon as a salute.
Robert Mathis
held up a white board for fans late in the game with "ChuckStrong" written on it.
What I liked:
The Colts fought back from a 21-3 deficit with a tremendous rally. The defense poured it on with five second-half sacks of
Aaron Rodgers
. The coverage, down a couple of key cornerbacks, did respectable work.
Reggie Wayne
was incredibly productive with 13 catches for 212 yards and the winning touchdown. The passing game was successful in part because of solid protection that arrived in spurts and a solid day from running back
Donald Brown
. The running back started inside and bounced outside with success often enough to run for 84 yards on 17 carries and added a two-point conversion on the final score with 35 seconds left (complete with a Discount Double-Check celebration).
Mason Crosby
's 51-yard field goal attempt with eight seconds left missed by plenty.
Daring:
Coming out of the two-minute warning, Luck converted a key third-and-12. With linebacker
Clay Matthews
in his face, Luck connected with Wayne. A bit later, Luck set up the winning touchdown with a straight-ahead scramble and head-first dive for the first-down marker that was gigantically clutch. Wayne made a fantastic turn and reach for the game-winning 4-yard touchdown catch, but wound up limping off at the end.
What I didn't like:
The slow start left the Colts down 21-3 with an awful lot to overcome. I expect a self-deprecating postgame line from interim coach Bruce Arians about throwing a challenge flag on a play that was ruled a Green Bay touchdown, a play that was not challengeable. The red flag produced an unsportsmanlike conduct penalty.
Injury of concern:
Mathis twisted his left knee in a sack of Rodgers, had it braced and attempted to return to action. But he couldn't go, and now, with the Colts finally getting
Dwight Freeney
back, Mathis' availability could be in question.
What's next:
The Colts travel to MetLife Stadium for a game against the
New York Jets
, who will be coming off a short week. The Colts can watch the Jets against the
Houston Texans
on "Monday Night Football."