AFC South:

2013 Camp Confidential AFC
August, 16, 2013
Aug 16
9:00
AM ET
ANDERSON, Ind. -- The
Indianapolis Colts
did the unexpected last season. Those on the outside know it. The Colts know it too.
They put quarterback
Andrew Luck
, the No. 1 overall pick in 2012, under center from day one, and he led them to an 11-5 record that included seven game-winning drives. The Colts never lost consecutive games and, most importantly, made it back to the playoffs.

And they did it while dealing with the absence of coach Chuck Pagano, who was battling cancer.
Now there's no going back for the Colts.
"The bar has definitely raised," receiver
Reggie Wayne
said, "as we feel like we are contenders. We feel like we've got the right pieces in order. ... We set the stage at a nice, high level. I don't think teams will treat us the way they did last year."
Second-year general manager Ryan Grigson isn't satisfied with what the team accomplished last season. That's why he went out this offseason and spent $134 million on unrestricted free agent contracts.
It's also why owner Jim Irsay didn't hold back his feelings in calling his team out on Twitter over a "crap performance" in its preseason opener last weekend.
"You win 11 games after the circumstances we were under and then you add quite a few players you feel can help us in the mix, then you do the simple math, then yes, we should come back better than we were last year, and we expect to," Grigson said.
THREE HOT ISSUES
[+] Enlarge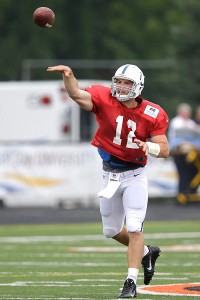 AP Photo/Michael ConroyLast season, Andrew Luck took 41 sacks, a number the Colts would like to cut in half in 2013.
1. Protecting the franchise:
Luck was phenomenal last season. He was also sacked 41 times and hit so hard on some of them that you wondered if he would last a full season. Luck took every snap last season. Additions
Gosder Cherilus
at tackle and
Donald Thomas
at guard will team with holdovers
Anthony Castonzo
,
Samson Satele
and
Mike McGlynn
to try to keep Luck on his feet. The Colts want to cut Luck's sacks in half this season.
2. Stopping the run:
Opponents averaged 5.1 yards a run and gained 2,200 yards rushing (29th in the league) against the Colts last season. The Colts added more size, signing nose tackle
Ricky Jean Francois
from San Francisco and linebacker
Erik Walden
from Green Bay, to help a defense heading into Year 2 under Pagano's 3-4 scheme.
Josh Chapman
, a fifth-round pick in 2012, is back after missing last season with a knee injury. The 341-pounder will help clog the middle of the line at nose tackle.
3. Special teams:
The Colts were without some of their key special-teams players, but if the Aug. 11 preseason game was any indication, it could be another long season for that unit. Buffalo's
Marquise Goodwin
had a 107-yard kickoff return for a touchdown and a 53-yard kickoff return. Giving an opponent a short field to work with won't cut it, even if Luck and the offense are capable of putting up a lot of points.
REASON FOR OPTIMISM
Scoring points should not be a problem for the Colts. They have weapons at every skill position for Luck to choose from.
They potentially have a dynamic duo at running back in
Ahmad Bradshaw
and
Vick Ballard
. Wayne will continue to be Wayne -- a steady, reliable, Pro Bowl receiver. He joins
Darrius Heyward-Bey
and second-year speedster
T.Y. Hilton
in the receiving corps. Second-year players
Dwayne Allen
and
Coby Fleener
have the potential to be the best pair of tight ends in the league.
The Colts should easily be able to improve on their 22 points a game, and Luck's completion percentage should be better than the 54 percent he had last season.
"We are excited about all of our playmakers. ... We feel good about the repertoire of guys that we have, and we're excited about those guys making plays on game day," new offensive coordinator Pep Hamilton said.
REASON FOR PESSIMISM
The offensive line has to prove it can protect Luck and open up holes for the running backs. Having a strong running game to go with the receiving options Luck has won't mean much if the line can't do its job.
OBSERVATION DECK
[+] Enlarge

Brian Spurlock/USA TODAY SportsThe Colts need more consistency from free-agent addition Darrius Heyward-Bey.

Indianapolis is supposed to be a fresh start for Heyward-Bey after an uneventful four seasons in Oakland, where he had problems with drops. It's a different team, but he's still having problems holding on to the ball. Heyward-Bey proved that during Tuesday's practice when he dropped at least four catchable passes from Luck. He bounced back with a strong practice the next day, but the Colts aren't looking for mixed results. They're looking for steadiness from Heyward-Bey.

The top three receiver positions are set with Wayne, Heyward-Bey and Hilton. The fourth receiver, LaVon Brazill, is suspended for the first four games of the season for violating the league's substance abuse policy. The Colts have five other receivers on the roster, but they're still waiting for at least one of them to separate himself from the pack. Grigson won't hesitate to look elsewhere if nobody steps up.

Hamilton wants to make the Colts a power-running team by using Bradshaw and Ballard in the backfield. Hamilton noted that last year's Super Bowl teams, Baltimore and San Francisco, were both physical teams. "I believe that we should be able to run the football and commit to running the football, but by no means are we going to not work on being an efficient passing team," Hamilton said.

Joe Reitz has done a good job transitioning back to tackle from guard. He has the skill set and size to play there. The Colts wanted to move Reitz back to tackle in the past, but a lack of depth on the line stopped them from making the switch sooner.

Bradshaw, who has two 1,000-yard rushing seasons, has yet to practice with the team. He was added to the active roster Monday after being on the physically unable to perform list while he worked his way back from foot surgery in January. The Colts are fortunate to have Ballard to start until Bradshaw is ready to step in and be the primary back.

Something that could become a concern if it continues to linger is free safety LaRon Landry's health. Landry, who signed during the offseason, has been out more than a week with a knee problem. Like Bradshaw, the Colts need Landry on the field as soon as possible to work on continuity.

The battle for one of the starting inside linebacker spots should intensify now that Pat Angerer is off the PUP list. Angerer, who was recovering from foot surgery, had 146 tackles during the 2011 season. He was limited to only 11 games (three starts) last season. Angerer is battling Kavell Conner and Kelvin Sheppard for the starting spot alongside Jerrell Freeman and Walden.
August, 10, 2013
Aug 10
1:00
PM ET
NASHVILLE, Tenn. -- Look at the
Tennessee Titans
from any angle and the focus winds up on the same spot: starting quarterback
Jake Locker
.

The Titans did a lot of overhauling after a miserable 6-10 season. All of it puts the third-year quarterback in a better position to succeed.
"I think throwing with confidence makes a big difference, and that's what I feel like I am doing this year," Locker said.
The Titans parted with
Matt Hasselbeck
and brought in
Ryan Fitzpatrick
as the No. 2. They are confidant Fitzpatrick can step in and win games if needed, but they have no leash on Locker. The entire organization is committed to him and believes he's the right guy to quarterback the team to a turnaround.
"He's really taken ownership," Fitzpatrick said. "You can see he's a confident guy, and that's one thing that you really need as a quarterback. He's really worked at his game mentally. We're progression-based now, and he's really trying to take it to the next level in terms of his footwork and accuracy. This whole offseason I've definitely seen improvement."
Locker will be running an easier, more straightforward system. He's got a "move" tight end in
Delanie Walker
(not currently healthy) who adds a dynamic the Titans haven't had since Locker was drafted with the eighth overall pick in 2011. The receivers are deep and talented. The offensive line could be a dominant group, which should mean a
Chris Johnson
/
Shonn Greene
run game will provide great balance. And the defense should get Locker the ball back more often and with better field position.
I've seen steady progress and more consistent play in recent practices. But he needs to carry that over into games, and he needs to address two things that might qualify as habits: a tendency to start slow, and a propensity to throw more comfortably and more accurately to his left than to his right.
THREE HOT ISSUES
[+] Enlarge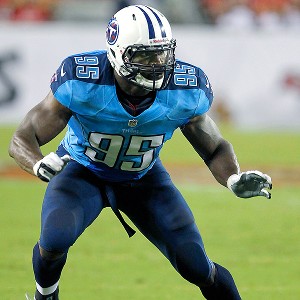 AP Photo/Tom DiPaceThe Titans hope to give pass-rusher Kamerion Wimbley a lighter workload this season.
1. The pass rush.
The Titans generated a reasonable total of 39 sacks last season, with 6.5 from
Derrick Morgan
and six apiece from
Kamerion Wimbley
and
Akeem Ayers
. The Super Bowl Champion
Baltimore Ravens
ran the same number of defensive plays (1,086), and they had 37 sacks.
But no single player on the Titans' defensive front ranked as a scheme-changer that offenses had to account for before every play. And the committee work in conjunction with coverage that was far too soft, far too frequently, played a big role in allowing a league-worst 471 points.
They didn't change a lot at end. They added size in end
Ropati Pitoitua
, who figures to play a lot of run downs, and depth in fifth-rounder
Lavar Edwards
. Ayers will be a much more regular presence as a pass-rusher, and both Morgan and Wimbley will play much less than 80 percent of the snaps, which wore them down a year ago. Does all that and a more aggressive scheme influenced by Gregg Williams turn the Titans into a more threatening pass-rushing team? I can't say yes yet.
2. Two important coaches.
Dowell Loggains took over as offensive coordinator with five games left last season, but it's not like he could revamp everything Chris Palmer was doing. Given an offseason, he has. These Titans will be less reactive and try to dictate more, and the options routes that complicated things and counted on receivers and the quarterback to read things the same way are gone. Things are tailored to Locker now, and Loggains has more talent at his disposal than Palmer did in 2011 or 2012.
On defense, Williams returns from his year in Bountygate exile with a simple promise he expected would help him win players over: That he can make them better. He's not the same guy he was back when he was the Titans' defensive coordinator from 1997-2000, but the season suspension certainly made him reflect and he comes back a different guy from the one who was coordinator for the Saints. I suspect he will positively impact key guys on this defense like Ayers, cornerback
Tommie Campbell
, safety
Michael Griffin
and defensive tackle
Jurrell Casey
.
3. The offensive line.
Last season was a disaster, as the Titans had to call on more depth than any team can have. But the franchise counted on coach Mike Munchak and another offensive line Hall of Famer, line coach Bruce Matthews, to develop guys. A couple they counted on who never reached the expected level are gone now, and the Titans have much better players in place of
Leroy Harris
and
Eugene Amano
.
With a line of
Michael Roos
,
Andy Levitre
,
Fernando Velasco
/
Robert Turner
/
Brian Schwenke
,
Chance Warmack
and
David Stewart
, Tennessee feels like it has re-identified
its identity
.
"If we're going to win, it's going to be because our offensive line is a lot better than it was last year, and we're physical, and we're relentless, and we're going to move people around on both sides of the ball," Munchak said at the start of camp.
REASON FOR OPTIMISM
They identified last season's issues and have addressed them all in some fashion. That's with coaching staff alterations, changes in thinking and scheme, major player additions in free agency and a draft that looks solid. This isn't a team that sat back and assumed that given another year of seasoning, its 6-10 record could turn into 10-6. It took action. Now we have to find out if the moves and changes total up and produce a big difference in overall outcome.
[+] Enlarge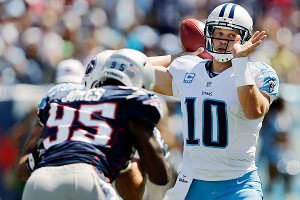 AP Photo/Joe HowelThe Titans need QB Jake Locker to make big strides quickly if they are to survive a tough early schedule.
REASON FOR PESSIMISM
The unproven quarterback and the schedule. The Titans open at Pittsburgh and at Houston, and also play San Diego, a team Tennessee always struggles with, at Seattle and San Francisco before the Oct. 27 bye. It's impossible to predict how the competition will be. But through the first seven games, 4-3 might qualify as pretty good but might still leave them having to chase to get into playoff contention.
OBSERVATION DECK
August, 6, 2013
Aug 6
12:55
PM ET
JACKSONVILLE, Fla. -- Through the late years of Jack Del Rio's nine-season tenure and Mike Mularkey's one awful year, plenty of
Jacksonville Jaguars
lacked faith in the coaches above them.

New coach Gus Bradley believes trust is as important as any ingredient in his team, and in the early stages of a big rebuild he has earned a great degree of it from his players.
"It's been really refreshing, his whole approach from day one," said
Jason Babin
, the team's most proven pass-rusher. "The way he's laid out how we're going to do things, the way we'll go about our business, the way things are going to be here is genuine. As you know coaches often say one thing, and it's not always entirely true."
"To have a coach like that with the genuine sincerity is special. You believe him when he talks to you, and he's done a great job developing relationships."
Belief is big for a team that is coming off a disastrous 2-14 season, lacks a proven quarterback and has some areas of questionable talent. Bradley has preached a simple, core theme from the very start. He's not talking playoffs, he's
not talking wins
, he's not talking success. He's constantly talking improvement.
Bradley is high energy, and while he's not trying to stamp his personality on his players, the enthusiasm can't help but be contagious.
"He's like a breath of fresh air, it's like night and day," tight end
Marcedes Lewis
said. "I've always said you can have good coaches but bad people. He's actually a great coach and a good person who actually cares about you. You can tell when you come into work. It's just a better working environment.
"When he first came in and we met him, I thought his enthusiasm was fake. Like it wouldn't last. But that's who he is, every single day. You can't do anything but appreciate it."
While Bradley would like his team to start fast, his bigger emphasis is on finishing strong. For a team that might not have a lot of success in the standings, it seems a smart approach. Because if you talk all about starting fast and you don't, then what?
THREE HOT ISSUES
[+] Enlarge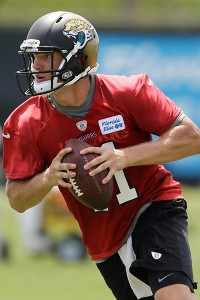 AP Photo/John RaouxThis season could be Blaine Gabbert's last chance to assert himself as Jacksonville's QB.
1. The quarterback.
The Jaguars steered clear of a quarterback in the draft, as they didn't see an answer to their issues and had plenty of other areas to address. So they move forward with
Blaine Gabbert
's big, and final, chance. The new offense is tailored to help Gabbert be better -- he will roll out and go on the move more. His weapons are better and more reliable, with the emerging
Cecil Shorts
paired with
Justin Blackmon
(once he's healthy and after a four-game suspension to start the season) along with
Ace Sanders
and
Mike Brown
, who has been quite good in camp. The protection is far better with No. 2 overall pick
Luke Joeckel
at right tackle. The initial depth chart has Gabbert as co-No. 1 with
Chad Henne
, and the team will pump up the competition for as long as it can. But those boosting Henne and suggesting he'll win the job haven't seen practices where Henne rarely seizes real command and is regularly worse than Gabbert.
2. Maurice Jones-Drew's foot.
He looked good during my visit, very much the same guy we've become accustomed to. He could easily be the centerpiece of the offense just as he was before he suffered a serious Lisfranc foot injury in the team's sixth game last season. We need to see him in games, over time show that the foot isn't an issue. We need to see how effective the rest of the team can be so that it's not overreliant on him. And we need to see how he takes on the final year of his contract when he desires a big new deal, but exists in a league where even effective running backs are devalued as they approach 30. While the team will run more zone plays, MJD said the rush offense won't look that different from what we saw in the last few years of Del Rio's regime.
3. The shape of a new scheme:
Bradley ran Seattle's defense under Pete Carroll, and the scheme put a heavy emphasis on big physical cornerbacks and pass-rushing Leos. Do the Jaguars have the guys to fit those roles? Third-round pick
Dwayne Gratz
looks like a good get. But Babin is the team's best rusher, and he was let go by the Eagles during the season last year, not a great sign. The second option at Leo, 2012 second-rounder
Andre Branch
, remains mostly invisible. Jacksonville had 20 sacks last season. The end pool hasn't really changed, though
Tyson Alualu
has shifted outside. The new interior guys --
Sen'Derrick Marks
,
Roy Miller
,
Kyle Love
and
Brandon Deaderick
-- will solidify the run defense. But will they penetrate and get quarterbacks to move off their spot?
REASON FOR OPTIMISM
[+] Enlarge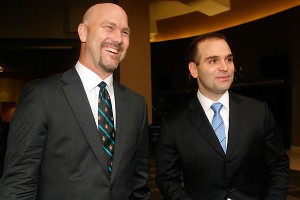 Phil Sears/USA TODAY Sports Coach Gus Bradley, left, and GM Dave Caldwell have made a positive impression as they rebuild the Jags.
David Caldwell and Bradley. The new GM and coach are both in their jobs for the first time. They are enthusiastic partners in building this team, not afraid to say there are things they don't know yet, as opposed to storming in and claiming they have all the answers. We won't be able to judge them for a few years as they need to assemble and deploy talent. And we don't know too much about Bradley's staff. But people who have worked with Caldwell and Bradley in the past, and people who are working with them now, have great reviews. I'm impressed with both, and they are the best thing the team has going for it right now.
REASON FOR PESSIMISM
The talent gap. How many Jaguars would start for the two-time defending AFC South champion Houston? Joeckel would be the right tackle.
Paul Posluszny
, if he fit into a 3-4, could be a two-down inside guy next to
Brian Cushing
. Shorts would be a top-three receiver. That's probably it. The Jaguars might be moving in a good direction, but the distance between their talent and the talent at the top of the division, conference and league is substantial. The more talented teams don't always win, but you'd rather not be the team that has to remind itself that all the time.
OBSERVATION DECK
AFC SOUTH SCOREBOARD
Thursday, 12/5
Sunday, 12/8