AFC South:

2013 NFL Week 1 Double Coverage
September, 6, 2013
9/06/13
1:00
PM ET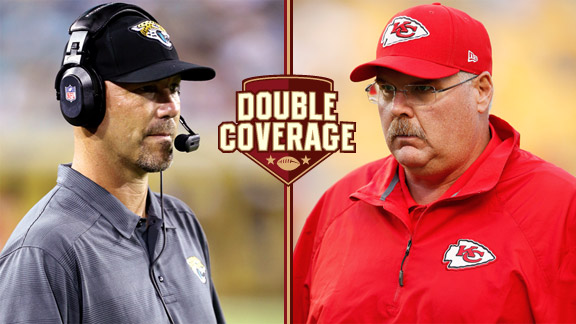 AP PhotoGus Bradley and Andy Reid are looking to get off to fast starts with their new teams.
JACKSONVILLE, Fla. -- Fans know a lot about their favorite teams, but they don't have the same depth of knowledge of the 31 other teams in the NFL. That's not going to be a problem any longer.
Each week the NFL Nation writers will team up Q&A style to help you get a handle on each team. Today, Kansas City Chiefs reporter Adam Teicher and Jacksonville Jaguars reporter Michael DiRocco help break down Sunday's matchup.
Michael DiRocco:
Is
Alex Smith
really an upgrade over
Matt Cassel
?
Adam Teicher:
He had better be or the Chiefs are in some trouble. Cassel and
Brady Quinn
turned over the ball far too many times last season. One thing we know about Smith is that he hasn't thrown many interceptions. He threw just 10 in his last 25 starts with the 49ers. So he's been a quarterback who protects the ball, and if he can just do that, he's already an upgrade over Cassel and Quinn. Another thing: Andy Reid's West Coast offense will succeed if the quarterback completes a high percentage of throws. Smith completed 70 percent last season. If he can get close to that number this season, he's even more of an upgrade.
Teicher:
How patient will the Jaguars be with
Blaine Gabbert
on Sunday and this season?
DiRocco:
This is a make-or-break season for Gabbert, who must prove he's capable of being a franchise quarterback. That's the team's No. 1 goal for the season, so there will be a certain amount of patience. It does no good to give him a half or one game and yank him because the team will essentially be where it was heading into the season. That being said, if Gabbert really struggles during the first two months of the season, then the team will have its answer and may turn to
Chad Henne
or the recently signed
Ricky Stanzi
for the remainder of the season.
DiRocco
: What's the biggest change Andy Reid has brought to Kansas City?
Teicher
: It's a change brought by Reid and John Dorsey, the new general manager. Everybody seems to be pulling in the same direction. The Chiefs went through plenty of infighting the past few years and it was dragging them down. People often had their own agendas or felt they had to align themselves with one person or another. Dorsey and Reid swept that out the door. Winning looks to be the only goal and it certainly appears everybody is on board with that. Of course, it's easy for a new administration to have everybody on board when it's undefeated. So it's an issue to keep an eye on once the Chiefs start losing some games.
Teicher:
What are the biggest changes Gus Bradley and Dave Caldwell have brought to the Jags?
DiRocco:
On the field, it's on defense, where Bradley is implementing a more aggressive attitude and trying to rebuild the secondary with bigger, more physical cornerbacks -- essentially what he did in Seattle. Off the field, Bradley and Caldwell have changed the culture in the locker room. There's a lot of energy and enthusiasm around the franchise even though everyone knows that the talent level needs a significant upgrade and the team likely isn't going to reach .500. It was a much-needed boost, because the atmosphere around the team the past few seasons under Jack Del Rio and Mike Mularkey had become somewhat stale.
DiRocco:
Some NFL experts have pegged the Chiefs as a playoff team just one season after finishing 2-14. What are a few things that have to happen for that to become a reality?
Teicher:
They have many good players, but from the GM to the coach to the coordinators to the offensive and defensive system to the quarterback to 29 other players who didn't play for the Chiefs last season, there's a lot new here. How quickly Reid and his staff can pull everything together will be a key. The Chiefs have a favorable schedule the first half of the season and they need to take advantage because it gets more difficult after that. On the field, the Chiefs have to fix a turnover differential that was minus-24 last season. Their defense and special teams have to do a better job of providing better field position for the offense. This offense won't make a lot of big plays, and if it has to go 80 yards on every possession, it will be a struggle.
Teicher:
What are realistic expectations for the Jags this season in terms of number of wins?
DiRocco:
I kind of let that slip in my earlier answer, but a six-win season would be the best-case scenario for the Jaguars. Four or five victories seems more likely, though, especially considering the team has back-to-back road games on the West Coast, plays San Francisco in London, and has to play at Denver, Indianapolis and Houston.
September, 6, 2013
9/06/13
12:01
PM ET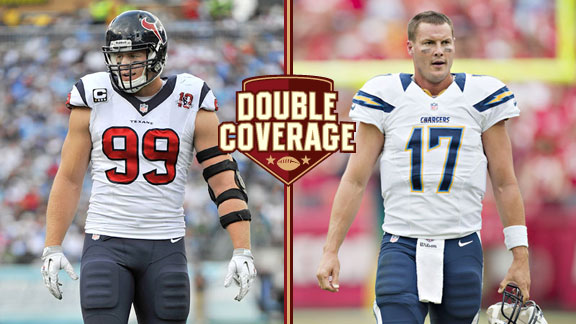 Getty ImagesJ.J. Watt and the Texans could make it hard on Philip Rivers if San Diego's offensive line does not hold up.
In the second half of the opening Monday night doubleheader, Houston is traveling to San Diego to put an end to NFL Week 1. The Chargers are in rebuild mode, while the Texans are looking to take the next step this season and become true Super Bowl contenders. While the Chargers' fan base should be revved up for this prime-time contest, getting
J.J. Watt
blocked could be a very futile effort for San Diego's offensive line. ESPN.com's Matt Williamson and Houston Texans reporter Tania Ganguli bring you their Double Coverage preview.
Tania Ganguli
: How has the atmosphere in the organization changed with GM Tom Telesco and coach Mike McCoy taking over?
Matt Williamson
: A change in San Diego was certainly needed. The environment had become stale and the once wide-open window under former coach Norv Turner and a roster stocked with great players has closed. A rebuild is needed, and a new general manager and head coach are what is needed to potentially get this team back where it once was -- or maybe beyond. Has the right side of the Texans' once-great offensive line been fixed?
Ganguli
: It's certainly on its way. The Texans are rightfully very high on right guard
Brandon Brooks
, and right tackle
Derek Newton
is healthy. They didn't mind rotation in those spots last year, but stability will definitely help.
Can McCoy turn
Philip Rivers
(back?) into an elite quarterback?
Williamson
: I feel as though we have seen the best of Rivers' impressive career, unfortunately. That being said, the scheme change, which stresses getting the ball out of Rivers' hands quicker, could be an advantageous move to boost Rivers. He does have a quick release and makes quick reads, making him a good fit for what McCoy is looking to accomplish.
What is the status of
Arian Foster
, and might
Ben Tate
have an expanded role for the season and to open the year?
Ganguli
: Tate will have an expanded role, especially early in the year. The Texans won't ride Arian Foster too much given he missed all of the preseason, training camp and most of organized team activities (OTAs). He was working, but they're intent on being smart with his return to make sure they have him at full strength late in the season.
What are the biggest problems with the Chargers' offensive line?
Williamson
: Once again, the scheme switch to a short passing game should help the protection of this line -- a line that is better-equipped to run block than protect. Still, the true problem with this line is they simply lack good players up front. They added a few free agents, but no one that is even a league-average starter, and they used their first-round pick on
D.J. Fluker
to play right tackle. However, I have my doubts that Fluker is quick or light enough on his feet for edge protection. Instead, I think Fluker could be a Pro Bowler at guard.
What impact does first-round pick
DeAndre Hopkins
have on the Texans' offense?
Ganguli
: It's difficult for rookie receivers to put up big numbers, but Hopkins will have a major impact on the Texans' offense. He'll take pressure off
Andre Johnson
, on whom the Texans were overdependent last season in their passing game. He is very skilled on contested catches and will help Houston's red zone efficiency.
What impact does
Dwight Freeney
have in San Diego?
Williamson
: Can he still be productive at 33? Of course it would be ideal to have
Melvin Ingram
in the fold as well as Freeney, who could be the perfect mentor, but Freeney has looked quite spry through the preseason and should have plenty left in the tank. The concern for me is that San Diego will be forced to play the 33-year-old too many snaps, which could lead to less effective play late in games and especially late in the season.
How big a boost to this team -- tacitly and emotionally -- is it to get
Brian Cushing
back on the field?
Ganguli
: Cushing makes a difference in both ways. He creates mismatches in the pass rush that free up the outside linebackers. His presence in the middle makes things easier on the Texans' defensive backs, too. Emotionally, Cushing provides an edge for the Texans' defense. His maniacal intensity is contagious and the Texans feed off it.
How will
Danny Woodhead
and
Ryan Mathews
impact each other?
Williamson
: While Mathews is a decent pass-catcher, Woodhead is an exceptional all-around contributor in the passing game. Their roles should be very distinctive, with Mathews -- who has looked excellent this preseason -- as the early-down workhorse (if he can hold up) and Woodhead being the specialty movement player that is equal parts running back and slot receiver.
Watt is a rare interior pass-rusher, but does Houston have enough pressure coming from their 3-4 outside linebackers?
Ganguli
: That remains to be seen. It's definitely been a focus for the Texans' outside linebacker group.
Whitney Mercilus
, now in his second year, has taken over as a starter opposite
Brooks Reed
after the departure of
Connor Barwin
. Mercilus set a franchise record for rookies with six sacks last season, but he missed most of training camp and the preseason. Reed is healthier than he was at the end of last season when he returned from a groin injury. He had an offseason surgery to repair it fully.
September, 6, 2013
9/06/13
12:00
PM ET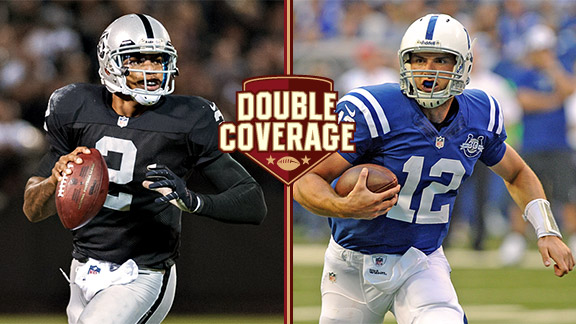 USA TODAY SportsTerrelle Pryor will lead a rebuilding team while Andrew Luck and the Colts will try to build on last season's success.
The
Indianapolis Colts
surprised the league by finishing with an 11-5 record and making the playoffs behind rookie quarterback
Andrew Luck
. The
Oakland Raiders
struggled with a 4-12 record. They're expected to have problems again this season as the rebuilding project continues for the Raiders. The teams open the season facing each other on Sunday at Lucas Oil Stadium.
Mike Wells:
So much was made about who the Raiders would start at quarterback earlier this week. It looks like it'll be
Terrelle Pryor
. Does he give Oakland the best chance to win, and if so, what makes him so dangerous as a quarterback?
Paul Gutierrez:
It appears as though it will be TP2 Time for the Raiders in the opener. And really, it should be. Now, that's not necessarily an endorsement, but with this team, at this moment, Pryor does at least represent some semblance of hope, what with his skill set. His ability to run should keep the Colts' front seven honest and they won't be able to simply pin their ears back and rush, like they could
Matt Flynn
. I believe Flynn is probably a better NFL quarterback at this stage, but with the deficiencies around Oakland's pocket -- leaky line, inconsistent receivers, injury-prone running back -- Pryor gives the Raiders a better chance. And being that this is a quarterback-driven league, how has Luck dealt with stepping into those huge shoes left by
Peyton Manning
, and how can Luck avoid the sophomore jinx?
Wells:
I'm sure you probably watched Luck one or two times out there in the Bay Area while he was at Stanford, so you know his work ethic should never be questioned, and his demeanor doesn't allow him to get caught up with the hype. The offensive weapons the Colts put around Luck will make it difficult for him to struggle.
Reggie Wayne
,
T.Y. Hilton
and Oakland's favorite former receiver
Darrius Heyward-Bey
at receiver;
Coby Fleener
and
Dwayne Allen
at tight end to go with the duo of
Ahmad Bradshaw
and
Vick Ballard
at running back. So the words "sophomore slump" and "Andrew Luck" shouldn't be on anybody's mind. Of course that's if the offensive line does its job and blocks. A lot is being made of Pryor's ability to be creative with his feet, but what about
Darren McFadden
-- isn't he the real threat with running the ball, especially with the Colts being near the bottom of the league in rush defense last season?
Gutierrez:
No doubt, especially in a perfect world for the Raiders' offense. If all is working right, and opposing defenses have to at least respect the quarterback's ability to take off, they can't key on the quarterback. And that sets up the play-action pass. But for the Raiders to have any success offensively this season, it all starts and ends with a guy who has yet to play more than 13 games in a season.
Yeah, Run DMC had been more Limp DMC of late, but when he's right, he's nice. Two years ago, he was playing like a league MVP candidate. Then came the Lisfranc injury that ended his campaign after just six-plus games. And last year, in perhaps the greatest failing of the Raiders' new regime's plans, they changed the offense on McFadden from a power scheme to the zone-blocking philosophy. McFadden's average yards per carry went from a career-high 5.4 yards to 3.3 yards. McFadden is also entering a contract year so yeah, he has something to prove as the Raiders return to the power running game. Speaking of something to prove, you mentioned him earlier: The artist formerly known as DHB around these parts left a lot to be desired after four nondescript seasons in Oakland. Hey, it wasn't his fault he was drafted so high. How has he adapted to a change of scenery, and how strong is his desire to prove something to the Raiders after they cut him this spring?
Wells:
I thought Heyward-Bey would come to Indy with a chip on his shoulder because, well, he did play for the Raiders, where more bad than good comes out of that organization. But Heyward-Bey has only good things to say about the Raiders. He blames himself for a lot of his struggles during his four years in Oakland. He also knows he needs to produce to get rid of that "bust" label. As you know, Heyward-Bey has an incredible work ethic.
The biggest difference here is that he now has a mentor. Wayne is the perfect veteran to guide him. The future Hall of Famer's professional demeanor is exactly what Heyward-Bey needs. The other thing is, Heyward-Bey doesn't have the pressure of being the No. 1 receiver. Wayne isn't slowing down any time soon, and the Colts have so many other offensive weapons, as I mentioned earlier, that Heyward-Bey can just let the game come to him. Fans will likely see a number of those weapons because the Raiders don't have much of a defense. Will nine new starters help them from giving up almost 28 points a game again this season?
Gutierrez:
That's the plan. At least, that's the hope for the Raiders. Yeah, they have nine new starters on defense, with the only two returning starters being defensive end
Lamarr Houston
, who is moving from the left side to the more pass rush-specific right side, and strong safety
Tyvon Branch
, who endured an injury-plagued season for the first time in his career. Of course, a million times of course, the Raiders kept their defense vanilla in the preseason ... and not just for what coach Dennis Allen would term "competitive reasons." In fact, Sunday will be only the first time the Raiders will field their entire starting defense at the same time. Injuries wreaked havoc in exhibition games.
There was a glimmer of hope, though, with the run-stuffing play of defensive tackle
Pat Sims
in the exhibition finale. And if
Nick Roach
, who will wear the green dot on his helmet, can rally the defense from his middle linebacker position, the Raiders' defense should be better this season. Emphasis on "could." Can the Raiders -- with virtually an entire new defense and defensive coordinator Jason Tarver, who schemed daily against Luck at Stanford -- be a detriment to the Colts? Or are they simply of the mindset that they have to worry only about themselves?
Wells:
The only way the Raiders will be able to rattle Luck is if the offensive line doesn't do its job and allows its quarterback to take a pounding all game long. And even then, that may not be enough to beat the Colts. Let's not forget, Luck was sacked 41 times and hit more than 100 times last season. That didn't stop him from setting a rookie record for passing yards, attempts and 300-yard games. So I don't think the Raiders will be to do much against Luck & Co. on Sunday afternoon.
September, 5, 2013
9/05/13
1:00
PM ET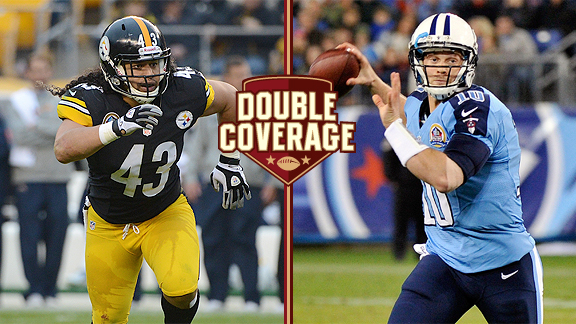 Getty ImagesJake Locker will have to face a fresh Troy Polamalu and one of the league's top defenses.
Pittsburgh is a tough place to play. The
Pittsburgh Steelers
don't often stay down long. The
Tennessee Titans
will bring a lot of unknowns to Heinz Field.
It's an intriguing opening day matchup for two teams looking to bounce back from seasons that didn't meet standards and fell short of expectations.
ESPN.com Steelers' blogger Scott Brown joins me for his first edition of Double Coverage, and I know he'll understand if we skip the pleasantries and dive right in.
The Titans' rebuild is centered around their offensive line. They'll be way more physical with a new interior of
Andy Levitre
,
Rob Turner
and
Chance Warmack
.
Scott, I know the offensive line has been an issue in Pittsburgh, too. What's the status of things there, and how much better can we expect the Steelers to be up front?
Scott Brown:
Paul, that is one of the biggest questions facing the Steelers. The offensive line is one of the youngest and most inexperienced the Steelers have assembled in decades. But the group is athletic and has plenty of what coach Mike Tomlin likes to call "pedigree."
Two of the starters are first-round draft picks. Two others are second-round selections. The Steelers have clearly made a big investment in the offensive line, and they need a major return on that investment for this team to return to the playoffs.
I think the interior of the line with Pro Bowl center
Maurkice Pouncey
and guards
David DeCastro
and
Ramon Foster
has a chance to be really good. I'm not as sold on tackles
Marcus Gilbert
and
Mike Adams
, who will protect
Ben Roethlisberger
's blind side.
The Titans, I'm sure, will test that line with plenty of blitzes, as the first-team offensive line struggled with pass-blocking in the preseason.
Speaking of blitzes, Titans quarterback
Jake Locker
will see his share with the ageless wonder Dick LeBeau still calling defenses in Pittsburgh.
How is Locker progressing, and is he the long-term answer at quarterback in Tennessee?
Paul Kuharsky:
The verdict on whether Locker is the guy for the long haul won't come until after we see this season.
He steadily improved in camp and the preseason and has reason to feel good about the state of things. I don't think he's going to have many games in his career in which he throws for 300 yards, but the Titans aren't built to ask that of him. They'll get him on the move to make simple throws and decisions, especially early, when he often needs to settle down and find a rhythm.
That line will give him time and be far better at creating space for
Chris Johnson
and newcomer
Shonn Greene
. If the Titans run effectively -- and the preseason suggested that's one thing they are definitely good at -- they can build play-action off that and Locker will be in a perfect setting to succeed.
The two big questions are about his accuracy and how he will react to new, unforeseen circumstances. You know, the kind of stuff Lebeau has designed for this game especially for him.
Does LeBeau have the pieces to do the sort of things to confuse a young quarterback?
Brown:
He has one of the most valuable pieces of all in
Troy Polamalu
. The dynamic strong safety allows LeBeau to do so much because he plays all over the field and opposing quarterbacks don't know where he is going to be from snap to snap.
Polamalu missed nine games last season because of a recurring calf injury, but he looked like his old self in training camp and the preseason. In that sense, the timing isn't good for the Titans to play the Steelers because Polamalu is at full strength. Outside linebacker
LaMarr Woodley
also seems poised to bounce back from an injury-plagued season in which he registered just four sacks.
With those two and other players such as inside linebacker
Lawrence Timmons
and rookie outside linebacker
Jarvis Jones
, LeBeau won't hold back -- particularly against a relatively inexperienced quarterback who is still finding his way in the NFL.
Paul, the Steelers have never lost at Heinz Field in September under Tomlin. My question for you is what will it take for the Titans to pull off the upset on Sunday?
Kuharsky:
I think it's possible. They'd have to show poise, withstand the bad moments, minimize mistakes. You know the drill.
This is a team that has been run on by lesser running backs in the recent past, so it can't take
Isaac Redman
lightly, and we'll find out fast if
Sammie Hill
and
Ropati Pitoitua
are going to help answer the run-defense deficiencies.
The Titans must get Roethlisberger to the ground when they have the chance. After an offseason talking of press coverage, they haven't changed at all at cornerback, and I imagine Roethlisberger will find things to attack. He knows Titans strong safety
Bernard Pollard
from his time in Baltimore. I won't be surprised if the Steelers plot to get Pollard in coverage situations they feel they can exploit.
The other big question here, the elephant in the room: Your first game for ESPN.com? You ready?
Brown:
To help myself to some Tomlinisms: This is where the rubber meets the road, but this is not my first rodeo. I believe I have sharpened my pen (does that still apply in the dot.com world?) for battle, but I will have to pay attention to detail. Ultimately, it comes down to making plays (or deadline in this case) inside stadiums with the lights on (yes, I know it is a 1 p.m. start, but gray days in Pittsburgh are as noteworthy as grass on a golf course). Such is life in the National Football League (and ESPN.com), and I embrace the challenge.