AFC South:

2013 NFL Week 10 Double Coverage
November, 8, 2013
11/08/13
10:00
AM ET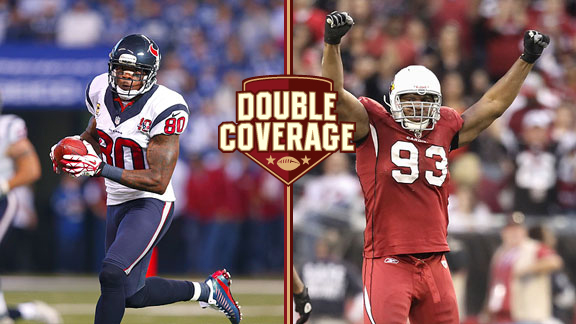 Getty ImagesAndre Johnson and the Texans visit Calais Campbell's Cardinals without head coach Gary Kubiak.
TEMPE, Ariz. -- Emotions will be at a peak for the
Houston Texans
when they make a midseason trip to the desert Sunday. They will be without head coach Gary Kubiak, who will be at home recovering from a mini-stroke, but Houston brings the league's top-ranked defense to Arizona in hopes of ending a six-game losing streak.
Awaiting the Texans will be a team with confidence. The Cardinals come off the bye week healthy and rested, having played only one game in 24 days when kickoff arrives. That'll either be a blessing or their demise, as the rust may have set in.
ESPN.com Cardinals reporter Josh Weinfuss and Texans reporter Tania Ganguli discuss Sunday's matchup.
Weinfuss:
What kind of impact will Kubiak's health issue have on the Texans this week and on Sunday?
Ganguli:
It was a chaotic, confusing and scary halftime for the Texans when Kubiak collapsed as he left the field Sunday. Kubiak is well liked by his coaches and players, so they'll miss him, but knowing he will make a full recovery will help the team emotionally. On the football side, the biggest change will be on offense. He's handing off offensive play-calling duties to coordinator Rick Dennison, who called the second half from the press box against the Colts. Defensive coordinator Wade Phillips takes over as the overall decision-maker. They've tried to let their head coach rest, but they can't keep him from thinking about the team. He calls to check in a fair amount.
Can you give me one player who has been a pleasant surprise and another who has been an unpleasant one for the Cardinals this year?
Weinfuss:
It might seem obvious but
Tyrann Mathieu
has been a pleasant surprise to a lot of people. He not only has earned playing time by making game-changing plays, but he recently has become a starter. I think the Cardinals expected Mathieu to be good eventually, but the fact that he has come on so quickly has been a pleasant surprise for everyone. As for the flip side, tight end
Rob Housler
has been an unpleasant surprise. After finishing strong last season, Housler's progress was hampered by a severely sprained ankle during training camp. It caused him to miss the first two weeks of the season and he hasn't returned to last season's form.
Does
Case Keenum
have what it takes to right the ship for the rest of the season?
Ganguli:
Keenum is still learning a lot about being a quarterback. Phillips noted Wednesday that it's important for the team to not try to do too much with a young quarterback. He's learning how to read defenses and learning what chances to take and not take. I was always of the minority opinion that the quarterback situation was only part of the problem for the Texans rather than the whole problem. They're still having issues on special teams and defense that they had with Schaub.
It has been a frustrating season for
Andre Johnson
but he has been part of a lot of bad teams and doesn't complain.
Larry Fitzgerald
is another elite receiver who has seen some lean years, though he does have a Super Bowl berth while Johnson doesn't. Has Fitzgerald ever shown frustration with his team's situation, or is he also a guy who keeps that to himself?
Weinfuss:
Larry Fitzgerald isn't the type of person to air his dirty laundry no matter how bad it gets, such as last season when he caught passes from four quarterbacks. There's no doubt he has been frustrated, especially during the past few seasons when his production has decreased. But Fitzgerald has kept his opinions to himself and I don't see him venting in the locker room. Fitzgerald has been the prototypical team player. He doesn't bash anyone and keeps talking about trying to improve and getting back to the playoffs, even making a run to the Super Bowl again.
Speaking of the playoffs, what do the Texans have to do during the final eight games to make a run to the postseason?
Ganguli:
They have to be able to finish and put together a complete game. They've got to stop committing costly penalties. The most recent example was a hold on the return after the Colts' final punt lost them critical yards on a drive that ended with a failed 55-yard field-goal attempt. And speaking of that, kicker
Randy Bullock
has to improve. Being 2-6 means the margin for error is tiny. The Texans have shown the ability to dominate good teams in spurts (they had double-digit leads over the Seahawks and the Colts and played the 9-0 Chiefs close). But spurts won't get them there.
How do you explain the discrepancy between the Cardinals' road and home records?
Weinfuss:
Like a lot of teams, the Cardinals are simply more comfortable at home. Their routines are set, they know what's coming, they know their surroundings. And University of Phoenix Stadium is also a tough place to play because of the noise levels, which the Cards have become accustomed to. Some might scoff at the notion of a true home-field advantage, but the Cardinals have one. As for why they can't win on the road, if I had that answer, I'd be making a lot more money.
November, 7, 2013
11/07/13
10:00
AM ET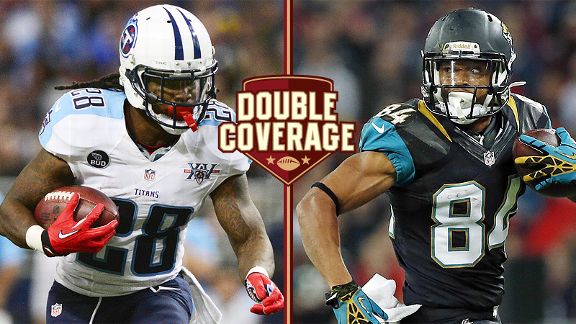 AP Photo, USA Today Sports ImagesChris Johnson is coming off his best game of the season, and Cecil Shorts' role has just gotten bigger.
.
The
Tennessee Titans
fielded a lot of questions this week about taking the
Jacksonville Jaguars
lightly. The questions seemed silly given that the 2011 Titans lost their opener to the Jaguars (who finished 5-11) as well as a late-season game to the 0-13 Colts, and the 2012 Titans lost to Jaguars (who finished 2-14).
For the Titans to maximize the meaning of their Nov. 14 home game against the AFC South-leading Colts, they first need to beat the Jaguars on Sunday.
Meanwhile, the Jaguars have to believe they'll have a chance against the Titans given that two of their past seven wins came against Tennessee.
ESPN.com Titans reporter Paul Kuharsky and Jaguars reporter Michael DiRocco chat about the matchup.
Paul Kuharsky:
I know Gus Bradley and Dave Caldwell a bit and believe they can lead the Jaguars to a good place. It's got to be eating them up to have so little talent and no positive results halfway through the season.
Michael DiRocco:
Last week Bradley admitted that he didn't anticipate the season being as rough as it has been, but the Jaguars did face a brutal first-half schedule that included games against
Peyton Manning
,
Philip Rivers
,
Russell Wilson
and
Colin Kaepernick
. That being said, Bradley and Caldwell were expecting the team to at least be competitive. That the Jaguars haven't been is a clear indication that they have more work ahead of them than they may have originally thought. They're going to have to spend more money in free agency this offseason than they wanted because there aren't enough draft picks to shore up the offensive line, defensive line and linebacker spots in addition to finding another receiver and a franchise quarterback.
Speaking of franchise quarterbacks, it seems as though
Jake Locker
has really progressed in his development and appears to be the guy around whom the Titans can build. Do you agree?
Kuharsky:
Yes. He's not going to be
Andrew Luck
, but he's not
Christian Ponder
or
Blaine Gabbert
either. Locker can be a winning NFL quarterback. He showed steady growth through the first four games, then got hurt. He has not been as good since he returned, but I would think they expect he can get back on track against the Jaguars. He's got an arm, his speed is remarkable and he generally makes good decisions. And the margin for error is getting better. The win in St. Louis was the first Locker start the team has won when he has thrown an interception.
Is there anything that leads you to think
Chad Henne
can bust through with a big game in Nashville with
Justin Blackmon
on the shelf again?
DiRocco:
Losing Blackmon is a big blow because he was the offense's best playmaker, but the Jaguars do have a solid No. 2 receiver in
Cecil Shorts
(team-high 46 catches). One of the offense's surprises has been the development of
Mike Brown
, a former college quarterback who has become a reliable No. 3 receiver. He missed four games with a back injury but has caught 12 passes for 212 yards in the three games since his return. Henne has played well but is really struggling in the red zone, where the Jaguars have scored just five touchdowns in 20 trips. He has made questionable decisions and some bad throws inside the 20. He may very well end up with 250-plus yards Sunday, but the majority could be garbage yards, coming after the game has been decided. He has compiled a lot of his yards that way this season.
Paul,
Bernard Pollard
seems to have made the biggest impact of all the free-agent signings on defense. The Titans' pass defense ranks in the top 10 in the NFL. Is Pollard the key?
Kuharsky:
He has been a solid player, one who influences the run and pass defense. But he's not playing much deep coverage. That's not his strong suit, and they've done very well getting him in position to do what he does best.
He has backed up his talk in a big way, disproving this preseason skeptic. He is the No. 1 attitude guy on a team that was sorely lacking in that department. The front is varied and there is plenty of blitzing, all of which is helping the secondary. Another veteran safety addition,
George Wilson
, has done some good work covering tight ends in nickel and dime packages. And as Gregg Williams has requested more man-to-man,
Alterraun Verner
has emerged as a top-flight corner.
What hope do the Jaguars have of slowing a run game that found a good rhythm last week in St. Louis if the offensive line plays well and
Chris Johnson
and
Shonn Greene
do what they are supposed to?
DiRocco:
Honestly, not much. Although middle linebacker
Paul Posluszny
is playing very well, the Jaguars' run defense ranks last in the NFL. The big problem is that the defensive line has been handled pretty easily, with the exception of tackle
Sen'Derrick Marks
, a former Titans player. He has had a solid season, and is by far the team's best defensive lineman. However, the rest of the group has been pretty underwhelming.
Tyson Alualu
has been moved to end and is a two-down player; he's making very little impact. Tackles
Roy Miller
and
Brandon Deaderick
aren't holding ground or getting off blocks well, either.
Paul, you mentioned Chris Johnson. He has been a workhorse back and has had five consecutive 1,000-yard seasons. Is he slowing down a bit?
Kuharsky:
Not in terms of losing speed, I don't think. But up until last week, the run game had been ineffective, and he was a major reason why. The blocking with a new interior line has been slow to come around, and the play calling has been suspect at times. Greene is a short-yardage specialist who missed a lot of time after suffering a knee injury in the season opener. He's back now and should make a difference.
.
November, 7, 2013
11/07/13
10:00
AM ET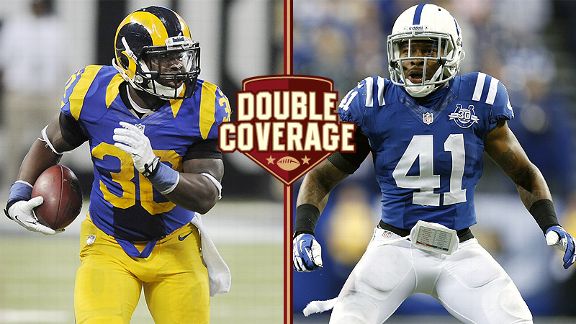 AP Photo/L.G. PattersonZac Stacy and the Rams have run well of late. That will be vital against Antoine Bethea and the Colts.
.
Indianapolis Colts
quarterback
Andrew Luck
and
St. Louis Rams
quarterback
Sam Bradford
were supposed to be the key players when their teams meet at Lucas Oil Stadium on Sunday afternoon. Luck will be on the field taking snaps, but Bradford is stuck being a spectator after tearing his ACL earlier this season.
The Rams have been hit hard by the loss of Bradford: They have lost three in a row and don't appear close to turning things around. Meanwhile, Luck is an MVP candidate despite not putting up off-the-charts statistics. He's simply overcome the loss of five key offensive players to lead the Colts to first place in the AFC South.
ESPN.com Colts reporter Mike Wells and Rams reporter Nick Wagoner break down the matchup.
Wells:
Nick, I'm sure most fans thought St. Louis would make progress off its seven wins last season. That doesn't look like it's going to happen. How much has Bradford's season-ending injury affected the Rams? Or do you think they were going to struggle even with him leading the way?
Wagoner:
It's been a strange season in which it's really hard to predict what you're going to get from the Rams from week to week. There's no question the team was better with Bradford at quarterback. If he'd been healthy the last two weeks (and making the big assumption that everything else stayed the same), the Rams likely would be sitting at 5-4 right now. The Rams already had a really small margin for error, and it got even smaller when Bradford went down. They have had way too many self-inflicted mistakes to overcome, and they have a knack for not being able to get out of their own way.
We can talk about Luck in a minute, but I wanted to get to a big-picture Colts issue first. The Rams and Colts both began 2012 in something of a rebuilding mode. The Colts were able to do it really quickly, whereas the Rams are still sifting through the process. Aside from Luck, what do you think has been the biggest key to the Colts' turnaround?
Wells:
The defense. It took the unit a season to get used to the 3-4 scheme employed by coach Chuck Pagano and defensive coordinator Greg Manusky. They also acquired players comfortable in the system. Linebacker
Robert Mathis
is a legitimate Defensive Player of the Year candidate with 11.5 sacks. The unit itself isn't highly ranked – 22nd overall – but it seems to find a way to make plays at the right time. It deserves just as much credit as Luck for the victory over Denver on Oct. 20. The defense must continue to make plays to help out the offense, which is without receiver
Reggie Wayne
for the rest of the season.
I have to say, Nick, there are not a lot of recognizable names on the Rams' roster. Is there any reason to believe they can go into Lucas Oil Stadium and upset the Colts?
Wagoner:
Honestly, I don't see how the Rams can win this one. Credit to the Rams, they've really shown some fight the past two weeks without Bradford. But they were unable to pull off a couple of winnable games because they keep making mistakes they can't surmount. The Rams' best hope in this one is to continue to run the ball well -- which, considering the Colts have the 27th-ranked rush defense, seems possible -- and to get some turnovers on defense.
One area that continues to plague the Rams is defending the run. Tennessee's woeful rushing attack got healthy on the Rams last week. I wonder if the Colts and
Trent Richardson
can do the same. It seems the return on investment hasn't been there for Indy on the Richardson deal. What's been the struggle, and do you think the Colts can get him and their running game going?
Wells:
It seems that every week the talk is about Richardson getting closer to having a big game. But everybody is still waiting. First it was a matter of Richardson getting comfortable with the system the first few weeks after he was acquired from Cleveland. Then offensive coordinator Pep Hamilton came out last week and said he has to do a better job of finding ways to get Richardson out in space. The Colts' running game was put into some perspective when they ran the ball only four times in the second half last weekend against Houston -- and three of those runs came on their final offensive series when they were killing some clock. Titans running back
Chris Johnson
had his best game of the season – 150 yards – against the Rams last week. Maybe Richardson will do the same. Finally.
The Colts are pretty familiar with Jeff Fisher from his days with their AFC South rival Titans. Is there any danger of the Rams' coach losing his job at the end of the season?
Wagoner:
Short of some wild scandal breaking out, I'd say the chances of that happening are pretty much zero. He's in only his second season, and the Rams knew they had a long road to climb to get back to being a contender. They exceeded expectations in his first season, and that may have sped up the way people view the rebuilding project. But the Rams have always viewed 2014 as the year they hoped to really take a major step forward. This season will likely go down as a disappointment, but if Bradford returns healthy and the Rams have a good offseason, they'll believe they can be back in the mix. The biggest disappointment this season has been the lack of progress by many of the team's young players. That's not to say nobody has made that move; it's just not as many as the Rams would have liked, at least not yet. That said, I do think it's possible Fisher could take a look at some of the guys on his staff. He's a loyal guy and many of his assistants have been with him for a while, but that doesn't mean everyone is exempt.
I do want to ask about Luck, but I wanted to take a different approach than the old "Why is Andrew Luck so awesome?" question you probably get every week. Each of these teams has a No. 1 overall pick at quarterback, but they have very different salaries. How much of a difference has it made for the Colts that they not only got a franchise-changing quarterback but one they don't have to pay like an NFL megastar for a while?
Wells:
I'm going to take it beyond the fact that the Colts don't have to pay Luck megastar money for a while. The Colts will likely have their choice of free agents to choose from because many will want to play with Luck. As one player recently told me, "You want a chance to win a couple of rings? Come to Indianapolis because 12 is going to be here for a long time and he's going to win this organization some Super Bowls." The best part from an organizational standpoint is that Luck is in just his second season and his desire to win and get better on a daily basis is something a lot of players in this league wish they had.
.