AFC South:

2013 NFL Week 12 Double Coverage
November, 22, 2013
11/22/13
10:00
AM ET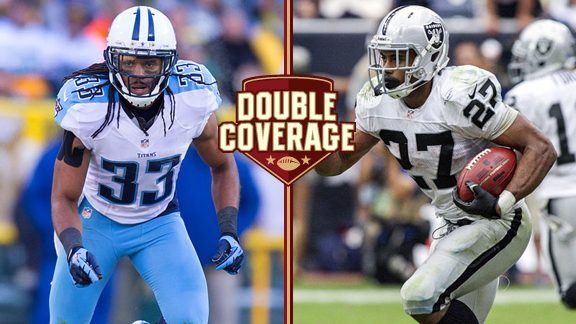 USA TODAY SportsMichael Griffin's Titans and Rashad Jennings' Raiders both come in with 4-6 marks.
ALAMEDA, Calif. -- For the first time since 2004, the
Tennessee Titans
visit the
Oakland Raiders
.
Both teams are 4-6 and trying to establish their respective identities. The Titans are breaking in
Ryan Fitzpatrick
under center in the wake of
Jake Locker
's season-ending injury. The Raiders will see how undrafted rookie
Matt McGloin
responds in his first home start with
Terrelle Pryor
nursing an achy right knee and, perhaps, just as sore feelings.
ESPN.com Raiders reporter Paul Gutierrez and Titans reporter Paul Kuharsky break down the matchup:
Paul Gutierrez:
Hey, Paul, the Raiders have their own issues with an injury-prone-yet-enticing member of the offensive backfield who "should" be a franchise-type player in running back
Darren McFadden
. He's in a contract year, though, and with each missed game -- he's missed 16 of the Raiders' past 35 games and has never played more than 13 in a season -- he seems less likely to return next year. With that in mind, what is the vibe on the Titans' purported franchise quarterback, Jake Locker, as in, is the franchise ready to roll with him going forward? And how different does the offense look with Ryan Fitzpatrick under center coming to Oakland this weekend?
Paul Kuharsky:
There are a lot of variables for Locker. The Titans have to execute his option for 2015 in May to ensure he's under contract for two more years. That would come with a salary of over $13 million. I can't see them making that leap. But I expect he'll be at the front of the quarterback line in training camp in 2014 for his fourth season. He's got to show he can play as he did in the team's first four games this season and that he can stay on the field for 16 games. In his two seasons as starter, he will have missed 14 of a possible 32 starts. He's got the arm, the movement skills, great speed and can be a good decision-maker. But no one can say he's a franchise guy yet, and that's a problem after three years.
I'd expect the Titans to go forward doing what they did with Fitzpatrick against the Colts. Run a spread-out, hurry-up offense that passes to set up the run and gets the offense in a rhythm. When he doesn't turn the ball over he can be a winning quarterback, but he tends to turn it over.
How did Matt McGloin burst onto the scene and what do you think the long-term future is at the position for Dennis Allen's offense? How much of McGloin's debut was due to Houston's defense?
Gutierrez:
McGloin came in for a tryout and, Allen says, it took all of three throws for the Raiders to fall in love, so to speak, and know they wanted to sign him. He entered camp as a "camp arm," the fourth-string quarterback, and by attrition has risen ... surpassing fourth-round draft pick
Tyler Wilson
; trade acquisition
Matt Flynn
, who was cut; and Terrelle Pryor, who was slowed by a sprained right knee and ineffectiveness. Truly, the Raiders are going with the hot hand of McGloin rather than the achy knee of Pryor. McGloin was impressive, even if the bar was set low, and he was helped out by short fields early -- two of his first three drives started at the Texans' 16-yard line. But the offense did bog down at times as the Raiders converted just two of their final 15 third-down conversion attempts, going 0-for-9 at one point, after converting their first three. Despite Houston now riding an eight-game losing streak, the Texans did have the top-ranked total defense in the league last week for a reason. And McGloin was more than effective against it. His receivers seemed to have trouble with the velocity on his throws early and often. We'll see if they'll settle in now.
Speaking of settling in, Raiders fans remember
Kamerion Wimbley
racking up 16 total sacks in two seasons and leaving for Tennessee because Oakland could not afford his salary in Reggie McKenzie's first year as GM. I see now that Wimbley has started just one game this season and has ... one sack. So, what's eating Wimbley?
Kuharsky:
He wasn't a good fit from the start. The Titans had a free-agency plan in 2012 and
Mario Williams
was going to be their primary target. But
Peyton Manning
came free, owner Bud Adams told his people to pursue him, and everything else got set aside. Then the Titans missed Manning and Williams. When things calmed down, Wimbley came free and they gave him big bucks as the best available pass-rusher. But he wasn't a very good fit in their 4-3, and he's less so this year as Gregg Williams joined the staff and altered the scheme. So he's sometimes part of the nickel rush package now, and that's the extent of it. He's a low-impact guy making big money, and it's pretty much a guarantee that he will be cut loose after this season.
He and the other guys getting more time on the front four have tapered off and aren't producing consistent pressure. How's McGloin's pass protection?
Gutierrez:
Well, considering he was sacked "only" twice by
J.J. Watt
, you could make the case that the offensive line performed admirably for McGloin in Houston last weekend. In fact, the line has been a patchwork outfit this entire season -- according to Pro Football Focus, Oakland has used 19 different combinations thus far -- and is only now getting truly healthy. Even left tackle
Jared Veldheer
, who underwent surgery on his left triceps in training camp, is on track to return on Thanksgiving at Dallas. Still, against the Texans, and per PFF, "McGloin's percentage of dropbacks under pressure (44.1 percent) was highest in the league this week and the raw number of pressured dropbacks (15) was fifth." It's a reason Terrelle Pryor and his mobility made more sense than Matt Flynn to open the season. Indeed, the Raiders are still searching for their identity on the offensive side of the ball.
When it comes to the Titans, then, which team are they -- the one that won three of its first four games, or the one that has lost five of six?
Kuharsky:
It sure seems like B. That 3-1 record included wins at Pittsburgh and over the Chargers and Jets, two teams also vying for the sixth playoff spot. But the loss was to the miserable Texans. The 1-5 stretch included losses to tough teams -- the Chiefs, the Seahawks and the 49ers, but also to the Jaguars, who had not won before a visit to Nashville. The defense has come back to earth and the run game the team is supposed to be built around is below average. This seems like an elimination game. I think the Titans have a better roster than the Raiders. But I won't be a bit surprised if they drop another one.
How do the Raiders' results mesh with preseason expectations?
Gutierrez:
Well, the ultimate goal is to win as many games as possible, right? And since the Raiders have let wins against Indianapolis, Washington and the
New York Giants
slip through their fingers, it's been a season chock full o' woulda, coulda, shouldas. But anyone with a lick of sense knew this was a rebuilding year. And, at 4-6, and having already equaled last season's win total while ending a 10-year streak of losing their first game after a bye week, you could say the Raiders have overachieved. Especially since, as it stands right now, the Raiders are just one game out of the AFC playoffs, sitting tight as the No. 8 seed in the six-team playoff field with the Titans right behind at No. 9. Owner Mark Davis last year said he knew that team was not a Super Bowl-caliber club, but he expected it to challenge for a playoff spot. He did not want to see regression, which was most of what he did see. Now? He wants to see progress. Beating the Titans would be a step in that direction.
November, 22, 2013
11/22/13
10:00
AM ET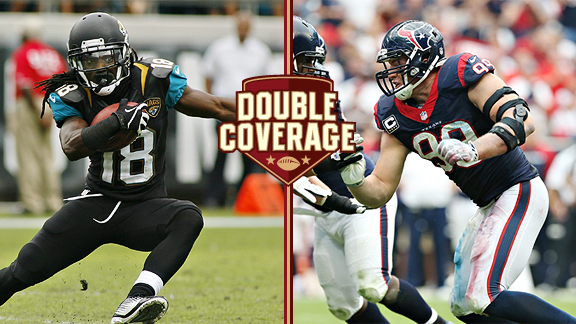 USA TODAY SportsAce Sanders and the Jaguars' receivers must pick up their play against J.J. Watt and the Texans.
HOUSTON -- Oddly enough, it's the team with the worse record that enters this game with the better vibes.
The
Jacksonville Jaguars
finally won a game two weeks ago, whereas the
Houston Texans
are trudging through what's now an eight-game losing streak, the longest in franchise history.
For Houston, it's been a matter of finishing. The Texans have led at halftime in each of their past three games. They regularly gain more yards than their opponents. They just can't finish with wins, having lost by one, three, three and five points in their past four games.
ESPN.com Jaguars reporter Michael DiRocco and Texans reporter Tania Ganguli discuss.
Ganguli:
So, Mike, do you think the Jaguars have shown signs of improvement lately?
DiRocco:
In certain areas, yes. They've been much better against the run since the bye week, holding the
Titans
to 83 yards and the
Cardinals
to just 14. Their special teams have improved, too, especially the kickoff-return unit. Since bobbling several kicks against the
San Francisco 49ers
,
Jordan Todman
is averaging 34.7 yards on his past seven returns. Outside of those two areas, though, improvement is hard to find. The running game is still struggling. Since rushing for 90 yards against San Francisco, the Jaguars have totaled 86 in the past two games. The passing game really misses
Justin Blackmon
, too, because teams are concentrating on stopping receiver
Cecil Shorts
, and the rest of the receivers just aren't good enough right now to carry the offense. The pass rush managed three sacks against Arizona but overall has been ineffective. Couple that with a secondary that includes three rookies and you can see why they're struggling against the pass, too.
Speaking of struggling, what has been the biggest reason for the Texans' surprising stumble this season? Is it quarterback play? Injuries?
Ganguli:
Special teams, turnover margin, quarterback play, injuries and red zone efficiency on both sides of the ball are all to blame. The Texans' kicker,
Randy Bullock
has really struggled. He made a 51-yarder on Sunday -- his first field goal from 50 yards or longer this season. Overall, he's made only 65.4 percent of his field goal attempts. The Texans currently have their starting tight end, running back, strong safety and middle linebacker on injured reserve. They might get tight end
Owen Daniels
back in a couple of weeks, but not having him has been bad. The Texans' offense and special teams have turned the ball over at a high rate -- and that's not just on former starting quarterback
Matt Schaub
, though Schaub has been a big factor. Pick-sixes aside, Schaub wasn't actually playing too poorly before he got benched for
Case Keenum
. He had one game that was top-to-bottom bad: the Texans' loss in San Francisco. But a pick-six is such a big play that his really hurt the Texans. That's not something anyone predicted heading into the season. Well, maybe someone did. Certainly not me.
Speaking of quarterbacks, what did it take for the Jaguars to finally give up on
Blaine Gabbert
?
DiRocco:
Gus Bradley says the team hasn't given up on Gabbert, but it's pretty obvious it has by the fact that
Chad Henne
is starting even though Gabbert has recovered from a hamstring injury and has been healthy for weeks. It was typical Gabbert when he did play earlier in the season: some really good throws, some terrible throws and a few "what the heck was he thinking?" throws. He just hasn't been consistent enough, and he's had three seasons. The other issue is that he can't seem to stay healthy. This season alone he had a sprained ankle early in training camp, fractured his thumb in the preseason, missed two games because of a cut on his hand and left the Week 5 game with a hamstring injury and hasn't played since. He also missed the final six games of the 2012 season with a forearm injury.
Tania, what is Schaub's future in Houston? If he's out, are Keenum or
T.J. Yates
viable long-term solutions or will the Texans go after a quarterback in the draft?
Ganguli:
Schaub's future in Houston is murky at best. He knows that. His teammates know that. As I said earlier, people did not see this coming. The Texans' handling of Yates indicates they don't think he's the future. I don't think it'd be smart to go into next season with only Keenum as a starting option given the unknowns that remain about him. So far, he hasn't been able to react well to defensive adjustments against him. It's entirely possible he gets better at that, but I just don't think you know for sure yet. I could absolutely see the Texans drafting a quarterback. It'll be a pretty deep class, though there doesn't seem to be a knockout like
Andrew Luck
.
Let's finish up with defense. The lack of a pass rush has been a problem in Jacksonville for so long. Why has it been ineffective?
DiRocco:
The bottom line is the players aren't anything but average. It dates back to 2008, when the team drafted
Derrick Harvey
in the first round and
Quentin Groves
in the second to improve the pass rush. They were both busts, and the Jaguars have been chasing those picks ever since. They signed
Aaron Kampman
to a free-agent contract in 2010, but he arrived coming off a torn ACL, and he went on to suffer another tear, among more injuries. The Jaguars claimed
Jason Babin
off waivers from Philadelphia in 2012, and he has 4.5 sacks in 15 games with them.
Andre Branch
, last season's second-round pick, has just three sacks in 23 career games. Upgrading the pass rush will be one of the team's biggest tasks in free agency and the draft this offseason.
This obviously isn't the kind of season the Texans expected. How has the locker room been? Do you get the sense of any problems, and is it a case which another few losses (especially one to the Jaguars) could make things get nasty?
Ganguli:
The locker room is frustrated, but right now, the Texans are closing ranks and taking an us-against-the-world mentality. We saw a bit of frustration within the team when Schaub yelled at
Andre Johnson
on the sideline for stopping his route near the end of the Texans' loss to the
Raiders
. Johnson yelled back and then walked off the field before the official end of the game. The team didn't need him anymore at that point because Oakland was simply kneeling to the finish, but it was a surprising move from a guy who doesn't normally show his frustration like that. Still, Johnson and Schaub both downplayed the argument, saying they were fine with each other. I thought Johnson's comments on Wednesday supported that. He talked about how "you hate to see" what Schaub has gone through this season, especially given their long history together. This is a pretty good locker room. I think if they were going to turn on each other, they would have had plenty of reasons to do so already.
November, 22, 2013
11/22/13
10:00
AM ET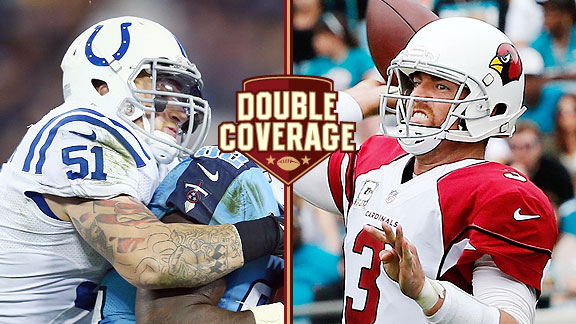 Getty ImagesPat Angerer and the Colts defense will try to slow down Carson Palmer, who has a 6-2 TD-to-INT ratio over his past three games.
Yes, there's a football game being played in the desert on Sunday.
With all the hype surrounding the matchup of Arizona coach Bruce Arians facing the
Indianapolis Colts
for the first time since he was their interim coach in 2012, it's easy to forget that a game will kick off.
Colts quarterback
Andrew Luck
can pose as many problems as any other quarterback in the league but if one coach knows him, it's Arians. And the Cardinals have been playing well as of late on both sides of the ball.
Cardinals reporter Josh Weinfuss and Colts reporter Mike Wells discuss this weekend's game:
Weinfuss:
Obviously this game goes beyond more than football; how do you anticipate the Colts responding to seeing Arians on the opposite sideline?
Wells:
It won't be on the same level as when they faced
Peyton Manning
last month, but there will be some emotions involved. Arians took over a team that had its world shaken up when Chuck Pagano took time off to battle leukemia last season. Arians was responsible for making sure the team was mentally and physically ready each week. That wasn't an easy thing to do, especially with a rookie quarterback. But Arians obviously did a good job leading the way. The Colts won 11 games and reached the playoffs. The job Arians did is a major reason why he's the head coach in Arizona. Do you think he will be even more motivated this weekend?
Weinfuss:
Arians will definitely be more motivated this weekend but he'll also be more emotional than he has been this season. We'll see how well he can keep those emotions in check and then channel them Sunday, which he said will be the hardest time for him. After all the pregame hugs and pleasantries are exchanged, I think Arians will just be focused on getting the Cardinals a seventh win and one step closer to the playoffs. This is a big game for both sides and Arians doesn't want to be the reason the Cardinals falter.
How has the
Trent Richardson
trade worked out for the Colts? Are they seeing the return on investment they expected?
Wells:
Richardson has been a topic of discussion every week since the Colts acquired him in the middle of September. That's expected when you consider that Richardson hasn't rushed for more than 60 yards in a game as a Colt and the team gave up a first-round pick for him. Some fans are ready to call the deal a bust and say the
Cleveland Browns
pulled one over on Colts general manager Ryan Grigson. I'm not ready yet. Key word being "yet." Richardson hasn't lived up to expectations so far, but I think part of the problem is he had to get use to things on the fly. I believe he needs a full training camp with the team before you can fully value the trade. The criticism will taper off some if Richardson can improve his 2.8 yards a carry average before the season ends.
Quarterback
Carson Palmer
threw for 419 yards last week. Do you think Palmer will be able to play well the rest of the season?
Weinfuss:
This weekend will be the true test. He played better against teams like Atlanta and Houston, then broke out against Jacksonville -- none of those teams are anything to write home about -- but if Palmer can put it together against the Colts, then he might be onto something for the rest of the season. Arizona showed in Jacksonville it can put up points and yards when the running game falters. Usually when that happens, teams bring their pass rush and don't stop, and it overwhelms some of the younger players on Arizona's offensive line. Palmer's a vet and knows what he has to do, but when he doesn't have much time, like any quarterback, he can't make good decisions. The game at Jacksonville was the first time Arizona's offense looked complete and I think it gave the Cardinals enough confidence going forward to continue at this pace.
Speaking of offenses, where has
Reggie Wayne
's injury hurt the Colts and have they been able to make up for his loss?
Wells:
Wayne's loss has impacted the entire offense.
T.Y. Hilton
is doing his best to fill the role of Luck's go-to receiver. Nobody has stepped up to be the Colts' second or even third receiver behind Hilton. That's where the problem really is for the Colts. They signed
Darrius Heyward-Bey
in the offseason to start opposite of Wayne, but he's been a disappointment. The Colts are doing it by committee to try to make up for Wayne's loss. Luck completed passes to eight different players in their last game against Tennessee. That's the philosophy they'll continue to use the rest of the season because there is no replacing Wayne.
Speaking of receivers,
Larry Fitzgerald
was a ball boy with the
Minnesota Vikings
when I covered them in 2000 and 2001. I still remember him constantly picking
Randy Moss
' and Cris Carter's brains for pointers. Things have worked out pretty well for Fitzgerald. He's one of the premier receivers in the league. Is his future in Arizona or do you think the Cardinals will eventually have to trade him?
Weinfuss:
If he's willing to restructure his current contract, his future -- and the rest of his career -- will be in Arizona. If he's not, the Cardinals will trade Fitzgerald this offseason but only if they get enough compensation to continue rebuilding.