AFC South:

2013 NFL Week 13 Double Coverage
November, 29, 2013
11/29/13
12:00
PM ET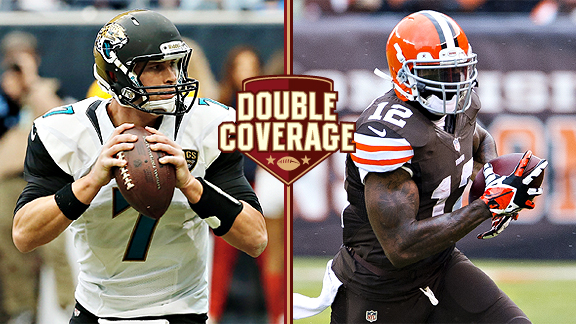 Getty ImagesChad Henne and Josh Gordon lead two struggling franchises still looking for an identity.
Cynics would call Sunday's game a battle for draft pick position. Cynics might be right.
The
Jacksonville Jaguars
started 0-8 before winning two of their past three, and the
Cleveland Browns
have lost five of their last six. Combined, the two teams have six wins and a boatload of problems. Both wonder who will be the long-term answer at quarterback, and both struggle to score points.
For the Jaguars, a win represents another positive step -- which any win is at this point in the season. Jacksonville would love to establish something good heading into 2014, and three wins in four games qualifies as good. The pressure would not seem to be on the Jaguars, because nobody expects them to win, and if they do it's a good thing.
The situation is far different for the Browns, though. Cleveland fans will turn downright nasty if the Browns lose to the Jaguars. Any goodwill built earlier this season would disappear in a cloak of hostility. The Browns are at home, but they absolutely need to win a game like this. It's one thing to lose to Cincinnati and Pittsburgh; it's quite another to lose to Jacksonville.
ESPN.com Jaguars reporter Mike DiRocco and Browns reporter Pat McManamon discussed the game.
Pat McManamon:
Mike, the Browns and their fans checked this game off as a gimme when the season started. They never dreamed they could lose to the Jags. But now Jacksonville has won two of three games while the Browns have lost six of seven. Are the Jaguars playing that much better that they feel they can win a cold-weather game this weekend?
DiRocco:
I'm sure the Titans and Texans felt that way, too, but they also fell to the Jaguars at home. The Jags are playing significantly better run defense than earlier in the season and did a fantastic job against
Andre Johnson
on Sunday, holding the Texans receiver to just two catches for 36 yards. They also ran the ball better than they have all season against the Texans (season-high 118 yards). But the biggest improvement the team has made is eliminating many of the stupid mistakes that had been regular occurrences in the first half -- things like defensive penalties on third downs and offensive penalties that negate big plays.They're still making those mistakes, but they're occurring less frequently. As for winning in Cleveland, the Jaguars are pretty confident. Both of their victories this season have been on the road, against the Titans, who are suddenly a playoff contender, and the Texans, who despite a 2-9 record have a top-10 defense and a pretty talented roster.
Pat,
Trent Richardson
hasn't exactly lit it up since the trade to Indianapolis. Did the Browns know something that the rest of us didn't? The Browns have to feel like they won that one, right?
McManamon:
Sort of. They like it because they got a first-round pick, but they really have done little to solve a run game that is completely inept. The Browns average 81 yards per game rushing, but they've not topped 100 yards as a team in five of the last seven games, and the two they did they gained 102 yards in one game and had a long end-around run in the other. Trent Richardson hasn't been close to good for the Colts, but as a rookie for the Browns he had 950 yards and 11 touchdowns. The Browns would be thrilled to have those numbers now.
Mike, the Browns love to pressure the lesser quarterbacks with a variety of Steeler-like blitzes and rushes. Can the Jaguars hold up under that pressure?
DiRocco:
The offensive line, especially the interior, has struggled in pass protection all season. It hasn't helped that the top two offensive tackles are gone:
Eugene Monroe
was traded to Baltimore earlier in the season and
Luke Joeckel
, the No. 2 overall pick in the 2013 draft, is on injured reserve with a broken ankle. Houston battered
Chad Henne
pretty good last week, sacking him four times and hitting him nine other times. Henne hung in there, though, and that's what he's going to have to do for the rest of the season because teams are going to attack the middle of the line.
Speaking of quarterbacks, where do the Browns stand with their quarterback situation? Is anyone on their roster the long-term solution or will they be looking quarterback in the first round, too.
McManamon:
The only possible long-term solution is recovering from a torn ACL. That would be
Brian Hoyer
, who played very well when he played. Problem is he only played two games, which is far short of a fair indicator of what he can do in the long term. It's highly likely the Browns draft a quarterback at some point, but the goal may well be to let Hoyer have the first chance in 2014 and bring along a young player. That seems wise, at least. But the constant change and flux with this team will not slow down in the next two years. If anything, it will increase -- unless Hoyer proves to be the second coming of
Tom Brady
.
Mike, the Browns have had two winning seasons since 1999 and have won 27 games since 2008. The Jaguars haven't done a whole lot better. Which team do you think is closer to actually becoming relevant in the NFL?
DiRocco:
The Browns have several good, young players around which to build:
Joe Haden
,
Josh Gordon
,
Jordan Cameron
and
Barkevious Mingo
, for example. But like the Jaguars, they've got a first-year coach trying to redirect the franchise and, other than the young guys mentioned before, the roster needs an overhaul. Both teams are also searching for a franchise quarterback. Not trying to weasel out of a direct answer, but the team that finds its quarterback first will become relevant first. If it is indeed Brian Hoyer, than the Browns are ahead of the Jaguars because he already has experience in the offense and is being tutored by Norv Turner, one of the better offensive minds in the game. The Jaguars would be a step behind, even if the QB they draft -- whether it's Teddy Bridgewater, Johnny Manziel or someone else -- turns out to have the kind of impact that
Russell Wilson
had with the Seahawks.
What kind of a season is Joe Haden having? Is he being overlooked because of Cleveland's lack of success?
McManamon:
It's not hidden in Cleveland, and it shouldn't be hidden nationally. Haden is that good. And his stature should not be that tarnished by the touchdown pass
Antonio Brown
had on him a week ago. Haden has matured, he's playing smarter and he's dedicating himself more to being a professional. Barring a run of Brown-like touchdown receptions on him, he should spend several Januarys in Hawaii.
November, 29, 2013
11/29/13
12:00
PM ET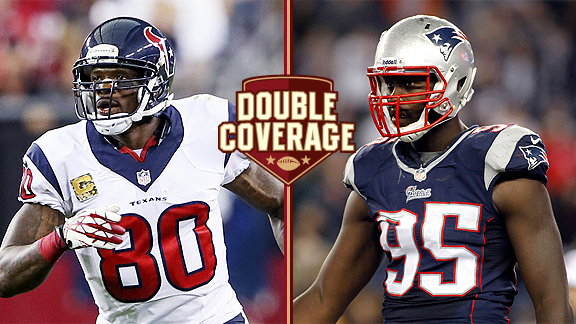 USA Today SportsAndre Johnson, left, and the Texans hope to surprise Chandler Jones and the Patriots.
HOUSTON -- The last time the
Houston Texans
faced the
New England Patriots
during the regular season, Houston was 11-1 and the hottest team in the league. To celebrate their youthful camaraderie, they ordered letterman jackets, the kind high school teams wear, and the jackets happened to come in right before the Patriots game.
That game marked a turning point for the Texans.
The timing of the jackets had nothing to do with the opponent; former Texans Connor Barwin and Shaun Cody were simply trying to create a tradition. That they lost so badly just after unveiling them turned the jackets into a punch line.
The Patriots won 42-14, and the Texans finished their season having lost three of their last four games. That meant losing the home-field advantage that seemed theirs before that game and led to another meeting with the Patriots in the divisional round of the playoffs. New England won again, 41-28.
It was a lesson for the Texans in what it takes to be a great team.
Heading into this season, many thought the Texans were positioned to be one of the top teams in the NFL. The Patriots seemed poised for a down year, by their standards, but here we are in Week 13 and they sit in their usual spot atop the AFC East.
ESPN.com Texans reporter Tania Ganguli and Patriots reporter Mike Reiss discuss the matchup.
Ganguli:
Mike, how has the loss of so many of his top targets from last season impacted Patriots quarterback
Tom Brady
?
Reiss:
We saw it impact Brady more significantly through the first eight games. But things have started to click the past two games, and it's no coincidence that it coincides with tight end
Rob Gronkowski
's reaching a new level of comfort since his return Oct. 20, and running back
Shane Vereen
's coming off the injured reserve list. With those two joining receivers
Aaron Dobson
,
Julian Edelman
,
Danny Amendola
and
Kenbrell Thompkins
, the pass-catching corps has been as stocked as we've seen all season.
I know it's been a down year for the Texans, but is
J.J. Watt
still creating havoc? Is that defense still tough?
Ganguli:
Watt is still creating havoc. He has 9.5 sacks, three forced fumbles and four passes defensed. He is someone opposing offenses must track on every play. The Texans' defense has played well, but it has holes. On Sunday, the Jaguars had success with the matchup of receiver
Cecil Shorts
against cornerback
Brandon Harris
in the slot. Injuries to middle linebacker
Brian Cushing
and strong safety
Danieal Manning
have been particularly damaging. The Texans have statistically been much better with Cushing than without him since he was drafted. Their attempt to add some mental toughness with
Ed Reed
didn't work as they had hoped, so two young players are starting at safety --
Shiloh Keo
at free safety and
D.J. Swearinger
at strong safety. Swearinger is the Texans' rookie second-round pick. He will be really good, but right now he's learning a lot about playing at this level. They haven't allowed a lot of yards, but have allowed too many points and not created enough turnovers.
Speaking of turnovers, as I watched Sunday night's Patriots game against the Broncos, it seemed every time I looked up the Patriots had either committed or forced a turnover. What did you make of that? Was it an aberration?
Reiss:
The forced turnovers were the norm, as the Patriots recently ended a streak of 36 games with at least one forced turnover (Nov. 18 vs. Carolina). The Patriots' committing turnovers was a little more out of character, although one of the pressing issues facing the club is what to do with lead running back
Stevan Ridley
(3 lost fumbles in the past three games). The Patriots are traditionally strong in turnover differential, and this season is no different, as they are plus-8 with 23 takeaways and 15 giveaways.
I know this probably comes out of left field, but how is the playing surface at Reliant Stadium? Patriots followers remember the last visit, in 2009, when
Wes Welker
tore his ACL. I saw a recent game, and it looks like there are patches of grass on the field with noticeable seams in certain parts.
Ganguli:
Not out of left field at all. If the game you saw was the Texans' Nov. 3 Sunday night game against the
Indianapolis Colts
, this was a major topic of conversation that night. The field looked pretty bad, mostly because there was a college game played on the same grass that week. They replaced the center of the field, but the outer grass was a mess. The University of Houston has played five games at Reliant Stadium this season while its stadium is being renovated. It has played most of them on field turf. The Cougars will play again on Friday morning, and none of the grass will be replaced between that game and the Texans-Patriots game Sunday. I believe the thinking is that will give it enough time to recover. Something to watch, though.
Let's talk more about defense to wrap up here. Will
Aqib Talib
be assigned to
Andre Johnson
on Sunday? How do you think he'll fare?
Reiss:
That would make a lot of sense, as Talib has often been assigned the opponent's top receiver. After a rocky game Nov. 18 against Carolina and
Steve Smith
, he was very good this past Sunday night against
Demaryius Thomas
in the 34-31 win against the Broncos. Talib has been key for the pass defense. Meanwhile, the loss of key players to season-ending injuries (defensive tackles
Vince Wilfork
and
Tommy Kelly
, and linebacker
Jerod Mayo
) has hurt the run defense at times, such as in the Broncos game. But they played a 4-2-5 nickel for most of the game, and I don't think that will be as much of a factor against the Texans. The Patriots will probably be in their base defense more often, and they played well against the Panthers' tough running attack in that package.
One thing I think Patriots followers would be interested to hear is what has happened to the Texans? How could a team go so quickly from the AFC divisional round of the playoffs and talking about "letterman" jackets to vying for the No. 1 pick in the draft?
Ganguli:
Even with some of the missteps in the offseason, it would have been difficult to foresee this. There are a lot of issues, but I'll focus on the quarterback situation. The biggest mystery is what happened to quarterback
Matt Schaub
. He was never on the level of Brady, but he gave the Texans what they needed. He was consistent and productive. He actually played really well in leading comebacks against the
San Diego Chargers
and
Tennessee Titans
this season. That seems so long ago. The Texans' turnover margin has been among the worst in the league all season, and Schaub was part of that. He became the first quarterback in NFL history to throw pick-sixes in four consecutive games. He threw one on the first pass of the game against the
San Francisco 49ers
, and that game marked the only time this season Schaub played poorly from start to finish. There were myriad other problems, but Schaub lost his starting spot when he suffered a foot and ankle injury in Week 6. First-year quarterback
Case Keenum
took over, but his play hasn't meant victories. In his first three starts, he played well in the first half and not so well in the second half. His most recent game, against Jacksonville, was his worst of the season. Keenum threw for 169 yards, no touchdowns and one interception.
.
November, 29, 2013
11/29/13
12:00
PM ET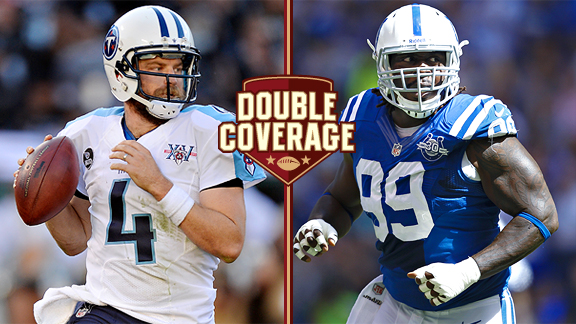 Getty ImagesRyan Fitzpatrick, left, and the Titans can tighten the AFC South race vs. Ricky Jean Francois' Colts.
INDIANAPOLIS -- The
Indianapolis Colts
want to remove the bad taste in their mouths from their 29-point loss to the
Arizona Cardinals
. The
Tennessee Titans
want to make the AFC South race intriguing.
Something will have to give when the teams meet Sunday at Lucas Oil Stadium.
The Colts can basically lock up their first division title since 2010 with a victory, because they would have a three-game lead on the Titans with four remaining. A win by the Titans would cut Indianapolis' lead to one game.
ESPN.com Colts reporter Mike Wells and Titans reporter Paul Kuharsky break down the matchup.
Wells:
The Titans made things in the division a little more interesting when they came from behind to beat Oakland last weekend. But they will be without a key player this weekend. How much will losing safety
Michael Griffin
impact the Titans' defense this weekend?
Kuharsky:
They are OK without him, as
George Wilson
is a capable veteran safety who will start in his spot. Wilson played for an injured Griffin in St. Louis, which was a bad game for Tennessee, but not because of that switch. Wilson has covered tight ends in a heavy nickel set and the dime package for much of the season, and the Titans have been better against tight ends after having huge problems in 2012. The Titans didn't use Wilson against
Coby Fleener
two weeks ago. Wilson played only one defensive snap in that game, and the Titans let their base defenders deal with Fleener. They didn't fare well, as he caught eight passes for a game-high 107 yards. Using Wilson as they have against other teams is not an option now, since he's in line to start.
Let's stay in the secondary. Has
Vontae Davis
been consistent? And how is his health now?
Wells:
Inconsistent is a better word to describe Davis. He looked like he was on his way to earning a nice offseason payday earlier this season. But he hasn't been the same since
Greg Toler
, who starts opposite of him at cornerback, went down with a groin injury four games ago. It's like Davis feeds off of Toler's presence on the field. Houston's
Andre Johnson
, St. Louis'
Tavon Austin
, and Arizona's
Larry Fitzgerald
all took turns getting the best of Davis at times in three of the past four weeks. Davis' groin injury isn't severe, so he should be in the lineup this weekend. There is a chance that Toler could be back, too.
Running back
Chris Johnson
had a monster first half in the previous meeting against the Colts. But the Titans stopped handing the ball to him in the second half. Do you think the same thing will happen this weekend if Johnson has another strong first half?
Kuharsky:
Well, the Colts came out and scored, collected Devon Wylie's kickoff fumble, and scored again, erasing the Titans' lead. I'm thinking
Leon Washington
, who was just signed to replace Wylie, will be more reliable, and the Titans won't go so long without having the ball on offense. With
Ryan Fitzpatrick
finding a rhythm at quarterback, they are more likely to throw some short passes that function as runs. The Titans will certainly want to run it. But they don't sustain it very well when they do manage to get it going some.
The Titans jumped out to that lead last time after the Colts were coming off getting blown out by 29. Now they draw the Colts after the Colts were blown out by Arizona. The Colts usually bounce back well, but I sense that the faith of those close to the team is waning. Is the team starting to doubt itself?
Wells:
Faith better not start waning after owner Jim Irsay was, well, Jim Irsay and voiced his frustration Tuesday on Twitter about the team's performance the past few weeks. The Colts have yet to lose back-to-back games with
Andrew Luck
as quarterback, but this was a different Colts' team inside the locker room after the Arizona game. They normally talk among each other win or lose after the game. There was very little of that this time. Players showered and dressed rather quickly and headed toward the bus. The Colts are very vulnerable right now. The Titans have an excellent opportunity to come to Lucas Oil Stadium and win the game. All the pressure in the division race would shift to the Colts if that happens.
You mentioned that Fitzpatrick is finding his rhythm. Do you think this could lead to a quarterback controversy next season with him and
Jake Locker
?
Kuharsky:
Well, we aren't sure yet that the same coaching staff or regime will be in place. Presuming it is, and presuming Locker recovers fully and on schedule from his Lisfranc surgery, he'll begin next year at the front of the line. The question isn't so much about the possibility that Fitzpatrick surpasses him -- he's very much a backup -- it's about whether the Titans are compelled to deem Locker injury-prone and draft an alternative/possible replacement. Based on what they have seen so far, they can't execute a very expensive option in May for the 2015 season, so they also have to be looking ahead.
The Colts have had some serious injuries, too.
Reggie Wayne
was a terrible guy to lose. Would tight end
Dwayne Allen
rank a close second?
Wells:
Don't get me wrong, not having Allen is a significant blow to the Colts, but I'd say losing guard
Donald Thomas
is second on the list. The offensive line was abysmal last season, and the Colts went out and spent money to upgrade it during the offseason, with Thomas and tackle Gosdar Cherilus being the main pieces. The Colts went from starting Thomas, a veteran, to starting rookie
Hugh Thornton
. That's a drastic drop-off, especially since Thornton shifted to left guard on the fly because he played right guard in college. The entire offensive line has been inconsistent with its run and pass protection this season.
.