AFC South:

2013 NFL Week 15 Double Coverage
December, 13, 2013
12/13/13
10:00
AM ET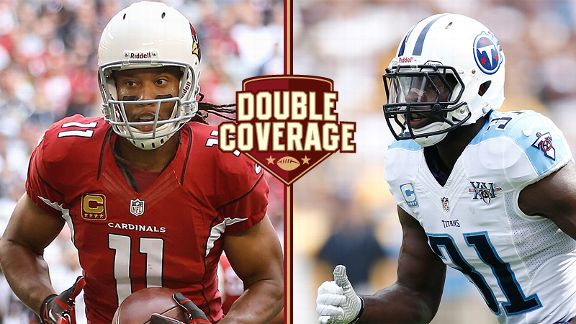 Getty Images, AP PhotoBernard Pollard and the Titans will try to hamper the playoff hopes of Larry Fitzgerald and Arizona.
In 2011, the
Tennessee Titans
had a new coach and a new feel. Mike Munchak's team missed the playoffs by a game.
Things seemed new and fresh. Since then, however, the Titans are 11-18.
The
Arizona Cardinals
come to Nashville in a position not unlike those Titans from two years ago. Arizona's on the playoff fringe, playing well and looking for its ninth win this season.
ESPN.com Cardinals reporter Josh Weinfuss and ESPN.com Titans reporter Paul Kuharsky discuss the two teams in advance of Sunday's game.
Paul Kuharsky
: Bruce Arians did masterful work filling in for Chuck Pagano in Indianapolis last season. He has a legitimate case for a second consecutive coach-of-the-year award. What have been the main ingredients in his first-year success with the Cards?
Josh Weinfuss
: There have been a few contributing factors as to why Arians has had success this season, but it starts with him changing the culture of the entire organization. He's not a micromanager around the building and he's open with the players, and they love it. Like past regimes, he doesn't sugarcoat his feelings or his perceptions of a player. He'll tell them how it is, and they've responded well to the criticism. One obvious difference is the quarterback situation, and Arians handled it differently here than in the past, naming
Carson Palmer
the starter early and sticking with him. That gave players a chance to spend all of minicamp and the offseason knowing that Palmer was in charge, and they were able to get to know him and his rhythm. Even though it took about seven months for them to pick up the offense, it would've been longer had there been any wavering with the QB decision. Lastly, Arians is simply a great offensive coach and his ability to adapt his scheme to the personnel is showing.
How much credence is there to Munchak being on the hot seat and what kind of impact has this prospect had on the team?
Kuharsky
: Oh, he's on the hot seat. How can he not be when his team is in the worst division in the league and is 0-4 against that division (1-9 if we look at 2012 and 2013)? Players remain behind Munchak and I think they respect him immensely based on his Hall of Fame playing career. There is a certain chemistry that comes out of playing for a guy who has played at the highest level. But the standard is winning, and Munchak's team has regularly lost to winning teams and to AFC South teams. An offseason revamp was supposed to brand the Titans as a team with a dominant offensive line and run game, and things haven't panned out along those lines at all. The $10 million back,
Chris Johnson
, is averaging 3.8 yards a carry, and the offensive line hasn't jelled.
How has the offensive line in Arizona come along, and how much has running back
Rashard Mendenhall
(3.1 yards a carry) yielded to rookie
Andre Ellington
(5.8)?
Weinfuss
: It sounds cliché, but the proverbial light switch was flipped in Week 8 against Atlanta. Since then, the Cardinals' linemen been corralling pass rushes, creating holes for the running backs and, maybe most important, keeping Palmer upright. The tackles were still struggling with fast and powerful edge rushers, but left tackle
Bradley Sowell
did a good job of slowing St. Louis'
Robert Quinn
last Sunday. As for the guys for whom the line is blocking, Mendenhall and Ellington have two very distinct roles on this team. Mendenhall is the workhorse, the every-down back who will pound in between the tackles until he breaks free. He suffered from a turf-toe injury for most of the season but has been healthy for a few weeks. Ellington, on the other hand, has been more of the outside back. He has an extra gear Mendenhall doesn't, where he can hit the corner and take off. And Arians likes to use Ellington out wide more. So the two are quite different and each has accepted his role.
Is it just the Titans offensive line to blame for Johnson's decline in yards per carry or is there something else in play? Backs like that can only last so long in this league. In Year 6, how much longer do you think he has?
Kuharsky
: It's definitely not just the line. That group's been slow to jell. Right tackle
David Stewart
is banged up and doesn't move well. Rookie right guard
Chance Warmack
is too inconsistent. Rookie center
Brian Schwenke
started late because of a camp injury and now has a bad ankle. Left tackle
Andy Levitre
, the big free-agent prize, has admitted he needs an offseason to get right and get to playing up to his standard. I give the line a third of the blame, Johnson a third and the play calling a third. Johnson is just too tentative and doesn't make anybody miss. And offensive coordinator Dowell Loggains can't get CJ or
Shonn Greene
into a rhythm when one of them starts to get something going. They don't seem to know how to solve a 3-4 defense, so advantage Cardinals there.
Inside linebacker
Karlos Dansby
is having a big year and could be in the Defensive Player of the Year mix. How does defensive coordinator Todd Bowles' scheme set him up for success?
Weinfuss
: Bowles made a tweak up front and it has had a ripple effect throughout the defense, helping Dansby flourish. Bowles stayed with a 3-4 scheme but changed the defensive line's responsibilities up front from a multi-gap system to single-gap. It freed up the down linemen to pin their ears back and attack, which has flushed quarterbacks out of the pocket more quickly and made runners bounce outside. That, in turn, has helped Dansby get in front of more passes and allows him to roam sideline to sideline. He leads the league with 100 solo tackles and, with the help of a new diet, is playing at the level of a linebacker five years younger.
Tight ends have raked the Cardinals' defense for most of the season, one of the few weak spots in an otherwise-talented unit. How do the Titans use
Delanie Walker
, and can they exploit Arizona's undersized secondary?
Kuharsky
: I would think they like the matchup. Walker is a tough, physical tight end who can run. He's particularly effective when he gets angry. He's coming off a game missed due to a concussion, so he could be at some risk if he takes a big shot. But I would expect
Kendall Wright
gets the most targets and Walker is second. Maybe the Cards have some insight into Walker from seeing him twice a year when he was with the 49ers. The Titans surely hope that doesn't matter at all.
December, 13, 2013
12/13/13
10:00
AM ET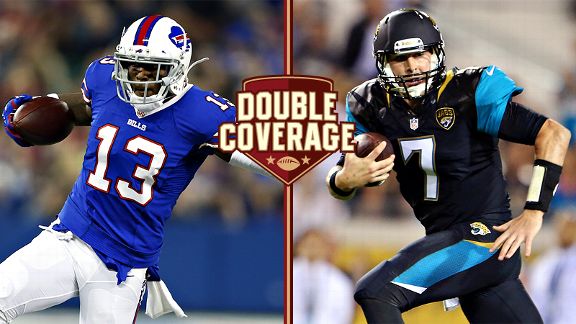 USA TODAY SportsStevie Johnson's Bills and Chad Henne's Jaguars are both 4-9, but the teams appear headed in opposite directions.
It has been a different second half for the
Jacksonville Jaguars
and
Buffalo Bills
.
Both teams are 4-9 but they're on opposite wavelengths. The Jaguars have won four of their past five games and are currently riding a three-game winning streak for the first time since 2010. The Bills have lost four of their past five and are coming off an abysmal performance in Tampa Bay.
Jaguars coach Gus Bradley is talking about making sure his players treat prosperity the same way they treated the adversity they faced in the first half of the season. Bills coach Doug Marrone is talking about scaling back the offense to help rookie quarterback
EJ Manuel
.
The teams meet Sunday at EverBank Field. ESPN.com Bills reporter Mike Rodak and Jaguars reporter Michael DiRocco break down the matchup:
DiRocco:
Manuel is pretty familiar to fans in Jacksonville from his time at Florida State. He has had an up-and-down season, but what have you seen from him that leads you to believe the Bills made the correct choice in deciding to build the franchise around him?
Rodak:
I think the jury is still out on whether the Bills made the correct choice in Manuel. In Sunday's loss to the Buccaneers, Manuel posted a 3.8 QBR, which ranks 415 out of 426 single-game performances in the NFL this season. It's dangerous to give too much weight to what's most recent, but in this case, Sunday had to be alarming for the Bills. Manuel has the leadership and character traits that any NFL team wants in its quarterback, but his on-field performance has left a lot to be desired. These last three games will be critically important to determining which direction Manuel is heading.
The Jaguars have gone on a surprising run lately, winning four of their past five games. Have they been doing anything different than early in the season? Or are things just simply starting to come together for Gus Bradley and his players?
DiRocco:
Schematically, no, other than just paring down the defensive game plan a bit and focusing more on the coverages and blitzes they do well. But three things stand out: better run defense, a better turnover ratio and better success in the red zone. In the first eight games -- all losses by double digits -- the Jaguars were allowing 161.8 yards per game rushing, were minus-7 in turnover ratio, and scored TDs on only 25 percent of red-zone possessions. The numbers in the past five games: 70.8 yards per game allowed, plus-5, and 66.7 percent. The offensive line has been much more consistent, quarterback
Chad Henne
is making few mistakes, and the defensive line has held up at the point of attack much better.
Kiko Alonso
is one of the candidates for defensive rookie of the year and is second in the NFL in tackles. Obviously a second-round pick is expected to produce, but has the kind of impact he has made on the defense been a surprise?
Rodak:
I think so. When I spoke to defensive coordinator Mike Pettine last month about Alonso, he indicated that the Bills inserted him into the starting lineup in the spring, but it was a wait-and-see deal. If it didn't work out, they were going to turn somewhere else, but Alonso has certainly fit well within this defense. He has drawn a lot of praise from coaches and veterans on this team for his work ethic and ability to pick up the scheme quickly. However, I do think that Alonso's play has tailed off slightly over the past several weeks after he had a hot start this season. He had four interceptions, one sack, and one forced fumble in the first month of the season. Since then, he has had one sack, no interceptions and no forced fumbles. Is that overly concerning for the Bills, though? Most likely not. I think Alonso will be a fixture in this defense for the foreseeable future.
What's the latest on
Maurice Jones-Drew
? I remember hearing some trade talk around him a few months ago, but once the deadline passed, he hasn't been on the radar as much. Does he have a future in Jacksonville?
DiRocco:
He does if he's willing to be realistic about a contract. No team is going to pay big money for a 29-year-old running back that has battled injuries the past two seasons, which is what he'll find out if he decides to test the free-agent market when his contract expires after this season. The Jaguars are interested in re-signing him and likely will offer him an incentive-filled two-year contract worth $6-10 million. Jones-Drew, who would like to finish his career in Jacksonville, is making $4.95 million this season so that would be a pay cut. If he's OK with that, then I'd be surprised if he's not around.
What do you think of the job Doug Marrone has done in his first season? And what do you think of his long-term future in Buffalo?
Rodak:
I think it has been a trying season for Marrone. It's not that there were high hopes for the team in his first season -- nobody realistically expected them to make the playoffs -- but I don't think everything fell into place as well as he would have liked. His hire of Mike Pettine as defensive coordinator has generally paid off well, but ultimately what's going to define Marrone's tenure in Buffalo will be the quarterback position. Coaches don't often get more than one chance to get it right at quarterback, so if Manuel doesn't work out in Buffalo, it may not work out for Marrone, either. That's just today's NFL. It's a brutal league.
What about for the Jaguars? Their roster was about as bare bones as it gets this past offseason -- in much worse shape than the Bills' entering this season -- and they've managed to put on a nice little run here. What's the next step that general manager David Caldwell needs to take?
DiRocco:
His No. 1 priority is to find a franchise quarterback. At the beginning of the season I would have told you the Jaguars would draft Teddy Bridgewater with the No. 1 overall selection, but since it now appears the Jaguars will be picking in the Nos. 5-7 range it seems unlikely Bridgewater will be around. Caldwell is going to have to figure out whether there's somebody else he likes just as much or if he's going to be willing to gamble that he can get a good QB a little later in the draft, whether it's A.J. McCarron, Aaron Murray or somebody else.
December, 12, 2013
12/12/13
12:00
PM ET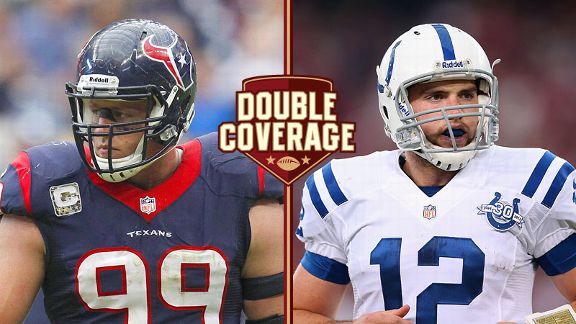 Getty ImagesJ.J. Watt's Texans aren't playoff-bound like Andrew Luck's Colts, but Sunday's hosts haven't had it easy.
INDIANAPOLIS -- This was supposed to be a game that had AFC South division title implications between a Super Bowl contender and a playoff team, one that could have even been flexed on the schedule.
At least that's the way it was envisioned when the season started.
Instead, it'll be a battle of two teams dealing with a number of issues when the
Indianapolis Colts
take on the
Houston Texans
at Lucas Oil Stadium.
The Colts haven't beaten a team with a winning record since Oct. 20 and haven't had consistency on offense, defense or special teams in weeks. The Texans ... well, they've been a disaster this season. They are on an 11-game losing streak, benched their starting quarterback and fired their head coach.
ESPN.com's Colts reporter Mike Wells and Texans reporter Tania Ganguli weigh in on the two struggling teams.
Wells:
Tania, obviously the big news -- really the only news -- to come out of Houston in the past week was the firing of coach Gary Kubiak. Wade Phillips takes over as the interim coach. Teams tend to rally around interim coaches or just shut them out. What do you think the Texans will do with Phillips?
Ganguli
: I don't think they'll shut him out, but wanting to succeed for the coach was never a problem in Houston. They wanted to win the last Colts game for their head coach, who left at halftime in an ambulance. They wanted to win the following week in Arizona for their coach, who watched from home as he recovered from his transient ischemic attack. It's not a matter of wanting the win -- the process has gotten lost. Two weeks ago, the Texans made so much progress in fixing their issues and then last week they went to Jacksonville and completely lost their discipline, committing a franchise-record 14 penalties for 177 yards.
The Colts are now back on top of the AFC South. What was the mood like for the team upon clinching the division and a playoff spot?
Wells:
It was a bittersweet feeling for them because they needed help from their good buddy
Peyton Manning
in Denver to win their first division title in three years. The Colts wanted to go into Cincinnati and win it by themselves so that they would be able to avoid getting it in the side or backdoor. That obviously didn't happen. But a division title is a division title no matter how you get it. That's how the Colts should look at it, especially since they were 2-14 just two years ago and many people thought the Texans wouldn't have a problem winning the division for the third straight season.
I'll be the first to say I picked the Texans to win the division this season. I'm sure there are probably a lot of reasons why they've been a major bust. But does one reason stand out more than others?
Ganguli:
If I had to choose one, I would say the quarterback situation has been the biggest reason. It was completely out of the blue. A lot of people disagree with me on this, but I don't think
Matt Schaub
played poorly most of the time, it's just that pick-6's are such dramatic momentum swingers. Really, though, it's been a combination of a lot of things. If you look at their stats, you'd expect the team to have a much better record. After Schaub, they went through
Case Keenum
's learning process, which is ongoing. Kicker
Randy Bullock
had a rough start, which impacted the team's record. He has improved lately, but by then the Texans developed other problems, like the loss of four important players to injury: inside linebacker
Brian Cushing
, safety
Danieal Manning
, running back
Arian Foster
and tight end
Owen Daniels
. Daniels has a chance of returning this week. And of course, I mentioned the meltdown of discipline that led to what happened last Thursday in Jacksonville. That was a problem early in the season, but unusual for the Texans lately. They had four penalties in the previous two games combined.
I expected the Colts to be better than they are, too. Do you think this team has taken a step forward or backward from last season?
Wells:
I thought the Colts had more talent this season but they wouldn't be able to duplicate their 11-5 record from last year. I was right about their record but wrong about their talent. Season-ending injuries forced the Colts to take a step back in the talent department. They're known for using the phrase "Next Man Up" when dealing with injuries. There really isn't a Next Man Up when it comes to replacing future Hall of Fame receiver
Reggie Wayne
, guard
Donald Thomas
and tight end
Dwayne Allen
. The Colts thought acquiring running back
Trent Richardson
would soften the blow of losing
Ahmad Bradshaw
and
Vick Ballard
. That hasn't been the case. Richardson's struggles since coming to Indianapolis have been well documented. So injuries and players not living up to expectations are the main reasons why the Colts have taken a step back
We talked about the benching of Schaub prior to the first meeting between the two teams in early November. Receiver
Andre Johnson
made Keenum look pretty good in the first half of that game. Has Keenum shown enough to prove he's worthy of being the team's quarterback for years to come?
Ganguli:
He's had good moments and bad ones. I think the bad moments are fixable, but whether he'll be able to fix them remains to be seen. The end of this season is an audition for him just as much as it is for Phillips. He has to show he's learning how to read defenses and make better decisions. There are times when Keenum hangs on to the ball too long because his internal clock isn't quite where it needs to be yet. He is learning that sometimes it's better to take the checkdown. He's learning that turning his back on the field when a rush comes at him reduces his options. If he stops growing where he is now, he'll have a career as a serviceable backup. If he continues to improve, he has the chance to be a starter.
To wrap up, let's talk about the quarterback up there, which I know we have before. How would you assess the season
Andrew Luck
has had?
Wells:
Two words: A struggle. But it's not Luck's fault. The offensive line has been inconsistent all season. The running game has been more poor than good. The biggest reason behind it, though, is because of the loss of Wayne. Wayne was Luck's security blanket and nobody has stepped up to help him out. Luck is good, but you can't forget that he's only in his second season and is still learning. Rookie
Da'Rick Rogers
had a breakout game against Cincinnati (107 yards) last weekend and believes he can be Luck's third-down go-to guy.