AFC South:

2013 NFL Week 2 Double Coverage
September, 13, 2013
9/13/13
12:00
PM ET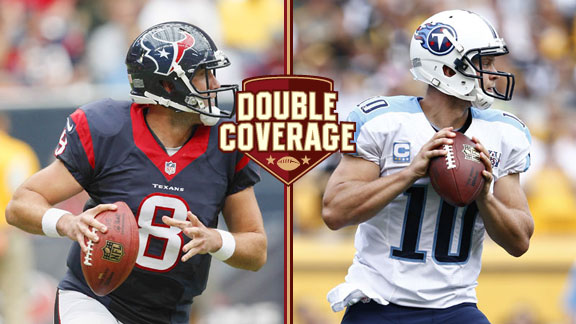 Getty Images, AP PhotoQuarterbacks Matt Schaub and Jake Locker look to lead their respective teams to a 2-0 start.
Titans owner Bud Adams is vilified in Houston because he took the Oilers out of town. The aging, eccentric Adams still lives in Houston, and he's expected to attend Sunday's Titans-Texans game.
The Texans are coming off a wonderful 31-28 comeback win in San Diego. The Titans took care of the Steelers in Pittsburgh.
Inevitably, an opening-day win gives a team some reassurance about its plan and course. The Titans' buy-in is certainly high.
Had the Texans lost to the Chargers, I imagine this week's themes would revolve around the carryover of issues that killed them late last season.
The comeback from a 28-7 deficit changed that. They're the two time-defending division champions. Even so, Tania Ganguli, how much of a boost did that comeback give them?
Tania Ganguli:
It gave them a big one. Coming back from big deficits was something they struggled with last year. That led to the Texans being labeled as a team that wasn't built to come from behind because their running game is such a big part of their offense. They showed an ability to pass their way out of a big hole. Quarterback
Matt Schaub
was excellent in the third quarter, spearheading the recovery. Defensively, they showed the ability to adjust. After the Chargers' third-quarter-opening touchdown, San Diego had 10 yards of total offense the rest of the half. Incredible.
How has Gregg Williams changed the Titans' defense?
Paul Kuharsky:
He's not the coordinator, and Jerry Gray continues to call the plays. But Tennessee really mixed up its fronts against the Steelers. They didn't blitz an immense amount but they were more unpredictable and more aggressive than they had been last year.
I certainly felt like we were seeing Williams' influence in those areas. Williams has certainly had a positive bearing on their aggressive approach to the game and on the team's attitude. If guys like tackle
Jurrell Casey
and linebacker
Zach Brown
play like they did in the opener, they've developed some playmakers. If guys like end
Ropati Pitoitua
and linebacker
Moise Fokou
keep up their play from the opener, they've added some quality new pieces.
What's Wade Phillips doing with his new pieces, and will we see all of them?
Ganguli:
Ed Reed
is getting healthier, but we won't know his status until Friday afternoon. He will have a lot of free rein to dictate what he does, just like he did in Baltimore. He's helped other players and helped his coaches by offering suggestions on things he's seen. I asked Phillips if he is more inclined to listen to Reed than other players and Phillips said Reed's suggestions are better than most players.
When the Texans drafted safety
D.J. Swearinger
, they knew they were in dime so often that even as the third safety he'd see the field a lot. Swearinger was on the field for 55 percent of the Texans' defensive snaps Monday in San Diego.
Joe Mays
was solid starting at inside linebacker on Sunday. Given
Darryl Sharpton
's injury history, he's a very important piece the Texans added during training camp.
We could include
Whitney Mercilus
and
Earl Mitchell
as somewhat new pieces -- full-time starters at outside linebacker and nose tackle. Both had big nights in San Diego. Mercilus hit
Philip Rivers
on the pass that
Brian Cushing
intercepted. Mercilus also had an early sack, giving Phillips the outside pass rush he needs. Mitchell's most important play came when he chased down running back
Ryan Mathews
as he ran with a pass. Mitchell stopped Mathews two yards short of a first down. Rivers' next pass fell incomplete, and that was the last time the Chargers had the ball.
You mentioned Casey earlier. He's been
fairly talkative lately
, and apparently has played well, too. Will he cause problems for the Texans?
Kuharsky:
If the Titans have a chance at a second consecutive upset, Casey will have to be disruptive. The 2011 third-round pick out of USC had a very solid rookie season, but last season he hurt an elbow in the preseason and had a couple of other injuries slow down his growth. He's healthy now and could be on course to be a
Geno Atkins
type of player. I know some Texans fans bristled that he dared talk confidently. But I'm guessing those same fans were OK with someone like
Antonio Smith
talking before he'd done much, either.
If Casey draws double-teams from the Texans' offensive line, then others need to apply pressure. End
Derrick Morgan
and strongside linebacker/nickel end
Akeem Ayers
are the top candidates there, though Brown is the one who charged out the strongest last week.
The Titans usually think if they can rattle Schaub they'll be in good shape, but last week Schaub was rattled in the first half and bounced back quite well against the Chargers. Do you expect him to be the first-half guy, the second-half guy, or something in between?
Ganguli:
The defense he'll play is a little bit better this week, and their aggressiveness will present a challenge for Schaub. His QBR was much better against four or fewer pass-rushers than it was against five or more, though he did throw all three touchdowns against extra pressure. On the other hand, I think Schaub will be more comfortable with receivers like
DeAndre Hopkins
, who caught five passes in his NFL debut. I expect something in between first- and second-half Schaub. Schaub has more career touchdown passes against the Titans (17) than he does against any other opponent, according to ESPN Stats & Info.
Worth noting, though: I don't think he'll be put in the same position he was in last week. The Titans don't have the offensive firepower to bury another team early, do they?
Kuharsky:
I wouldn't think so. The offensive line is way better and they should find some runs. But the passing offense is unproven. They have a group of quality receivers and a nice new tight end in
Delanie Walker
. The next step would be for them to show they can make consistent plays in the passing game with some big-chunk plays.
A lot of that comes down to what
Jake Locker
can do. The third-year quarterback has made steady improvements recently. But one of their objectives is to shape a game where too much doesn't land on his shoulders. They want to throw it when they want to, not when they have to. I expect the Texans will make them have to.
Also, the last time Locker played at Reliant, he failed to make an adjustment at the line and got crushed by a blitzing
Glover Quin
. The resulting shoulder injury cost him time and slowed his progress. He'll need to do better on the fly.
Pressure's on him. Pressure's on you. First home game with ESPN.com since taking over the Texans. What happened to the guy who used to monitor that team for us?
Ganguli:
I heard he got run off due to his refusal to pronounce the H in Houston.
September, 12, 2013
9/12/13
12:01
PM ET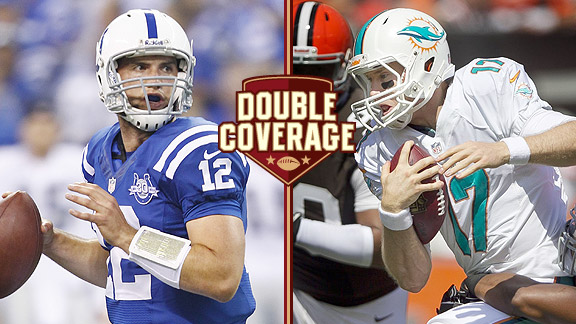 Getty ImagesSecond-year quarterbacks Andrew Luck and Ryan Tannehill face off in Indianapolis on Sunday.
The
Miami Dolphins
and
Indianapolis Colts
are two undefeated teams trying to establish themselves in the AFC. Both have young quarterbacks with promise and solid second-year head coaches.
Indianapolis beat Miami last year, 23-20, in an exciting matchup in which quarterbacks
Andrew Luck
and
Ryan Tannehill
both played well.
But who will win this season's matchup? ESPN.com Colts reporter Mike Wells and ESPN.com Dolphins reporter James Walker weigh in.
Wells:
Sunday will come down to which quarterback from the Class of 2012 -- Luck or Tannehill -- can limit his mistakes. And I'm sure we'll talk about them before we end this conversation, but before that, James, we have to address the
Mike Wallace
situation. It seems like Wallace was being selfish by making Sunday's win over Cleveland all about him because he only had one catch. For a Dolphins team that's had only one winning season since 2006, Sunday should have been about getting a nice road victory to open the season. Not about Wallace. I know Wallace cleared up his comments Monday, but it shouldn't have gotten to that point. Is that a sign of things to come out of Wallace, the $60-million man?
Walker:
The situation was not ideal, but I thought the Dolphins did a masterful job putting the Wallace issue to bed during the week. Miami's coaches supported Wallace's competitiveness and desire to make an impact. Wallace also clarified that he was more upset at himself, and I expect he will be extra motivated to have a big game. Speed kills in domes, and I don't think there will be a faster player in Sunday's game than Wallace. Look for Miami to find more creative ways to get him the football in the event the Colts consistently double Wallace, which was Cleveland's strategy. Speaking of strategy, I was surprised to see how much Indianapolis struggled last week with the
Oakland Raiders
. The Colts trailed Oakland at home with less than 6 minutes left in the game. Was this first-game jitters and what needs to be fixed?
Wells:
You weren't the only one surprised. I think most people were, especially when you look back at the Colts' first two offensive series. They scored with ease and all indications pointed to Luck having a special day after he started 11-of-11 with two touchdowns. But you have to give credit to Oakland quarterback
Terrelle Pryor
. He did an excellent job creating with his feet. He kept the Colts off balance and his team in the game until Luck became the hero. Tannehill is a more traditional quarterback. Luck,
Robert Griffin
III and
Russell Wilson
are the quarterbacks everybody talks about from 2012 -- and they should be talked about after they led their teams to the playoffs -- but do you get a sense down there in South Florida that Tannehill has the tools and work ethic to close gap on the three QBs I just mentioned?
Walker:
I really like Tannehill's tools, Mike. He can make all the throws, has good mobility and feet as a former college wide receiver, and he doesn't get rattled often. Those are all qualities you want in a quarterback. He looks the part, but I still need to see him win consistently. What was interesting about last week's win over Cleveland is Tannehill took over the game in the third and fourth quarters. Last year Tannehill played not to lose games. Last week Tannehill went out and won the game. That's probably the biggest thing that separates Tannehill from Luck and other members you mentioned from the 2012 quarterback draft class. Tannehill can certainly learn from Luck and his fourth-quarter comebacks. Mike, where is Luck in his development in Year 2?
Wells:
Everybody talks about sophomore slumps with players. You should go ahead and look elsewhere because that won't be the case with Luck. He refuses to settle. The only thing he wants to talk about is getting better. That's what you like to hear from your franchise player. Luck likely won't pass for as many as yards this season because the Colts are putting an emphasis on the running game with
Vick Ballard
and
Ahmad Bradshaw
. Those two players should take a significant load off Luck's shoulders. But it won't be easy for Luck this weekend. Miami's defense looked pretty good last week against the Browns. Six sacks and three interceptions. What makes the defense so dangerous?
Walker:
The Dolphins focused in the offseason and training camp on forcing turnovers and pressuring the quarterback. The work clearly paid off with the stats you mentioned. But perhaps the most impressive stat is Miami hit Browns quarterback
Brandon Weeden
16 times, which included the six sacks. The Dolphins' front seven is both fast and physical. They have a deep rotation on the defensive line. For example, No. 3 overall pick
Dion Jordan
is a backup who only gets limited snaps. Dolphins defensive coordinator Kevin Coyle has done a good job and really likes the group he has. I think the best way for Miami to beat the Colts is the rattle Luck, force turnovers and try to make it a low-scoring game.
September, 12, 2013
9/12/13
12:00
PM ET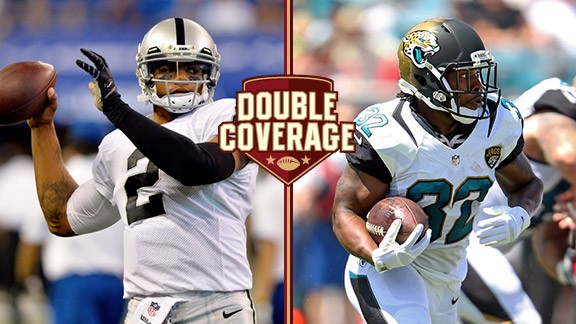 AP Photo Terrelle Pryor and Maurice Jones-Drew are key players to watch in the Raiders-Jaguars game.
Oakland showed a flash of life in a 21-17 loss at Indianapolis last week and Jacksonville struggled mightily in a 28-2 home loss to Kansas City. Many see the Raiders and Jaguars as the two most downtrodden teams in the NFL, but somebody has to win, right? It's not like they can play to a scoreless tie, unless … in any event, these two hook up Sunday in Oakland.
Paul Gutierrez
: So, the Jaguars are the 32nd-ranked team in
ESPN.com's NFL Power Rankings
, and the Raiders are 31st. Not exactly a clash of the titans, but there were several silver (and black?) linings in Oakland's 21-17 loss in Indianapolis last week. Primarily, the play of newly anointed starting quarterback
Terrelle Pryor
. To a man, the Raiders said there is no such thing as a moral victory. Yet there was a feeling of promise in the Raiders' postgame locker room not felt in a while. What was the feeling like in the Jags' locker room after they not only lost their starting quarterback, but lost the game to Kansas City in such dispiriting fashion, and does it already feel like another long season is in store in Jacksonville?
Michael DiRocco
: Disappointment, but not just at losing. The offense played poorly in all phases, which was somewhat surprising because it had shown signs during the preseason of being competent. Most troubling was the play of the offensive line, especially the interior, where center
Brad Meester
and guards
Uche Nwaneri
and
Will Rackley
really struggled. Six sacks and not crossing midfield until the fourth quarter was embarrassing. But the Jaguars were missing starting receiver
Justin Blackmon
(suspension) and starting tight end
Marcedes Lewis
(calf), so that mitigates things somewhat. While the team believes it can certainly play significantly better than that, the veterans are realistic and understand that this is one of the youngest teams in the NFL and the new regime has begun a rebuild that will take three years. You've got to feel for
Matt Flynn
. Goes to Seattle and gets beat out by
Russell Wilson
. Then ends up in Oakland and gets beat out by Pryor, who played well in the season opener. He made a lot of plays with his feet but certainly has a way to go as a passer. Is he the long-term answer for the Raiders at quarterback or will we see Flynn at some point this season?
Gutierrez
: Yeah, the humanistic side has to feel for Flynn's predicament. Then the snarky side comes out and thinks he and his millions -- remember, he signed a two-year, $11.5 million contract extension with $6.5 million guaranteed after the Raiders traded for him this spring -- will be just fine, thank you very much. But your point is taken. Especially since Flynn was second-year general manager Reggie McKenzie's handpicked choice to be this rebuilding franchise's, ahem, franchise quarterback. And really, the case can be made that Flynn is a better prototypical NFL quarterback than Pryor. But that's with a solid offensive line and a strong running game and trusted receivers. The Raiders, really, are still looking for those things. So until that trifecta comes in for Oakland, the playmaking Pryor is the Raiders' best hope for winning games. Even if he was not the new regime's choice and it inherited Al Davis' last draft pick. At this point, it seems Flynn is destined to be a career backup, albeit a well-compensated backup. And speaking of clipboard holders, what's taking the Jags so long to ink Jacksonville's favorite son,
Tim Tebow
(you knew there'd be a Tebow question somewhere, right?), especially with ticket sales needed and
Chad Henne
being no
Blaine Gabbert
, and vice-versa? Or is it too soon?
DiRocco
: The Tebow ship has sailed for the Jaguars. General manager Dave Caldwell said earlier this year that the Jaguars were not going to sign Tebow -- who at the time was still under contract with the
New York Jets
-- "even if he's released." He's sticking to that. As for the ticket sales argument, there's no way to quantify whether sales would increase and by how much if he was signed. Plus, the Jags are actually doing pretty well in the ticket department. The team hasn't had a blackout since 2009 and averaged at least 62,331 fans at every home game over the past three seasons. The No. 1 task for the new regime is to find out whether Gabbert can be a franchise quarterback and the player around which to build the team over the next decade. The only way to determine that is for him to play the entire season. Barring a rash of injuries to free-agent quarterbacks, I just don't see a scenario in which Tebow returns to his hometown.
Sebastian Janikowski
, who went to nearby Florida State, is one of the more colorful players in the NFL. There are a lot of colorful stories floating around about him both in the locker room and off the field. What's your favorite -- at least among the verified ones you can tell?
Gutierrez
: Wow, you caught me off guard. This is, after all, a family website, no? I kid. Kinda. But yeah, the evolution of the wild child formerly known as Jano (he hates that name, by the way) has been a unique experience. He is now a doting father to twin girls. No word, though, on how strong their kicking legs are yet. Off the field, he's become a proficient golfer. When he arrived in Oakland as a first-round draft pick way back in 2000, he had never touched a club before in his life. Then
Shane Lechler
, his long-time running, er, kicking mate, introduced him to the links. Now? He's a regular in the Lake Tahoe Pro-Am. Then there was the time he had to punt for an injured Lechler against Kansas City in the rain. It was as ugly a punt as it was effective -- the Chiefs player fumbled the ball away and the Raiders recovered. It went down in Oakland and the crowd loved it. Speaking of guys known by one name or simple initials, how much does MJD have left in the tank for the Jags? Can a return "home" this weekend rejuvenate him?
DiRocco
: That is a good question, because there is some uncertainty regarding whether MJD can again reach the level at which he played in 2011, when he led the NFL in rushing. He did miss 10 games last season with a foot injury. Nobody expects him to rush for 1,600 yards but he does need to be a 1,000-yard rusher for this offense to be effective and help take a load off Gabbert/Henne. Another thing to consider is that Jones-Drew is in the final year of his contract. He'll need prove that at 28 he's still one of the league's better backs in order to have a chance to sign the kind of deal he wants -- whether it's in Jacksonville or elsewhere. Speaking of running backs coming off an injury, hasn't that been the biggest knock on
Darren McFadden
? What kind of odds would you give on him playing all 16 games?
Gutierrez
: Ouch. The biggest knock on Run DMC has been his inability to stay healthy throughout his career. He has never played in more than 13 games in any of his first five seasons and he has missed 23 games in his career. He insists he's not injury-prone, though, and that each injury is a freak occurrence. Maybe, but based on his track record, it's not a question of if McFadden gets hurt but when, and how the Raiders are equipped to deal with his absence. Harsh? Maybe, but also true. And based on that history, odds are low that he'll play all 16 games this season. Then again, he is in a contract year. And after being neutralized last week by the Colts to the tune of 48 yards on 17 carries, what better time for him to get going than against the Jags? In two career games against Jacksonville, McFadden has carried the ball 35 times for 176 yards.