AFC South:

2013 NFL Week 3 Double Coverage
September, 20, 2013
9/20/13
12:00
PM ET
The Tree Bowl is upon us.
In one of the more intriguing matchups of Week 3, coach
Jim Harbaugh
and his
San Francisco 49ers
will host quarterback
Andrew Luck
and the
Indianapolis Colts
-- and their new running back
Trent Richardson
.
This is a homecoming for Luck and a reunion for both men. Luck played for Harbaugh at nearby Stanford. They were the toast of college football, and Harbaugh played it into a job with the 49ers after the 2010 season. Luck stayed on The Farm another year and had a brilliant rookie season last year.
However, there is much more than the Harbaugh-Luck angle in this game, as both 2012 playoff teams are coming off a loss in Week 2. Colts' reporter
Mike Wells
and I discuss the matchup in Double Coverage:
Wells:
Quarterback
Colin Kaepernick
looked like he was more than a read-option quarterback when he threw for 412 yards in Week 1, but he was back to normal against Seattle, only throwing for 127 yards. Which game is the real Kaepernick -- the Week 1 performance or Week 2 at Seattle?
Williamson:
I think he has shown the real Kaepernick is much closer to the one we saw against the Packers. The Seattle game was Kaepernick's worst in his 12 NFL starts. Kaepernick is still inexperienced and still growing. I think he will learn from the Seattle game. Plus, the Colts' defense is beatable in the air and on the ground. Kaepernick will likely bounce back. I expect to see Kaepernick have some success on the ground, similar to the success Oakland's
Terrelle Pryor
had against the Colts in Week 1.
Wells:
Kaepernick will be a problem for the Colts. The only time the Colts had the answer for Pryor was when he decided to try to beat them with his arm instead of his feet. The Colts intercepted him twice, but I don't see them having that same kind of success against Kaepernick. He's a better runner and definitely a better passer than Pryor. You obviously cover Kaepernick on a daily basis, you know about Luck and you were in Seattle this week. Do you think the 49ers' quarterback deserves to be mentioned in the same breath as Luck,
Russell Wilson
and RG III?
Williamson:
Oh, I'm a big Luck fan. As far as I'm concerned, the question should be whether the other young quarterbacks deserve to be mentioned in the same breath as Luck. Yes, he is a different quarterback than the other young stars. But this is what Luck has that will never go out of style -- he is a great pocket passer. He is a traditional star who would have been dominant in any era he played. I fancy myself as someone who stays grounded and doesn't speak bombastically about analysis. With that said, on the night Luck was drafted, I predicted his career will end with a ceremony in Canton, Ohio. I truly believe that and look forward to seeing him play in person for the first time Sunday.
Wells:
Of course, this game became much more than Harbaugh and Luck when the Colts made the blockbuster deal for Richardson with Cleveland on Wednesday. Will the 49ers prepare as if they'll be facing Richardson on Sunday, or will they go in with the mindset that it'll be
Ahmad Bradshaw
and
Donald Brown
, since Richardson will only have two practices and a walk-through to learn Indianapolis' system?
Williamson:
It definitely changed the 49ers' week. They are in a tough spot. They made their plan for the Colts and were actually executing it on the practice field for the first time when the trade went down. I don't think the 49ers totally changed their game plan because of the trade. But it altered it. Coaches suddenly had to watch film of Richardson and make adjustments. Because Richardson is a running back, I expect to see him a lot Sunday. He doesn't need a lot of time in the playbook. The Colts gave up a first-round pick for Richardson so they can win now. They will start using him when they can, and I'd think that will start Sunday. But the 49ers are good against the run. They were fourth in the NFL last season. They will attack this curveball with confidence.
Wells:
Anything Richardson can give the Colts will be an upgrade over Brown, a former first-round pick who hasn't lived up to expectations. Bradshaw is still rounding into shape after not playing in the preseason, so having Richardson share some of the snaps with him will help the Colts' running game and hopefully open the passing game for Luck. The Colts are dealing with their fair share of injuries, losing starting tight end
Dwayne Allen
for the season. How big of a loss is nose tackle
Ian Williams
on defense for the 49ers?
Williamson:
It hurts, but it's not devastating. Injuries happen to every team. Williams is a nice player and he was coming into his own. Free-agent pickup
Glenn Dorsey
was rotating with Williams. Now Dorsey is the starter. I think the 49ers will survive this injury as long as Dorsey stays healthy. There is not much depth behind him.
Wells:
The Colts will test Dorsey, because Bradshaw and Richardson are both straight-ahead backs who run like they're angry at somebody. So much is being made about the Luck-Harbaugh reunion, but the real reunion is between brothers Vontae and
Vernon Davis
. Do you think Vernon will play with a purpose because his kid brother is on the field?
Williamson:
It's really interesting, Mike. Vontae has been in the league since 2009, but this will be the brothers' first meeting. The Dolphins played the 49ers the year before they drafted Vontae, and they played the 49ers last season, shortly after dealing Vontae to the Colts. Vernon has been out of practice with a hamstring tweak. However, he has indicated he will play. I fully expect him out there. Vernon is a prime-time guy, and playing against his little brother will get his juices flowing. And of course, Harbaugh can tell Vernon all about the intensity of going against a sibling.
September, 20, 2013
9/20/13
12:00
PM ET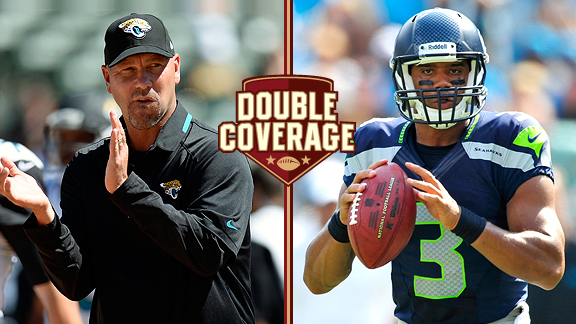 Getty ImagesWill Jaguars coach Gus Bradley, the ex-Seattle defensive coordinator, find a way to stop Seahawks QB Russell Wilson?
This is as close to a David versus Goliath matchup as you can get in the NFL, but it will take more than a slingshot for the
Jacksonville Jaguars
to knock over the
Seattle Seahawks
Sunday at CenturyLink Field. However, it marks the return to Seattle for Jaguars coach Gus Bradley, the former defensive coordinator for the Seahawks who left at the end of last season to take the Jacksonville job.
Terry Blount
: Michael, no one knows the ins and outs of the Seattle defense better than Gus Bradley. He's the man who built a defense that many people consider the best in the league. Do you think his knowledge of the Seahawks' schemes and players will help the Jaguars this week?
Michael DiRocco:
Bradley's knowledge of the personnel and their strengths and weaknesses will certainly help, especially when it comes to the secondary. He also knows the best way to attack the defense and should be able to school offensive coordinator Jedd Fisch on tendencies. With that being said, Seahawks coach Pete Carroll and defensive coordinator Dan Quinn are aware of that and will make some changes this week to counter. The bottom line is this: It doesn't matter if the Jaguars know exactly what's coming if they don't have the personnel to stop it or fail to execute properly. Right now the team just doesn't have a lot of talent, and the talent the Jaguars do have on offense is either banged up (
Maurice Jones-Drew
,
Marcedes Lewis
) or suspended (
Justin Blackmon
). Plus, the offensive line has struggled, giving up 11 sacks in two games. Jacksonville has scored just one touchdown in two weeks because of those issues and poor execution. I've always thought knowing what's coming on any given play is overrated, anyway. Everybody knew Nebraska was going to run the option but they couldn't stop it. Sometimes defenses played it perfectly and still got gashed for big yards. Why? The Huskers had better personnel.
Terry,
Russell Wilson
has had slow starts the first two weeks of the season. Is there a reason for that, and what can he or offensive coordinator Darrell Bevell do to fix it?
Blount:
I think they will fix it, Michael. The main thing that has slowed Wilson down has been a slew of penalties -- false start, illegal formations, illegal procedure and holding. There have been several times in the first two games where Wilson was driving the team down the field, only to have the progress halted by penalties that backed the team up. They won't eliminate all the holding calls, of course, but I expect to see a lot less of the careless penalties this weekend. Pete Carroll is fed up with it and made it a point of emphasis this week. But Wilson also has missed throws earlier in games that he usually makes, something I doubt will continue.
Michael, statistically speaking, this is a huge mismatch with the worst offense (Jacksonville) going against the best defense (Seattle). What could make this a close game?
DiRocco:
The biggest factor will be turnovers. The Jaguars would have to get at least three, and most of them would need to be in Seahawks' territory. This offense isn't going to be able to put together 70- or 80-yard drives against that defense, especially if Jones-Drew is limited because of his ankle injury. The Jaguars will need some short fields with which to work. And they need to capitalize on those turnovers with touchdowns. Field goals won't get it done. If the Jaguars can get 14 or more points off turnovers, they'll have a chance. That's not going to be easy, though. The Seahawks have forced 25 turnovers at home since the start of the 2012 season and their plus-18 turnover margin in that span leads the NFL. That means they've turned it over only seven times in nine home games.
Terry, the 12th man set a world record against San Francisco the other night. Is their effect on opposing teams overrated?
Blount:
I used to think it was a bit overblown, but I don't now. There's absolutely no question that crowd was a factor in Seattle's victory Sunday night against San Francisco. It's just electric in the stadium. The noise level drives the opposing offense crazy and clearly limits its effectiveness. When the Seahawks weren't very good, the crowd probably wasn't as big a deal, but this city has gone Seahawks crazy and the team feeds off it.
Michael, Bradley inherited a difficult situation in Jacksonville. How do you think he's handling things so far and what's the general feeling about him there?
DiRocco:
Bradley has been consistent in terms of staying upbeat and positive, and that's just the way he has to handle things in 2013. This is not a very talented team. It's not going to win many games. Bradley knows that. The GM knows that. The smart fans know that, too. He's concentrating on laying the foundation for what everyone hopes will only be a three-year rebuilding project. His biggest task this season will be making sure he doesn't lose the team as the losses pile up, and keeps the players focused on improving. So far, so good.
Terry, do you think it's possible the Seahawks could get caught looking ahead to the Texans game next week in Houston?
Blount:
Pete Carroll talked about this Monday, saying the Seahawks look at each game as a championship opportunity. Everyone says that, of course, but I think it works for this team. They realize they are in position to possibly win a championship this season, but one careless slip-up could cost them home-field advantage in the playoffs. And in this case, I think the coaches will emphasize how familiar Bradley is with the way the Seahawks do things, so they don't get caught off guard.
September, 19, 2013
9/19/13
12:00
PM ET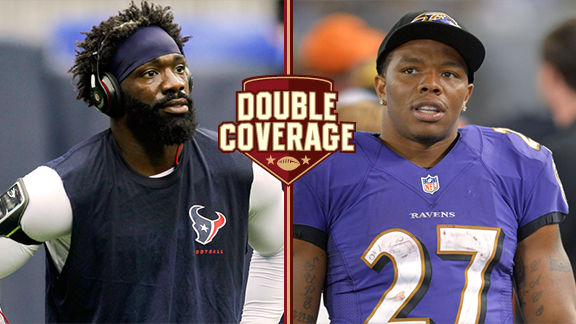 Getty ImagesEd Reed returns to Baltimore for the first time as a Texan, while Ray Rice looks to improve from his slow start.
Sunday's AFC showdown between the
Houston Texans
and
Baltimore Ravens
features the return of safety
Ed Reed
to Baltimore. Reed went to nine Pro Bowls during his 11 seasons with the Ravens and was named NFL Defensive Player of the Year in 2004. He has missed the first two games of the season because of his surgically repaired hip and would make his Texans debut if he plays.
While there will be plenty of attention placed on the reunion with Reed, this game will factor into how the balance of power in the AFC shakes out. The Texans (2-0), one of five undefeated teams in the AFC, are the first team since the merger in 1970 to win each of their first two games of a season on the final play of the game. The Ravens (1-1), the defending Super Bowl champions, are trying to get back on track after getting routed by the
Denver Broncos
and struggling to beat the
Cleveland Browns
.
Texans team reporter Tania Ganguli and Ravens team reporter Jamison Hensley discuss how this emotional and pivotal game will unfold.
Hensley:
The big storyline heading into this game is whether Reed will play. Like Ravens coach John Harbaugh, I would be surprised if Reed sat out this reunion game. But it was only three years ago when Reed underwent a procedure on his hip while with the Ravens and missed the first six games of the season. When Reed returned, he picked off two passes in his first game and eventually led the NFL in interceptions despite playing just 10 games. If Reed plays, how much of an impact can he make in his first game with a new team and a new defense?
Ganguli:
Anything can happen when Reed plays. He'll have a lot of free rein when he returns, as he's helped not just his teammates but also given coaches advice. The Texans are being cautious with him. He had a blood-spinning procedure done three weeks ago that has a range of results in patients. Reed said it helped his hip feel better. He also said this hip injury feels more mild than the surgery he had three years ago. He practiced more last week than he did before the Texans' season opener against the
San Diego Chargers
, so he is progressing toward playing.
Texans coach Gary Kubiak said last week that if Reed does play, the Texans don't plan on starting him in his first game back. They'll use him in certain defensive packages and continue to start
Shiloh Keo
. Asked about it this week, though, Kubiak said he would listen to Reed's evaluation of his health.
Reed isn't the only legacy gone from the Ravens' defensive roster. How has that changed Baltimore's defense?
Hensley:
The two longtime faces of the Ravens defense will be there at M&T Bank Stadium, but both won't be wearing purple. Reed is on the other sideline, and
Ray Lewis
will be inducted into the Ring of Honor at halftime. The Ravens have seven different starters from the defense that lined up against -- and got beaten up by -- the Texans last October.
The biggest improvement has been the Ravens' run defense, especially with
Daryl Smith
in the middle. This is key because the Ravens gave up 98 yards and two touchdowns to
Arian Foster
in the last meeting.
Baltimore also upgraded its pass rush with
Elvis Dumervil
, but there are questions in the secondary. The Ravens have already benched cornerback
Corey Graham
and safety
Michael Huff
and replaced them with cornerback
Jimmy Smith
and safety
Matt Elam
.
Talking about new looks, how much has rookie receiver
DeAndre Hopkins
-- whom the Ravens liked in the draft -- helped the Texans passing game?
Ganguli:
Hopkins had a breakout game in Week 2, catching seven passes for 117 yards and scoring the game-winning touchdown. He wears size 3X gloves, only one size smaller than
J.J. Watt
, who is four inches taller and 70 pounds heavier than Hopkins. Those big hands give him the confidence to catch with his hands and not worry about bringing the ball into his body. Because of that, Hopkins is excellent on contested catches.
Getting to the heart of your question, though, Hopkins' impact will be big this season. He finally gives the Texans a complementary threat to
Andre Johnson
. Quarterback
Matt Schaub
became more confident in Hopkins through the game, especially when Johnson left with a concussion and he had to. That trend will continue during the season. The Texans threw to Johnson more than all their other wide receivers combined last year, and that will surely change this season.
Sticking with offense, what would be the impact of not having
Ray Rice
if his injury prevents him from playing?
Hensley:
Rice injured his hip toward the end of the Ravens' not-so-thrilling win over the Browns. He will likely be questionable for Sunday's game against the Texans. He's always been a big factor in the Ravens offense. Rice was one of three running backs last year (with
Doug Martin
and
C.J. Spiller
) to produce more than 1,000 yards rushing and 400 yards receiving. The Ravens are 37-6 when Rice gets at least 15 carries.
The problem is the offensive line hasn't opened many holes for Rice, who is averaging 2.9 yards per carry. Backup running back
Bernard Pierce
has been the more physical back and has broken more tackles than Rice this season. The Ravens need to establish the run because they've lost too many weapons -- wide receiver
Anquan Boldin
was traded, tight end
Dennis Pitta
is on injured reserve and wide receiver
Jacoby Jones
is sidelined -- to rely solely on the passing game. Any chance the Ravens' ground game can come to life against the Houston front seven?
Ganguli:
The Texans' front seven has played inspired football in spurts this season, especially inside linebacker
Brian Cushing
, whose play is showing just how much he missed being out there for most of last season. The Texans gave up an 80-yard touchdown drive to start the third quarter against the San Diego Chargers but contributed to the biggest comeback in franchise history by allowing just 10 yards the rest of the game. In Week 2,
Chris Johnson
had only five rushing yards in the third quarter and 19 in the second half.
On one hand, the Texans defense hasn't put together a complete game yet. On the other hand, it's been excellent with halftime adjustments. Even if the Ravens get going early, there's a strong chance that won't last.
A big part of that is Cushing, who has resumed his position as a leader on the defense. We talked about the on-field differences on the Ravens defense, but has anyone filled the leadership void?
Hensley:
The Ravens' leadership in the past came from the veterans, like Lewis, Reed and Boldin. This team is going to rely on the likes of
Terrell Suggs
, Dumervil and
Lardarius Webb
. Suggs has taken over Lewis' role as the vocal leader, and I can see Webb becoming a more behind-the-scenes influence like his mentor Reed. The Ravens offense has strong character players such as Rice and wide receiver
Torrey Smith
.
Suggs and Dumervil have made a similar impact on the field. Last year against the Texans, Suggs played his first game since tearing his Achilles. Now, fully recovered, Suggs looks even better than before because he is in the best shape of his career. Dumervil has been just as disruptive and destroyed right tackle
Mitchell Schwartz
last week. They've each had a sack in the first two games. How are the Texans tackles going to hold up against these Ravens' edge rushers?
Ganguli:
That will be an interesting thing to watch in this game.
Derek Newton
is new as the Texans' starting right tackle this year, and left tackle
Duane Brown
thinks he could be a game-time decision after suffering a turf toe injury against the
Tennessee Titans
. Losing Brown would be damaging to the Texans, who rely on him to win one-on-one matchups. Another matchup to watch is the kicking game.
Hensley:
One of the biggest surprises last season was the consistent kicking from
Justin Tucker
, who hit 30 of 33 field goals. The biggest surprise Sunday was Tucker's inconsistency, missing twice wide right after only missing once in Baltimore as a rookie. Tucker isn't worried, and a short but strong body of work doesn't have the Ravens panicking either. But given all the injuries on the Ravens offense, they can't afford for Tucker to be off his game. It seems like the Ravens aren't the only team having a problem with a kicker.
Ganguli:
Randy Bullock
has struggled in his first two games, making only one of five attempts. They haven't been easy attempts, none shorter than 40 yards and three longer than 50, but the Texans know he has the leg for making those. It might help his confidence if he was put in the position to kick shorter field goals. Though fans are upset, the Texans aren't giving up on him. Why would they? He's only two games into his NFL career, having spent his rookie season on injured reserve.
September, 19, 2013
9/19/13
12:00
PM ET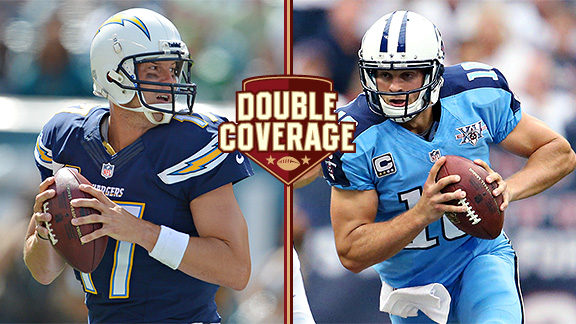 USA TODAY SportsJake Locker, right, will try to keep up with Philip Rivers and the Chargers, who have scored 61 points through two games.
The
San Diego Chargers
are the Tennessee Titans' white whale.
The teams don't play that frequently -- just nine times since 1993, including a wild-card playoff matchup in January 2008. The franchises have undergone all sorts of changes during that span, but one thing has remained consistent when they meet: The Chargers always win.
Bill Williamson, why do you think that is, and what are the odds it continues?
Bill Williamson:
I don't see the Chargers' history with the Titans being a factor. I know in Nashville the word "Chargers" makes fans cringe because of the history. Both teams are rebuilding and trending upward. These are two similar teams, and they will both be in the AFC conversation in the coming years.
The Titans made a lot of changes. This isn't the team the Chargers beat 38-10 last September. What's the biggest difference?
Paul Kuharsky:
The central part of the offseason revamp was the offensive line. The Titans have three new starters on the interior with left guard
Andy Levitre
, center
Rob Turner
and right guard
Chance Warmack
. Turner has been shaky, however, and Warmack is a rookie who is going to take some lumps when he's across from someone like
J.J. Watt
. The group hasn't jelled yet, but the run-blocking has been pretty good.
We've seen the good
Philip Rivers
and the bad Philip Rivers over the years. With the new regime in place, what is your feeling on who he will be now?
Williamson:
I might be the wrong person to ask, Paul. I've always been high on Rivers. Yes, his play sank the past two seasons and he committed 47 turnovers during that span. But it wasn't all on him. The previous regime in San Diego let go of a lot of skill-position talent, and the offensive line was decimated by injuries. Rivers didn't have much help. He was pressing as a result. So far under head coach Mike McCoy, offensive coordinator Ken Whisenhunt and quarterback coach Frank Reich, Rivers has looked re-energized. He has looked relaxed and confident over the first two weeks. He has shown that he is still a high-level player. Stopping him is the main challenge for the Titans.
How's
Jake Locker
coming along?
Kuharsky:
He made a bad throw on a crucial third-and-1 late in regulation in the loss to the Texans. The Titans have hardly turned him loose so far. But since the start of camp, he's shown steady progress. I'm not a complete believer by any means, but I think he has a chance and I didn't always feel that way. We still haven't seen some aspects of the offense that should be featured for him. Maybe this week he'll run around more and we'll see more boots and rollouts.
I'm curious about one of the guys who will be chasing Locker. The Titans have seen a great deal of
Dwight Freeney
over the years. How has he fit in the defensive scheme there?
Williamson:
An old foe, indeed. Freeney is in a tough spot. He was signed (and paid well) to be the Chargers' primary edge pass-rusher after 2012 first-round pick
Melvin Ingram
blew out his knee in May. But at 33, Freeney is best suited as a rotational player. He has half a sack this season. He has been active and will give his best effort, but he needs help. It would be a stretch to think he can still be a premier player. But he knows the Titans, and I'm sure he will be motivated to perform well Sunday.
What can Rivers and the Chargers' offensive line expect from the Titans' pass rush?
Kuharsky:
The best guys so far haven't been the ends.
Derrick Morgan
,
Akeem Ayers
and
Kamerion Wimbley
should key the rush. Ayers moves from stongside linebacker to end on rush downs but has been limited by a bad ankle. Tackle
Jurrell Casey
and weakside linebacker
Zach Brown
have been the best rushers so far. The fronts are less predictable and the blitzes more frequent. That's the influence of defensive assistant Gregg Williams. This defense is far better than I expected.