AFC South:

2013 NFL Week 9 Double Coverage
November, 1, 2013
11/01/13
12:00
PM ET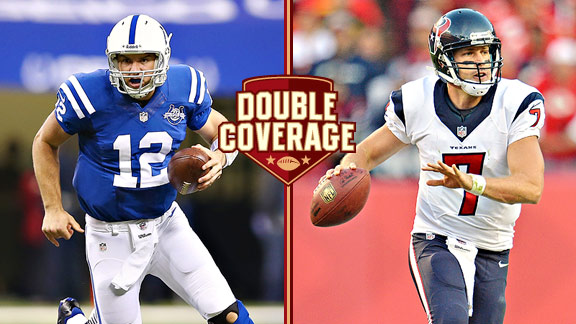 Getty ImagesAndrew Luck will be without Reggie Wayne and Case Keenum will be making his second NFL start.
During an unexpectedly poor showing in the first seven games of the season, the
Houston Texans
played only one AFC South opponent and beat that team.
That's the upside about the Texans' start. The downside for Houston is that during that malaise, the
Indianapolis Colts
returned to the top of the division and joined the league's elite. The Colts enter this game with a two-game lead over the
Tennessee Titans
, who are second.
Both teams come off a bye week that followed a game in which they lost an important veteran --
Brian Cushing
for the Texans and
Reggie Wayne
for the Colts. Both teams are now about to enter a stretch in which they play five divisional games. The landscape of the AFC South could change dramatically.
Colts reporter Mike Wells and I take a look at this week's matchup.
So Mike, how big of an impact will losing Wayne have on the Colts' offense?
Wells:
I think the Colts will be fine for now without Wayne. They'll still win the AFC South -- it helps having a two-game lead -- because there aren't any teams in the division that can close the gap and the Colts don't have a tough schedule the rest of the season. It's in the playoffs that the Colts will miss Wayne's leadership and playmaking ability. He's been quarterback
Andrew Luck
's security blanket the past two seasons. Wayne is irreplaceable in the locker room and on the field.
Speaking of impacts, what type of impact do you think quarterback
Case Keenum
will have on the Texans?
Ganguli:
Keenum opened up the Texans' passing game two weeks ago. They threw just one fewer deep pass in that game than they had in the four previous games combined. It's one area where Keenum is especially solid. He's also really impressed Texans teammates and coaches with his confidence, moxie (a word defensive coordinator Wade Phillips used) and poise. I would have excused him being rattled against a fierce Kansas City defense and crowd, but he wasn't. He was able to make plays off schedule. He completed 15 of 25 passes for 271 yards and one touchdown. It has seemed easy for him to step into a leadership role.
What kinds of challenges will the Colts' defense pose for Keenum specifically?
Wells:
You can expect linebacker
Robert Mathis
to be licking his chops with Keenum at quarterback. Mathis leads in the league in sacks with 11.5. He's one of the leaders for Defensive Player of the Year. Safeties
Antoine Bethea
and
LaRon Landry
, who are interchangeable, will try to confuse the young quarterback by disguising their coverage on him.
Vontae Davis
and
Greg Toler
are gambling cornerbacks, so expect them to try to make Keenum pay for every mistake he makes.
Is there one reason in particular that the Texans have struggled this season? Many people thought they would be Super Bowl contenders this season.
Ganguli:
There have been a few factors. Turnovers have been a big part of it. The Texans' turnover margin is among the worst in the NFL right now at minus-11. Two weeks ago against the Chiefs was the only game in which the Texans' turnover margin wasn't negative. They hadn't been creating many and had been giving up the ball to an excessive degree. One other key area to examine is the red zone. Offensively and defensively, it hasn't been especially productive for Houston this season.
Wrapping things up here, Luck is a familiar face around Houston, having played football at Stratford High School. He took a beating last time he came to Houston with
J.J. Watt
notching three sacks as the Texans clinched the division. How has his protection been this year and how has that impacted his performance?
Wells:
Improving the offensive line was at the top of the list for the Colts after Luck was sacked 41 times last season. They've been hit with some injuries along the line this season. Starting guard
Donald Thomas
was lost for the season in the opener with a torn quad and center
Samson Satele
has dealt with some injuries. Despite these issues, the Colts have done a better job of protecting Luck. He's been sacked only 15 times this season. But the Colts will have their hands full against a Texans defense that has "game-wreckers all over the place," according to coach Chuck Pagano. I can't let you get out of here without talking about running back
Arian Foster
. Why is he averaging only 77.4 yards a game this season?
Ganguli:
The Texans began the season limiting Foster's carries because he missed training camp while recovering from two injuries. The fact the Texans have found themselves in deep deficits has also hurt Foster's numbers. They just aren't running the ball as much as they did last season when they were playing with leads. He's had two 100-yard games this season and one 98-yard game. He rushed for 141 yards against the
St. Louis Rams
, which boosted his average. But the Texans' last game significantly depressed it. Foster gained only 11 yards after an early hamstring injury forced him from the game and limited him to just four carries.
October, 31, 2013
10/31/13
12:00
PM ET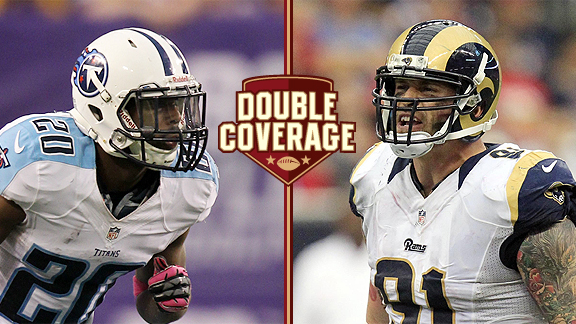 USA TODAY SportsTitans CB Alterraun Verner and Rams DE Chris Long are two of the league's best at their positions.
.
Any time the
St. Louis Rams
and
Tennessee Titans
meet, memories of Super Bowl XXXIV are sure to come to the fore. In one of the greatest Super Bowl finishes of all time, the Rams emerged with their lone championship during their time in St. Louis.
A lot has changed since, but neither team has managed to get back to the promised land and it seems like a long shot either will this season. This week, the Rams and Titans renew acquaintances at the Edward Jones Dome in St. Louis. ESPN.com Rams reporter Nick Wagoner and Titans reporter Paul Kuharsky discuss some things worth watching, including an interesting role reversal for one of the key figures in that Super Bowl.
Wagoner:
Well, it's pretty obvious what the big story is going to be this week. Jeff Fisher is facing his former team for the first time since taking over as the coach in St. Louis. As is to be expected, Fisher is downplaying that whole angle, but you were around him a lot in his years in Nashville. Do you expect Fisher to have a little something extra for his old team this week?
Kuharsky:
It would be so much better if it were in Nashville. Then we'd have the crowd reaction as a part of it, too. Still, it's intriguing. He will definitely have something (or some things) drawn up that he feels will uniquely exploit the schemes and styles of his former underlings Mike Munchak, Jerry Gray and Gregg Williams. If those things work, I'd expect Fisher will then talk about how one of his assistants who was once in Tennessee -- Chuck Cecil, Dave McGinnis or even Ray Sherman -- was instrumental in the design. Fisher didn't leave with hard feelings, and I believe he wishes the organization well. Still, any proud former employee in this sort of circumstance wants to outperform the former employer. He's talked about it meaning more for the guys on the roster who were once Titans.
Jared Cook
had a monster opening day but has been quiet since.
Cortland Finnegan
missed some time hurt. What's the status of those guys?
Wagoner:
Cook has really struggled dealing with teams giving him more attention and, more specifically, being physical with him at the line of scrimmage and downfield. He stopped on a route last week against Seattle, and it resulted in an interception. The Rams have gone back to more of a power running scheme that has also limited his snaps because he doesn't bring much to the table as a blocker. Finnegan won't say it, but I believe he was banged up at the beginning of the season; his first four games were downright brutal. He returned last week against Seattle, and for now he's working exclusively in the nickel as the team's third corner rather than just bumping inside in those situations. Given that he's only a little more than a year into a monster contract, it's hard to categorize him as anything but a disappointment for the price.
A lot will be made of the Fisher-Tennessee connection, but I'm more intrigued by the Gregg Williams situation. The way things went down with him and the Rams, and between Williams' son Blake and the Rams, had to have created some tension on all sides. What has Williams' impact been down there in Tennessee, and what exactly is his role?
Kuharsky:
By title, he's senior assistant/defense. In practice, he's not-quite defensive coordinator. Gray is still calling the plays, but Williams' influence is undeniable. This defense had no personality or attitude last season. Now it's the backbone of the team. It mixes it up and disguises its looks up front, it blitzes more often and it plays far more man-to-man.
Bernard Pollard
has been a great fit who has talked with swagger and backed it up. Some guys most people have never heard of -- defensive end
Ropati Pitoitua
and middle linebacker
Moise Fokou
-- have been very good additions. Williams certainly had a say in bringing those guys in. He has stayed in the background and seems comfortable there. I would imagine he and Gray are excited to put together a plan to make
Kellen Clemens
uncomfortable.
How do you think Clemens will respond in his second start since
Sam Bradford
went down?
Wagoner:
To paraphrase one of the great philosophers of our time, Mr. Dennis Green, Clemens proved last week against Seattle that he is what we thought he was. He's a tough, gritty, consummate professional who can occasionally extend plays with his legs and make something happen. He's also consistently inaccurate, a bit indecisive and has a knack for costly turnovers (though his two interceptions Monday night weren't completely his fault). Another week to work with the starters should help, but he was a bit sore after Monday night's game against Seattle. The Rams don't need him to throw for 300 yards and five touchdowns, but they do need him to convert in the red zone and not turn the ball over.
There are something like 16 players from the Fisher era remaining in Tennessee, one of whom is running back
Chris Johnson
. The Rams have been better defending the run the past two weeks, but they need to prove they can keep doing it. It appears Johnson has struggled after the team made efforts to help him in the offseason. What's going on with Johnson, and is he (and the Titans' offensive line) capable of taking advantage of the Rams' run defense?
Kuharsky:
The Titans are built on a philosophy of throwing it when they want to, not when they have to. That's a mistake because the revamped line and Johnson are not equipped to run it they way they think they can. Jets fans get a kick out of this, but to a large degree the Titans' hope things will get better comes from
Shonn Greene
. The bigger back was brought in as a compliment to CJ, but he got hurt in the opener and made it back only the week before the bye; he has hardly played. They need him to emerge and contribute. Based on current numbers, the Rams are the third-softest run defense the Titans will have seen this season. If they can't run Sunday, it will really speak to their issues.
Chris Long
and
Robert Quinn
looked really good against Seattle. Have they been giving everyone problems like that?
Wagoner:
Quinn certainly has. Through the first half of the season, he's really starting to realize his immense potential. I believe he's the Rams' best player right now, and have felt that way since the beginning of the season. He's an athletic freak who gives slower tackles problems. He feasts on inferior players, but he can get it done against good tackles as well. Long was banged up earlier in the season but has battled through it and is starting to find his stride. Given the situation on offense right now, the Rams need this duo to take over games on a regular basis and set the tone for a defense that, before last week, had largely disappointed this season.
.