AFC South:

2013 Week 1 Upon Further Review AFC
September, 10, 2013
9/10/13
11:19
AM ET
A review of four hot issues from the Houston Texans' 31-28 win over the San Diego Chargers:
Mental toughness
: Just how sure were the Texans that they were going to win last night's game?
Midway through the third quarter, safety
Danieal Manning
and inside linebacker
Brian Cushing
started chatting about another improbable comeback from years ago. That one was during Manning's rookie year in 2006, when he played for the Bears. You'll remember that as the game that led to then-Arizona Cardinals coach Dennis Green ranting that the Bears "are who we thought they were."
[+] Enlarge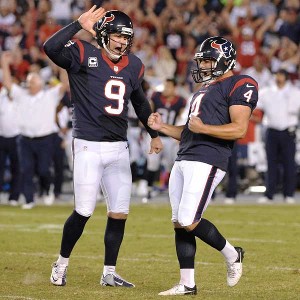 Robert Hanashiro/USA TODAY SportsHouston Texans kicker Randy Bullock and holder Shane Lechler celebrate Bullock's game-winning field goal as time ran out Monday night in San Diego.
Manning brought it up to Cushing as a reminder that these things happen. And because this game felt the same.
"Right in the middle of the third quarter, when it was about 28-14," Cushing said with a chuckle. "We just felt it. We felt that we could do it. Got it done."
With every player I spoke with after the game, I asked why this game was different than other times the Texans have faced big deficits. The answer most often was that this is a more mature team that has been through such adversity before. The Texans were accused of lacking mental toughness last season, and last night's game was a step toward proving that isn't true anymore.
While on the subject of accusations, the Texans turned another one on its head last night. I asked cornerback
Johnathan Joseph
if the Texans made a statement with the win: "Hopefully so, showing that we're a resilient team, we can come back and play from behind."
Vintage Dre:
Texans tight end
Owen Daniels
said he thinks
Andre Johnson
is actually getting better each year. Johnson had 146 yards on 12 catches, eight of which came in the second half as the Texans mounted their comeback.
It wasn't easy on his body
, but Johnson played like a kid again. He and quarterback
Matt Schaub
excelled when their team needed them the most.
About that first half:
The start of the game was about as bad as it could have gone for the Texans, and they can't ignore that. Last night's win wasn't just a case of coming from behind, it was the biggest comeback in franchise history. That requires a big deficit first.
"If we're mature enough to hang in there and win tonight, we have to be mature enough to know we didn't play very good, too," Texans coach Gary Kubiak said.
Every phase of Houston's game struggled. The Texans' offensive and defensive lines got outplayed, they only made it to the red zone once, they allowed 100 percent red-zone efficiency on three trips, and their average drive started 11 yards shy of where the Chargers did. And, of course, the first three plays of the game were a bobbled kickoff return, a Schaub interception, and a 14-yard touchdown pass from
Philip Rivers
to
Ryan Mathews
. Rivers finished the half with a 122.6 passer rating.
Third-down efficiency was big:
In the first half, the Chargers converted 63 percent of their third downs, often with big plays. In the first quarter, they converted a third-and-6 with a 17-yard pass to
Eddie Royal
, another third-and-6 with an 11-yard pass to
Danny Woodhead
and a third-and-7 with a 15-yard pass to
Antonio Gates
. In the second quarter, there was a 34-yard pass to Gates and a 10-yard touchdown pass -- both on third downs.
"Coming into halftime, that's what we were saying, we've got to get off the field on third downs," cornerback
Kareem Jackson
said. "It definitely swung the game in our favor tremendously."
Indeed, in the second half, the Chargers converted only two.
September, 9, 2013
9/09/13
12:30
PM ET
JACKSONVILLE, Fla. --
An examination of four hot issues from the Jaguars' 28-2 loss to the Chiefs:
Can Blaine Gabbert go this Sunday?
Gabbert suffered a cut on the top of his right hand that required 15 stitches to close, and that puts his status for Sunday's game at Oakland in doubt. Gabbert was able to play against the Chiefs despite still recovering from a fractured right thumb that he injured during the second preseason game. But this latest injury could be too much to overcome. Fifteen stitches is a significant number and means the cut was pretty substantial. Gabbert said the cut is near his pinkie finger, which means there shouldn't be too much strain on the area when he throws the ball. However, there's always a risk of tearing the cut open again. Gabbert said his thumb was not an issue against the Chiefs, but Sunday was by far the most pounding it took since it was injured. How it responds the next day or so will be telling.
[+] Enlarge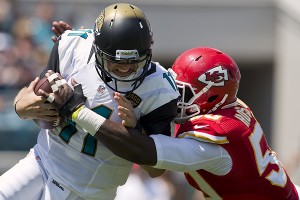 David Eulitt/Kansas City Star/MCT via Getty ImagesBlaine Gabbert faced consistent pressure from the Kansas City defense on Sunday.
Joeckel's poor debut:
It was likely a case of nerves and the fact that he was facing one of the AFC's best pass-rushers, but right tackle
Luke Joeckel
didn't look anything like a No. 2 overall draft pick. He gave up two sacks to
Justin Houston
, allowing the Chiefs linebacker to blow by with hardly any resistance. He also failed to execute a cut block on linebacker
Tamba Hali
, who ended up in perfect position to intercept Gabbert's screen pass and return it 10 yards for a touchdown. Hali was right in Gabbert's sight line and Gabbert shouldn't have thrown the ball, but it was still a poor cut block. Coach Gus Bradley said Joeckel at times didn't follow his assignments and got away from fundamentals. That's a mistake of youth.
Playmakers have to emerge:
The offensive line struggled all day, which played a huge role in the offense's struggle (only 178 total yards) and was the main reason the Jaguars had few explosive plays. However, the Jaguars' top playmakers weren't able to get loose and make big plays, either.
Maurice Jones-Drew
gained 45 yards on 15 carries, but he had 19 yards on two of those carries. That means he averaged 2.0 yards per carry on his remaining 13 carries.
Cecil Shorts
finished with three catches for 40 yards, but he didn't have his first catch until midway through the fourth quarter. Not having tight end
Marcedes Lewis
(calf) was unfortunate because he would have helped as a blocker, and his presence as a receiver in the middle of the field would have given Gabbert a matchup the Jaguars could have exploited.
Secondary was solid:
There was a blown coverage on one touchdown pass, but overall, rookie cornerback
Dwayne Gratz
and rookie safety
John Cyprien
played pretty well in their professional debuts. Both had three tackles, and Cyprien had one of the Jaguars' four quarterback hits. Certainly one of the day's few bright spots.
September, 9, 2013
9/09/13
12:30
PM ET
INDIANAPOLIS --
An examination of four hot issues from the Indianapolis Colts' 21-17 win against the Oakland Raiders:
[+] Enlarge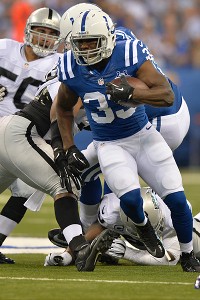 AP Photo/Doug McSchoolerThe Colts' running game, led by Vick Ballard, showed promise against Oakland.
Maybe the Colts can run after all:
What was lost in the all the talk of the Colts' fourth-quarter comeback and
Terrelle Pryor
's creativity was Indianapolis' ability to run the ball, and I'm not talking about quarterback
Andrew Luck
's 19-yard touchdown run to win the game. The Colts, who talked about a balanced attack all preseason, rushed 26 times and attempted 23 passes. That likely won't happen too many times this season.
Vick Ballard
gained 4.8 yards a carry on his 13 rushes.
Ahmad Bradshaw
added 26 yards on seven attempts. Don't be alarmed by Bradshaw's yards and attempts. The plan all along was for him to get a limited number of snaps because he sat out the entire preseason rehabbing his foot from offseason surgery. He'll get better as the season progresses. "We blocked up some things and Vick hit some holes, and you saw what Ahmad can do in a limited amount of snaps and exposure," coach Chuck Pagano said. "I know we probably left some yards out there and we had some times, some penetration that we've got to clean up, where we had some negative plays because of hits in the backfield."
Luck throws under pressure:
The Raiders were able to sack Luck four times. He faced five or more pass-rushers on 15 of his 31 drop backs -- the third-highest rate of his young career. Luck was on target when he was able to get the ball off. He was 11-of-12 for 99 yards and seven first downs when facing five pass-rushers. Luck completed only 50 percent of his attempts for seven touchdowns and five interceptions when facing at least five pass-rushers last season. Luck can expect more pressure this weekend against the Miami Dolphins; they had six sacks and three interceptions against the Cleveland Browns on Sunday.
Landry will make an impact:
Some people made a big deal about Pryor giving Colts safety
LaRon Landry
a good stiff arm on his 26-yard run in the third quarter. That wasn't a big deal. What was, though, was Landry having a presence all around the field. He had a game-high 15 tackles, including 10 unassisted. Landry's best tackle came when he caught Raiders tight end
Jeron Mastrud
from behind on his 41-yard catch and run that could have put Oakland ahead in the final minutes of the game. The drive -- and any chance of the Raiders winning -- ended when
Antoine Bethea
intercepted Pryor with 31 seconds left.
Wayne still producing:
As good as the offense could be this season -- and it should be really good with the weapons surrounding Luck -- one thing remains certain:
Reggie Wayne
will continue to be the primary target until he starts showing signs of slowing down. Wayne caught three passes on the Colts' opening 10-play drive, which ended with his 12-yard touchdown catch on a perfectly thrown ball from Luck in the corner of the end zone. Wayne, who has caught at least one pass in 113 straight games, had five catches by the end of the Colts' second drive, which put them ahead 14-0. He had only three more catches the rest of the game. One was a third-down grab on the Colts' game-winning drive.
September, 9, 2013
9/09/13
12:00
PM ET
An examination of four hot issues from the Tennessee Titans' 16-9 win against the Pittsburgh Steelers:
The defensive mentality:
As the 2012 season ended, the Titans were already talking about the need to be more aggressive. Then Mike Munchak brought in Gregg Williams as a senior assistant/defense.
[+] Enlarge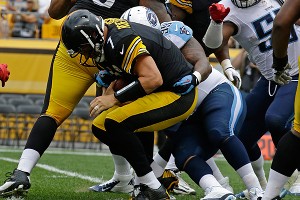 AP Photo/Gene J. PuskarJurrell Casey and the Titans sacked Pittsburgh's Ben Roethlisberger five times in Week 1.
Munchak emphasized that defensive coordinator Jerry Gray called the Pittsburgh game. And the Titans didn't go crazy with blitzing the way Williams's defenses have in the past.
But the defense was well-prepared to keep
Ben Roethlisberger
hemmed in the pocket. The Titans sacked him five times. Though the Steelers found some plays to
Emmanuel Sanders
,
Antonio Brown
and Jericho Cotchery, the biggest pass play was 22 yards.
Williams' influence and the swagger he brings seemed to be at work, at least to a degree. As I've said before, Gray is in a no-win situation. We'll look at improvements because of Williams, and if they are bad we'll say it's the same old stuff.
Jake Locker's poise:
One of his biggest issues has been his desire to do too much. So one of the Titans' biggest goals has been to shape a team that can shape games where he doesn't feel like he has to overreach. And he didn't overreach in Pittsburgh.
He was calm and efficient. He misfired a few times. But we've said in the right sort of context he could be a bit like former Titans quarterback Steve McNair, where the numbers don't always look as good as the quarterbacking.
That was the case here. Locker did his part.
I think his confidence grew through a preseason where he showed steady improvement. And I am sure it will grow some more from helping engineer a tough win in a tough place against a tough defense.
Three tight ends:
The Titans used a three-tight-end formation quite a bit, mostly with
Damian Williams
on the field as the lone receiver and a running back behind Locker.
It was pretty effective, but going forward the Titans will have to do more to show they can be balanced when
Delanie Walker
,
Craig Stevens
and
Taylor Thompson
are on the field together.
By the count of Terry McCormick of Titan Insider, the Titans gave up a sack and threw just twice in
17 snaps
with three tight ends, some of which was with Williams and a back, and some of which was with two backs. Locker threw incomplete once and connected on a 13-yard pass to wide receiver
Nate Washington
.
Williams said it won't be too predictable.
"Sometime in that formation, you've got three tight ends and a receiver, that's four eligible receivers that are capable of catching the ball," he said. "You do have to throw out of it to keep them honest."
Third-down defense:
The Titans gave up some third-and-long conversions in their preseason game in Cincinnati that were of particular concern. The Steelers converted third-and-8, third-and-9 and third-and-8, respectively, on their opening possession.
That left me thinking the Titans were going to have some serious issues. But they settled down and played really well on third down the rest of the way, allowing the Steelers to convert just one of 10 the rest of the game.
"We knew those weren't good on our part and those third downs were long, we weren't happy," cornerback
Alterraun Verner
said. "We came back to the sideline and said, 'We can't have that happen.' We were able to respond."