AFC South:

2013 Week 10 HOU at ARI
November, 10, 2013
11/10/13
11:10
PM ET
GLENDALE, Ariz. --
Houston Texans
safety
Ed Reed
didn't see much playing time again
on Sunday
against the
Arizona Cardinals
.
And as he watched as the Texans let another halftime lead, albeit a smaller one than last week, Reed had some thoughts.
I touched on this a bit in
my Locker Room Buzz
, but here is more context to Reed's thoughts on how the Texans played.
"Arizona played their best ball," Reed said. "We played really well outside of certain situations. Certain situations, we just got outplayed and outcoached."
Would he expand? He sure would.
"If you're watching the game, it's not no-brainers," Reed said. "Certain situations we have to get off the field. We need three-and-out. You have to also come out as an offense and move the ball. We can't go three-and-out and put your defense on the field that quick. That drive that they had, I'm looking at it like guys are a little fatigued because I know if you don't control the ball as much, offensively and defensively, you're going to get fatigued. They're going to get plays.
"Eventually, they're going to figure out what you're doing if you're doing the same old things."
Reed isn't the first person to address the Texans' predictability, but to hear a player say it is interesting.
He added that he would have liked to be on the field more and indicated that he stopped short of expressing his true feelings.
"I'm just doing what I'm told for the most part," Reed said. "At the same time, I know a lot of football. I know a lot about football. I know a lot about this game. I'm not just watching it blind. The stuff I do know, I can't say to you guys because it is a team sport and I do look at it from a coaching perspective as well. There's lots of soul searching, top to bottom, that needs to be done as coaches and as players."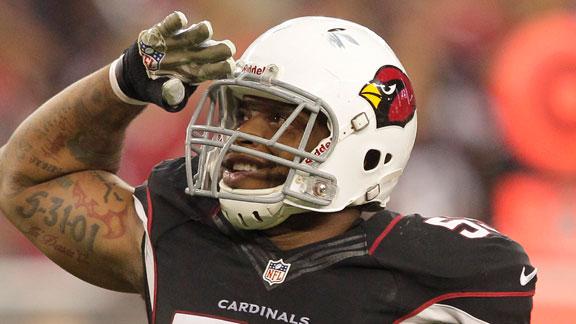 November, 10, 2013
11/10/13
10:26
PM ET
GLENDALE, Ariz. -- What happened was perfectly natural and understandable, given the experience level of the
Houston Texans
' starting quarterback. It also showed the
Arizona Cardinals
' ability to understand and adjust to exactly what would make things difficult on their opponent.
Case Keenum
played well in the first half. He completed 15 of 26 passes for 159 yards. On the game's first play he was sacked and fumbled, and Arizona returned it for a touchdown. But he threw touchdowns to
Andre Johnson
and tight end
Ryan Griffin
, and his passer rating was 101.3.
[+] Enlarge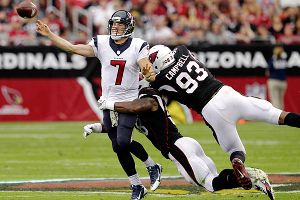 AP Photo/Rick ScuteriCase Keenum was a different quarterback when the Cardinals increased their pressure on him.
Then the Cardinals started sending pressure at Keenum, and they did it furiously. Keenum struggled with their adjustment -- something that has been a pattern for the young quarterback -- and the Texans went on to lose
27-24
.
In the first half, the Cardinals sent five or more rushers at Keenum on only 9 of 28 dropbacks, according to ESPN Stats & Information. In the second half, they did so on 14 of 20 dropbacks.
All three of Keenum's sacks came against five or more rushers, and he did well to avoid more. Though his touchdown pass to Griffin came in such a situation, Keenum completed only 6 of 19 passes against five or more rushers. He was off target on 21 percent of those passes, by ESPN Stats & Info's analysis, and averaged just 2.4 yards per attempt.
By contrast, Keenum completed 16 of 24 passes against four or fewer rushers, averaged 6.5 yards per attempt and was off target on only 4 percent of those passes.
This is something the Cardinals like to do, though they usually don't do it at quite the rate they did it in the second half Sunday. They came into the game blitzing on a league-high 52 percent of opponents' dropbacks. It helps to have the talented rushers the Cardinals do, but it's especially fruitful against a team with an inexperienced quarterback and one whose second-string running back has been on an active roster for exactly two games.
Keenum's second-half dropoff isn't exclusive to this game. In the three games he's started for the Texans, Keenum's first-half QBR is an excellent 91.1. His second-half QBR is a paltry 12.2. He is much better in the first half than his predecessor
Matt Schaub
(32.9 QBR) and much worse after halftime than Schaub (44.1 QBR). (Thanks to Stats & Info's Doug Clawson for looking this up for me.)
That's a ratio the Texans can live with this early in Keenum's career. That first-half number shows a lot of promise.
But it's not a ratio that will work in the long term. Keenum has to improve from here. He can't let opponents' adjustments work so well on him as his career progresses. Successful quarterbacks can outsmart them.
November, 10, 2013
11/10/13
7:45
PM ET
Thoughts from the
Houston Texans
'
27-24 loss
to the
Arizona Cardinals
:

What it means:
Houston is now on the longest losing streak in franchise history. The Texans have lost seven in a row and things went from bad to worse. They are now only one win better than the previously winless
Jacksonville Jaguars
, who beat the
Tennessee Titans
on Sunday.
Stock watch:
Case Keenum
fumbled on the very first play of the game and Cardinals linebacker
Matt Shaughnessy
returned the fumble for a touchdown. On the next series, Keenum threw a pass that was nearly intercepted. He did well to recover after that, having a commendable first half. Keenum completed 15 of 26 passes for 159 yards and a passer rating of 101.3. Things changed in the second half. Keenum attempted only two passes in the third quarter and completed one for 4 yards. It went about like that for most of the fourth quarter, too, until the Texans' defense recovered a fumble inside the Cardinals' 10-yard line.
More vintage Dre:
Andre Johnson
made two tightrope touchdown grabs, one in the first quarter and one in the fourth. Both times he got his feet down in the end zone by margins that were tough to see with the naked eye. Both times Cardinals cornerback
Patrick Peterson
had great coverage on him. It's astounding to think that before last weekend's three-touchdown performance, Johnson had zero touchdown catches this season. It's even more astounding to think he has never caught double-digit touchdowns in a season.
What's next:
The Texans will host the
Oakland Raiders
in the hopes (again) of breaking out of their slump.