AFC South:

2013 Week 10 Upon Further Review
November, 11, 2013
11/11/13
8:00
AM ET
INDIANAPOLIS – An examination of five topics from the
Indianapolis Colts
' 38-8
loss
to the
St. Louis Rams
:
[+] Enlarge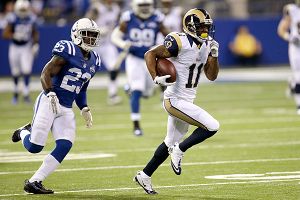 AP Photo/AJ MastReceiver Tavon Austin gave the Rams a spark as a rookie in 2013.
Getting roasted:
Colts cornerback
Vontae Davis
was defending Rams rookie
Tavon Austin
on both of his long touchdown receptions (57 and 81 yards). Davis appeared to give up chasing Austin on his first touchdown catch along the Colts' sideline. "Oh no, we just had busted coverage," Davis said when asked if he was injured on the play. "It was busted coverage on my part. I misread the play. Busted coverage on my part, so he got behind us." Austin came across the middle of the field, caught a pass from
Kellen Clemens
and then just outran Davis and safety
Antoine Bethea
for his second touchdown. "They moved him around a lot, put him in mismatch situations, using his speed to run away from coverage and stuff," Davis said. Austin finished with two catches for 138 yards.
Good to get back on the field:
Having a short turnaround in between games is supposed to be a bad thing. The Colts don't see it that way. They like that they play again on Thursday night against
Tennessee Titans
. The Titans are coming off a home loss to the
Jacksonville Jaguars
, who went into the game winless. "Yeah, this is a time where we're looking forward to getting back out there," Bethea siad. "We can get this taste out of our mouth and put this game behind us. Give credit to St. Louis, they played better than us today. But we have to bounce back and get ready for Thursday."
Zero running game:
I give Colts offensive coordinator Pep Hamilton credit for trying to establish the running game with
Trent Richardson
. It just simply didn't work. Richardson ran the ball four times in the first quarter. Those four carries led to minus-3 yards. That was just a sign of things to come the rest of the afternoon for the Colts. They gained 18 yards on 14 attempts. But wait, there's more: Quarterback
Andrew Luck
was responsible for 17 of those yards. That means Richardson,
Stanley Havili
,
Donald Brown
,
Matt Hasselbeck
and
Dan Herron
combined for 1 yard rushing. The Rams entered the game ranked 28
th
in the league against the run. "It's tough when you can't run the ball," Luck said. "Credit to them for forcing us into a one-dimensional attack."
Good play turned bad:
Sergio Brown
did the right thing when he saved the ball from going into the end zone in an attempt to pin the Rams deep on their end of the field. What Brown and the Colts didn't expect, though, was for Austin to grab the ball and go 98 yards for a touchdown. "Had guys down there and a bunch of guys maybe assuming play is going to be down at the 1-yard line," Colts coach Chuck Pagano said. "We told our guys, they knew this guy would catch it at the 1, catch it 5 yards deep. He's that type of player and he's dynamic that way. He made a great play and we obviously didn't cover well enough." Austin finished with 172 yards on punt and kickoff returns.
Scoreless day:
Colts kicker
Adam Vinatieri
's streak of scoring at least one point came to an end at 154 games. The Colts scored a touchdown when Luck threw a 13-yard touchdown pass to Brown in the third quarter. Pagano bypassed the extra point to go for two. Luck found tight end
Coby Fleener
for the conversion.
November, 11, 2013
11/11/13
8:00
AM ET
A review of four hot issues from the
Jacksonville Jaguars
'
29-27 victory
over the
Tennessee Titans
:
[+] Enlarge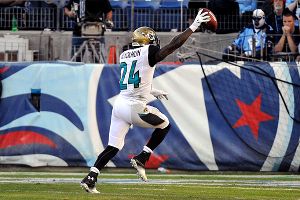 Frederick Breedon/Getty ImagesThe Jaguars went "back to basics" on defense and forced four turnovers, one of which Will Blackmon returned for a touchdown.
Simple success:
Apparently, simpler is better for the Jaguars' defense. Coach Gus Bradley and defensive coordinator Bob Babich spent part of the bye week going over the defensive game plans from the first half of the season and decided that trimming the amount of coverages, blitzes and personnel groups would help. The result was the defense's best performance of the season. The Jaguars forced four turnovers -- the most they'd had in a game in three years -- and held the Titans to just 83 yards rushing. The Jaguars were last in the NFL in rush defense (161.8 yards per game) entering the game. "We got back to basics," linebacker
Paul Posluszny
said. "Early on or even the last couple weeks ... we had games we were trying to do a little too much, and we scaled our package down for this week. I think we had a really good plan going into the game, very basic, not complex. It was stuff that we knew really well and we felt like we could play really fast with."
Special teams:
Kick returner
Jordan Todman
nearly got benched this week after bobbling three kickoffs against San Francisco, but he responded with a huge game against the Titans. He averaged 33 yards on three returns, including a season-long 46-yarder. That came on his final return and it helped set up another big play on special teams, when
LaRoy Reynolds
downed
Bryan Anger
's punt at the Tennessee 1-yard line. The Jaguars got a safety two plays later on a holding call in the end zone, which ended up being the winning margin. The Jaguars' special teams have improved markedly since training camp, thanks mainly to an overhaul of the bottom of the roster and the addition of players such as
J.T. Thomas
and
John Lotulelei
.
No stupid penalties:
Did the Jaguars make mistakes on Sunday? Plenty, such as
Chad Henne
's terrible throw to
Marcedes Lewis
that got intercepted and
Brad Meester
's shotgun snap that bounced off receiver
Ace Sanders
. But the Jaguars didn't commit the stupid penalties that were a regular occurrence during the team's first eight games. They were penalized four times for a season-low 19 yards. Meanwhile, the Titans did commit a couple of costly penalties: a holding call in the end zone for a safety and a roughing-the-passer flag on
Bernard Pollard
that extended a drive that ended with a touchdown.
Commitment to the run:
The Jaguars didn't have a lot of success on the ground, rushing for only 54 yards and averaging just 1.8 yards per carry, but offensive coordinator Jedd Fisch stayed committed to it all day. The Jaguars had only 56 offensive snaps and Fisch called 30 runs, including 21 by
Maurice Jones-Drew
. That's the kind of balance Fisch wants in terms of runs and passes. Obviously the production needs to increase on the ground.
November, 11, 2013
11/11/13
8:00
AM ET
An examination of four hot issues from the
Tennessee Titans
'
29-27 loss
to the
Jacksonville Jaguars
at LP Field:
Who's a cancer?
Safety
Bernard Pollard
and now tight end
Delanie Walker
have talked after recent failures about players who may be holding the Titans back. Walker went so far as to say after this loss that it may be time to start calling guys out and that the Titans need to "
find the cancer
." So who's the cancer? Nobody is saying at this point, though the Twitterverse is drawing some conclusions. I'm not going to speculate who qualifies without anyone telling me a name. But I think the place to start looking is where big paychecks aren't meeting big production.
Spencer
Depth issues:
Teams aren't going to be deep everywhere, but they need to be deep at the right spot. I don't know what kind of player
Chris Spencer
really is. That's the first we've seen him at center in the regular season. But
Brian Schwenke
had been a difference-maker in two games since he became a starter. He was lost relatively early to an ankle injury, and his physical presence left when he did and Spencer took over. The Titans ended up running for 3.1 yards a carry and just 83 yards total against the NFL's worst run defense. That's not close to good enough for a team that expects to be one of the top rushing attacks in the league.
Quarterback:
The Tennessean reported that
Jake Locker
is not expected to play again, and a source told me he was
99 percent sure
the quarterback is done for the season after suffering a foot injury late in the first half.
Ryan Fitzpatrick
was an ineffective starter when he filled in for Locker against Kansas City and Seattle. Perhaps he will be better this time around. Locker grew in his third season and second as a starter, but not enough. He showed gradual improvement in his first four games. Then he missed two games while hurt, and he wasn't strong in the three games since he came back. Now he's going to carry a question about whether he's injury prone.
Self-inflicted:
Four giveaways, missed tackles and poorly timed penalties were all factors in the Titans' loss. They aspire to be a disciplined team that plays crisp football and puts stress on opponents. At 4-5, they more often hurt themselves in the ways bad teams do. Still, they are one of five teams with four wins in the AFC, just one game behind the Jets, who are in line for the final playoff berth at 5-4. As bad as things look, they aren't dead yet.
November, 11, 2013
11/11/13
8:00
AM ET
GLENDALE, Ariz. -- A look at four hot issues from the
Houston Texans
' 27-24
loss
to the
Arizona Cardinals
.
[+] Enlarge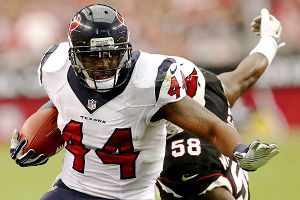 Photo by Stephen Dunn/Getty ImagesBen Tate 15 carries for 56 yards in the loss to the Houston Texans.
Andre Johnson wasn't giving up those touchdowns
: Texans receiver Andre Johnson was a big part of what kept Houston in the game. He caught a first-quarter touchdown and a fourth-quarter touchdown, barely getting his feet in. He admitted after the game that Arizona cornerback
Patrick Peterson
had good coverage on him, but added that wasn't going to get in the way of his own determination to come down with the ball.
Should the Texans have stayed on the ground more?
Ben Tate
, now the Texans' starting running back with
Arian Foster
headed to injured reserve, thought the Texans should have run the ball more in the second half. "I felt like it was working," he said. "I don't understand why we went away from it. Besides that, I really don't know. We just can't play one half of football every week. If we were playing one half of football, we'd be doing great right now, but there's two halves." The Texans ran the ball 14 times in the first half and seven times in the second half. Tate said that while he wasn't 100 percent (still recovering from broken ribs) he felt he was effective and could have carried more.
The feat of the foot:
A few weeks ago when I approached punter
Shane Lechler
to tell him how close he was to 50,000 career punting yards, long snapper
Jon Weeks
jokingly indicated fatigue at hearing about how good Lechler is. The punter lightly indicated it had more to do with being old. He doesn't care much about punting yards as a statistic, but on Sunday he went over the 50,000-yard mark. Only five other punters have reached that landmark, according to ESPN Stats and Information. More than anything it indicates longevity. Lechler, who is in his 14th season, said he wants to punt for 20 years.
Critical Arizona score:
The Cardinals took a three-point lead into the fourth quarter, but it turned into 10 when Cardinals quarterback
Carson Palmer
found
Andre Roberts
5 yards beyond his defensive back,
Brice McCain
. "All out blitz," McCain said. "My eyes were bad. Double move. He beat me." Wade Phillips said it was probably his fault for blitzing then, "but it was a little more desperation at that time, although we came back and still had a chance."