AFC South:

2013 Week 11 ARI at JAC
November, 17, 2013
11/17/13
8:00
PM ET
JACKSONVILLE, Fla. -- Defensive tackle
Sen'Derrick Marks
has said for a while that it would be pretty simple to fix the Jaguars' porous rush defense.
Everyone just needed to do their job. Stay in their assigned gap. Quit freelancing. Just do what you're supposed to do on each play.
Turns out he was correct.
[+] Enlarge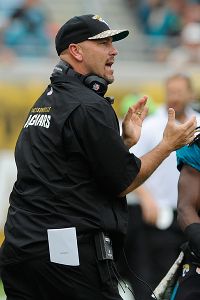 AP Photo/Stephen MortonGus Bradley and the Jaguars held the Cardinals to 14 rushing yards on Sunday, but were burned for several big plays through the air.
The Jaguars held Arizona to just 14 yards on the ground in a 27-14 loss at EverBank Field. That's the second-lowest single-game total in franchise history, behind only the 10 yards the Jaguars yielded to Kansas City in 2007.
It also is pretty much the only positive thing you can say about the defense on Sunday.
Carson Palmer
threw for 419 yards and two touchdowns, including a 91-yarder to
Michael Floyd
in which three players missed a tackle, and the Cardinals controlled the ball for nearly 36 minutes. But the defensive front -- which was without middle linebacker and leading tackler
Paul Posluszny
(concussion) -- showed up.
"Just like I've been saying the whole year, every time we've had runs get out on us, we have a guy out of a gap," Marks said. "Our thing was after the bye we had to hold everybody accountable. We've been doing it ever since we came off the bye week. We've got guys in the right gaps, and everybody is where they're supposed to be.
"Everybody's been accountable, and when you do that you tend to stop the run."
Rashard Mendenhall
gained 14 yards on 13 carries. One of which was a 5-yard touchdown run, which means he managed just nine yards on his other 12 carries.
Andre Ellington
, a speedy breakaway threat, managed just 3 yards on eight carries. The Jaguars entered the game giving up an average of 153.0 yards per game rushing.
"We were aware of the run game, and we did not want that to get going," head coach Gus Bradley said. "We did a good job attacking the run and controlling Ellington."
The defense certainly felt the loss of Posluszny, who is by far the team's best defensive player. He has two interceptions, eight pass breakups, two forced fumbles, and one fumble recovery. Posluszny didn't practice all week, and was finally ruled out on Saturday morning.
Russell Allen
, who normally starts at outside linebacker, filled in and made seven tackles, but failed to deliver a big play.
Actually, he made one but it didn't count. He stepped in front of Palmer's pass to
Larry Fitzgerald
inside the Jacksonville 20-yard line in the third quarter, but officials announced that the Cardinals had called timeout before the snap.
"I think you grow to appreciate Poz and what he's all about, but for Russell to step in and manage the defense like he did ... then he had the interception that would have helped out," Bradley said. "He did a nice job managing the defense. If he got more reps [during the week] we would see even better."
The Jaguars were certainly better against the run than in stopping Palmer, Fitzgerald, Floyd, and whichever tight end happened to be in the game at the time. Floyd caught six passes for 193 yards, including a 91-yard catch-and-run in which Allen, safety
Josh Evans
, and cornerback
Will Blackmon
missed tackles.
Fitzgerald caught a modest six passes for 61 yards and one touchdown, but tight ends
Jim Dray
,
Jake Ballard
and
Rob Housler
combined to catch nine passes for 117 yards -- continuing the trend of tight ends taking advantage of the Jaguars' rookie safeties (Evans and
Johnathan Cyprien
).
Things could have been even worse had cornerback
Alan Ball
not broken up four passes in the first half.
The
Tennessee Titans
had similar trouble on the ground (83 yards) and success through the air (288 yards, two TDs) last week. The biggest difference is the Jaguars forced the Titans into four turnovers. They didn't get any against the Cardinals.
"We feel good about how we played against the run, and we felt like it was something we were going to be able to do going in, but unfortunately we gave up too many big plays in the passing game," Allen said. "Any time we can give our offense a short field it's important, giving them an opportunity to put points on the board. Getting some breaks ... would have helped a lot."
November, 17, 2013
11/17/13
7:25
PM ET
JACKSONVILLE, Fla. -- The
Jacksonville Jaguars
' offense hasn't had any trouble starting fast the last two weeks.
It's the rest of the game that has been the problem.
It happened in a 29-27 victory over Tennessee on Nov. 10 but the Jaguars were able to hang on and get their first victory over the season. They couldn't overcome it against the
Arizona Cardinals
on Sunday at EverBank Field, however, and lost
27-14
.
[+] Enlarge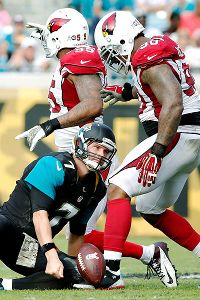 Sam Greenwood/Getty ImagesChad Henne
The Jaguars scored two touchdowns -- their first at EverBank this season -- and racked up 111 yards in the first quarter. But penalties, an injury to an already-depleted receiving corps, and the lack of a running game crushed the early momentum. The result was the ninth loss of the season and sixth consecutive loss at EverBank Field.
"After those scores we struggled," head coach Gus Bradley said. "We had quite a few three-and-outs. I know we had some second-and-longs, some penalties that showed up in the second half, a couple interceptions. We've got to overcome that. We've really got to continue to challenge our guys to step up and make plays."
The Jaguars (1-9) managed just two first downs in the second quarter and two more in the third. They managed just 163 yards in the final three quarters and 58 came after the Cardinals took a 24-14 lead. Why such a poor performance?
Penalties hurt. A false start on third-and-8 by receiver
Ace Sanders
in the second quarter. Early in the fourth, center
Brad Meester
and guard
Uche Nwaneri
had false starts on the same drive. A holding penalty on tackle
Cameron Bradfield
wiped out a 21-yard reception by
Maurice Jones-Drew
.
The running game was non-existent, too. That's not surprising considering the Cardinals entered the day with the NFL's third-ranked rush defense, but Jones-Drew and the offensive line really struggled. The Jaguars ran for just 32 yards on 16 carries and Jones-Drew ran 14 times for 23 yards, which is the second-lowest total of his career in games in which he's had double-digit carries.
The Jaguars were already short at receiver with the suspension of
Justin Blackmon
and
Stephen Burton
missing the game with a concussion, but
Mike Brown
left the game in the second half with a shoulder injury. That meant the Jaguars had to use
Kerry Taylor
, whom the team claimed off waivers from Arizona on Nov. 4, in a bigger role.
Sanders, Brown, Taylor and tight ends
Marcedes Lewis
and
Clay Harbor
were pretty much quarterback
Chad Henne
's only options because No. 1 receiver
Cecil Shorts
was being shadowed by Arizona cornerback
Patrick Peterson
. Until the final four minutes of the game, Henne targeted Shorts just once. In those final four minutes, Henne threw to Shorts four times.
Shorts was clearly frustrated.
"There was opportunities throughout the game I should have been involved in," Shorts said. "But, you know, it is what it is. I can't control what the … We can do better as an offense."
Henne wasn't particularly effective, either. Though he completed 27 of 42 passes for 255 yards and one touchdown, he threw two interceptions and didn't challenge the Arizona secondary. As noted, he didn't look for Shorts until the game was well in hand and there were instances where he was open against Peterson.
He settled for shorter passes too often, too, especially on several third downs. It seemed as if he was overly concerned with Peterson and safety
Tyrann Mathieu
.
"It was tough," Henne said. "Patrick Peterson's a great corner and we knew we were going to have some problems with him. But Cecil, I thought, in some of his one-on-one routes did some really good things with it. They were playing a high safety. Their guys up front are good pass rushers, so we wanted to get the ball out quick, get it out on time, and I think we definitely accomplished some of that."
It was a typical Henne game. Several good throws, several bad, and a mixture of safe stuff. But he couldn't lead the offense to any points despite starting possessions at his own 40, the Arizona 42, midfield, and his own 42. Punt, punt, punt, interception.
"Field position was outstanding," Bradley said. "We had a couple times we started on the 50 and there in. Those we have to come away with some points. We have to. Even if it's a field goal, to get it down there inside the 35. We took a sack on one. We were on the 36 yard line, the 38-yard line, trying to get it to the 35, we take a sack. Throw it away and give it a chance. We'll continue to grow on those decisions."
It's not all on Henne, Shorts said.
"I felt like we had a lot of momentum at the beginning of the game," said Shorts, who caught just two passes for 22 yards. "We had penalties. When we're in their territory we need to at least get three points. We're on their side of the 50, we can't have a penalty, first-and-15, and we get a positive play, then another penalty, first-and-20. We can't have stuff like that. We need to at least get three every time we're in their territory. We've just got to do better. We need to execute."
November, 17, 2013
11/17/13
5:28
PM ET
JACKSONVILLE, Fla. -- Observed in the locker room after the
Jacksonville Jaguars
' 27-14
loss
to the
Arizona Cardinals
.
Preplanned surprise:
Head coach Gus Bradley said he and offensive coordinator Jedd Fisch planned to go for the first down on a fourth down at some point in the game. He just didn't expect it to be from their own 38-yard line less than three minutes into the game. "That was a little bit out of the range [they wanted], but I just felt like we needed it at that time," Bradley said. The misdirection play resulted in a 62-yard touchdown by little-used tight end
Danny Noble
.
Jones-Drew
Stifled:
Maurice Jones-Drew
managed just 23 yards on 14 carries against the Cardinals' third-ranked rush defense. He gained 9 yards on one run, meaning he had 14 yards on his other 13 carries. The 23 yards is tied for the second-lowest total of his career in games in which he had 10 or more carries. His lowest was 10 yards on 10 carries against Indianapolis in 2007.
No comment:
Jaguars defensive end
Jason Babin
spoke for a few minutes about ripping out a chunk of
Andre Ellington
's hair, but when another member of the media arrived late and asked him about it again, he politely declined to comment. Why? Because the question was phrased like this: Have you ever held another man's hair up in your hands like that? As he joked afterward, answering a question phrased that way can only result in his comments getting twisted or taken out of context.
November, 17, 2013
11/17/13
4:07
PM ET
JACKSONVILLE, Fla. -- A few thoughts on the
Jacksonville Jaguars
' 27-14
loss
to the
Arizona Cardinals
.

What it means:
The Jaguars were trying to achieve something that hasn't happened since 2010: win back-to-back games. They beat Tennessee and Oakland in consecutive weeks in December that season but have won just eight games since. There is a silver lining in the loss, though. Tampa Bay was routing the Falcons, which leaves the Jaguars as the league's only team with a single victory and puts them in the lead for the No. 1 overall selection in the 2014 draft.
Stock watch:
Punter
Bryan Anger
had perhaps his best game of the season, averaging nearly 50 yards per punt and pinning the Cardinals deep in their own territory. In the third quarter alone he forced the Cardinals into starting drives on their 9-, 10- and 2-yard line. Anger kept the Jaguars in the game while the offense sputtered in the second half. Cornerback
Alan Ball
had a solid game, too, by breaking up four passes in the first half -- three of which were intended for
Michael Floyd
.
TOs overturned:
The Jaguars had what appeared to be two turnovers deep in Arizona territory wiped out.
Patrick Peterson
fumbled a punt at his own 10-yard line. Three Jaguars pounced on the ball but somehow Peterson came out with it and the Cardinals retained possession. Replays appeared to show long-snapper
Carson Tinker
coming out of the pile with the ball and the Jaguars challenged the play, but officials upheld the ruling on the field. Two plays later, middle linebacker
Russell Allen
intercepted
Carson Palmer
's pass to
Larry Fitzgerald
, but officials announced after the play that the Cardinals had called timeout before the snap.
Sneaky:
The Jaguars scored their first touchdown on an interesting fourth-and-1 call. They lined up at their own 38 with extra tight ends. The Cardinals played run all the way, and the play-action fake allowed recently acquired tight end
Danny Noble
to get behind the first level of defenders.
Chad Henne
hit him with a good pass and Noble broke a tackle to score a 62-yard touchdown. What made the play work is the fact that Noble is a blocking tight end who had played in only five games and never had a catch until Sunday.
What's next:
The Jaguars will play at Houston on Sunday.