AFC South:

2013 Week 12 JAC at HOU
November, 24, 2013
11/24/13
8:00
PM ET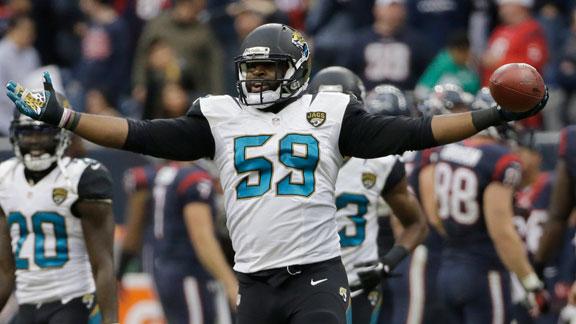 HOUSTON -- The
Houston Texans
have the worst record in the NFL.
"It's just unbelievable looking at the team that we have," left tackle
Duane Brown
said. "Just the kind of season we imagined having coming into this year. Sitting here 11 games in, we're bottom of the list, that's unbelievable. Just horrible."
"Do we?" inside linebacker
Brooks Reed
said. He was told they're tied at the bottom.
"Tied," he said. "I mean, the point is, we're not playing well as a group."
"That's shocking to hear," cornerback
Johnathan Joseph
told me. "Sh--, I thought it was other teams worse than us to be honest. I don't know."
Does it make it worse that this loss was to the Jaguars?
"Yeah it makes it worse," Joseph said. "Losing to Jacksonville's gotta hurt. I'm not taking anything away from Jacksonville, just with their recent history and stuff like that. I just think top to bottom we have the talent in this locker room to win this ballgame today. But for whatever reason it didn't happen."
The Texans reached a franchise low in
Sunday's 13-6 loss
to the
Jacksonville Jaguars
, previously the team with the worst record in the NFL. That 2-14 season doesn't qualify because the expectations weren't nearly this high.
This season probably marks a low point in the history of Houston professional sports, becoming the most disappointing NFL team this city's ever had. Sure, the Houston Oilers went from 12-4 to 2-14 in 1994, but they traded
Warren Moon
before the 1994 season and were decimated by free agency and the start of the salary cap.
This Texans team returned most of the same pieces, especially most of its best pieces. Injuries have hurt, sure, but injuries hurt last season, too. The Texans 12-4 record showed cracks, but the team didn't crumble against less talented teams with the consistency it has this season.
On Sunday the Texans lost to a Jaguars team in rebuilding mode, one that wasn't expecting to win many games. Despite their nine losses, there's an energy in their building, one that comes from an energetic coaching staff and an organization with excitement about the future.
The Texans' 2-9 is more disappointing than that. This season is sucking the energy out of a franchise that came in expecting to be great.
"To be honest with you, it is hard to keep that intensity at a high level when you are going through something like this," running back
Ben Tate
said. "We are all human beings. So maybe we do need to raise our intensity a little bit."
November, 24, 2013
11/24/13
7:25
PM ET
HOUSTON -- Safety
Josh Evans
sounded a lot like a real estate agent on Sunday when he was explaining how the Jaguars defended Houston receiver
Andre Johnson
.
Location, location, location.
Everyone needed to know exactly where Johnson was at all times, Evans said. Find him when he left the huddle, check where he lined up, keep an eye on him when he went in motion, and make sure he didn't go anywhere unaccompanied after the snap.
[+] Enlarge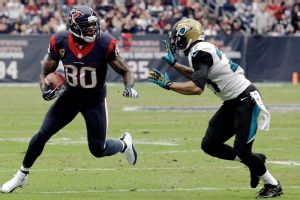 AP Photo/Patric SchneiderThe Jaguars' corralled Andre Johnson all afternoon, limiting the Texans' star to just two receptions.
"The whole thing was to see where he was at on the field at all times and I think we did a good job of that," Evans said after the Jaguars'
13-6 victory
at Reliant Stadium. "We know that he was their main threat and their main guy they wanted to go to, so eliminating him just kind of made things a little easier for the defense."
The Jaguars didn't eliminate Johnson from the game, but they came pretty darn close. Johnson caught just two passes for 36 yards: a 15-yarder on third-and-6 early in the third quarter and a 21-yarder on third-and-4 on the Texans' final drive.
It was his worst performance of the season, surpassing his three-catch day in the Texans' 34-3 loss to San Francisco.
"We suck as an offense," Johnson said. "That's pretty much it."
But the Texans didn't stink at getting Johnson the ball this season. He entered the game second in the NFL with 72 catches and needed just 34 yards for his seventh's 1,000-yard season. Quarterback
Case Keenum
targeted him once in the first quarter, once in the second, and once early in the third before the two finally hooked up for a 15-yard gain.
Johnson should have had his first catch in the second quarter on a deep in, but safety
Winston Guy
hammered Johnson from behind and knocked the ball loose.
"That's one of those plays you need throughout the game," cornerback
Alan Ball
said. "When they get big hits like that no matter what it does to the offensive player it ignites us. That was a boost for us."
The Jaguars play almost exclusively man coverage and Ball drew Johnson most of the game. He was rarely alone, though. He had safety help over the top and a player without coverage responsibilities sliding over to help on shorter routes. Another factor was the pass rush. The Jaguars got good pressure on Keenum, sometimes using blitzes up the middle, and was able to rattle him into some errant throws.
The Jaguars sacked Keenum twice, hit him five other times, and broke up nine passes, including two at the line of scrimmage by tackle
Sen'Derrick Marks
. One of Marks' deflections came on a throw to Johnson.
"Our D-line did a great job," middle linebacker
Paul Posluszny
said. "You put pressure on and that makes a world of difference. All of a sudden the quarterback can't stand in the pocket and look for No. 80 downfield. He's got guys in his face. That makes a world of difference."
Making Johnson a non-factor was a bit surprising considering Arizona's
Carson Palmer
threw for 419 yards last week and
Michael Floyd
caught six passes for 193 yards and a touchdown. Evans said the secondary was stung by that performance and felt that corralling Johnson would be a good way to make up for it.
But he didn't know just how good of a job they had done.
"As the game's going you honestly don't even pay attention to it that much because you're trying to work on getting off the field on third down," Evans said. "But you start noticing, 'Hey, we're starting to do a pretty good job on him and he hasn't had a lot of touches.'"
November, 24, 2013
11/24/13
6:45
PM ET
HOUSTON -- Guard
Uche Nwaneri
credits the
Jacksonville Jaguars
' success on the ground on Sunday to an easier-than-normal Wednesday.
Because of a large number of banged-up players, coach Gus Bradley decided to forgo the normal full-pads practice and instead the players worked in shells. Nwaneri said the lighter day helped the offensive line get a better grasp on the game plan and Houston's defensive front and that was the main reason the Jaguars ran for a season-high 118 yards against the Texans.
[+] Enlarge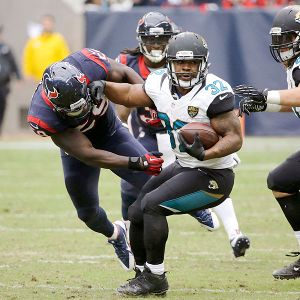 AP Photo/David J. PhillipMaurice Jones-Drew had his best rushing day of the season with 84 yards on 14 carries.
"Being able to see what was going on at a slower pace, being able to read what was going on with the defense in practice at a slower pace actually allowed us to be a little bit more aware on game day," Nwaneri said shortly after the Jaguars'
13-6 victory
at Reliant Stadium. "It just helped our preparation being able to kind of back off a little bit on the physicality and be able to really get the game locked in from a mental standpoint."
That may sound a little hokey, but you can't argue with the results. Bradley said the offensive line, which has struggled all season with the transition from a gap-blocking scheme to a zone-blocking scheme, had its most consistent day -- and because of that
Maurice Jones-Drew
had his best day of the season. He ran for a season-high 84 yards and one touchdown and added six catches for 60 yards for a season-high 144 total yards.
"Blocking was phenomenal," Jones-Drew said. "First couple of weeks we were having trouble kind of getting it right and this new running scheme was a little different. As the weeks went on, we're getting better. Right now we're playing our highest in the run game."
That might be a bit of hyperbole considering the Jaguars (2-9) ran for just 32 yards in a loss to Arizona last week, but a big difference from the previous 10 games was the fact that they were finally able to produce a big run. The Jaguars had just three runs of 20 or more yards, including a long of 30, but Jones-Drew busted a 44-yarder in the second quarter on Sunday to kick-start a drive that ended with
Josh Scobee
's 30-yard field goal to put the Jaguars ahead 10-0.
"That's the key," center
Brad Meester
said. "We look at that every week. You look at a lot of the teams out there that rush for a lot of yards, most of them are only one-, two-yard gains, it's just you're able to get those explosive runs and we had just kind of missed that in the last few weeks. We were able to get some more explosive this week."
The Jaguars also mixed up the run game against the Texas, partly to run away from defensive end
J.J. Watt
. They ran the ball outside more than in previous weeks (Jones-Drew's long run came off left tackle).
Jordan Todman
was also involved, carrying the ball a career-high 11 times for 31 yards. He had 20 carries in the first 10 games.
"Mixing up inside zone, outside zone, our gap scheme ... our offensive line is doing a great job," Jones-Drew said. "I think there was one run where I didn't get touched until I got tackled."
That was his 44-yard run, and Nwaneri said it felt for a moment like 2011, when Jones-Drew led the NFL in rushing.
"It was that old familiar feeling seeing him get to the edge and get up field and pick up 30, 40 yards running on one play," Nwaneri said. "That's what he does and I think we were able to do some more things coming downhill at them and that opened up some more lanes for us and other plays. It was just a good group effort."
November, 24, 2013
11/24/13
6:32
PM ET
HOUSTON --
Andre Johnson
has a succinct way with words. He was asked for his assessment of today's 13-6 loss to the once-bottom feeding
Jacksonville Jaguars
.
"We suck," he said, then continued after a pause. "As an offense. That's pretty much it."
Johnson
Johnson entered the game with 890 catches. He finished it with 892. A week after visible frustration on the sideline and audible frustration in the Texans' locker room after the game, he caught two passes for 36 yards. Quarterback
Case Keenum
targeted Johnson six times, once on a pass so high that a powerful hit by a Jaguars defensive back knocked the ball from Johnson's hands.
Asked if this was the toughest time for the franchise, something he's answered before, Johnson said it was. This is a team whose offense hasn't always been great, but neither has it often been as inept as it was on Sunday, when Keenum threw for 169 yards and the Texans rushed for 77 yards -- 74 from rookie
Dennis Johnson
.
"You're not going to play perfect every single game, but I mean, it's been bad, you know?" Johnson said. "They were booing us last week. They booed us before. I said it before, if we're not putting good stuff on the field, we ain't giving them nothing to cheer about. They booed. They should boo."
Johnson was asked if this is the worst team in the NFL.
"I think our record shows it," he said. "Yeah, if you look at our record, yeah, we're the worst team."