AFC South:

2013 Week 12 Upon Further Review AFC
November, 25, 2013
11/25/13
9:00
AM ET
HOUSTON -- Analyzing four hot issues from the
Houston Texans
' 13-6
loss
to the
Jacksonville Jaguars
:
Watt
Revisiting the defense:
In my rapid reaction last night, I talked about the defense having issues as well as the offense. Truthfully, holding the Jaguars to 13 points should have been enough for a win. The Texans allowed only one touchdown and held firm in the red zone once.
J.J. Watt
had another good game with one sack and one blocked field goal. But the Jaguars did significantly outperform their season average for yards, gaining 333 on Sunday, and were right about at their season average for points per game (12.9). The real story, though, was about the Texans' offensive ineptitude.
Tate ineffective:
The Houston Chronicle dug up the statistic that
Ben Tate
became the first running back in the league this year to have only 1 yard rushing on seven or more carries. "We had planned on playing [running back
Dennis Johnson
] some, but when he went in he just looked so good running the ball so we played him a little bit more," Texans coach Gary Kubiak said. Johnson finished the game with 74 of the Texans' 77 rushing yards. It was a good day for Johnson, but against a team that allows an average of 133.5 rushing yards per game, the third most in the NFL, that doesn't say much.
Not much blitzing:
We've talked a lot about quarterback
Case Keenum
's inability to understand blitzes, but the Jaguars didn't do much blitzing at all. They sent five or more rushers on only eight dropbacks. Keenum completed 4 of 7 passes and was sacked once. They sent four or fewer rushers on 28 dropbacks. Keenum completed 14-of-26 on those with one interception and one sack. I'll write a little more about this later after reviewing each of Keenum's sacks this season. There are times when Keenum needs to be more aware of the right thing to do, and there are other times when the scheme could be more helpful.
Hopkins regression:
Rookie receiver
DeAndre Hopkins
was targeted five times and caught one pass for 8 yards. From afar it seems hard to blame the receivers for a lot of what was wrong with the offense because a lot of Keenum's throws were off target. (The interception, though, wasn't Keenum's fault, as it bounced off
Keshawn Martin
before it was intercepted.) Kubiak referred to a fourth-quarter pass to Hopkins as one of the plays the Texans "have to" make. Keenum went deep to Hopkins. "It was a pretty tough ball," Hopkins said. "I tried to keep my feet in bounds and it glazed my fingertips. I don't know. Maybe if I was 6-4, I would have caught it."
November, 25, 2013
11/25/13
8:21
AM ET
OAKLAND, Calif. -- A review of four hot issues from the
Tennessee Titans
' 23-19
win
over the
Oakland Raiders
at O.co Coliseum:
Third down:
Third down was key on both sides of the ball. The offense and defense were productive when it came time to stay on, or get off, the field. The offense converted 10 of 18 chances (7 of 9 in the second half). The conversions included two third-and-11s, two third-and-10s, three third-and-7s and a third-and-6. Defensively, the Titans allowed just three conversions by Oakland in 10 chances.
[+] Enlarge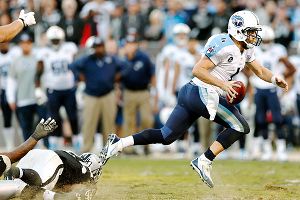 AP Photo/Beck DiefenbachRyan Fitzpatrick completed 30 passes for 320 yards against Oakland.
Perfect execution:
Offensive coordinator Dowell Loggains and quarterback
Ryan Fitzpatrick
deserve credit for the way they engineered the final drive. They had 6:10 to use and they used 6:00 of it as the Titans moved 80 yards in 14 plays. If they didn't score a touchdown to win it, leaving Oakland virtually no time, they were going to be in close field goal range to at least force overtime. They converted three third downs along the way. They didn't even need to use their third timeout.
Clean up:
Ten penalties for 100 yards were just killer, and I've noted in the past the Titans' inability to account for the way a game is being officiated. Once you're called for a couple of holds, shouldn't coaches be telling guys how it's being called and making them more conscious of it? Six holding penalties, four against the offensive line, demand better explanation than the Titans offered. First-and-20 is no way to live. One nice thing here: They committed just one defensive penalty. I know safety
Michael Griffin
was going low and tight end
Mychal Rivera
was going down at the same time. There was an element of bad luck, but it was still a hit against a defenseless receiver that isn't allowed.
Contributing nothing:
Kenny Britt
had two balls thrown his way, and dropped both. He had to dive for the second, but it went right though his hands. I figured the Titans would eventually need Britt again and get something from him. But it's probably past time to give up and start deactivating him.
Michael Preston
is on the practice squad and if
Damian Williams
needs another week to get healthy, the Titans probably should find a way to get Preston on the roster to be the fourth receiver. They can't have a receiver on the field who offers little to no chance of making a catch when the ball comes in his direction.
November, 25, 2013
11/25/13
8:00
AM ET
HOUSTON -- A review of four hot issues from the
Jacksonville Jaguars
' 13-6
victory
over the
Houston Texans
:
[+] Enlarge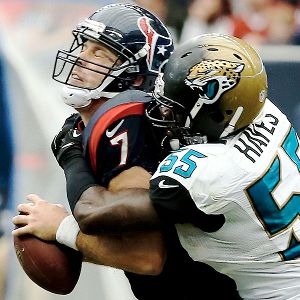 Scott Halleran/Getty ImagesJacksonville brought constant pressure against Case Keenum on Sunday.
Shorts involved:
Jaguars coach Gus Bradley and offensive coordinator Jedd Fisch said they were going to get receiver
Cecil Shorts
more involved in the offense this week after Shorts complained about getting only two catches in a loss to Arizona. They were true to their word. Shorts was targeted a team-high 11 times and caught a team-high eight passes for 71 yards. The Jaguars got him involved early, too, targeting him four times on their first three possessions.
Good gambles:
Bradley's new buzz word is "bold," and he's coaching that way. He went for it on fourth-and-goal from the 1-yard line on the game's opening possession and also called a Wildcat formation pass by
Denard Robinson
, a play that would have worked for a big gain had Shorts not dropped the pass. Bradley also told Fisch to stay with the offense and not just call running plays when the Jaguars got the ball back with 4:24 to play and clinging to a seven-point lead. "We preach to our players that we're going to be bold when opportunities present themselves," Bradley said.
Front plays well:
Texans defensive end
J.J. Watt
is usually the one who bats down passes at the line of scrimmage, but the Jaguars did a better job of that on Sunday. Defensive tackle
Sen'Derrick Marks
deflected two and defensive end
Andre Branch
deflected one. The front seven pressured quarterback
Case Keenum
all day, sacking him twice and hitting him five other times. The Jaguars generally don't blitz a lot, but defensive coordinator Bob Babich called several middle blitzes to try to get players in Keenum's face. Keenum said he never felt comfortable and could never get in a rhythm.
Henne hangs in:
Quarterback
Chad Henne
took a pounding against the Texans, especially early, but hung in there and had one of his better games despite not throwing a touchdown pass. Henne was sacked four times, including three in the first half, and hit 13 other times. Watt sacked him once and hit him five more times and linebacker
Whitney Mercilus
sacked him once and hit him four times. Despite the battering, Henne completed 23 of 32 passes for 239 yards. He did not throw an interception. "You just have to sit in there and sometimes you're going to get hit and sometimes you're not, but overall the offensive line did a good job," Henne said. "For the most part we got the ball out on time and really fought through and did really well."
November, 25, 2013
11/25/13
8:00
AM ET
GLENDALE, Ariz. -- An examination of five topics from the
Indianapolis Colts
'
40-11 loss
to the
Arizona Cardinals
.
Hurting even more
: The Colts have struggled on defense since cornerback
Greg Toler
went down with a groin injury before the Nov. 3 game at Houston. Fellow starting cornerback
Vontae Davis
left the game in the third quarter Sunday, also with a groin injury. The Colts have to hope Davis' injury won't keep him sidelined for an extended time the same way it's kept Toler out for the past four games. Toler could return to the lineup for the next game against the
Tennessee Titans
. Receiver
LaVon Brazill
left the game in the fourth quarter with a back contusion.
Mathis
Luck
A record for Mathis
: The Colts sacked Cardinals quarterback
Carson Palmer
three times on Sunday. One of those sacks was a strip-sack by linebacker
Robert Mathis
. That was the 40th strip-sack of Mathis' career, moving him ahead of Jason Taylor for first on the all-time list. Mathis leads the league in sacks with 14.5. Mathis didn't talk about his accomplishment because he left the locker room without speaking to reporters.
Where's T.Y.?
Receiver
T.Y. Hilton
has vanished from the offense after having back-to-back games of at least 121 yards receiving. Teams have offset Hilton's speed by providing help over the top, which has made him a nonfactor in the past two games. He followed up his 44 yards receiving against Tennessee on Nov. 14 by having five catches for 38 yards against Arizona. Hilton left the game momentarily with a shoulder injury. "You hate to see people go down like that," quarterback
Andrew Luck
said. "He's a tough warrior. He's a tough sucker."
By the numbers
: The Cardinals didn't have to pressure Luck with extra men for him to have the second-lowest passing game of his career. Luck completed only 55.4 percent of his pass attempts when facing four or fewer rushers. Arizona sent extra pressure on only 12 of Luck's 42 dropbacks. Luck finished the game 20-of-39 for 163 yards. He threw for a career-low 159 yards against San Francisco in Week 3.
Running game is an embarrassment
: Not that Luck has many options to choose from at receiver, but the Colts are better off putting the ball in his hands and letting him dictate things than trusting their running backs.
Trent Richardson
and
Donald Brown
, the team's top two running backs, combined for 16 yards on nine carries. The Colts ran the ball only 15 times. They've rushed for more than 100 yards just once in their past four games. "We want to run the football, but again, when you get down like we got down it's hard to stick with the run," Colts coach Chuck Pagano said. "And we were going against the No. 2 run defense in the league."