AFC South:

2013 Week 13 TEN at IND
December, 2, 2013
12/02/13
10:00
AM ET
December, 1, 2013
12/01/13
8:05
PM ET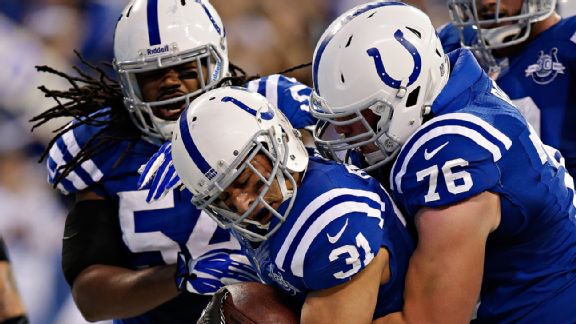 AP Photo/AJ MastDonald Brown's touchdown late in the fourth quarter sealed the game for the Colts.
INDIANAPOLIS -- Change was necessary.
It wasn't an easy task to pull off because the cupboard had limited options. But the
Indianapolis Colts
had to do something because things simply weren't working.
You wouldn't have known that the Colts went into Sunday's game against the
Tennessee Titans
with a two-game lead in the AFC South by the way they had play in the four games prior.
That's what prompted the moves to be made.
All is not fixed, but when the clock struck all zeroes at Lucas Oil Stadium, the Colts walked off the field
22-14 winners
and on the brink of winning their first division title since 2010.
"That was a backyard street brawl man," Colts defensive lineman
Cory Redding
said. "You got called out in your neighborhood by the biggest kid and you have to fight. And that's what it was. Both of us are a really fighting for the division...We knew it was going to be a tough division game and definitely get the bad taste out of our mouths. We never want to have one loss turn into two."
The Colts (8-4) have been ravished with injuries, including to veteran
Reggie Wayne
, and their play at times has left some wondering how they've managed to win eight games this season.
Here they stand with a three-game lead in the division with only four to play. The Colts can wrap things up with a victory at Cincinnati or if the Titans lose at Denver next weekend.
"We're not exhaling," coach Chuck Pagano said. "The division is not sewn up. We're going to do everything within our power to keep trending in the right direction."
Out went cornerback
Cassius Vaughn
. Out went guard
Mike McGlynn
. And out went running back
Trent Richardson
, further proving that the trade with Cleveland earlier this season has been a bust.
Enter cornerback
Darius Butler
, guard
Jeff Linkenbach
and running back
Donald Brown
.
Vaughn responded to his demotion by getting two of Indianapolis' three interceptions. Brown was held to eight yards on eight attempts until he had six carries for 46 yards and a touchdown on the Colts' final offensive series.
"We're always trying to just make decisions based on what's best for the team and what gives us the best chance to win," Pagano said. "We made a decision to give a couple guys an opportunity and move forward."
But this is only one game.
The Colts know that, too. That's why they didn't strut around the locker room after the game like all was well again.
The flaws are still there and they'd be even more glaring if future Hall-of-Fame kicker
Adam Vinatieri
didn't make five field goals -- four coming from at least 45 yards -- and the defense didn't force four turnovers.
The Colts will have a difficult time winning a playoff game if they continue to play like this.
"We know we can't survive our mistakes forever," quarterback
Andrew Luck
said. "I know it sounds a bit like a broken record, but sometimes you just got to gut a win out, no matter how ugly it is. ... We still got a lot of mistakes to clean up."
Speaking of broken records, where have you heard this before? It's a miracle that Luck is able to continue to shake off all the hits he takes during the game.
Inserting Linkenbach into the starting lineup didn't improve an offensive line that needs to be upgraded in the offseason for the second straight year. Luck was sacked five times, including four in the second quarter.
The Colts did manage to score 12 points in the first half, but they haven't scored a touchdown in the first 30 minutes of a game since tight end
Coby Fleener
caught an 8-yard pass from Luck in the second quarter against Denver on Oct. 20 and Indianapolis was still considered a threat in the AFC.
"We know going down the stretch here that you've got to score touchdowns and try to put people away," Pagano said. "You let people hang around, you're just asking for trouble. Great win, but we still got obviously a long way to go and a lot of work to do, but really proud of the guys, proud of the coaches, proud of the players."
And proud to be closing in on a division title.
December, 1, 2013
12/01/13
6:07
PM ET
INDIANAPOLIS --
T.Y. Hilton
's 20-yard catch was finished and the first half clock was expiring.
Moise Fokou
stopped it with a shove in the back of
Stanley Havili
. The penalty against the
Tennessee Titans
linebacker gave the
Indianapolis Colts
15 yards and one play with a second remaining.
Adam Vinatieri
promptly hit a 37-yard field goal -- one of five in the game.
A free 3 points for the Colts en route to a 22-14 win over the Titans. That kick boosted the Colts lead from 9-7 to 12-7.
The play symbolized the Titans' season. They are undisciplined at key moments and allow opponents to take control and benefit.
"We can't do that, we just cannot do that," safety
Bernard Pollard
said. "We are walking into the locker room, they have three field goals. That gave them some life. You just can't do that…
"I had some choice words, those were bleep bleep bleep bleep bleep. We can't make those mistakes. It's hard to win in this game. It'd hard to keep powerful teams with really good players down. It's hard to keep points off the board. I think it was a 30 yards swing. (Actually 35.) It's ridiculous."
Fokou said, "no comment" to direct questions about the penalty, which is quite an impressive way to be accountable for a big mistake.
After more questions that were more about a play like that and less specifically about his, he relented a bit.
"It's frustrating," he said. "It's never a good thing to give up easy points, you can't do that, you can't win doing that."
Coach Mike Munchak leaned heavily on not having seen it.
"Obviously you can't do something like that," he said. "I don't think a lot goes through your mind when it happens. I think it's instinct or quick reaction, I don't know. I don't know why something like that would happen, it shouldn't happen."
Instinct?
That's what the Titans need, guys with instincts that tell them to hand away 15 yards and field goal opportunities.
Fans should be starting to count how many times Munchak says "I don't know" as well as another favorite, "for whatever reason."
More to come on him and the state of his team that scares no one else in the AFC South.
December, 1, 2013
12/01/13
4:17
PM ET
INDIANAPOLIS -- A few thoughts on the
Indianapolis Colts
'
22-14 victory
over the
Tennessee Titans
.

What it means:
It was far from a thing of beauty -- it was even ugly at times -- but the Colts control their own fate in the AFC South. The victory gives them a three-game lead over the Titans with four games left in the season. The ageless wonder
Adam Vinatieri
kicked five field goals and the Colts found their ground game on their final offensive series to seal the game. Running back
Donald Brown
had six carries for 46 yards on the drive that gave them an eight-point lead. He capped it off with a touchdown run. Brown, who replaced
Trent Richardson
in the starting lineup, had eight carries for 8 yards prior to the final drive.
No protection:
The Colts shook up their offensive line some by moving right guard
Mike McGlynn
to the bench and replacing him with
Jeff Linkenbach
. That didn't stop the Titans from being able to get after
Andrew Luck
. The Titans sacked Luck five times, including four times in the second quarter alone.
Getting defensive:
The Colts also changed things up some in the secondary.
Cassius Vaughn
had been starting for the injured
Greg Toler
at cornerback, but he was replaced by
Darius Butler
. The demotion woke Vaughn up, as he intercepted Titans quarterback
Ryan Fitzpatrick
twice. Linebacker
Robert Mathis
added to his league lead in sacks -- 15.5 -- when he got a strip-sack of Fitzpatrick in the second half. Linebacker
Jerrell Freeman
iced the game when he picked off Fitzpatrick's pass in Colts territory with 24 seconds left.
Still no offense in the first half:
The good news for the Colts is that they went into the half with a 12-7 lead. The bad news is that they still can't score any touchdowns in the first half. The Colts have had 31 possessions and 153 plays in the first half of their past five games. They haven't scored a touchdown in any of those halves.
What's next:
The Colts can clinch the AFC South if they can go on the road and beat the
Cincinnati Bengals
on Dec. 8.
December, 1, 2013
12/01/13
4:13
PM ET
INDIANAPOLIS -- A few thoughts on the
Tennessee Titans
'
22-14 loss
to the
Indianapolis Colts
a Lucas Oil Stadium:

What it means:
The Titans blew a chance to get back to leading the pack for the sixth seed in the AFC and couldn't close to within a game of the Colts in the AFC South. They are now 5-7.
Ryan Fitzpatrick
threw three interceptions and lost a fumble. Kicker
Adam Vinatieri
made up for the Colts' inability to find the end zone until the end, when they drove 92 yards in 11 plays over 6:12, capped by a 4-yard
Donald Brown
touchdown that provided the final margin.
Stock watch:
Tight end
Taylor Thompson
was called on for a major role with
Craig Stevens
inactive because of a concussion and
Delanie Walker
lost in the first half to a concussion of his own. Thompson looked thoroughly overmatched, booting a couple of catchable balls and hardly providing a reliable option for Fitzpatrick.
Four in a row:
The Titans have played reasonably well in four games against the Colts since Chuck Pagano took over as coach and
Andrew Luck
took over as quarterback. But Tennessee is 0-4 in those games as the Colts have found a way every time in the second half.
Giant goat:
Well away from the tackle at the very end of the first half, linebacker
Moise Fokou
shoved fullback
Stanley Havili
in the back and drew a personal foul penalty. The 15 yards put the Colts in range for a 37-yard Vinatieri field goal.
What's next:
The Titans travel to Denver for a matchup with
Peyton Manning
and the Broncos.