AFC South:

2013 Week 15 HOU at IND
December, 15, 2013
12/15/13
8:21
PM ET
INDIANAPOLIS -- The fourth receiver was out after spending the week with a walking boot on his right foot. The starting fullback was also out with a knee injury. The offensive line was dealing with its own injuries, too.
Those issues, to go along with a sputtering offense, weren't a good combination for the
Indianapolis Colts
.
[+] Enlarge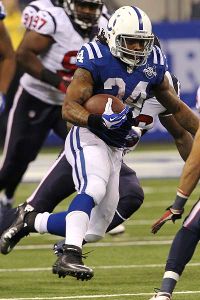 Pat Lovell/USA TODAY SportsIn one of the most complete games of his short career with the Colts, Trent Richardson had 102 total yards against Houston in Week 15.
It turns out it caused the Colts to go away from how they've been doing things on offense this season. Offensive coordinator Pep Hamilton improvised by opening up his playbook and calling his best half of the season in their
25-3 victory
over the
Houston Texans
on Sunday.
The Colts opened the game in the shotgun and used that formation 10 times on their 11-play, 80-yard drive that ended with
Andrew Luck
finding his former teammate at Stanford, receiver
Griff Whalen
, for a 14-yard touchdown. Indianapolis also used the no-huddle four times on the drive.
It's OK if you sat back and scratched your head before belting out "Finally!" after watching the Colts easily move the ball down the field on their first offensive series.
You were probably not the only person who did that.
"Just looking for a spark," Colts coach Chuck Pagano said. "Obviously going down the field and having a score on the opening drive, I think we did, right? That obviously was a big bonus and a confidence builder and all that stuff."
That was more than a confidence booster for the Colts. Scoring a touchdown in the first quarter was a must for them. Sunday was the first time they accomplished that feat since doing it against Denver on Oct. 20.
The Colts were the furthest thing from a predictable team -- a downfall of theirs -- in the first half.
They had receiver
T.Y. Hilton
line up on different sides of the field. Running back
Trent Richardson
was not strictly used as a runner, he was also used as a pass catcher. And more importantly, the Colts converted on third down.
They started the game 5-for-5 on third down, which was a drastic change from when they were 0-for-6 on third down in the first half against Cincinnati the week prior.
"We know if it's no huddle, or not, or three people or four, it's all just about execution," Luck said. "When we can execute and not shoot ourselves in the foot, we give ourselves a pretty good chance of winning games."
The Colts' newfound offense allowed them to gain 207 yards, go 5-of-8 on third down and have a 20-3 halftime lead.
Hilton had his best game in more than a month when he caught eight passes for 78 yards. Richardson, getting more snaps because of an injury to
Donald Brown
(stinger), rushed for a season-high 64 yards to go with four catches for 38 yards in his most complete game since being acquired from Cleveland on Sept. 18.
"For the offensive side, we got in a good rhythm," Richardson said. "We did good on third downs. Third down was big for us. We just capitalized on all ends. Andrew did a real good job managing the game. Pep did a really good job of calling plays."
The strong start allowed the Colts to run the ball more instead of having to rely on Luck's arm to get them back in the game. They finished with 152 rushing yards, their highest total since gaining 157 against Jacksonville on Sept. 29.
Not all is well with the Colts. They may have started the game 5-of-5 on third downs, but they failed to convert their final 10 attempts, only gained 124 yards and scored just five points in the second half.
"We left some points out there, but yeah, we needed (the victory)," Pagano said. "With these last three ballgames, even though we had won the division, clinched that, our first goal, we wanted to start building and gain some momentum, get a spark, whatever you want to call it. And so this was certainly something that's very positive for our football team, our organization moving forward into this next game against Kansas City on the road and then the last one here and then the playoffs."
December, 15, 2013
12/15/13
7:50
PM ET
INDIANAPOLIS -- With Wade Phillips taking over as interim head coach, the Texans defensive coordinator handed over defensive play-calling duties to secondary coach Vance Joseph.
In his first outing in that role during the 25-3 loss to the
Indianapolis Colts
, the Texans' defense finished better than it began.
"I felt fine about it," Joseph said. "I was proud of the guys for just fighting through it and playing the whole game. But I felt fine."
The Texans allowed 14 first downs in the first half and let the Colts convert on 5 of 8 third downs. Indianapolis began by converting their first five third downs and that was it. The Colts went 0-for-10 after that start, not converting a single third down in the second half. They only notched four first downs in the second half.
Joseph attributed that to the players and fewer penalties rather than anything he did.
"Our calls haven't changed in three years," Joseph said. "So players play."
Joseph called the plays from the sideline, just as Phillips had done before him. Phillips had the ability to veto his calls, but said he never did that.
"I gave him some heads-up a couple of times, 'Hey, what about this or that?'" Phillips said. "Again, I thought the defense played really good the second half, but too late."
It is hard to fault the defense too much, though, in a game in which the offense only scored three points.
December, 15, 2013
12/15/13
7:15
PM ET
INDIANAPOLIS -- The
Indianapolis Colts
needed something out of their defense. The sporadic play over the past seven weeks wasn't going to cut it, especially with the playoffs only three weeks away.
It turns out a three-and-out possession on their first defensive series was a sign of things to come for the Colts against the
Houston Texans
on Sunday.
Butler
The Colts held the Texans to 239 yards, sacked quarterback
Case Keenum
four times, and picked him off twice in their best defensive performance in more than two months in their 25-3 victory.
"We take it upon ourselves as a defense as a whole, because we feed off the front four and they feed off of us covering guys on the back end," Colts defensive back
Darius Butler
said. "We had to all come together. Guys executed the calls today, and made plays when we had to."
The 239 yards given up is the fewest the Colts have allowed since Jacksonville gained 205 yards against them on Sept. 29.
That's a drastic change defensively for the Colts when you consider that they had given up an average of 31 points and 401 yards per game in the seven games prior to Sunday.
"Yeah, we played good football today," Colts linebacker
Robert Mathis
said. "Kept mental mistakes to a minimum, and just able to get after it good and fast start and maintain it throughout the game."
The Colts wanted to get back on track defensively for the stretch run of the season, but they also remember what the Texans did to them in the first half of their first meeting in Houston on Nov. 3.
Keenum looked like he was going to be the Texans' quarterback of the future, and receiver
Andre Johnson
was going to break all kinds of records in the first half. Keenum threw for 208 yards, and Johnson had seven catches for 190 yards and three touchdowns in the first 30 minutes of the game.
It was the complete opposite Sunday.
Butler had both of the interceptions thrown by Keenum, including one where he baited the quarterback into attempting a pass to Johnson. Keenum finished the game 18-of-34 for 168 yards. Johnson had four catches for only 18 yards.
The Colts didn't allow the Texans into the red zone all game.
"They did a great job," Colts coach Chuck Pagano said. "They practiced really well. They were bound and determined to make amends for what Andre did to us in the first ballgame down there, specifically in the first half. I'm really proud of the guys in the back end. They stepped up. D-Buts getting two interceptions was huge."
December, 15, 2013
12/15/13
7:10
PM ET
INDIANAPOLIS -- As soon as the play was over,
Houston Texans
quarterback
Case Keenum
knew his mistake.
It didn't take a conversation with teammates or coaches. He didn't need anyone else to tell him.
It was late in the third quarter of Sunday's 25-3
loss
to the
Indianapolis Colts
. Keenum took the snap from the Houston 7-yard line, caught it at about the 3, dropped back and held onto the ball as Texans left tackle
Duane Brown
blocked one of the best pass-rushers in the NFL. Brown blocked the ferocious Colts outside linebacker
Robert Mathis
for three full seconds -- an accomplishment against a player of that caliber.
[+] Enlarge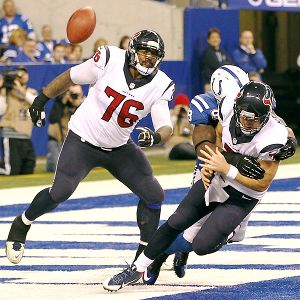 Pat Lovell/USA TODAY SportsCase Keenum needs to improve his decision-making to remain Houston's starter.
"I went through my reads down the field and didn't see anybody open," Keenum said.
So he did something he knew was wrong almost immediately after he did it. He ran to his left.
"You have to step up in the pocket," Keenum said. "You can't just try to escape out this way. It's up towards the line. And that was another bad decision on my part. That one was totally on me."
The result was a complete disaster.
Mathis barreled toward Keenun. He hit him on the fourth second after the snap, popped the ball out into the end zone, and notched a franchise record 16.5 sacks this season. Mathis has the most strip sacks in NFL history. Brown landed on the ball to limit the damage to a safety. They were the final two points scored in the game.
"We have to be in sync," Brown said. "We were out of sync on that play. It was supposed to be a quick throw and it didn't come out as quickly as it should have. I gotta hold my block longer. We just have to be in sync."
It was an afternoon filled with plays like that one. None so disastrous as a sack-fumble and a safety, but repeatedly Keenum made the wrong decision in the heat of the moment, even though he knew the right one.
"I was bad today," Keenum said, softly delivering a dejected news conference. "My teammates deserve better and my coaches deserve better. There is stuff that they tell me during the week multiple times and something goes in the game and I just make the wrong decision.
"... If someone knew the answer, I would like them to tell me."
Sunday's game in Indianapolis marked Keenum's lowest passer rating of the season at 42.3. He completed just 18 of 34 passes for 168 yards throwing no touchdowns and two interceptions. He nearly threw a third that would have been returned for a touchdown had Colts cornerback
Darius Butler
not dropped it.
Without knowing what he's doing wrong, Keenum would have little hope of fixing it.
That he understands it is a good sign and a direct result of his tireless preparation. He's not shirking his studies at all. But that's not changing what happens on the field each week.
Perhaps it's a matter of getting himself into the right habits and undoing the bad habits that came with the success he had despite them in a college system that didn't require such complicated understanding.
Or maybe it's all too much too soon.
"He's going though a process," receiver
Andre Johnson
said. "He can't take all the blame. We've all played a part in it. I had two drops today."
Maybe Keenum needs more time and will figure it out eventually. There is no set clock for a quarterback's development. But what's becoming more and more clear is the Texans can't go into next season expecting him to be the starter. They absolutely have to have another option.
The Texans can't win with Keenum playing as he is. And nobody is exactly sure what will change that.
December, 15, 2013
12/15/13
6:48
PM ET
INDIANAPOLIS -- The questions surrounding
Indianapolis Colts
linebacker
Robert Mathis
' effectiveness started when his partner in crime for 10 years,
Dwight Freeney
, went out West to San Diego.
Can Mathis still be a dominating pass-rusher without Freeney?
How much did Freeney help Mathis become a Pro Bowl player?
Mathis started answering those questions when he became just the 30th player in league history to record at least 100 career sacks after he got to Seattle's
Russell Wilson
in Week 5.
[+] Enlarge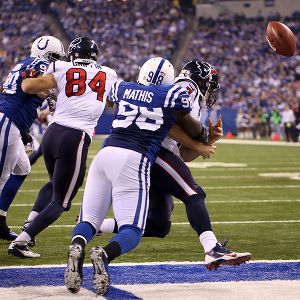 Brian Spurlock/USA TODAY SportsWith this sack of Case Keenum, Robert Mathis set the single-season and career sack records for the Colts.
Then, in front of a Lucas Oil Stadium crowd, Mathis moved past Freeney in the team's record books.
Mathis became the team's all-time leader for sacks in a single season (16.5) and career (108) when he beat
Houston Texans
left tackle
Duane Brown
for a sack of quarterback
Case Keenum
in the third quarter of the Colts' 25-3 victory. It was only fitting that Mathis set the record with one of his trademark strip sacks.
"I enjoyed it to the utmost," Mathis said. "Never take it for granted because it is such an accomplishment. It's just still unbelievable. Just happy to have it."
Mathis needed a bounce-back game after the
Cincinnati Bengals
shut him down on Dec. 8. It took almost three quarters, but Mathis is too good of a player not to get involved after the Colts' defense was shutting Houston's offense down and already had intercepted two Case Keenum passes in the first half.
The Texans had the ball at their own 7-yard line when Brown kept Mathis away from Keenum for three seconds, but the Colts linebacker wasn't going to be stopped. Mathis got by Brown on the fourth second and ripped the ball out of Keenum's hands. Brown fell on the ball in the end zone. Mathis was given the ball and then acknowledged the crowd for giving him an ovation.
"Duane Brown is a very good O-tackle," Mathis said. "He's a very strong guy. Just had to stay with it and saw the quarterback roll out and was able to get to him. That was about it. Just make a play for the team."
Mathis will have to make room in his locker to put the ball next to the hundred dollar bill he has framed in there signifying his 100th sack.
Sitting at the top of the team's record books signals how far Mathis has come in his career after being told he wasn't talented enough and that he was too small to play in the NFL after coming out Alabama A&M, which was a NCAA Division I-AA school when he played there in 2003.
But Mathis has continued to prove the naysayers wrong. He did it while playing with Freeney, and now he's doing it even more without him.
"He should be, in my opinion and probably everybody else's opinion that's certainly a Colts fan and part of this organization, in the conversation someday to be in the Hall of Fame I would think," Colts coach Chuck Pagano said. "Doing what he's done for as long a period that he's done and the records that he has, who knows? We'll see. He's got my vote. I don't have one, but he's got it anyway."
Mathis doesn't plan on calling it quits anytime soon, so his next possible honor could be defensive player of the year.
That wouldn't be too bad for a player very few thought could give opposing quarterbacks nightmares.
"It's a bit surreal," Colts quarterback
Andrew Luck
said. "He's everything you could ask for in a leader, a locker room guy, in a veteran, the example he sets, his work ethic. He's one of those guys that all the great things that happen, he deserves because he puts the work in. He does go the extra mile for it."
December, 15, 2013
12/15/13
4:12
PM ET
INDIANAPOLIS -- A few thoughts on the
Houston Texans
'
25-3 loss
to the
Indianapolis Colts
:
What it means:
Despite changes to the head coach, special-teams coordinator and the structure of practice, as well as the addition of Big 12 officials during the week, nothing changed. The Texans remained winless in Indianapolis, 0-for-12, and strengthened their case for the No. 1 overall pick in the draft. Every phase of the game struggled. Houston's defense played well late, but it was not in time to change things for the Texans given how their offense was playing.

Stock watch:
Both
Case Keenum
and head coach Wade Phillips' stocks took a hit on Sunday. Before Sunday's game, the Texans had set an NFL record with seven consecutive games lost by seven or fewer points. This one was never that close. It was the Texans' first blowout loss since an Oct. 13 loss to the
St. Louis Rams
that ushered in the Keenum era. The Colts led 20-3 at halftime, and the Keenum-led offense didn't notch a first down in the third quarter. The Texans' fourth-quarter numbers were slightly better, especially on a late drive that ended just before the two-minute warning. But even that didn't lead to points.
Penalties again:
The Texans set a franchise record with 14 penalties for 177 yards against the
Jacksonville Jaguars
in Week 14. They quickly set out to match that feat against the Colts. The difference between this week's and last week's penalties is that last week the Texans might have won had it not been for penalties. This week's penalties, while still costly, can't be blamed for the loss.
What's next?
The Texans face the
Peyton Manning
and his
Denver Broncos
in Houston. Manning is coming off a loss and a lot of time to prepare with playoff positioning at stake.
December, 15, 2013
12/15/13
4:07
PM ET
INDIANAPOLIS -- A few thoughts on the
Indianapolis Colts
' 25-3
victory
over the
Houston Texans
:
What it means
: The Colts didn't wait until the second half to get going offensively. They started on their first offensive series of the game. The Colts mixed up the run with the pass to go 80 yards on 11 plays on their opening drive. The drive ended with quarterback
Andrew Luck
finding receiver
Griff Whalen
for a 14-yard touchdown. That was the first time the Colts scored a touchdown in the first quarter since doing it against Denver on Oct. 20. Slow starts have been a problem the past seven weeks for the Colts, but they went into the half with a 20-3 lead. They were 5-of-8 on third down in the first half after going 0-for-6 in the first half against Cincinnati on Dec. 8. The one downside about the Colts on offense is that they started the game 5-for-5 on third down but failed to convert on their final 10 attempts.

Whalen steps up
: Whalen has been an afterthought this season after having a strong training camp. He was elevated from the practice squad Saturday because of the injury to fellow receiver
LaVon Brazill
(foot). He took advantage of the opportunity. Whalen, a college teammate of Luck's at Stanford, caught four passes for 45 yards, returned three punts for 67 yards and a kickoff for 22 yards.
Being honored
: Former Colts running backs Eric Dickerson and Marshall Faulk were inducted into the team's Ring of Honor at halftime. Dickerson rushed for 5,194 yards and 32 touchdowns during his five seasons with the Colts. He won the league's rushing title in 1988, when he gained 1,659 yards to go with 14 touchdowns. The Colts traded Dickerson to the Los Angeles Raiders following the 1991 season. Faulk rushed for 5,320 yards and 42 touchdowns to go with 297 receptions and 2,804 yards in his five seasons with the Colts. He was traded to the
St. Louis Rams
after the 1998 season because he thought he deserved a raise. Dickerson and Faulk join Robert Irsay, Bill Brooks, Chris Hinton, Ted Marchibroda, Jim Harbaugh, the 12th Man, Tony Dungy, Marvin Harrison and Edgerrin James in the team's Ring of Honor.
Injuries
: Colts guard
Joe Reitz
left the game in first half after being tested for a concussion. Starting running back
Donald Brown
sat out the second half with a stinger. He ran for 38 yards on five carries. Linebacker
Daniel Adongo
(hamstring) and safety
Sergio Brown
(groin) also left the game.
What's next
: The Colts go on the road to take on the
Kansas City Chiefs
on Sunday. The Colts and Chiefs have a chance to face each other in the playoffs in Indianapolis.