AFC South:

2013 Week 16 DEN at HOU
December, 22, 2013
12/22/13
7:46
PM ET
HOUSTON -- Coming into this game, it seemed a foregone conclusion that Broncos quarterback
Peyton Manning
would break the NFL's single-season record for passing touchdowns. The only question was, "When?"
Manning
For three quarters the Texans defense played in a way that could have won the game. They gave up a lot of yards in the first half, but only one touchdown. They did neither in the second half, holding Manning to three three-and-outs and another slightly longer drive that also resulted in a punt.
But in the fourth quarter Manning turned on the show he's broadcast all season.
"I would have to say Peyton Manning found a way there at the end," Texans defensive end
Antonio Smith
said.
Smith was asked if that was the best version of Manning he's ever faced and he said it was.
Manning broke the touchdown record with the game soundly in hand. The Broncos led the Texans 30-13, and then Manning made it clear that winning wasn't his only goal today.
It burned at Smith, but he took it in the well-reasoned way.
"That has to raise some fight in you," Smith said. "But as a true football player, that's what football is. That's what his job is to do. He wants to be great. It's his job to try to be great, no matter how it makes anybody else feel. This is football. We're grown men. It's our job to stop them. It's his job to break records."
There wasn't one player who said publicly that Manning going for the record with the game in hand was out of line. Texans interim head coach Wade Phillips said it surprised him that they were still so aggressive.
"I was surprised, but they threw it deep late in the game," Phillips said. "But that's part of football."
Brooks Reed
said he didn't see it that way, "Our job is to stop him. His job is to compete. He wants to be the greatest. He's going to go for a record. It's our job to stop him."
Shiloh Keo
said simply: "They don't run the ball. Peyton Manning likes to throw it."
December, 22, 2013
12/22/13
7:33
PM ET
HOUSTON -- Amid the postgame swirl of players, coaches and cameras on the field, Texans quarterback
Matt Schaub
found the man in whose shadow he has played for years.
He congratulated
Peyton Manning
for setting an NFL record for the most touchdown passes in a single season, before returning to the Texans' locker room.
The Matt Schaub era has likely ended in Houston. What's likely the last pass he'll throw as the home starting quarterback at Reliant Stadium was a deep ball that resulted in an interception.
"It has definitely crossed my mind," Schaub said. "I didn't want to think too far ahead, but you know, I've played this game long enough. I know how things work, so you know it definitely crossed my mind."
[+] Enlarge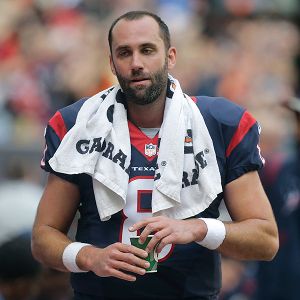 AP Photo/Patric SchneiderIt's difficult to imagine Matt Schaub returning next season after arguably his worst season in Houston.
He came into the game with a chance at redemption, though probably not one that could have extended his career in Houston.
His teammates and interim head coach asked for mercy from a disgruntled fan base. They weren't trying to spare his feelings, though that does matter to them. Rather, last time they did that in Reliant Stadium, many fans disrupted the Texans' offense with their boos.
There weren't boos this time around. At this point in the season, apathy has taken over. By the time Schaub threw that second interception, most of the remaining fans were people dressed in orange, trickling down the stands as close to the field and Manning's exit as they could get.
Who could have predicted it would end like this?
Certainly not the Texans, who awarded Schaub an extension worth $62 million with $24.75 million guaranteed the day before the 2012 season began. Sure, they protected themselves a bit -- they don't owe Schaub any guarantees after this season -- but you don't give that kind of contract to a player you don't believe can help you accomplish your goals.
With better receiving options and better protection, they thought, the Texans would pick right back up where last season ended and Schaub might return to the solid play he showed many times during a 12-4 2012 campaign. He was never Peyton Manning, he would never be Peyton Manning. But this Texans team didn't necessarily need that.
They got the good Matt Schaub in comeback bids in the first two games of the season. He began his pick-six streak against Tennessee in Week 2, but that pick-six only preceded an effective game-tying drive by Schaub. Worth noting here, too, is that
Arian Foster
(now on injured reserve) gutted out the two-point conversion after the touchdown to send the game to overtime.
That was the last time positivity graced this team.
The pick-sixes continued, the anger toward Schaub increased, the first benching came at the end of Schaub's worst game of the season in San Francisco. They let him play again the next week before begging for a spark from
Case Keenum
.
Today, Schaub's first pick broke the dam against which Manning pushed. Schaub threw to rookie receiver
DeAndre Hopkins
, who went out instead of in, expecting Schaub's pass to go there. They haven't played together much in so long that their chemistry wasn't right.
Broncos safety
Mike Adams
picked off the pass and returned it 3 yards to the Texans' 28-yard line. It only took Manning two plays to throw his second touchdown pass of the day. It was his first of three fourth-quarter touchdown passes, the last a record-setting score.
Schaub will leave with the personal respect of teammates who know how hard it is to lose your starting job. Even the player with whom he had his most animated public spat ultimately offered encouragement.
"Matt's a great player,"
Andre Johnson
said. "I think if he's not here, he'll get another opportunity. Matt can start in this league."
He did it for seven seasons with a team that will now try to take the step without him that they never quite could with him.
December, 22, 2013
12/22/13
4:18
PM ET
HOUSTON -- Thoughts from the
Houston Texans
' 37-13
loss
to the
Denver Broncos
at Reliant Stadium:

What it means:
Nothing, really. A win Sunday would have given the Texans something to feel happy about for a little bit and provided a source of pride at stalling an explosive offense. They've come to terms with the fact that they aren't accomplishing their bigger goals this season; now it's just a matter of making it through one more game before the recovery can begin.
Stock watch:
Texans quarterback
Matt Schaub
entered Sunday's game with a chance at a bit of redemption. He missed the Week 7 game in Kansas City thanks to a foot and ankle injury. While he was out, his backup's performance gave the Texans a spark, former head coach Gary Kubiak thought, which was enough to earn
Case Keenum
the new role as the Texans' starter. This week Keenum was sidelined as he recovered from a thumb injury that included ligament damage. In what might have been Schaub's final game at Reliant Stadium, he offered a familiar performance. Some good moments, some shaky ones and two interceptions -- one of which opened the door for
Peyton Manning
's second of four touchdowns in the game.
Defense flips script:
For the first three quarters, the Texans' defense was playing what might be its best game of the season. It gave up a ton of yards -- including 355 in the first half -- but only one touchdown out of all of it. Denver went into halftime with a tenuous 16-6 lead that became a 16-13 lead in the third quarter. The Broncos went three-and-out three times and punted four times in the third quarter.
Show of respect:
Several Texans congratulated Manning for breaking the single-season touchdown record with 51, starting with punter
Shane Lechler
, then defensive end
J.J. Watt
.
Andre Johnson
exchanged a few words with Manning, as did Texans owner Bob McNair. Manning threw four touchdowns and had 400 yards.
What's next:
A trip to Nashville to play the
Tennessee Titans
, then the merciful end to what has been a nightmarish season for the Texans.