AFC South:

2013 Week 16 TEN at JAC
December, 22, 2013
12/22/13
7:50
PM ET
JACKSONVILLE, Fla. -- The
Jacksonville Jaguars
were already banged up on defense before Sunday's meeting with the
Tennessee Titans
.
It got even worse during the game.
The Jaguars ended up being down five starters and it really showed up in the run defense. Tennessee ran for 182 yards and rallied from a 10-point deficit to
down Jacksonville 20-16
at EverBank Field. It was the Jaguars' third-worst performance of the season behind the 226 they allowed to Oakland in Week 2 and the 198 they allowed last week to Buffalo.
"We had some things we had to clean up, some things maybe that we counted on in the past due to some new personnel in there," coach Gus Bradley said. "We just had to tighten it up a little bit and it was hit and miss. There were some inconsistencies."
That's to be expected with that many players playing different roles. The Jaguars didn't have outside linebackers
Russell Allen
(concussion) and
Geno Smith
(knee) and defensive tackle
Roy Miller
(shoulder). That meant rookie
John Lotulelei
and third-year player
J.T. Thomas
-- mainly special teams players -- had to start at linebacker.
Brandon Deaderick
, who had been inactive for the last two games, started for Miller. By the second half, Deaderick was out with an elbow injury and
Jordan Miller
, who was just activated from the practice squad this week, was getting snaps.
Cornerback
Dwayne Gratz
had to leave the game with an ankle injury but the Jaguars are much better equipped to handle an injury in the secondary than in the front seven.
The lack of depth really showed in the second half. The Titans ran for 68 yards in the first half but ran for 58 on their second drive in the third quarter. They had 114 yards rushing in the second half. The Jaguars were especially hurt up the middle, which was a byproduct of a worn-down defensive front that had just three healthy defensive tackles: Miller, Deaderick and
Sen'Derrick Marks
.
"We had some new guys step in but those guys, they've been here and they've practiced with us so it's no blame on them for giving up plays," defensive tackle Sen'Derrick Marks said. "We gave up some plays and we weren't as sound as we usually have been. Our thing is if a guy goes down we've got to have another guy to step in and make sure them we surround them and make sure he does what he's supposed to do."
The Titans put together two long drives in the third quarter that lasted 11 and nine plays and resulted in touchdowns. The Titans ran the ball on 14 of those 20 plays, including quarterback Ryan Fitzpatrick's 3-yard scramble on fourth-and-2.
By the time that second drive ended, the Titans had a 20-16 lead just 35 seconds into the fourth quarter. You could see the Jaguars' defensive players were gassed.
"It always takes something out of you but it's what we do," Marks said. "You're supposed to be in shape. You're a professional football player. We've just got to go out and get the stop and try to get off the field."
The Jaguars did that in the first meeting with the Titans. They held Tennessee to 83 yards rushing, including 30 yards by
Chris Johnson
. He had 90 and Shonn Green had 91 on Sunday.
Bradley understands the limitations he has with his roster, but even so he's expecting more from the reserves when they do get on the field.
"Even though they got limited reps [in practice] when their number is called upon they have to perform," Bradley said. "I sure we will see some good things that they did on tape. It's just the consistency. That's what you have to battle through sometimes."
December, 22, 2013
12/22/13
6:52
PM ET
JACKSONVILLE, Fla. -- Cost versus production is an equation that's up for constant debate when it comes to Titans running back
Chris Johnson
.
He's getting paid $10 million this season for 3.8 yards a carry. A guy known as CJ2K after running for 2,006 yards in 2009 needs 53 in the season finale against Houston at LP Field to finish 2013 with just half that total.

Johnson
A breakaway back has a long run of 30 yards and hardly ever breaks a tackle. Due $8 million next season, he could be heading into his last game with Tennessee.
But Sunday at a key moment against a bad run defense, he flashed back to far better days.
With 3:01 remaining in the game and the Titans looking to hold on to their 4-point lead, the Titans faced third-and-4 from their 23 yard-line. Out of shotgun,
Ryan Fitzpatrick
handed off to Johnson, who chugged and spun angling to the right side of the middle of the field for a 4-yard gain.
The first down put the Titans in position to run an additional 2:08 off the clock and force Jacksonville to burn its final two timeouts, one on a failed challenge of the spot of Johnson's run.
If it wasn't Johnson's best run of the year, it was his second best. His 7-yard touchdown run in Nashville against the Colts on Nov. 14 also featured him taking on a defender and powering through.
Tennessee had run well against the Jaguars, who fielded
an injury-weakened defensive front
.
Shonn Greene
has 19 carries for 91 yards and Johnson had 22 for 90 in the first game that really showed what they can do as a tandem.
Receivers including
Nate Washington
, who had a 117-yard day, were feeling so good about the ground game, they encouraged offensive coordinator Dowell Loggains to call a run on the third-and-4.
"It was going to the left and we checked it to go toward the tight end to set up better angles for the offensive linemen," left tackle
Michael Roos
said. "He made a great read and just put his head down and got the yards."
The defense chipped in with three big plays near the end too.
Jason McCourty
made an excellent tackle of
Ace Sanders
to keep him short of a first down, and
Ropati Pitoitua
and
Bernard Pollard
stopped
Maurice Jones-Drew
on the subsequent fourth-and-1 try.
Later, safety
George Wilson
pulled in a one-handed pick of a
Chad Henne
attempt for
Marcedes Lewis
to clinch the game.
Defensive tackle
Jurrell Casey
said the solid defense down the stretch came from everyone doing his job and "no confusion."
It was a good list of big plays late in a game for a team that's made a habit out of failing to finish.
Whatever happens with Johnson, I bet he'll remember that third-down play and the confidence the coaches showed in calling it.
"It was pretty good," he said. "I think that was a good run third-and-4 and everybody knew it was coming. A guy came flying and I broke the tackle, I dove, fighting and scratching just to get the first down.
"It feels good that they made that call, it felt good that they gave me the ball and put the trust in me to get the first down."
December, 22, 2013
12/22/13
6:45
PM ET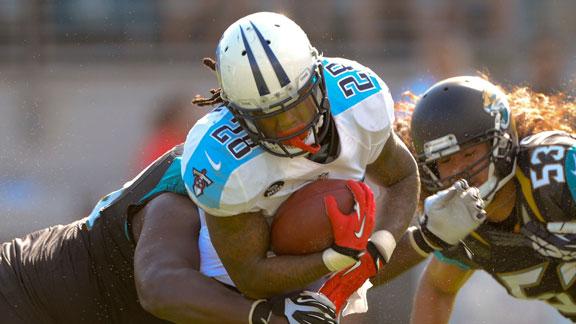 JACKSONVILLE, Fla. -- When the call came in from the sideline, Jaguars center
Brad Meester
got nervous.
But not because he was going to get a chance to score a touchdown in his final game at EverBank Field in front of his family.
He was worried he would embarrass himself in front of 60,559 people.
"The thing that ran through my head was, 'Don't drop the ball,'" Meester said following the Jaguars 20-16 loss to the
Tennessee Titans
. "I knew I would catch a lot of flak if I got open one time in my life and I dropped the ball. That was the one thing I was focusing on is catching it."
You can understand his uneasiness. Offensive linemen don't get to catch passes or score touchdowns very often. Tackles sometimes do when they line up as extra tight ends. But centers never do.
Until Sunday, when offensive coordinator Jedd Fisch and head coach Gus Bradley decided to give Meester a shot as a way to say "thank you" for being a vital part of the Jaguars franchise for the past 14 seasons. They put the play -- called Pass 5 Weak Screen to Brad -- in the game plan and practiced it all week.
On second-and-8 from the Tennessee 13-yard line late in the first quarter, they called it.
[+] Enlarge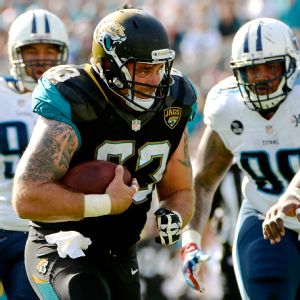 AP Photo/Phelan M. EbenhackCenter Brad Meester made his first NFL catch in the final home game of his 14-year Jaguars' career.
Left guard
Jacques McClendon
moved to center and
Drew Nowak
, who was just activated from the practice squad this week, went in at left guard. Meester lined up to the right of tackle
Austin Pasztor
.
He went about 3 yards down field, turned around, and caught the pass from
Chad Henne
, just like he had done all week. Every time they practiced the play he caught it. Not a single drop. Even if he had been tackled immediately he would have been a hero to his linemen teammates.
"Have you seen his hands?" Pasztor said. "His fingers are all bent every which way. It is remarkable that he can hold onto the ball."
The rest of the play was an example of why offensive linemen don't catch passes. Meester ran into the back of right guard
Uche Nwaneri
, tried to juke a defender, and cut inside instead of outside, where Pasztor was waiting to make a block. Had he done that, he may have scored.
"He's a lineman. You think he's going to see that?" Nwaneri said. "He's just like, 'RUN! RUN!' That's how I would have been."
Meester admitted he maybe sort of panicked.
"I couldn't figure out what to do," he said. "Am I going outside? Am I going inside? Is he moving? I stuck there for a while and finally went inside, and there were a couple of guys waiting for me."
Running back
Maurice Jones-Drew
said he probably would have cut outside.
"Yeah it was [free outside] but his speed and my speed are a little different," he said. "I think he's running 7s not 4s."
Jones-Drew, though, is partly to blame. At no time this past week did he give Meester any tips on reading blocks. It's not like that's something an offensive lineman is supposed to know.
"If you ask Drew [Nowak] he would say he played running back so he'd probably tell you he does know how to read blocks," Pasztor said. "I think the majority of us probably don't."
Meester eventually was tackled after a 9-yard gain, giving the Jaguars a first-and-goal from the 4-yard line. Henne hit
Marcedes Lewis
on the next play for a touchdown.
Meester wasn't bummed about not getting to score. He said it's a play he'll always remember, not only because it was a chance to live out every offensive lineman's dream but because it was a sign of how the coaching staff and franchise feels about him. He'll also never forget the crowd after the play, either.
"It also meant a lot when after the catch they started cheering, 'Meester.'" He said. "That was pretty cool. I never had anything like that happen in my life, except maybe at the house."
Had he scored, though, it would have been pandemonium, Jones-Drew said.
"The whole team was ready to get a penalty so it was kind of good that he didn't score because I think everyone was going to run on the field if he got in," Jones-Drew said. "The bench probably would have emptied."
The catch, as it no doubt will go down as in Meester's household, was part of a bigger tribute to the 14-year veteran, who announced earlier this week that this will be his final season. He was the only Jaguars player introduced before the game and the team held an on-field ceremony after the game in which he and his family were presented with four framed No. 63 jerseys.
That was a fitting tribute to a player who owns the franchise record for most games played and started (208) and the two longest streaks of consecutive starts (92 and 89). Meester was grateful for the pregame and postgame honors and for Bradley and Fisch giving him a chance to live every offensive lineman's dream.
"I didn't break down and cry," Meester said. "I did get emotional. It was an emotional time. It really started to get me when I went out for pregame warm-up. I could hear people yelling at me and I could see some signs out there. That was awesome. I never had a sign for myself and there were several.
"There was even a Fat Head out there, which my kids have outside and are excited about."
Probably more than had their dad scored a touchdown.
December, 22, 2013
12/22/13
5:51
PM ET
JACKSONVILLE, Fla. -- They were just about everything they want to be.
Sunday at EverBank Field, in a
20-16 win
over Jacksonville, just about every ingredient the
Tennessee Titans
have been missing in 2013 showed up.
They fit their formula as they ran for 182 yards, as they made effective halftime adjustments, as they made key stops and collected a key turnover, as they asserted themselves for a key third-down conversion to milk the clock near the end.
[+] Enlarge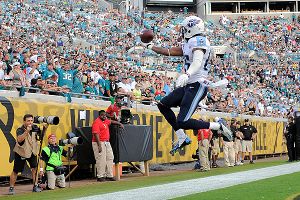 Stacy Revere/Getty ImagesNate Washington's touchdown gave the Titans the lead in an encouraging performance by the team.
"The second half was finally how we want to play," coach Mike Munchak said, acknowledging that it was far too little, too late in the big picture. "If you can do that, 180, 190 whatever the heck it was [we ran for], that's the formula. Going forward, that's what this team needs to be able to do, that's what they're built to do if we're all healthy ...
"This is what you want to be able to do, this is what we will build into next season on, and this is the type of team you're going to see."
That second part, of course, presumes Munchak is retained as the team's coach.
While a second loss to the Jaguars would have hurt his case, I'm not sure a win over them should help it much.
Put simply, the Titans currently have superior talent, if not a superior coach and GM. Put simply, it was a result that should be expected. Smartly and accurately, no one was lauding it as some sort of statement.
Still, it served as a relief and a breakthrough, and that says much about a franchise that won just its second game in its last 11 chances in the AFC South.
The Titans' big rushing effort came against a team minus starting defensive tackle
Roy Miller
which then lost his replacement,
Brandon Deaderick
, to a first-half elbow injury. Recent practice-squad call-up
Jordan Miller
played from there.
J.T. Thomas
, rookie
John Lotulelei
and
LaRoy Reynolds
rotated through two of the three starting linebacker slots. None of them are likely to be NFL starters on a fully stocked team.
The Titans won't apologize, and shouldn't apologize, for beating the Jaguars. That was the only thing they could do on this Sunday.
But mixed in with the happiness that came with the win was a recognition that they've blown similar situations all year long.
"We see that we can do it, but we ain't done it all year long," defensive tackle
Jurrell Casey
said, adding, "We know if we dig deep every week we can get the job done. We've just got to find out how we can get that done every week."
Said receiver
Nate Washington
of the win: "That doesn't ease any pain."
"You always look back at those games that were nail-biters and understand you couldn't close them out. You look at this game and say, 'Wow, that was a team that could have closed out those other games.'"
December, 22, 2013
12/22/13
3:53
PM ET
JACKSONVILLE, Fla. -- A few thoughts on the
Jacksonville Jaguars
' 20-16
loss
to the
Tennessee Titans
:

What it means
: The Jaguars (4-11) were unable to overcome a slew of injuries and pick up their second victory at EverBank Field this season. It's just the second time in franchise history the Jaguars have won just one game at home. They went 1-7 at EverBank last season and 1-6 this season (they played a home game against San Francisco in London).
Stock watch
: The Jaguars' group of no-name receivers did a solid job against the Titans. Injuries have left the Jaguars with little experience at the position. Entering the game, the team's four active receivers (
Ace Sanders
,
Kerry Taylor
,
Mike Brown
and
Lamaar Thomas
) had a combined 75 catches this season. None of them have more than a year of experience in the NFL. The group responded, especially Brown and Taylor. Brown caught five passes for 71 yards and one touchdown while Taylor had four catches for 45 yards.
Honoring Meester
: The Jaguars had a quick postgame ceremony to honor center
Brad Meester
, who is retiring at the end of the season after 14 years with the team. Offensive coordinator Jedd Fisch tried to send him out in style by calling a screen pass for Meester that was designed to get him a touchdown. Meester made the catch but cut left instead of right and got tackled at the 4-yard line. Hard to criticize him for making that wrong cut, though. As former Jaguars offensive tackle Tony Boselli joked at halftime, it's not like offensive linemen regularly read blocks.
Depleted defense
: The Jaguars were already without three starters (linebackers
Russell Allen
and
Geno Hayes
and defensive tackle
Roy Miller
) and they lost two more key players during the game: defensive tackle
Brandon Deaderick
(elbow) and cornerback
Dwayne Gratz
(ankle). That forced the Jaguars to use defensive tackle
Jordan Miller
, who was active for the first time this season, and start inexperienced linebackers
J.T. Thomas
and
John Lotulelei
. You could see the drop off. The Titans ran for 182 yards and had most of their success in the passing game in the middle of the field.
What's next
: The Jaguars end the 2013 season at Indianapolis on Sunday.