AFC South:

2013 Week 16 Upon Further Review AFC
December, 23, 2013
12/23/13
9:00
AM ET
Four hot issues from the
Houston Texans
' 37-13
loss
to the
Denver Broncos
:
Johnson's day:
Andre Johnson
became only the second player in NFL history to have five seasons with at least 100 catches (matching Broncos receiver
Wes Welker
). He came into Sunday's game with 99 catches. Because of a combination of missteps by both he and quarterback
Matt Schaub
, Johnson caught only four passes on his 13 targets. Last week, Johnson had just four catches on 10 targets. One of his targets against the Broncos was a play that should have ended in a touchdown. Schaub threw what appeared to be a perfectly placed pass that Johnson dropped. He said it was a play he should have made, but added that the ball came quickly and the sun in his eyes (through the rare open roof) didn't make it easier. Johnson said Schaub told him after the play that he had thrown it a little bit early. What took the edge off for both of them was that Schaub threw a touchdown pass to
Keshawn Martin
right after that. "Keshawn bailed me out," Johnson said.
[+] Enlarge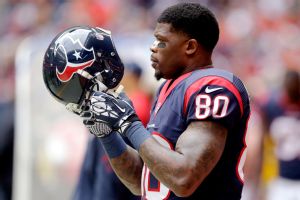 AP Photo/Patric SchneiderAndre Johnson was targeted 13 times, but had just 4 catches for 63 yards.
Bullock continues redemptive streak:
Neither the Texans nor kicker
Randy Bullock
gave up on the belief that he would eventually figure things out after a rough start to the season. On Sunday, Bullock made two, giving him 11 straight made field goals -- the sixth-longest such streak in franchise history.
Four-man front designed to force the pass:
Sometimes the talk of the Texans' coaching search gets bogged down in the details of whether the next coach will change the defense. I don't think a schematic change would be all that difficult for the Texans as interim head coach/defensive coordinator Wade Phillips' defense is much more of a hybrid than a pure 3-4. Sunday's game was a good example of that. "We played a bigger group against them because we didn't want them to run the football, which they didn't really run the football," Phillips said. "We wanted to force them to throw the ball and obviously they did that. You really have to get them into third downs. I thought we played really well on third down." The Broncos only converted 2 of 11 third downs. And before you scoff at the idea of forcing the Broncos to throw, remember that it worked for a lot of the game. Broncos quarterback
Peyton Manning
's brilliant fourth quarter had the help of some very favorable field position.
Frustrating, disappointing, forgettable:
Frustrating might be the most-used word in the Texans' locker room this season. Defensive end
J.J. Watt
used it Sunday. "It's been frustrating. It has been disappointing to say the least and it has been very forgettable. It is something that we never want to happen again, that is for sure."
December, 23, 2013
12/23/13
8:00
AM ET
A review of four hot issues from the
Jacksonville Jaguars
'
20-16 loss
to the
Tennessee Titans
:

Lewis
Keeping Lewis involved:
Marcedes Lewis
caught a touchdown pass in his fourth consecutive game and finished with four catches for 50 yards. He has been much more involved in the offense over the past month, which has really helped the Jaguars overcome an injured and now-missing
Cecil Shorts
. He should have been more involved earlier in the season but he needed time to adjust to the system after missing so much time because of a calf injury. His past month also highlights an interesting decision the Jaguars have heading into 2014: Do they keep Lewis, who is scheduled to make $6.7 million in base salary next season and $6.65 million in 2015? He has proved he is still a productive player and probably could catch 50 passes in Jedd Fisch's offense in a full season, but that's a lot of money to devote to a player who will be 30 next year and isn't part of the team's long-term plans.
Meester's TD:
It was a feel-good move for offensive coordinator Fisch and head coach Gus Bradley to try to find a way to get center
Brad Meester
, who is retiring after 14 seasons, a touchdown. Although Meester didn't score, the play call will pay off in an even bigger way: It further cemented the players' belief, respect and admiration for Bradley. That he'd be willing to do that for Meester has won him the locker room for years. How could a player not want to play hard for a coach like that? Very few coaches would be willing to do that. I asked one former Jaguars player after the game whether former coach Tom Coughlin would have done that. His response: "Hell no. He wouldn't have even considered it."
QB situation:
Chad Henne
played a solid game -- 24-of-34, 237 yards, two TDs, one interception -- and the way he has played the past two months also presents the Jaguars an interesting possibility. His contract expires at the end of the season but he is definitely worth re-signing, especially if the Jaguars aren't going to draft a quarterback in the first few rounds. Henne has shown he can function within the offense and not put the team in bad situations. If the Jaguars decide to go defense with the first several picks and take a quarterback late, Henne is good enough to be a caretaker for another year.
Farewell MoJo?
Sunday could have been the final time Jaguars fans see running back
Maurice Jones-Drew
wearing teal and black. His contract expires after Sunday's season finale at Indianapolis. He said in the locker room after the game that he'd like to be back, but it will depend on whether he and the Jaguars can reach an agreement on both a salary and length of contract that would allow him to possibly finish his career in Jacksonville. "If it is [my last game as a Jaguar], it is, and if it isn't, then I had a great run," said Jones-Drew, who has 8,032 career rushing yards. "This is just part of this game. We all know that. It's the business aspect of it that nobody wants to talk about. It is the pink elephant in the room. Sometimes you have to walk away and sometimes you can stay. Hopefully I can be like Meester and be back. We have a couple months to figure that out after next week. We'll see how it goes."
December, 23, 2013
12/23/13
8:00
AM ET
JACKSONVILLE, Fla. -- An examination of four hot issues from the
Tennessee Titans
'
20-16 win
over the
Jacksonville Jaguars
:

Munchak
Injury talk:
A year ago the Titans suffered a slew of injuries on the offensive line, and it was often difficult for them to field a functional group. That's a bad scenario, suffering multiple serious injuries at the same position. Otherwise, you're like most other teams. Mike Munchak continues to talk as if the Week 1 knee injury to running back
Shonn Greene
was season-altering. It's great that Greene is feeling good and making a contribution, but losing him for a stretch and then not having him at 100 percent shouldn't have had such a big bearing on this team. Losing quarterback
Jake Locker
was big, of course. But otherwise the Titans have had a pretty healthy season. Yes,
Brian Schwenke
's ankle injury has lessened the rookie center's game. But the idea that the line hasn't had sufficient time to jell because of dings is way overstated. Injured/altered lines in Seattle and Miami have functioned well enough, no? There are banged-up guys on the rosters of all the teams the Titans are playing, too. Munchak looks primed to oversell injuries as part of the reason his team hasn't lived up to his promise of not disappointing fans this season. Tommy Smith and Ruston Webster shouldn't put too much stock into that. And Munchak shouldn't expect perfect health if he's coach in 2014.
Reinforcement:
Here's hoping a successful game against a bad team doesn't do much to prompt ownership to buy in to antiquated thinking where the Titans continue to want to be predominantly a run team. There is a place for the running game and dangerous backs. But Tennessee has overemphasized it with limited success, and running against a bunch of Jaguars backups shouldn't fuel the continued dedication to the approach in a passing, quarterback league. The Titans need to focus on quarterback above all else, not further commit to the desire to throw it when they want to as opposed to when they need to.
Shuffling backers:
In the two previous games, the Titans gave a large share of the weakside linebacker work to rookie
Zaviar Gooden
. Sunday he was inactive. Munchak said the team decided to sacrifice a linebacker for an extra receiver as they thought the heat would have a bearing on the wideouts. They also wanted to see
Colin McCarthy
play the weak side. That's fine. But it looks like they are having trouble making up their minds about who their best guys are. And that's a significant problem in Week 16.
Confusing use:
I'm a giant believer in maximizing threatening weapons.
Jackie Battle
is the Titans' third running back for a reason, and he's not at all threatening as a pass-catcher. Maybe give him some snaps in passing situations to lessen the pass-protecting responsibilities of
Chris Johnson
, who's pretty good at picking up rushers. He's playing too much, and against the Jaguars, he was splitting out wide in empty formations. I didn't get to talk to offensive coordinator Dowell Loggains after this game, but I certainly will ask him soon what makes Battle in a receiver position a good idea.

AFC SOUTH SCOREBOARD
Friday, 8/22
Saturday, 8/23