AFC South:

2013 Week 17 HOU at TEN
December, 29, 2013
12/29/13
6:39
PM ET
NASHVILLE, Tenn. -- An energized
Chris Johnson
turned his back, leaned into defenders, chugged his legs and rode a push from his blockers.
The 8-yard run on a second-and-7 in the fourth quarter was one of several big, assertive runs on a big day for the
Tennessee Titans
running back. CJ carried 27 times for 127 yards and a touchdown in the Titans season finale, a
16-10 win
over Houston.
We'll have to wait and see if it was his finale with the team, but he knows it's possible. He's due $8 million in 2014 and is not regarded as the playmaker he sold himself as when he got a big contract after his third season.
[+] Enlarge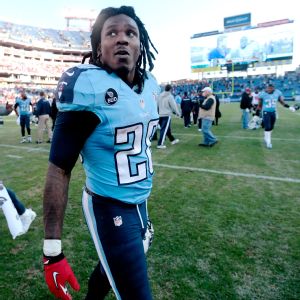 AP Photo/Wade PayneChris Johnson rushed for 127 yards and a touchdown in what could be his final game with the Titans.
Johnson's second 100-yard game of the season came against a team that ranked 24th in rushing defense coming into Week 17.
He finished the season with 1,077 yards on 279 carries for a 3.9-yard average, He ran for his six touchdowns. He also was fourth on the team with 42 catches. Those produced 345 yards and four additional scores.
Against Houston, he seemed on the verge of a breakaway several times but couldn't find anything longer than 23 yards. His season best was 30 yards.
The numbers aren't bad. But they weren't the numbers expected from a guy who was paid $10 million in 2013 and they may not be enough moving forward with another big salary on the horizon.
Johnson said he did ponder the idea that it might have been his last time at LP Field as a Titan.
"I gave a thought to that even just running out of the tunnel about it possibly being my last game in a Tennessee uniform," he said. "You know you give it a thought, but at the end of the day you can't let it affect how you play in the game."
The Titans came into the game with the 14th-ranked rushing offense in the NFL. It's not what they pledged to be as they drafted two new offensive line starters (first-round right guard
Chance Warmack
and fourth-round center
Brian Schwenke
) and signed a pricy free-agent left guard (
Andy Levitre
.)
How was the blocking this year compared to last?
"It was different," he said. "It was different things. A lot of times people weren't on the same page. It was a lot of little things. I feel like the offensive line this year has been better than the offensive line in past years. In this situation, you're playing with two rookies and you're playing with a new guy from free agency. A lot of situations and a lot of mistakes can make the offensive line not look good, but we stuck with it all year and continues to play hard."
In the fourth quarter on a 2-yard gain he fumbled, picked it up on a bounce and kept moving. It was the sort of fortuitous bounce the Titans haven't seen a lot of this season.
I do not believe Johnson has lost much, if any, speed. Defenses have just found a way to negate it. He produced the shortest long run and the lowest average per carry of his career, even as he topped 1,000 yards for the sixth time in six seasons, becoming just the sixth player to do that.
His strength is not to make people miss or to carry a pile, but that's what the Titans need their runners to do. The huge effort runs in which he knocked people back -- the chugging 8-yarder in this game, a big third-and-4 conversion last week in Jacksonville, a twisting TD run in the home game against the Colts -- were very notable, because they were rare.
Mike Munchak talked of increased opportunities producing better results for Johnson. The Titans run more because they are winning, they don't win because they are running more.
"He ran hard," Munchak said of Johnson. "It was fun to watch that the last two weeks. Again, that's what we hoped you would have seen more of throughout the season. It was hard. It was hard for a lot of reasons with some injuries up front, at the running back spot and playing against the type of teams we've had to play against."
I'm amazed that a knee injury to a No. 2 running back, hamstring and ankle injuries to a rookie center and the breakdown of an aging right tackle equate a crisis in Munchak's eyes.
Last year's team lost an incumbent starter before the season, then 19 more games from starters. This year it's been 11 total and some depth when
Rob Turner
went down after six games.
For a team that upgraded depth as well as front-liners, that shouldn't have undone a running game, an offense or a season.
Johnson won't take less money, he said last week. If Munchak is back, I expect him to vote to change course. A new coach might feel differently, but general manager Ruston Webster and president and CEO Tommy Smith will be in on the decision.
He's been a popular player and a well-liked teammate, but he has not often raised his hand and said "my bad."
Against Houston, we saw the electric back the team drafted 24th in 2008.
It seemed more like one last memory than a forecast of the future.
December, 29, 2013
12/29/13
6:30
PM ET
NASHVILLE, Tenn. -- To a
Houston Texans
' season filled with record-setting performances and unprecedented feats in all the wrong ways, goodbye.
Goodbye to what began in thrilling fashion, with two come-from-behind victories for a team seemingly marching toward the Super Bowl. Instead the 2013 Texans became the first team in NFL history to lose every game after starting 2-0.
Goodbye to the year in which
Matt Schaub
became the first quarterback in NFL history to throw a pick-six in four consecutive games. And even when he didn't throw one, quarterback
T.J. Yates
did it in his place, making the Texans the first team in NFL history to have a quarterback throw a pick-six in five consecutive games.
[+] Enlarge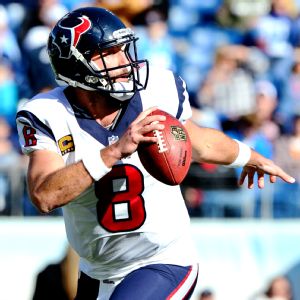 Don McPeak/USA TODAY SportsMatt Schaub and the Texans became the first NFL team to lose the season's final 14 games after starting 2-0.
And while we're at it, goodbye to an intensely private quarterback who had a personality the public never got to see. If fans had seen the side of Schaub that made him well-liked and respected among his teammates, perhaps their ire might have softened when things went so bad this season.
Goodbye to a season that began and ended with interceptions by Schaub, one in which he said "everything" went wrong. "Situational football, turning it over, giving teams opportunities, penalties, not staying on the field on third down, not getting off the field sometimes on third down, and just so many things."
Goodbye to the first season since 1999 when an undrafted quarterback started the first time he was active for an NFL game.
Case Keenum
's learning process, hampered by an avalanche of injuries around him, resulted in eight more losses that couldn't be blamed on Schaub.
Goodbye to the season of the
Ed Reed
courtship followed by a surprise surgery, followed by Ed Reed Thursdays and then the bubbling frustration. Ugliness followed Reed to his next destination in New York, perhaps the best player ever to play his position struggling with the denouement of his career.
Goodbye to a team that became one of just four in NFL history to win 12 games in one season and lose 12 in the next. The other three did so because of a relocation, the start of the salary cap and a starting quarterback's career-ending concussion. None took as perplexing a dive as these talented Texans did.
Goodbye to a running back group that featured a Week 17 starter who was picked up off his couch a week and a half prior.
Jonathan Grimes
asked the official for the ball after he scored his first career touchdown. He was the fourth player to start at running back for the Texans this season after
Arian Foster
, he of the many injuries,
Ben Tate
, who played through broken ribs until it didn't make sense to do so anymore and
Dennis Johnson
, who started one game before a hip injury knocked him out.
Goodbye to an interim head coach whose professionally difficult year was compounded by personal tragedy. Wade Phillips said he couldn't answer whether or not he'd return as the next head coach's defensive coordinator.
Goodbye to the longest single-season losing streak in franchise history -- 14 games. With Sunday's 16-10 loss in Nashville, the Texans became the only team in the past five season to have a losing streak that long.
"I'm just glad what we went through this season is over," receiver
Andre Johnson
said, he of many records that felt good but didn't matter. "I enjoy playing football, but what we went through this season as a team, I wouldn't wish that on anybody to experience."
Hello, to the benevolent end.
December, 29, 2013
12/29/13
3:45
PM ET
NASHVILLE, Tenn. -- Rapid reaction from the
Tennessee Titans
' 16-10
win
over the
Houston Texans
at LP Field.

What it means:
The Titans finish the season 7-9 with a two-game winning streak against the two worst teams in the AFC South, Jacksonville and Houston. The record is a one-game improvement over last season but a far cry from the pledge of dramatic improvement the team made as it built for 2013. The Titans finish four games off the pace of AFC South winner Indianapolis.
Stock watch:
Running back
Chris Johnson
ran hard and ran well in what might have been his last game with the team. He was clearly motivated to reach 1,000 yards and has now done so in his first six seasons, an impressive streak. He's just the sixth NFL back to reach 1,000 yards in his first six seasons. He topped 100 yards for just the second time this season with 127 on 27 carries.
Stumbling:
Left guard
Andy Levitre
had a rough day, getting pushed backward by a variety of Texans, including
Antonio Smith
and
Earl Mitchell
. His knee issue from last season meant he missed the offseason after he signed with Tennessee, never got his strength back, and he's hardly been the player the Titans had expected. I expect a giant jump next season, but Year 1 was poor.
Chris Spencer
finished the game at left guard as Levitre was hobbled.
What's next:
Titans head coach Mike Munchak will address the media in a season wrap-up news conference Monday. His fate will be determined in the days after that, and we should get a verdict on him from president and CEO Tommy Smith by the end of the week.
December, 29, 2013
12/29/13
3:44
PM ET
NASHVILLE, Tenn. -- Thoughts from the
Houston Texans
' 16-10
loss
to the
Tennessee Titans
:
What it means
: The Texans win ... the first pick in the 2014 NFL draft. It's not a great year to have it, but Sunday's loss ensures that the Texans can get exactly whom they want in April. Texans general manager Rick Smith is spending bowl season scouting quarterbacks of a deep class without a clear-cut sure thing.

Stock watch
: There were rumblings after bad plays during our in-game chat that clearly this player or that player was doing his best to get the Texans the top pick in the draft. Once it happened after the Texans' offense stalled on the first drive of the game. Here's why that doesn't make sense:
Matt Schaub
's fate with the Texans didn't depend on this game, but it could certainly affect his future elsewhere. There was no pick-six against the Titans this time, but he threw one interception and lost a fumble. Schaub didn't have any passing yards in the third quarter and had just two passing attempts. Schaub's body language showed his frustration both after the fumble and at other points late in the game. The Texans' last offensive play was an interception by Schaub.
Watt returns to double digits
: With a third-quarter sack on Titans quarterback
Ryan Fitzpatrick
, Texans defensive end
J.J. Watt
reached double-digit sacks for the second straight season. With 10.5 sacks this season, Watt became the second player in franchise history to reach double-digit sacks in consecutive seasons, following
Mario Williams
, who had at least 10 sacks in 2007 and 2008. According to the Texans, his total for his first three seasons of 36.5 sacks moves him beyond
Jevon Kearse
and
Anthony Smith
(36.0) into seventh place all time. Watt had 20.5 sacks last season. He likes to set lofty goals and was aiming for 20 sacks, 20 batted passes and 20 additional tackles for loss this year. It didn't happen, but nobody who watched can deny that Watt remained a big problem for opponents this fall.
What's next
: The Texans need to hire a head coach next and could have that finished early in the week. Once that's done, they'll turn their attention more firmly to reshaping the roster.