AFC South:

2013 Week 17 JAC at IND
December, 29, 2013
12/29/13
8:30
PM ET
INDIANAPOLIS -- The
Indianapolis Colts
were a team without an identity about a month ago. The running game didn't have much traction. The offensive line had its own problems. The defense was getting roasted on almost a regular basis. Stringing together consecutive wins had become a foreign concept to them.
[+] Enlarge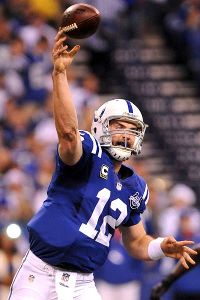 Thomas J. Russo/USA TODAY SportsAndrew Luck and the Colts will ride a three-game win streak into the 2013 postseason.
You're excused if you have no recollection of those things happening.
The Colts, you know, the ones that didn't look they had a chance of winning a game in the playoffs, aren't that same team.
They're a team that's playing with the same confidence it had when it won three in a row and four out of five games early in the season.
And they picked the best time to get it going, with the playoffs starting next weekend.
"The playoffs, most times, are about momentum," Colts linebacker
Robert Mathis
said. "We've been able to generate some of that, so we have to keep going into the postseason."
It hasn't been an easy road to this point for the Colts. They know it, too. They never made excuses for missing five key offensive players, including future Hall of Fame receiver
Reggie Wayne
, before the midpoint of the season or that quarterback
Andrew Luck
had to make due with basically a bare cupboard of receivers.
They stuck together, never pointed fingers at each other and did their best to tread water until they figured out how to best use what they had on the roster.
That mindset worked. The Colts won 11 games for the second straight season and they're headed back to the playoffs for the second straight season. The difference being they'll be at home for the first game and they're going into it on a three-game winning streak.
"All we did as a group of players and coaches was made a decision that we weren't going to live in circumstances," Colts coach Chuck Pagano said. "We were going to live in vision. We were going to go to work. Again, hats off to the players and hats off to the coaches. But it's the guys. It's their resiliency. They don't read the clippings, good or bad, listen to talk radio and all that stuff and everybody telling them what they can't do. We always talk about faith is believing in something that you can't see and the reward is if you believe in it long enough, you'll probably get to see it. Our journey continues and we're very excited to be in the playoffs."
For as much as Luck deserves credit for leading the Colts back to the playoffs, the defense deserves almost just much credit for leading the late-season turnaround.
Linebacker
Jerrell Freeman
got it started Sunday when he caused Jaguars running back
Maurice Jones-Drew
to fumble on the opening series of the game. Cornerback
Darius Butler
recovered the ball at Jacksonville's 42-yard line.
Indianapolis used the short field to its advantage and scored eight plays later.
The Colts, who beat Jacksonville
30-10
on Sunday, had three sacks and forced two turnovers to bring their total to 11 sacks and eight turnovers during the winning streak.
"We had our ups and downs earlier, but we're on a good roll," Freeman said. "We're getting hot now and that's all that matters. That's how you want it."
Speaking of things that happened earlier in the season, do you remember when offensive coordinator Pep Hamilton was steadfast in making the Colts a run-first team?
I didn't think so.
The Colts switched things up the past three games by putting Luck in control of the offense in the shotgun and using a no-huddle offense. They had their second best quarter of the season Sunday when they scored 17 points in the first quarter.
"The up-tempo, the no-huddle's been good," Luck said. "We've practiced it since OTAs, we've always had it but it seems to be working now. I think that combined with being able to get in big people and get those third-and-shorts. Switch out personnel, different formations, up-tempo, I think it's good for our offense and it managed to work again. So I guess we're executing well with it."
Of course you're probably asking: What took Hamilton so long to use an up-tempo offense?
It's not that it didn't cross Hamilton's mind, but it's a tough thing to do when the receivers are struggling and the defense can't force turnovers.
"I think continuity, chemistry, the young guys come around from a receiver-standpoint," Pagano said. "I think the quarterback is obviously feeling a lot more comfortable. Again, everybody is loading the box on us and challenging the young wide receivers. The quarterback has done a great job of managing the game, taking care of the football and we know how special a player and leader Andrew is. He can make those throws. We've got some guys making some huge plays and some huge contributions."
December, 29, 2013
12/29/13
7:10
PM ET
JACKSONVILLE, Fla. -- It's obvious that the
Jacksonville Jaguars
made significant progress in the second half of the 2013 season.
But it is just as obvious that they still have a long way to go to be competitive in the AFC South.
It was painfully evident in Sunday's
30-10 loss
at Indianapolis. The Jaguars were not dominated as much as they were in a 37-3 loss to the Colts in Jacksonville in Week 4, but it was ugly, especially early. They were down 17-0 and the game was essentially over after the first quarter.
[+] Enlarge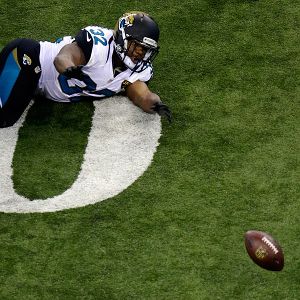 AP Photo/AJ MastMaurice Jones-Drew fumbled on the Jaguars' first drive, setting up Indianapolis for a touchdown.
"I just didn't think that we executed very well today," coach Gus Bradley said. "We missed some opportunities, we missed some reads, we missed some wild combinations, we missed tackles, some assignments. I don't want to make it sound like it was just a complete disaster. It wasn't. But it wasn't up to our standard. It wasn't the consistency that we're looking for."
It's going to take a lot more than just another draft and a couple of free-agent signings before they can compete with the Colts, who are clearly the class of the division. Granted, the Jaguars have been banged-up in the final month -- especially on defense, where they were without four starters -- but so are the Colts. They were missing 15 players who were placed on IR this season, including receiver
Reggie Wayne
. That means injuries cannot be used to explain away Sunday's rout.
Jaguars general manager David Caldwell and Bradley have gotten off to a good start in revamping the roster, but there are still major holes to fill. There are some building blocks in place on defense, especially in the secondary with safety
Johnathan Cyprien
and
Dwayne Gratz
. Defensive tackles
Sen'Derrick Marks
and
Roy Miller
and middle linebacker
Paul Posluszny
give the Jaguars a solid foundation up the middle, too. But the Jaguars have to add a pass-rusher, find another cornerback and get help at outside linebacker.
It's on offense where more work needs to be done, though. Rookie left tackle
Luke Joeckel
showed promise before he suffered a fractured ankle in Week 5 and was lost for the season, but he still has to prove himself capable of being an elite player. The staff likes right tackle
Austin Pasztor
, but is he the answer there?
The interior of the offensive line needs an upgrade, too, especially at center now that
Brad Meester
has retired.
But it's at the skill positions where the Jaguars really need work, starting at quarterback.
Chad Henne
had a solid season as a starter, and his 331 yards passing against the Colts made him the first Jaguars quarterback to surpass 3,000 yards since
David Garrard
in 2009. Henne's a caretaker, not a franchise quarterback, and there's no guarantee he'll be back next year anyway because he's an unrestricted free agent. Even if he re-signs, the Jaguars have to address that position in the draft.
The situation at running back also is unclear because of
Maurice Jones-Drew
's situation. His contract is set to expire, and while he says he wants to return, it's likely that he wants to test the free-agent market to see what kind of offers he can generate.
Jordan Todman
has proven capable of being a complementary back but not a feature back.
The Jaguars have a solid No. 2 receiver in
Cecil Shorts
, who missed the last three games because of a groin injury, but no No. 1 with
Justin Blackmon
suspended indefinitely for violating the league's substance-abuse policy.
Ace Sanders
,
Mike Brown
and
Kerry Taylor
(eight catches, 75 yards, one TD against the Colts) are complementary pieces.
The Jaguars need to find a big-play -- and big -- receiver. Only one receiver who has a catch this season is taller than 6-foot, and he's now on IR (the 6-1
Stephen Burton
).
That sounds like a lot of work, and it is, but the task ahead shouldn't overshadow the work that has already been done. The Jaguars (4-12) are a better team now than they were in September, especially when it comes to the culture in the locker room and around the facility.
"There was growth," Bradley said. "I feel like we competed the whole way through. Sometimes you have those days where it doesn't go exactly how you had hoped, and we'll learn from it. I asked the team to reflect on everything that we had done this year, and I think some tremendous growth has taken place. I give credit to our team and that our whole objective was to create a new standard, a new standard of excellence and they helped in that, what's acceptable.
"We'll take this season, we'll grow from it and we'll add to it."
December, 29, 2013
12/29/13
4:00
PM ET
JACKSONVILLE, Fla. -- A few thoughts on the
Jacksonville Jaguars
' 30-10
loss
to the
Indianapolis Colts
.

What it means:
The Jaguars finished 4-12, doubling their victory total from last season and likely securing the No. 3 draft pick. The
Houston Texans
(2-14) and
Washington Redskins
(3-13) have the top two picks, but the Redskins traded their pick to St. Louis, so the Rams will pick in their spot.
Stock watch:
Two young players stood out. Safety
Johnathan Cyprien
has steadily improved this season and broke up three passes to go along with six tackles. The team's second-round draft pick out of Florida International also did a much better job of patrolling the seam and keeping Colts tight ends
Coby Fleener
and
Weslye Saunders
from doing a lot of damage. Fleener caught five passes for 77 yards and a touchdown in the first meeting between the teams but had just one catch for 25 yards on Sunday. The Jaguars have been limited at receiver since
Justin Blackmon
's suspension and
Cecil Shorts
' groin injury ended his season. However,
Kerry Taylor
has stepped up over the past three weeks. He caught a team-high eight passes for 75 yards and a touchdown against the Colts and has 16 receptions for 162 yards and a touchdown over the past three games. Not bad for a guy who didn't join the team until Nov. 4.
Farewell?
This might have been the final game in a Jaguars uniform for running back
Maurice Jones-Drew
, and it wasn't exactly a memorable one. He had averaged 100.9 yards per game rushing against the Colts in his career, but had just 39 yards on 13 carries Sunday. He also fumbled on the game's third play a turnover the Colts turned into an early 7-0 lead. That was Jones-Drew's first fumble lost in more than two years (against Baltimore on Oct. 24, 2011). It definitely was the final game for center
Brad Meester
, who is retiring after 14 seasons in the NFL.
What's next:
General manager David Caldwell will begin the process of evaluating the roster and making decisions on which players are worth re-signing, specifically quarterback
Chad Henne
and Jones-Drew. Both are unrestricted free agents.
December, 29, 2013
12/29/13
3:52
PM ET
INDIANAPOLIS -- A few quick thoughts on the
Indianapolis Colts
'
30-10 victory
over the
Jacksonville Jaguars
.

What it means
: There was little doubt that the Colts would beat the Jaguars, who are officially on vacation, but the way they did it early on was the impressive part. The Colts had their best opening quarter of the season when they used the shotgun and no-huddle to score a season-high 17 points. Quarterback
Andrew Luck
was 10-of-18 for 135 yards in the first quarter, and running backs
Trent Richardson
and
Donald Brown
ran for both touchdowns in the quarter. Indianapolis held Jacksonville to 34 yards in the first quarter. The Colts (11-5) led by as many as 24 points and matched their win total of last season. The comfortable lead allowed Colts coach Chuck Pagano to rest Luck and several other key players in the fourth quarter. Pagano is the first coach in Colts history to win at least 11 games in each of his first two seasons.
Setting a record
: Luck managed to set a record before watching the fourth quarter from the sideline. He passed Carolina quarterback
Cam Newton
for the most passing yards in the first two years of a career in the first quarter. Luck ended the afternoon 26-of-37 for 282 yards and a touchdown. He has now passed for 8,196 yards in the first two years of his career.
Mathis increases his total
: Colts linebacker
Robert Mathis
made one final push to be the league's defensive player of the year when he recorded two more sacks in his Pro Bowl season. Mathis ends the regular season with 19.5 sacks. He was held without a sack in only five games this season, and he had seven games where he recorded more than one sack in a game.
Hilton has a career day
: Receiver
T.Y. Hilton
, who had been held without a 100-yard receiving game for six straight weeks, set a career high in receptions and yards with 11 catches for 155 yards. He surpassed his previous career high in catches of eight by halftime, when he had nine catches for 95 yards.
What's next
: The Colts will host a playoff game at Lucas Oil Stadium next weekend.