AFC South:

2013 Week 3 HOU at BAL
September, 22, 2013
9/22/13
9:00
PM ET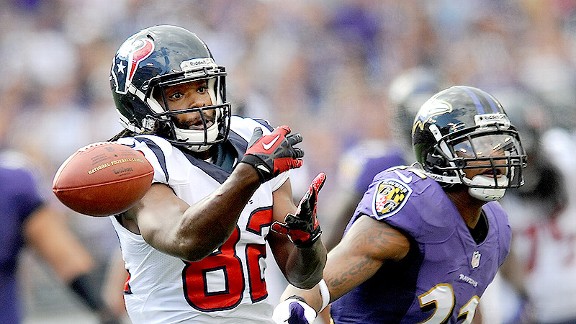 AP Photo/Gail BurtonHouston's struggles on offense wasted a strong road effort by the defense.
BALTIMORE -- It wasn't just that the
Houston Texans
' defense played well in the first half. Put simply, it dominated the
Baltimore Ravens
.
Baltimore punted on its first three drives, the first two marking the 13th and 14th three-and-out stops for the Texans' defense. At halftime, the Ravens' offense had scored only three points. It had gained only 65 yards -- 14 on the ground -- and had only four first downs, two of them by penalty. At best, the Ravens' offense was anemic.
That the Texans weren't up big despite all that foretold doom.
"The past two weeks we found a way to win," receiver
Andre Johnson
said. "We didn't start the way we wanted to start in those games. At the end of the day, we found a way to win the game. Today, those mistakes, they did catch up with us."
Despite a dominant early performance by the Texans' defense, Houston went into halftime trailing 17-9. The Ravens' defense and special teams held up their offense, scoring on an interception return and a punt return. To start the second half, the Ravens' offense contributed its only touchdown of the game. Against a Texans' offense playing like it was, that was enough to seal the game.
The Texans
lost the game 30-9
, failing to score a touchdown for the first time this season. They dug themselves into a difficult hole just like they did against the
San Diego Chargers
and just like they did against the
Tennessee Titans
. Except, this time, they were buried in it.
"Our game plan offensively was to protect the ball and to make a bunch of third-and-3 and third-and-4s and not have any third-and-longs," Texans coach Gary Kubiak said. "After the first drive, I think we had five or six third-and-10-plusses, and we turned the ball over. We did not execute our plan."
Texans linebacker
Brian Cushing
called it a wake-up call that he hopes "gets our butts going."
After the game, defensive players talked about taking away the ball to help Houston's turnover margin.
But it isn't defensively that change is needed. The Texans' defense allowed only 236 total yards. It was the first time since 2007 the Texans allowed fewer than 250 yards and lost.
In the first half, the Texans had two trips inside the red zone on which they ran the ball four times and came away with only field goals.
"That's the biggest thing," Johnson said. "Our defense gave us great field position early in the game. We just didn't take advantage of it. We settled for field goals. You can't do that. You have to score seven. As an offense, we have to find a way to get in."
A 6-3 lead turned into a 10-6 deficit when Ravens linebacker
Daryl Smith
jumped in front of a
Matt Schaub
pass and returned it for a second-quarter touchdown. It was Schaub's second pick-six in two weeks.
"I made a bad decision, and the guy made a good play," Schaub said. "I should have just checked down and thrown to one of my backs."
[+] Enlarge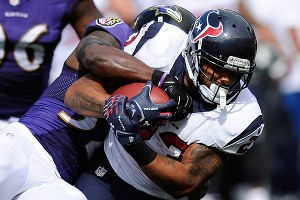 AP Photo/Nick WassThe Baltimore Ravens bottled up running back Arian Foster and the Houston ground game.
Schaub felt pressure all game, even against standard rushes, albeit in a game without All-Pro left tackle
Duane Brown
. That's not a surprise against a Ravens defensive front that is the most talented and accomplished the Texans have faced yet this season. The Ravens notched three sacks and seven quarterback hurries.
Against four or fewer pass-rushers, Schaub managed only 4.9 yards per pass attempt, according to ESPN Stats & Info. That's his lowest total since the start of the 2012 season. His interception was in such a situation.
The Texans' running back distribution was the closest to even it's been all season, but
Arian Foster
gained 54 yards on 12 carries and
Ben Tate
gained 36 on nine carries.
The Texans didn't cross midfield in the fourth quarter. The farthest they got in the third was Baltimore's 46. And as the time for a turnaround dwindled, defensive mistakes began to accrue, keeping the Texans' offense off the field when it needed to be on it. Houston committed seven penalties in the second half -- six by defensive players.
"It's always frustrating when you get a penalty and you know you're trying," defensive end
Antonio Smith
said. "Only reason why you're getting those penalties is you're trying too hard to make a play, to cause a change and stop the drive from happening. [Early on] you ain't behind, you ain't getting blew out, coach ain't on your back saying make a play, you don't have all those penalties. When you get down, you gotta be disciplined enough, I gotta be disciplined enough, to still stay consistent with my game."
When the game unraveled, though, even that might not have been enough. A good team made the Texans pay for their offensive lulls. And good teams will keep doing that if they keep happening.
September, 22, 2013
9/22/13
4:16
PM ET
BALTIMORE -- Some thoughts after the
Houston Texans
'
30-9 loss
to the
Baltimore Ravens
:
What it means:
Before Sunday, the Texans had been lucky to not pay for their mistakes. They recovered from a 21-point third-quarter deficit in San Diego in the opener and an eight-point fourth-quarter deficit against the Titans in Week 2. Sunday's game in Baltimore saw similar mistakes that created those holes, but this time their opponent capitalized. A loss in September could mean nothing if the Texans can recover from it.

Stock watch:
Texans quarterback
Matt Schaub
was able to overcome his own mistakes in the first two games, but this time he faced a Ravens defense that made him pay. A pick-six this week did not precede a gutty touchdown drive. Instead, this week it preceded a four-play drive that ended with a sack on second down, a pass for a loss of 2 on third down and then a punt returned for a touchdown. Schaub's passer rating through three quarters was 68.8 with 19 completions on 27 attempts, two sacks and an interception. Schaub was sacked again midway through the fourth quarter. On a fourth-down play with five minutes to go, Schaub threw a pass well behind
Arian Foster
when the Texans needed a 2-yard gain.
Andre Johnson hurt:
Johnson's body has taken a beating so far this season. He needed an IV in Week 1, but didn't miss any part of the game. He suffered a concussion in Week 2, but returned to play against the Ravens. In Baltimore he left the game just before halftime after getting kicked in the shin. Johnson returned in the second half, but not for long. He finished the game sitting on the bench with ice wrapped to his shin.
Defense has enough:
The Texans' defense began the game as stoutly as it had in the first two weeks. But a penalty and explosive plays in the second half kept Houston on the field for a third-quarter touchdown drive that put the Ravens up three scores. The defense was asked to do too much today, placed in a deep hole by the offense and special teams.
What's next:
Seattle at home. Then San Francisco on the road. Nope, it doesn't get any easier from here.