AFC South:

2013 Week 4 SEA at HOU
September, 29, 2013
9/29/13
9:58
PM ET
HOUSTON -- The
Houston Texans
' pregame introductions feature starters from one side of the ball running out of the tunnel and through a line of teammates. The announcer declares the first name, then fans chime in with the last name.
Johnson
Today the Texans chose their offense to be introduced. Coming off a loss in Baltimore without a Texans' touchdown, I wasn't so sure that was a good idea. Fans were polite to start, but after quarterback
Matt Schaub
threw an interception that
Richard Sherman
returned for a touchdown, the angst returned.
The boos began then and returned next time the Texans' offense took the field.
What did
Andre Johnson
think of that?
"Fans are going to be fans," Johnson said. "You have some that are loyal. You have some that are fair-weather, and they only come around when you win."
Johnson has seen both kinds, having been through some bad seasons with the franchise that drafted him in 2003.
"I've been here when it was 2-14 and there was hardly anybody in the stands, so I really don't care about what fans think," Johnson said. "A lot of them don't understand what players go through. They can talk about what they want to talk about."
September, 29, 2013
9/29/13
7:30
PM ET
HOUSTON -- As
Seattle Seahawks
cornerback
Richard Sherman
glided into the end zone, the quarterback who inadvertently threw him the ball lay on the grass near midfield clutching his helmet in dismay.
Houston Texans
quarterback
Matt Schaub
remained still on the ground until the play ended, then turned over and beat the grass with his fists, again a victim of his own mistake.
He knew.
[+] Enlarge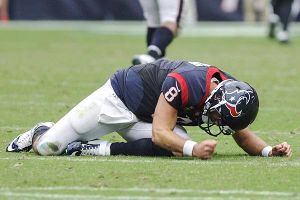 Troy Taormina/USA TODAY SportsHouston Texans quarterback Matt Schaub reacts to throwing a fourth-quarter interception in a loss against the Seahawks on Sunday.
"This one hurts real bad," Schaub said after the game.
It was Schaub's second interception of the game, the first time in his career he has thrown two on third downs. It was also the third pick-six he's thrown in as many weeks. He faked the handoff, then stepped back with blitzing Seahawks safety
Kam Chancellor
inches from him. Schaub lofted the ball toward tight end
Owen Daniels
, who Sherman jumped in front of as he'd practiced all week.
"It was a keeper play and they had not been biting the keeper most of the game," center
Chris Myers
said. "Obviously, on that one, he had pressure right in his face."
This one followed a week of discussion from both Schaub and his coaches about decision-making and mistakes. Offensive coordinator Rick Dennison said Schaub knew the cause of his prior interceptions and he knew how to fix them.
They were different situations for sure, but all in critical moments. No matter how well the defense is playing, when your offense allows touchdowns, it is difficult to win.
For many people, Schaub's mistake erased the rest of a game in which he threw for 355 yards, completed 31 passes and had eight different players catch passes. He threw two touchdown passes, led the Texans to a 20-3 lead and appeared to be having a redemption game until his final interception.
Yes, this was bad. Yes, Schaub has played poorly for a stretch of games. But, at the risk of having my press pass burned by
these guys
, benching him now is not the answer.
Quarterbacks have bad games. Even some of the best quarterbacks in NFL history have had bad games. According to Elias Sports Bureau, no quarterback in the past 20 years has thrown interceptions that were returned for touchdowns in four consecutive games. The current streak is three, held by Schaub,
Peyton Manning
with the Colts in 2001,
Ty Detmer
with the Eagles in 1996 and John Elway with the Broncos in 1994.
Let's be clear here. Schaub not is Manning or Elway, but what it's important to keep a cool head when bad stretches happen.
Can the Texans win regularly with Schaub throwing pick sixes every game? Probably not. And it's unreasonable to expect the defense to constantly bail the offense out. But if he doesn't make those mistakes, he doesn't have to be Manning or Elway for the Texans to win.
While Schaub was banging his fists on the grass in frustration, Ravens quarterback
Joe Flacco
was in the midst of a five-interception game.
September, 29, 2013
9/29/13
6:19
PM ET
HOUSTON -- Observed in the locker room after the
Houston Texans
' 23-20
loss
to the
Seattle Seahawks
.
Watt
Watt angry:
J.J. Watt
had bruises on his face, six stitches across the bridge of his nose, dried blood on his hands and pants and a fixed glare staring at nothing as he addressed reporters. Never one to dodge the media like a few Texans did, Watt wanted to get his interview out of the way before showering. "I can't freaking stand losing," Watt said, looking furious at a game that slipped away late. "... Nobody likes to lose, especially like this in your own building." After the questions stopped, Watt turned into his locker and threw something down with an emphatic thud.
Jackson confused:
For the second straight home game, cornerback
Kareem Jackson
bemoaned a penalty called on him in overtime when the official called him for unnecessary roughness, picking a player up before taking him down. "Horrible, horrible, horrible," Jackson said. Jackson said he didn't know what the flag was for and his intention was to just stop the receiver.
Support for Schaub:
Texans defensive end
Antonio Smith
, Jackson, running back
Arian Foster
and receiver
Andre Johnson
all expressed support for
Matt Schaub
, who has thrown interceptions returned for touchdowns in the past three games.
September, 29, 2013
9/29/13
4:32
PM ET
HOUSTON -- Some thoughts from the
Houston Texans
' 23-20 overtime
loss
to the
Seattle Seahawks
.

What it means:
It took the Seahawks some time to wake up, but until then, the Texans dominated them. The same old mistakes returned late, though, capped by another pick-six from Texans quarterback
Matt Schaub
to Seahawks cornerback
Richard Sherman
, who shushed the crowd with his game-tying score. This marked Schaub's third interception returned for a touchdown in three games. The Seahawks won on a 45-yard field goal in overtime.
Stock watch:
Schaub's body language on the field reflected the gravity of the mistake he made when he threw the interception that tied the game. The quarterback took a beating from fans last week and played well early in Sunday's game, other than a red zone interception in the first quarter. But his late interception sent his stock plummeting further, despite two touchdowns in the first half.
Texans defensive end
Whitney Mercilus
had his best game yet with 2.5 sacks against a depleted Seahawks offensive line. For the Texans to win, it was imperative they take advantage of the problems Seattle's line was having. The second-year outside linebacker set a rookie record with six sacks last season and already has 3.5 this season. The Texans constantly surrounded Wilson.
Brian Cushing's value:
Cushing left the game in the third quarter with a concussion. On the very next drive, the Seahawks scored their first touchdown of the game, mostly on the back of quarterback
Russell Wilson
. The drive changed the momentum of the game and preceded a defensive stop by Seattle. Officially Cushing left the game with nine tackles, but that number is likely to increase after the coaches' review.
What's next:
The Texans continue their tour around the NFC West, this time visiting the
San Francisco 49ers
. The 49ers lost to the Seahawks in Week 2.