AFC South:

2013 Week 6 TEN at SEA
October, 13, 2013
10/13/13
10:42
PM ET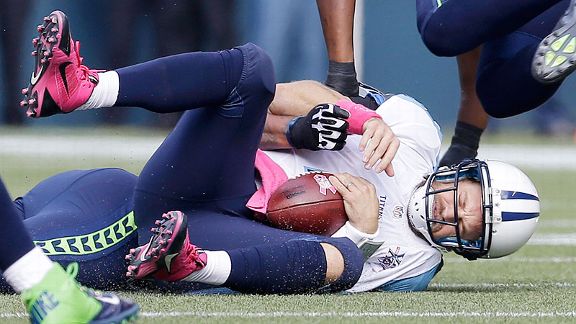 AP Photo/Elaine ThompsonQuarterback Ryan Fitzpatrick couldn't get the Titans into the end zone against the Seahawks.
SEATTLE -- The
Tennessee Titans
were feeling great about themselves halfway through their Sept. 29 win over the Jets.
When quarterback
Jake Locker
got hurt in the third quarter, knocked out with hip and knee injuries, they knew things were going to change.
They gave the standard offerings about their confidence in backup
Ryan Fitzpatrick
.
Sunday at CenturyLink Field, he gave his second consecutive showing that suggested they've overvalued their backup quarterback. Fitzpatrick led the Titans to two field goals and threw two interceptions in a 20-13 loss to the Seahawks.
"We couldn't get into a rhythm on offense and a lot of that is me," he said. "I didn't play well today. Really for the last two weeks I've played poorly and we haven't won games. ... I feel like momentum has kind of ground to a halt with the last two games and the way that we played on offense.
"The defense is still playing great and making plays out there. I'm not doing enough right now to consistently move the ball for the offense."
Mike Munchak said the 3-3 Titans rate as average, and many players agreed with the obvious assessment that can be difficult to come to terms with.
The Titans got away with the first of Fitzpatrick's interceptions. He overthrew
Nate Washington
in the middle of the field in the first quarter and safety
Earl Thomas
bobbled the ball before collecting it. The Seahawks didn't turn it into points.
Tennessee wasn't as fortunate the second time.
Seattle had just moved ahead 13-10 and Fitzpatrick gave the Seahawks the ball back on the first play from scrimmage. On first-and-10 from the Titans' 20, he threw a play-action pass up the right side intended for Washington. The Titans receiver briefly had a step on cornerback
Richard Sherman
.
Had the ball been to the sideline perhaps Washington could have made a play or it would have fallen harmlessly incomplete. But the ball was a bit inside and Sherman had no problem going up to make the catch in front of Washington.
Energized and feeling they could put the game away, the home team drove for a touchdown.
Russell Wilson
's 24-yard rollout pass to
Sidney Rice
, who gracefully got his toes in as he fell out of bounds cradling the ball. That set up
Marshawn Lynch
's second touchdown run of the game.
"Our defense had just given up a drive and we needed to make some plays," Munchak said. "We can't throw an interception on the first play of the series and put the defense back out there like we did. Because eventually an offense is going to wear you down, which happened. They started to make some plays the next time they got the ball. We're just not playing good enough to win on that side of the ball.
The Titans need better quarterbacking, and they aren't saying otherwise.
In two games as the starter, Fitzpatrick has completed 54 percent of his passes with one touchdown, four interceptions, a 53.2 passer rating and six sacks. He's also fumbled three times, losing none of them.
Still, when offensive coordinator Dowell Loggains talked about what needs to change, he pointed first to the other piece of the offense.
"I think once you get the run game going it helps everything," he said. "I think that's where improvement needs to happen the fastest. We're going to examine it and look and see what's going on there."
[+] Enlarge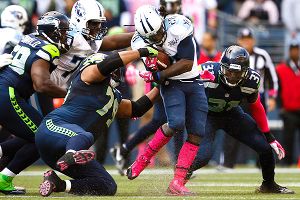 Joe Nicholson/USA TODAY SportsChris Johnson couldn't find much room to run against the Seattle defense, averaging just 2.8 yards per carry.
In losses to the Chiefs and at the Seahawks,
Chris Johnson
has turned 22 carries into 50 yards. That's a 2.3-yard average, and it's hardly what the Titans were selling they would be doing with three new interior offensive lineman who were brought in to help the Titans revert to an old identity as a physical running team able to get a tough yard at any time, against anyone.
Johnson had the wind knocked out of him on his best series, and with
Shonn Greene
(knee) out and
Jackie Battle
(neck) hurt, the Titans turned to their fourth running back, return man
Darius Reynaud
on a crucial third-and-1 in the third quarter
He got stuffed.
"Yeah, we didn't get it," Munchak said. "So we should have run something else."
The run game is far from fixed.
"At the end of the day it just comes down to one factor and that's running the football," Johnson said. "We can't continue to go out there and not at least average 4 yards when we hand the ball off. That enables Dowell to call another run. When we get a 1-yard gain or a negative (play), we've got to throw the ball.
"The formula for this team is, I think, we've got to help our defense out. We can't be going three-and-out, we can't turn the ball over and we can't continue to not run the ball. We have too many good players up front, out wide and in the backfield not to be able to out-will people. We did all preseason, we did the first couple games of the season. We just went out there and ran the ball. Even though they knew we were going to run the ball, we still ran it. These last three weeks, it's just not working."
Nothing suggests this is going to be a team dominant up front where it will always be able to count on the run.
When it can't, and when Locker's not there, trouble awaits.
I suspect next week's opponent, San Francisco, is excited.
October, 13, 2013
10/13/13
10:36
PM ET
SEATTLE -- The ball was in
Zach Brown
's hands, with an open field ahead of him.
He looked at all the green, and the ball slid up and off of those hands and right back to
Seattle Seahawks
quarterback
Russell Wilson
. Seahawks running back
Marshawn Lynch
, who was stripped of the ball by
Moise Fokou
, was off the hook.
Instead of a 91-yard fumble recovery and a 17-10 Titans lead, Tennessee watched the Seahawks gather themselves and kick a field goal for a 13-10 advantage en route to
a 20-13 decision
.
"I looked up," Brown said with a grimace. "I was thinking about scoring before I scooped the ball. It could have been a big difference in the game.
"Touchdown for sure. I mean, I'm not letting Russell Wilson tackle me, I wouldn't hear the end of it from my teammates. I probably would have slowed down, because I had two guys right behind me. I would have just let them block. I think big [Antonio] Mook Johnson was going for the quarterback right then."
It's the sort of play the Titans can't afford to let slip away and the sort of play that will leave them sleepless.
"We're putting ourselves in situations where you have to be perfect," coach
Mike Munchak
said, "and you can't make one mistake."
It's hard to put much blame on the Titans defense, though that one mistake amounted to a 10-point swing.
They held Seattle to 20 points and key defenders on special teams produced Tennessee's lone touchdown, a 77-yard fumble return by
Jason McCourty
after he and
Michael Griffin
forced a fumble by substitute holder
Chris Maragos
.
"The defense was phenomenal, they did a great job." offensive coordinator Dowell Loggains said. "They played well enough to win."
October, 13, 2013
10/13/13
9:42
PM ET
SEATTLE -- Observed and heard in the locker room after the
Tennessee Titans
'
20-13 loss
to the
Seattle Seahawks
at CenturyLink Field:
Average:
As much as
Mike Munchak
and his team are struggling, at least the Titans coach isn't hiding from the obvious. "We're 3-3," he said. "That means we're average right now." Players largely agreed and receiver
Nate Washington
said he thinks next week's home game qualifies as a must-win for the Titans. A win over the
San Francisco 49ers
would send the Titans to their bye at 4-3, a loss would mean 3-4.
Fokou
Tests Monday:
Moise Fokou
, the team's steady middle linebacker, left the game early in the fourth quarter with a sprained knee. He still finished tied for the second-most tackles, with eight. He was replaced by
Colin McCarthy
. Fokou said he would have tests Monday morning in Nashville to determine the extent of the injury. Running back
Jackie Battle
also didn't finish the game with a neck problems that came about on special teams.
Killer penalty:
The Titans' last shot to get the ball back ended with a third-down offside call against rookie defensive end
Lavar Edwards
. "Stupid mistake, a mistake that I shouldn't have made," he said. "Anything could have happened if I wouldn't have jumped offsides. It was a bad play that could have cost us the game."
Check
pkuharsky
at Instgram for a few postgame pictures.