AFC South:

2013 Week 7 Manning-Luck
October, 21, 2013
10/21/13
4:00
AM ET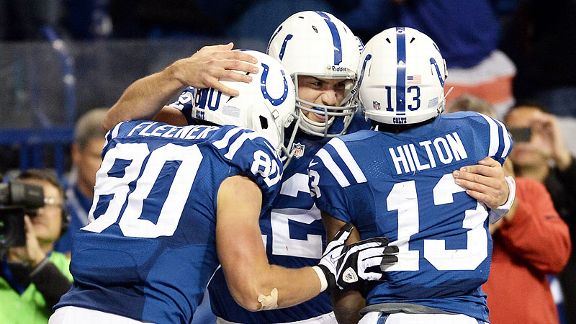 Ron Chenoy/USA TODAY SportsAndrew Luck and the Colts spoiled Peyton Manning's return to Indianapolis.
INDIANAPOLIS -- It was only fitting that the owner, you know the one whose comments were supposed to motivate
Peyton Manning
to put up astronomical numbers in his return trip to Indianapolis, walked out of the
Indianapolis Colts
' locker room holding a football shortly after his team beat the
Denver Broncos
39-33
on Sunday.
This wasn't just any football Jim Irsay had a firm grip of.
It was the game ball.
Irsay earned the right to take the ball home -- and stick his nose up at the critics -- after being the center of attention during what was supposed to be a special week for the Colts and Manning.
Irsay was heavily criticized about comments he says were taken out of context when talking about how he believes the team should be built -- a balanced offense, defense and special teams -- now that Manning calls Denver home.
You know what?
It was the balanced team that beat Manning's "Star Wars" numbers in front of a sold out Lucas Oil Stadium crowd.
That's why coach Chuck Pagano gave his owner an emotional postgame speech inside the locker room.
These Colts (5-2) aren't the flashiest team, but they find a way to get it done. Game balls could have been given out to the entire offense, defense and special teams.
"We all knew what we were up against and the players were just hanging tough," Pagano said. "This is the grittiest football team that I've ever been around my entire life."
The Colts spent the week leading up to the game not listening to people say they weren't good enough to hang with the high-scoring Broncos. Veteran receiver
Reggie Wayne
referred to last week as a circus because of the attention the game got.
"We were willing to work and prove everybody wrong," Colts defensive tackle
Ricky Jean Francois
said. "I knew everybody in the media world was banking on Peyton Manning coming in here and putting on a show. I tip my hat to him, he's a first-ballot Hall of Famer. But this team -- all three aspects of it -- was excellent. We fought for 60 minutes. We knew it wasn't a game that would be won in a half."
The list of Super Bowl contenders the Colts have beaten this season has now grown to three teams in just seven games. San Francisco and Seattle are the other two teams the Colts have knocked off.
Pagano has excelled at not getting caught up in the moment of who they're playing, even if this time it was the player responsible for leading the Colts to a Super Bowl at the end of the 2006 season.
"It's a long season and you can't afford to do that," Pagano said late last week. "You get yourself in trouble when that happens."
Like all good teams do, the players follow their coach's lead. Quarterback
Andrew Luck
did his part by throwing for 228 yards and three touchdowns. But the game changed when the defense stepped up.
[+] Enlarge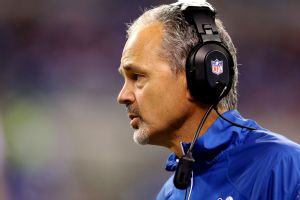 Andy Lyons/Getty Images"This is the grittiest football team that I've ever been around my entire life," Chuck Pagano said.
Until Sunday night,
Robert Mathis
hadn't been able to come close to Manning. He remembered being chewed out for coming too close to him in a practice a decade ago when the two were teammates.
Mathis blew by Broncos left tackle
Chris Clark
and sacked Manning, causing him to fumble. The Colts earned a safety after linebacker
Erik Walden
couldn't gather the ball before going out of bounds.
The Colts forced the Broncos into five straight punts after the safety. Manning threw for 386 yards, but the Colts sacked him four times, intercepted a pass and forced Denver into three turnovers total.
"We heard how we couldn't stop people before," Colts defensive back Darrius Butler said. "We heard the same thing going into San Francisco week and Seattle week. As long as guys in this locker believe in each other, we can accomplish anything. We stuck to our keys and did our thing. Guys had to win their matchups and that's what happened for the most part."
Colts punter
Pat McAfee
used his 6-foot-1, 233-pound frame to deliver a hard hit -- and possible fine -- on
Trindon Holliday
along Denver's sideline on a return. Fullback
Stanley Havili
stripped Holliday on a punt return, setting up a touchdown from Luck to
Darrius Heyward-Bey
on the next play.
It was just how Irsay envisioned. All three areas contributing to Denver's first loss of the season.
"We could care less what anybody says outside of Colts Nation," linebacker
Jerrell Freeman
said. "We don't listen to the outside noise. You can say what you want to say, pick who you want to pick. We always know we have a chance. It's all about us."
October, 21, 2013
10/21/13
12:18
AM ET
INDIANAPOLIS -- A few thoughts on the
Indianapolis Colts
'
39-33 victory
over the
Denver Broncos
at Lucas Oil Stadium:

What it means
: The Colts did something no other team in the NFL has been able to do this season -- beat the Broncos. On a night that was supposed to belong to
Peyton Manning
and his return to Indianapolis, it was Colts quarterback
Andrew Luck
who made the plays, and the defense did enough to keep the highest-scoring team in the league below its season average. Luck was 21-of-38 for 228 yards and three touchdowns. He got a lot of help from his defense. The Colts held the Broncos to 11 points below their season average. They did it by sacking Manning four times and forcing three turnovers. Manning finished 29-of-49 for 386 yards, three touchdowns and an interception.
Stock watch
: The Colts suffered a blow at receiver when veteran
Reggie Wayne
's knee buckled while trying to come back for a ball thrown short by Luck with 7:15 left in the game. Wayne remained on the ground for several minutes as Luck,
Darrius Heyward-Bey
,
Antoine Bethea
,
Coby Fleener
,
Trent Richardson
and
Robert Mathis
stood around their teammate. With chants of "Reggie, Reggie, Reggie" ringing from most of the sold-out crowd, Wayne finally got up and made his way to the sideline and didn't return. He finished with five catches for 50 yards. Wayne has played in 189 straight games, the most among active players.
Mathis finally gets to Manning
: Mathis got in trouble for almost sacking Manning when the two were teammates during his rookie season in 2003. The two aren't teammates anymore, and Mathis took advantage of the opportunity. Mathis sacked Manning not once, but twice. Mathis' first sack caused Manning to fumble, and linebacker
Erik Walden
tried to recover the ball in the end zone, but he couldn't gather it before going out of bounds in the second quarter. Mathis got his second sack on Manning in the third quarter. Mathis leads the league with 11.5 sacks.
What's next
: The Colts have their bye next weekend. They play at the
Houston Texans
in their third straight nationally televised game on Nov. 3.
October, 20, 2013
10/20/13
10:30
AM ET
INDIANAPOLIS – Here are five storylines to watch for Sunday night's game between the Indianapolis Colts and
Denver Broncos
.
[+] Enlarge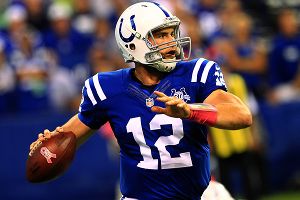 Pat Lovell/USA TODAY SportsMight Andrew Luck have to throw more for the Colts to be successful on offense?
1.
The clock-management game:
Stick with the style that got you four wins or put the ball in your franchise quarterback's hands and have him test the NFL's worst pass defense team in the league? That's the quandary Colt offensive coordinator Pep Hamilton finds himself in against the Broncos. Hamilton's sticking with the run-first mentality. That's the right approach to take because the Colts are sixth in the league in rushing and a ball-controlled offense keeps Broncos quarterback
Peyton Manning
on the sideline with his helmet on, arms crossed and antsy to get his offense back on the field. But the Colts have to be effective in order to make it work, and they have to do it against a Denver team that's only giving up 69.8 yards a game. The Colts ran for a season-low 74 yards and only had the ball for 21 minutes against San Diego last week. The Broncos are giving up a league-worst 338 yards in the air. The Colts have to score touchdowns. Field goals won't cut it against Manning. Don't be surprised if
Andrew Luck
is forced to go back to being Andrew Luck of last season when he had to throw 45 times a game in order for the Colts to win.
2.
Avoid the emotions:
This game is all about Manning. Nobody else.
Reggie Wayne
referred to it as a circus. The Colts have downplayed Manning's return by referring to it as just another game on the schedule. I wouldn't have believed them if this were my first week covering them. But I actually believe them. They do a good job keeping their emotions in check when it comes to injuries, facing quarterbacks like Seattle's
Russell Wilson
and San Francisco's
Colin Kaepernick
, and they've done a good job of avoiding the hype with Manning so far. But doing it on the football field is the only thing that matters. The Colts obviously respect Manning, but it seems like they're tired of talking about his return.
3.
Don't get frustrated:
Manning will make plays. He's proven that over and over throughout his career. The Broncos have the best offense in the league, averaging 476 yards of total offense and 360.7 yards through the air to go with 44 points a game. The Colts got frustrated on defense because they couldn't get off the field on third down against the Chargers. Do that Sunday night and the Broncos will easily surpass their scoring average. Cornerbacks
Greg Toler
,
Vontae Davis
and
Darius Butler
are risk takers. They're not going to shy away from gambling, but they better make the play because Manning will exploit them if they make a mistake. Linebacker
Robert Mathis
has an advantage because Denver's left tackle
Ryan Clady
(knee) is out for the season and right tackle
Orlando Franklin
is doubtful with a knee and ankle injury. "They're going to make plays," Colts defensive coordinator Greg Manusky said about Denver. "But when the opportunity arises for us to make plays, we got to make sure we make them. It's kind of like playing golf. It's what you do with your mishits, not so much what you do with your hits. It's that philosophy going into the game."
4.
Leave the drops behind:
The Colts hurt themselves with a case of the drops against the Chargers. They officially had four drops even though an argument could be made that they had more --
Darrius Heyward-Bey
getting both hands on the ball on what should have been a 60-yard catch -- in the first half. Heyward-Bey,
T.Y. Hilton
,
Coby Fleener
,
Trent Richardson
and, yes, even Wayne, can't have a repeat performance this week. "I think it was more so of an isolated incident," Hamilton said. "It just happened that way. We'll make those plays. Drops are not an issue for our offense."
5.
Richardson factor:
Richardson deserves his own storyline because he's yet to be a significant factor for the Colts since they acquired him Sept. 18. He hasn't rushed for more than 60 yards in a game with them. The Colts want to control the clock. It starts with Richardson. It's time for him to step up. He's only averaging 3.1 yards a carry as a Colt. "As far as my comfort level, I'm ready to play," Richardson said. "I don't know what you call a breakout game, I guess over 100 yards or whatever, but if it happens it happens. As long as we win, I think it's a breakout game for me."
October, 18, 2013
10/18/13
4:00
PM ET
INDIANAPOLIS -- Greg Manusky had bags under his eyes and his voice was raspy as he stood at the podium addressing the media Thursday afternoon.
If you didn't know the
Indianapolis Colts
defensive coordinator had been battling a cold, you would think he looked and sounded like that because he hadn't slept for several days because he had consumed all hours trying to figure out a way to slow down a
Peyton Manning
offense that has left defenses looking foolish and frustrated.
[+] Enlarge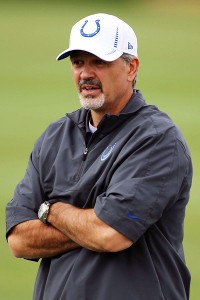 Brian Spurlock/USA TODAY SportsCoach Chuck Pagano and the Colts have been studying up all week on how to beat Peyton Manning and the Broncos. Pagano: "It's a challenge."
"It's always hard trying to get as much information to see what he does and what he's looking at and how to disrupt him as much as you can," Manusky said. "But yeah, it's hard."
The Broncos have yet to be slowed down on offense this season. The closest any team has come to slowing the Broncos down -- if you want to call it that -- came Sept. 23 when Oakland limited them to 10 points in the second half.
Denver, Manning in particular, has set the standard offensively this season. Per game, the Broncos lead the league in scoring (44.2), total yards (476) and passing yards (360.7). Manning has thrown 22 touchdowns, two interceptions and he's only been sacked five times.
The Broncos have four receivers with at least 31 catches this season.
Now it's understandable why Manusky likely hasn't slept since he got off the plane from San Diego early Tuesday morning.
"You're looking at an offense, you look at the stat sheet and they're ranked one at just about every category," Colts coach Chuck Pagano said. "It's a challenge. We're going to put our time in regardless. We just know that the challenge is a great one cause they've got a great one coming in here. First-ballot Hall of Famer (Manning) under center and all that stuff. Great wideouts, runners, offensive line. Across the board, it's going to be a huge challenge."
There isn't a defense Manning hasn't seen in his career. You may be able to rattle him early, but he's the mastermind of getting ahead of the defense because of his ability to adjust accordingly. Colts fans spent 13 seasons (he was injured in his final season) watching Manning walk up to the line of scrimmage and make the proper changes based off how the defense was playing.
That will be the case again on Sunday. Pagano wouldn't give the slightest hint on how they plan to attempt to slow the former Colt down. Pagano joked that he should just head over to the Broncos' team hotel in Indianapolis and leave their defensive plan at the front desk for them if he talked about their scheme.
"Everybody knows Peyton," safety
LaRon Landry
said. "Great quarterback, one of the best. You really have to be sound in your coverage, give different looks, disguises. For us, it's all about what we create, what we do on the back end and just disguising and playing sound coverage. Peyton is going to be Peyton. He's going to make some plays, we have to respond."
The Broncos can't be knocked because they've done their job by winning. It should be noted, though, that the combined record of their six opponents is 11-25 this season.
The Colts have been solid defensively for most of the season, but the 11th best unit in the league picked a bad time to have a setback.
The
San Diego Chargers
had the ball for 38 minutes and 31 seconds and were 7-of-14 on third down against the Colts on Monday.
Just imagine how many points Manning can put up if given that much time with the ball. The Broncos only need the ball about 31 minutes a game to average their 44 points a game.
"You want to play against the best," Colts safety
Antoine Bethea
said. "That's every week. Every week as competitors in the NFL, you want to play against the best. You got beat the best to be the best. It's going to be fun."
October, 18, 2013
10/18/13
12:00
PM ET
There will always be games when a player returns, with his new team and wearing a new set of NFL colors, to the city where he once worked. Happens all the time.
And then there is this week. When the former face of a franchise, a future Hall of Famer, returns, not as a legend in the final days of his career, but as a 37-year-old vying for the league's MVP award, having the season of his life with a Super Bowl hopeful.
Peyton Manning
returns to Indianapolis as the 6-0
Denver Broncos
will meet the 4-2
Indianapolis Colts
in Lucas Oil Stadium. ESPN.com Broncos team reporter Jeff Legwold and Colts team reporter Mike Wells break down this week's game.
Legwold:
Mike, let's get right to it. Manning. Colts. Indianapolis. There isn't much precedent in the league's history for a player of Manning's stature returning, playing as well as ever, to meet his former team. How has it played there? And just how many of the current Colts were even teammates with Manning?
Wells:
As much as I hate to admit it, safety
Antoine Bethea
, a former Manning teammate, said it best inside the locker room in San Diego on Monday, "We see players come and go all the time," and that the media will make a big deal about it. Bethea was the first Colt not named Jim Irsay to talk about Manning's return. Coach Chuck Pagano didn't even want to talk about it on Tuesday. There are only 11 players still on the roster from when Manning played here. The Colts respect Manning, but they also want to prove they've moved on and they can win without him.
You've been around Manning for more than a season now. Do you get a sense that he'll be more pumped than what he is every weekend?
Legwold:
Manning has already been on the media merry-go-round earlier this season when he faced his brother Eli for the third and likely final time in his career. He didn't like it that much and said as much. I think he certainly will want to show, at least in some way, he appreciated his time with the Colts and that he enjoyed the successes there. In the end he will try to play it straight through the week. That said, when Manning arrived in Denver, those close to him said he was initially surprised the Colts actually released him, even though it made sense financially and for the overall direction of the franchise due to the uncertainty surrounding how he would recover from his neck surgeries. As one of the most competitive people in a league full of competitive people, there is likely a part of him that wants to show what he has left for a team that considers itself to be a Super Bowl contender.
To that end,
Andrew Luck
has consistently seemed comfortable in his role as the team's leader in the post-Manning era, how do you think he will handle all of this? And will he have some added adrenaline?
Wells:
Luck hasn't given any indication that he'll prepare for or approach the game any different. It obviously wasn't the same magnitude as what Sunday will be, but the second-year quarterback was put under the spotlight earlier this season when he returned to the Bay Area, where he starred at Stanford, to take on his college coach, Jim Harbaugh, and the
San Francisco 49ers
. Luck played within himself -– 17-of-26 for 159 yards --and I expect him to do the same thing this weekend. Don't be surprised if offensive coordinator Pep Hamilton tries to get Luck going early in front of the sold-out Lucas Oil Stadium crowd. But don't expect to see Luck throwing the ball 45 times unless the Colts dig themselves into a big hole.
I was little surprised Broncos coach John Fox took exception to Colts owner Jim Irsay's comments to USA Today. Is that normal for Fox to respond the way he did?
Legwold:
From the Broncos' perspective, some in the organization see it as Irsay gladly reaping the benefits of the Colts' success with Manning at quarterback, including a new stadium that allowed the city to host a Super Bowl, and now acting as if one Super Bowl win in Manning's tenure sticks in his craw. Fox simply came to the defense of his player, something he does when he sees it as necessary and something that only strengthens his standing in the Broncos' locker room. Manning almost always takes the high road publicly in such things, as he did this week, but there isn't much question he has one of the game's longest memories when it comes to what's been written or said.
Much of what is, or isn't said, this week won't matter much once the ball is snapped, but on the field what do you think the Colts' defensive plan will be against the Broncos' offense?
Wells:
Don't expect the Colts to sit back in a Cover 2 the way Jacksonville did. That's not defensive coordinator Greg Manusky's style. The cornerbacks will press up on the receivers and they'll continue to gamble to try to make a play. That may not be the right approach to take because as you know, Manning makes teams pay for their mistakes. It'll be interesting to see if
Robert Mathis
, another one of Manning's former teammates, is able to get off the edge and get to Manning. Mathis is tied for the league lead in sacks with 9.5. The area of concern for the Colts is at linebacker. Linebacker
Jerrell Freeman
, the team's leading tackler, had to sit out the second half of last week's game at San Diego with a concussion.
Speaking of linebackers, the Broncos will have
Von Miller
for the first time this season this weekend. Do you expect him to be rusty after being suspended for the first six games?
Legwold:
On the field that may be the biggest question of the week. Miller, under a provision added to the league's collective bargaining agreement in 2006, could attend team meetings during his suspension and work out at the team's strength and conditioning center. He could not practice or attend games. So, all of the on-field work he has done with the strength coaches has been a solo affair. The question will be if he stayed up to speed in the team's defensive playbook – he says he has. He is an impact rusher, a "game-wrecker" as Pagano likes to say (Pagano is a Boulder, Colo., native). Miller's adrenaline will be off the charts, especially early in the game. It wouldn't be a shock for the Colts to test him with a little misdirection early to see if he's up to the challenge. But Miller should have an impact in the pass rush, especially if his conditioning is as good as he says it is.
A lot of folks here are interested to know how Pagano has done healthwise this season following last year's cancer treatments. How important is he to the team's success?
Wells:
The fact that Pagano was able to overcome cancer to be back on the sideline coaching at the end of last season is a remarkable story in itself. The players like how he motivates them and is constantly positive. I don't think there are many head coaches in the NFL who would think about heading over to Lowe's (he ended up having somebody else go for him) to purchase mousetraps as a reminder for his team not to overlook winless Jacksonville after beating San Francisco the week before.
So much is said about Denver's passing game, but what about its rushing game? Can it be effective the same way San Diego was last week?
[+] Enlarge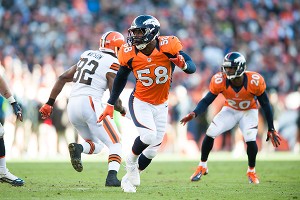 Dustin Bradford/Getty ImagesVon Miller will make his season debut against Andrew Luck and the Colts.
Legwold:
Much of the Chargers' offense comes from first-year head coach Mike McCoy -- the Broncos' offensive coordinator last season. Denver certainly noted the success the Chargers had running at the heart of the Colts' defense, especially with a zone run scheme. For all of the talk about how much the Broncos throw the ball, and they throw it with purpose in any down-and-distance situation, they are still fifth in the league in carries with 180, or 30 per game. With Manning at quarterback, with this coaching staff, they will always be pass-first, but offensive coordinator Adam Gase's mentor in the league was Mike Martz. And Martz's high-flying offenses always had a major run-game component.
With the Colts' run game, and with Luck 20
th
among the league's starters in pass attempts, is there an element of having a system in place that doesn't require Luck to have to do everything for the team to win?
Wells:
Offensive coordinator Pep Hamilton, who held that same role at Stanford with Luck, is big into being a run-first team. The Colts have stuck to that mindset through the first six games. But it'll be interesting if Hamilton loosens things on the offense this season after the Colts ran for a season-low 74 yards last week at San Diego. Luck gives the Colts the best chance to win. They'll need Luck's arm to beat the Broncos because Manning & Co. are going to put points -- a lot of them -- on the board this week. It's hard to imagine the Colts will be able to run the ball well enough to keep Manning on the sidelines looking antsy to get back on the field.
Passing the ball is probably a good idea since the Broncos are last in the league in defending the pass (338 yards a game). Why have the Broncos defended the pass so poorly?
Legwold:
Some of it, especially over the first four games of the season, was a good bit of stat padding late in blowouts by opposing offenses. But there is an element that is a personnel issue as well.
Elvis Dumervil
left in free agency after the fax fiasco in the offseason, Miller was suspended and
Champ Bailey
missed five games after injuring his left foot in the preseason. That's 17 Pro Bowl appearances from guys who were in the lineup last season when the Broncos tied for the league lead in sacks. And they have had some sacks -- 17 thus far -- but those plays have often been clustered near the end of games with the Broncos having built 20-point leads. They haven't consistently pressured opposing passers this season and as a result some of those quarterbacks are finding some openings against a steady diet of man coverage in the Broncos' secondary. They know they have to get to Luck this weekend or he will pick away at them.
That should do it, enjoy the game.
.
October, 17, 2013
10/17/13
3:00
PM ET
INDIANAPOLIS --
Indianapolis Colts
receiver
Reggie Wayne
isn't getting caught up in the hype surrounding his former teammate, quarterback
Peyton Manning
, coming back to Indianapolis with the
Denver Broncos
this weekend.
Wayne
Wayne referred to this week as a circus because of the attention the game is getting.
All that's been missing has been the elephants, clowns, cotton candy and peanuts.
"It'll be just like any other game," Wayne said. "It's no different. I don't know what you want me to tell you."
Wayne spent 11 seasons catching passes from Manning -- 779 of them for 10,602 yards and 67 touchdowns to be exact -- and he still keeps in touch with him on the phone. But Wayne isn't buying into the hype about facing his former teammate.
Wayne put into perspective how he feels about the game when he said he hopes to be in the locker room when the Colts honor Manning before the game. Wayne obviously respects Manning, but like everybody else inside the organization, the Colts' top priority is to avoid losing two straight games for the first time under coach Chuck Pagano.
"Yeah, fans love him. We're friends. He's friends with a couple guys in this locker room," Wayne said. "I go against old teammates all the time, you know? I'm sure it will be a different reaction. You're right. He did a lot in the community. But so did a lot of other guys. I'm just ready to play, ready to get it over with. It's like the Ringling Brothers."
October, 17, 2013
10/17/13
9:00
AM ET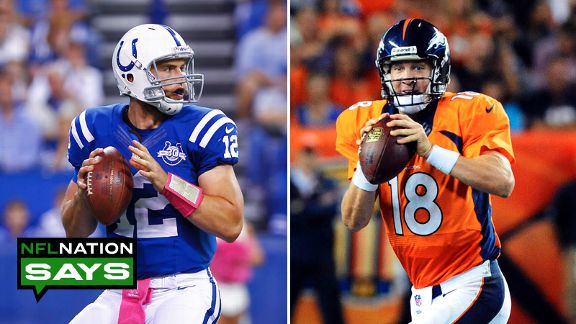 Getty ImagesAndrew Luck has shown some of same skills as Peyton Manning. How do they compare?
The past, present and future quarterbacks of the
Indianapolis Colts
will meet Sunday night at Lucas Oil Stadium, and ESPN's NFL Nation spent part of this week asking players if
Andrew Luck
is the next
Peyton Manning
.
Most of us should agree: There will never be another quarterback with Manning's combination of instincts, football intelligence, pocket presence and quick release. Let's not bother with that discussion. But can Luck provide the same essential service to the franchise? Will he guide the Colts at a high level through parts of two decades, as Manning did from 1998-2010?
Luck is off to a good start, having won 15 of his first 22 NFL games. Nine of those victories have come via game-winning drives in the fourth quarter, a topic we will inspect later this week, and he currently is the league's fourth-ranked quarterback via
Total QBR
. If he continues on that path, history tells us the Colts would have accomplished a rare feat in modern NFL history.
The chart illustrates the immediate transition from each of the nine Hall of Fame quarterbacks whose careers began after 1980. (We took the liberty of adding
Brett Favre
, eligible in 2016, as a 10th entry. Manning would be No. 11.) Usually, these transitions have failed and teams have taken decades to find a true franchise replacement. (Think: Terry Bradshaw to
Ben Roethlisberger
in Pittsburgh, Dan Fouts to
Philip Rivers
in San Diego and -- yes --
John Elway
to Manning in Denver.)
In some cases, they're still looking. (We're looking at you, Miami and Buffalo.)
The
Green Bay Packers
have proved to be the exception. If
Aaron Rodgers
plays out his seven-year contract, the Packers would have achieved 28 consecutive years of elite quarterback play from him and Favre. Can Luck be the Colts' version of Rodgers? Will he add a two-decade career on top of Manning's tenure?
Here's what ESPN's NFL Nation found:
October, 16, 2013
10/16/13
8:10
PM ET
INDIANAPOLIS -- The pressure was there for quarterback
Andrew Luck
. It was supposed to be there for him.
He was the No. 1 overall pick stepping in for a future first-ballot Hall of Fame quarterback, in a state where it's the Colts and every other sport is trying to close the gap.
[+] Enlarge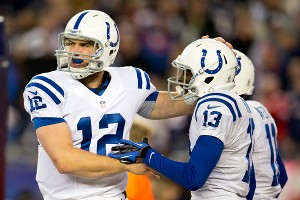 AP Photo/Damian StrohmeyerAndrew Luck has a 15-7 record as the Colts' starting quarterback and made a playoff appearance as a rookie.
Colts fans, some still upset over Indianapolis' releasing
Peyton Manning
, wanted instant results despite Luck stepping into an obvious rebuilding situation.
But for some reason, Luck didn't feel the pressure of having to replace an icon in the organization, the one responsible for making the Colts a fixture in the playoffs and leading them to a Super Bowl title after the 2006 season.
Colts coach Chuck Pagano didn't talk to him about it. Neither did veteran
Reggie Wayne
. What they saw was a mature 22-year-old player walk into the facility on the west side of Indianapolis with the mind frame that he was ready to try to live up to the standards Manning set during his 14 years with the organization.
"We all know how Andrew is wired and how he is," Pagano said. "We never went down that road. Certainly Andrew respects the guy as much as anybody else, understood whose shoes he was filling and all those type of things, so it wasn't a matter of having any long, lengthy sit-downs about that. Andrew being Andrew, wired the way that he is, obviously to this point has handled that and handled his first year with flying colors."
What Luck has done is slowly start to remove himself from Manning's shadow. That shadow won't be officially gone until he makes the Colts a regular in the playoffs and gets the multiple Super Bowl rings owner Jim Irsay seeks.
But the Colts know they're set at the quarterback position for at least the next decade barring injury, the same way they were when they picked Manning No. 1 overall in 1998.
Luck's too good and too much of a perfectionist to go backward. He doesn't carry himself as if he's only in his second season. You would think Luck has been in the league for several years by watching how he carries himself on the field.
He has proven his ability to win in the first 22 games of his young career. Luck is 15-7 and led the Colts to the playoffs as a rookie.
"I learned that very quickly from the guys that have been around, that it's a culture of winning," Luck said. "It's something that Mr. Irsay I think created, something that Coach Pagano is a believer in. I'm glad to be a part of a team that has a culture of winning and getting to the playoffs."
It helped that Luck didn't step inside the locker room feeling as if he had to put the weight of the franchise on his shoulders. He had veterans like Wayne,
Dwight Freeney
,
Antoine Bethea
and
Robert Mathis
to help with the transition.
Early on, Luck did more listening than speaking. Now, it's the other way around.
"He's doing it like the first pick of the draft should do," Wayne said. "He's taking it in stride. We as his teammates are doing our best to try to make him look good. He's being Andrew. What you see is what you get. He's handled it quite well and hopefully it gets better from here."
You would think Luck's goal would be to outduel Manning on national television, on the same field Manning led the Colts to three playoff appearances.
That's not what Luck is thinking about. He'll gladly hand the ball off 50 times if that's what it takes to beat the Broncos. He'll also throw it 50 times if required. But just know, it's not about Luck vs. Manning.
It's about the Colts trying to beat the Broncos. Luck wouldn't have it any other way.
"He knows what he has to do," Pagano said. "Everybody knows what they have to do. We've got to do all the fundamental things that good football teams and good football players do."
October, 16, 2013
10/16/13
10:43
AM ET
INDIANAPOLIS -- Who needs Sunday's game between the
Indianapolis Colts
and
Denver Broncos
?
The sideshow that's taking place right now may end up being better than the game at Lucas Oil Stadium. Never mind. Let me stop right there.
Peyton Manning
facing his former team in the city where he spent the first 14 years of his NFL career. You can't beat that. But what's going on with Colts owner Jim Irsay and others is keeping you occupied until Sunday night.
Here's a quick recap:
Broncos coach John Fox accused Irsay of taking a "cheap shot" at Manning in a story published by USA Today earlier this week.
Irsay told USA Today that the Colts have changed their model "a little bit" with
Andrew Luck
as quarterback because Irsay wants "more than one of these [rings]."
"[Tom] Brady never had consistent numbers, but he has three of these [rings]," Irsay told the newspaper. "Pittsburgh had two, the Giants had two, Baltimore had two and we had one. That leaves you frustrated.
"You make the playoffs 11 times, and you're out in the first round seven out of 11 times. You love to have the 'Star Wars' numbers from Peyton and Marvin [Harrison] and Reggie [Wayne]. Mostly, you love this [ring]."
Fox defended his quarterback on SiriusXM on Tuesday:
"To me, in my opinion, they were disappointing and inappropriate," Fox said. "I mean, Peyton would never say anything. He's too classy to do that. But they sounded a little ungrateful and unappreciative to me for a guy that has set a standard, won a Super Bowl, won division titles, won four MVP awards. I'd be thankful with that one Super Bowl ring because there's a lot of people that don't have one."
Fox's comments caused Irsay to respond to criticism he's received on Twitter overnight:
.
We're almost finished -- for now.
Former Colts general manager Bill Polian got into the mix when he responded to Irsay's comments on SiriusXM on Wednesday morning.
"Truthfully, I don't know," he said. "I think [Irsay's] got some misstatements of fact in there. For one thing, I don't believe that Baltimore had two at the time that we were fired, all of us, Peyton, me and the rest of the staff, [coach] Jim Caldwell at the end of the '11 season. ...
"I really don't know what to make of it to tell you the truth. I do know that he was very upset after the loss in the second Super Bowl and I think it's pretty telling that getting to the Super Bowl in his mind doesn't count. And for anyone who is in the game and who has to make that journey from training camp to the Super Bowl, you know that it's awfully difficult to get there.
"And as John Fox said today, if you have one, you count yourself lucky. I've had teams that have been to six Super Bowls and won one. I'm not ashamed of that record by any means, and I'm certainly not ashamed of what we did in Indianapolis."
It seems like Irsay's comments were directed more at Polian and how he built the team than they were at Manning.
And just think, there's still a few more days until the game. Who knows what will be said next.
October, 15, 2013
10/15/13
5:45
PM ET
INDIANAPOLIS -- The concern started from the blue-and-white faithful on March 7, 2012, and then trickled over to April 26, 2012, the day
Indianapolis Colts
selected their new franchise player. But the doubts are few and far between now despite the player responsible for making the Colts a must-see team during most of his 14 seasons doing the same thing almost 1,100 miles to the west in Denver for the undefeated Broncos.
Did owner Jim Irsay make the right call in releasing future Hall of Fame quarterback
Peyton Manning
to pave the way for
Andrew Luck
, the best quarterback taken No. 1 overall since, well, Manning in 1998?
Manning
Luck
With 22 NFL games under Luck's belt, there are strong opinions from some Colts fans -- via email and social media -- that they've moved on from Manning and are focusing strictly on Luck.
"If anything, watching the player Andrew Luck has become in just a season and a half, reinforces the decision the Colts made," Heather Lloyd of Indianapolis wrote in an email to ESPN.com. "With Luck, sacrificing the present for the future wasn't much of a sacrifice at all. Call it strategy, fate, or just dumb luck, Andrew Luck landed right in our lap. Right when we needed him most. Painful as it was -- and still is -- I supported the Colts' decision to release Manning then. And I still do now."
League officials should box up the MVP trophy, put an address that reads "Peyton Manning, Denver, Co.," on the outside of it and ship it to Manning now, because he's on his way to his fifth award in that category. He's thrown for 2,179 yards and 22 touchdowns, which is a league record through six games.
But it wasn't about the present for the Colts. It was about planning for the future when they cut ties with the player who had Irsay choking up during the news conference announcing the move on March 7, 2012.
A neck injury kept Manning on the sideline the entire 2011 season and the Colts went 2-14. The front office did a poor job of having a quality backup quarterback in place in case something did happen to Manning.
Indianapolis Star columnist Bob Kravitz had the fan base wanting to run him out of the city because he was the first to write it was time for Manning and the Colts to part ways.
"The fans were angry and totally unbelieving that it was time to accept that Peyton had played his last game against the
New York Jets
in 2010," Kravitz said. "They thought there was no way Irsay would let him go."
The Colts would have been forced to spend a lot of money, crippling any possibility of upgrading the roster, on a player who some wondered if he would be able to regain his touch after four neck procedures.
"That team was getting older, with it showing on the field," Lloyd added in the email. "With the salary cap implications of Manning, the Colts wouldn't have been able to sign the influx of young talent they wanted [and quite honestly needed] to be competitive."
Manning agreed with Colts' decision to select Luck. He told Irsay he'd be crazy not to select Luck with the No. 1 overall pick, according to USA Today.
The determining factor in an argument between Manning and Luck is age. Luck is 13 years Manning's junior. The 37-year-old Manning is playing like he's still got another five years in him, but time is against him.
Luck helped ease the pain of not seeing Manning on the field, around the city on different billboards and on the side of Lucas Oil Stadium, by leading the Colts to an 11-5 record and the playoffs last season. He passed for a rookie record 4,374 yards.
Luck's only scratching the surface with his potential. He continues to distance himself from the other quarterbacks taken in the 2012 draft.
"I am of the belief we should honor Manning before the game because he helped this city get a new stadium, a Super Bowl and he's still in our hearts, but the niceness stops as soon as the ball is kicked off," Matt Schroeder wrote in an email. "Luck is our future now. We've got him for the next 12 to 15 years."
Here's what other Colts fans had to say about the move:
.
October, 15, 2013
10/15/13
2:10
AM ET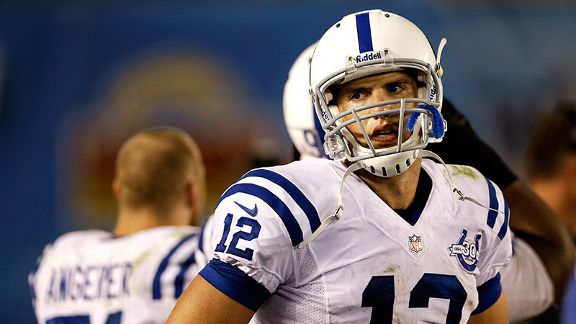 AP Photo/Lenny IgnelziIf the Colts want to avoid nights like Monday they need to unleash Andrew Luck.
SAN DIEGO -- Waiting, waiting. Everyone was waiting. When would "Monday Night Football" transform into Luck Time? The magic was coming, right? The moment was nearing. The stage was set. And …
scene
.
Watching the
Indianapolis Colts
at Qualcomm Stadium was a lesson in excessive patience. It was downright maddening to see the Colts, armed with a quarterback who is vaulting into the NFL's highest echelon of superstars, achieve an unnecessary balance Monday night -- one that contributed to a wholly avoidable
19-9 loss
to the
San Diego Chargers
.
I'll acknowledge the Chargers did enough to effect their share of the outcome, most notably with a surprise running game that kept their offense on the field for 38 minutes, 31 second of the game. And the Colts made far too many mistakes, dropping four passes and succeeding on fewer third-down conversions (two) than they gave up to San Diego because of penalties (three).
But the Colts trailed for most of three quarters Monday, and it just felt, well, unnatural to see them work so hard to balance the massive threat of quarterback
Andrew Luck
with their middling running game. You wanted to stand up on the media table, or at least I did, and scream:
Unleash the Beast! And don't wait until the fourth quarter!
(Even if Luck already has nine game-winning drives in his 22-game career.)
"We came in averaging [142 rushing yards] per game," Colts coach Chuck Pagano said. "And today they held us under 100 [74]. We didn't get ourselves in enough third-and-manageables. We popped ourselves a few, but we were inconsistent. … When you've got third-and-8-plus, it's really hard. We've got to do ourselves a better job in first and second down to give ourselves third-and-manageable."
That sentiment would make perfect sense if the Colts were an average offense with a decent quarterback. The Colts seemed to approach Monday night as if that were the case. Through three quarters, their 16 first-down plays were split evenly with eight passes and eight runs.
They converted only two of the resulting 10 third-down plays, and both were on third-and-1. Here's an even better way to get yourself into third-and-manageable: Throw more than you run on first down. Use one of the NFL's best quarterbacks to break open the game, and then finish it with the bruising tailback (
Trent Richardson
) you seem so intent on establishing.
Instead, the Colts have fallen into a reverse approach: Their early balance has in some cases led to late-game Luck frenzies, as it did in a Week 1 victory over the
Oakland Raiders
as well as a Week 5 win against the
Seattle Seahawks
.
"I don't think we ever are coached to rely on a comeback," tight end
Coby Fleener
said, "and we don't anticipate having to do that or trying to do that. But if it comes to that, we'll be prepared as best we can and be confident in our ability to make it back."
Having a quarterback as proficient under pressure as Luck is surely better than the alternative. And there is nothing wrong with a balanced offense in the abstract. But let's not be mistaken about the Colts' most direct path to major success: Luck throwing to his array of talented pass-catchers, from
Reggie Wayne
to
T.Y. Hilton
to Fleener.
You might say there wasn't much to be done Monday night given Fleener's drop of a potential scoring play over the middle. Receiver
Darrius Heyward-Bey
missed what would have been an 60-yard touchdown, while Wayne and Hilton also contributed drops. Richardson, meanwhile, dropped a screen pass that would have jump-started a potential game-tying drive.
But those miscues weren't an occasion to look elsewhere for offense; they were a requirement to double down and keep firing. I recognize that you have to mix it up every now and then, but Luck seems capable of more than he was asked to do Monday night.
"We'll use it as a learning opportunity," Luck said after the game. "We realize that sitting at 4-2 is a lot better than 1-5 or 2-4. It was a tough game against a good team, and we'll look to get back on track."
Luck, of course, is far too polished to contradict what happened on the field. And it's true, the Colts are still in good shape at 4-2. By all accounts, they have a bright future.
You wonder, however, if it's time for the Colts to approach games with the mindset that, say, the
Green Bay Packers
do with
Aaron Rodgers
and, yes, the
Denver Broncos
do with
Peyton Manning
. They have a singular talent on their roster, and the usual rules of football can't apply. It's time to unleash the beast. Luck should be their offensive centerpiece. Let's not wait any longer.