AFC South:

2013 Week 7 SFO at TEN
October, 20, 2013
10/20/13
9:46
PM ET
NASHVILLE, Tenn. -- A month ago, Houston made a late charge, found the plays that caught the
Tennessee Titans
off guard and beat them in overtime. But even for the majority of that game, the Titans' defense caused problems. The group was the backbone of the team through six games in 2013.
In a
31-17 loss
Sunday to the
San Francisco 49ers
, Tennessee's defense appeared easily figured out.
[+] Enlarge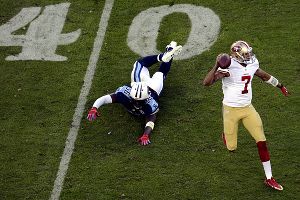 AP Photo/Mark HumphreyThe Titans struggled to contain Colin Kaepernick and the 49ers all afternoon.
The Niners held the ball for 35 minutes, 46 seconds against a defense that had held opponents to an average of 30:03.
The Niners converted eight of 16 third downs against a defense that had held opponents to below 30 percent.
The Niners ran for 153 yards against a defense that was allowing the opposition 111.2.
"That's the first time we played a sloppy ballgame all season," defensive tackle
Jurrell Casey
said. "We couldn't get a grasp of what was going on, we couldn't make the adjustments necessary to stop this offense. We tried to change up who got who and things like that, and it seemed like they had the upper edge all game. … We had a hard time all day with that read-option, letting them out-leverage us and making blocks where their quarterback and running back were just having free holes."
"They definitely had a good game plan against us," cornerback
Alterraun Verner
said. "They executed well. You saw that the quarterback was just waiting to see what type of defense we would be in, then making checks accordingly, then they were just executing. They didn't do anything exotic. They didn't do anything really to trick us. They kind of just said, 'We're going to see what you're going to do and complement off of that.' Kudos to their game plan, but it wasn't anything outside the realm of us handling it."
"Well, shame on us, first of all," strong safety
Bernard Pollard
said. "Two weeks in a row, facing the same exact offense, we come out and do the same exact thing. We did a good job of it in Seattle, obviously we did some good things in terms of getting off the field on third down. Today, third down killed us. Allowing this quarterback to scramble. When you're playing a quarterback like this, you're not going to get sacks. These quarterbacks are just too elusive to get out of that backfield. We just didn't do a good job, at all. As a team the thing that continues to show up and creep its little head is we give them points by mistakes."
The Titans seek to be balanced, but they have relied on their defense. And on a bad defensive day, the offense was ill equipped to match up.
Jake Locker
was back in the lineup and finished with a nice stat line -- 326 yards passing, two touchdowns and a 92.1 passer rating. The numbers looked fine at the end, but at halftime the score was 17-0 and the Titans had not advanced beyond the 49ers' 45-yard line. The offense didn't show much life until the game was out of hand.
"We've got to help our defense out," said tight end
Delanie Walker
, a member of the 49ers the previous seven years. "They've got a good offense, they've got some weapons over there. Us not being able to move the ball and put points on the board until late in the game, that's not going to help our defense out at all."
October, 20, 2013
10/20/13
9:29
PM ET
NASHVILLE, Tenn. -- The
Tennessee Titans
have two weeks to consider a change at return man.
It's a decision that should take two seconds.
From the first play of the team's season, when
Darius Reynaud
pulled a kickoff back from the field of play into the end zone to down it and gave Pittsburgh a safety, he's been a suspect decision-maker.
In Sunday's 31-17 loss to San Francisco, he touched the ball seven times and five of them had bad results.
His string of bad decisions as the return man this season inexplicably earned him some early chances as a receiver on offense in this game. Sure enough, he dropped a third-down pass to end the Titans first possession.
He also spun and circled back on a punt return that netted him a negative return, allowed a kickoff to bounce over his head, fair caught a lined punt he might have had a chance to do something with, and muffed a late punt when the Titans were threatening to make it a game that instead produced a 49ers special teams touchdown.
"It's on me, I've got to make better judgments on the ball and better decisions on going to get the ball," he said.
Mike Munchak indicated the Titans will consider a change.
The Titans have to make a better decision on whom they send to field the ball.
The best in-house option is
Damian Williams
, who has some experience and is the team's smartest receiver.
He's Reynaud's backup at on both punt and kickoff returns. Starting the next practice where the Titans work on special teams, he should be fielding the bulk of the kicks.
October, 20, 2013
10/20/13
8:46
PM ET
NASHVILLE, Tenn. -- Observed in the locker room after the
Tennessee Titans
'
31-17 loss
to the
San Francisco 49ers
.
Pollard
Two conversations:
Bernard Pollard
had two conversations as he quickly left the field after the final snap. He ran to find 49ers receiver
Anquan Boldin
, a teammate on Super Bowl-winning Baltimore a year ago. Then he found an official to whom he expressed his dismay. "We played against their 11 and then some," he said. I understand the frustrations with another rough call against them --
Akeem Ayers
' unnecessary-roughness call wiped away a Pollard pick -- and Pollard hardly put all the blame on the officials. But the Titans can't think the league is out to get them, because it isn't.
Huge crowd:
Darius Reynaud
drew the biggest crowd of media in the locker room after a terrible game, with four plays misjudged as the return man and a drop in one of his rare chances as a receiver. The Titans have minimized receiver
Kenny Britt
's snaps because of his struggles and pulled center
Rob Turner
out of the lineup in favor of
Brian Schwenke
. Mike Munchak said they'll now consider making a change with Reynaud.
Debut:
Schwenke said he thought he fared well in the Titans' limited attempts at running the ball and came to understand a lot about pass protection on the fly in his first NFL game. "I learned it as it happened," he said. He pledged he will be a lot better player when the Titans resume their season in St. Louis on Nov. 3.
October, 20, 2013
10/20/13
7:23
PM ET
NASHVILLE, Tenn. -- Reaction from the
Tennessee Titans
' 31-17 loss to the
San Francisco 49ers
at LP Field.

What it means:
The Titans dropped their third consecutive game and showed just how far away they are from being the 49ers, a team they'd like to emulate in construction and style. The offense produced minimal big plays of note and the defense had no answers for San Francisco, which built a 24-0 lead and kept the Titans scoreless into the third quarter.
Stock watch:
Return man
Darius Reynaud
-- down. Reynaud continues to struggle. He tried to circle back and change direction after fielding one punt, allowed a kickoff to bounce over his head, fair caught a low punt that might have provided an opportunity at a return and muffed a punt to allow the 49ers an end zone recovery for a touchdown. It was a continuation of recent poor decision-making, which somehow earned him some early snaps at wide receiver in this game. He was targeted on one and dropped the pass. On the bright side, he made a tackle on the opening kickoff of the second half.
Worth it?
Jake Locker
was back earlier than expected from hip and knee injuries. He played fine, with a bad pick that looked like the one
Ryan Fitzpatrick
threw last week, and a nice touchdown pass to
Delanie Walker
to go with a screen that
Chris Johnson
turned into a long score. Locker seems to have come out of it OK, so the Titans didn't get punished for taking the risk with him before their bye.
Turning point:
Bernard Pollard
had an interception washed away in the second quarter when
Akeem Ayers
was called for a low hit on
Colin Kaepernick
. That gave the 49ers a first down, and three plays later, Kaepernick weaved 20 yards into the end zone for a touchdown that put San Francisco up 10-0.
What's next:
The Titans have a week off to sort out what's wrong before they head to St. Louis to face the Rams, coached by a guy the franchise knows well, Jeff Fisher.